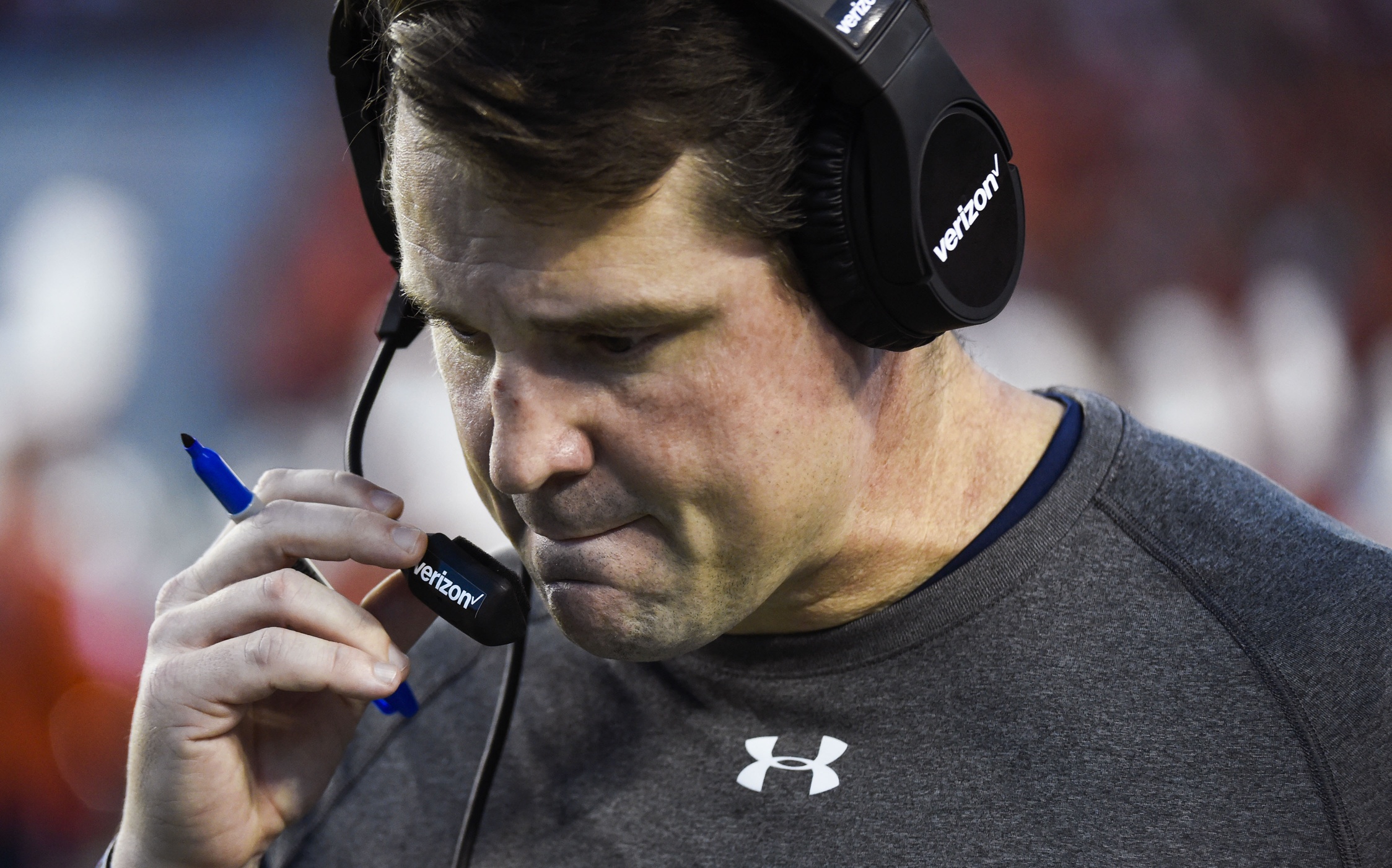 SEC
Questions for SEC coaches we don't think they'll answer
College football coaches are tight-lipped by nature. Getting them to speak on certain topics can often times be difficult.
Here are several questions we'd like to ask each SEC head coach but don't expect to get an answer in return.
NICK SABAN, ALABAMA
"What are the odds that Cam Robinson is kicked off the team?"
Cam Robinson is facing a felony charge for possession of a stolen firearm after a mid-May arrest in which teammate Laurence "Hootie" Jones was also arrested for two misdemeanors. Alabama head coach Nick Saban, true to form, has refused to address the matter, instead deferring to an old standby:
"I'm not going to talk about that right now," Saban said via SECCountry.com.
He then went on to talk about his starting left tackle … somewhat.
"We do it internally. It's not something we do publicly, and we're not going to do it today. If we can change their behavior based on what we do, that would be the purpose of discipline. Discipline is not necessarily just punishment, which a lot of people view it that way. It's how do you change somebody's behavior so they have a better chance of being successful. That's the way we try to do it. That's the way I'd like to do it with my own children. I think that's the way most parents would like to do it with their children."
BRET BIELEMA, ARKANSAS
"Which school will you rankle this year?"
Bret Bielema got himself into a dubious situation in 2015 after calling out Ohio State for playing what the Arkansas head coach considered a weak schedule. Days later, Bielema's Razorbacks were upended by Toledo, a fellow school from the Buckeye State, making the affable coach eat his words. Bielema could go after, say, a TCU this year for its schedule (sixth-toughest in Big 12), but that could come back to bite him considering the Hogs have the Bobcats of Texas State looking to pull a Toledo-style upset one week later.
GUS MALZAHN, AUBURN
"Do you want to face Jim Harbaugh and Michigan in a bowl this year?"
Jim Harbaugh has made it his job to get under the skin of the SEC with his attempts to bring Michigan satellite camps to SEC backyards. This has caused plenty of consternation among conference head coaches, among them Gus Malzahn. But now the Auburn head coach is taking the buttoned-up-lip approach when it comes to addressing the plans of the boisterous Wolverines coach.
"Yeah, whatever," Malzahn said of Harbaugh via AL.com. "I don't really have an opinion one way or another."
JIM McELWAIN, FLORIDA
"Did you win the SEC East with Will Muschamp's players?"
No coach wants to hear their success credited to another man. Jim McElwain cruised to an SEC East title in his first season in The Swamp, mostly on the back of a lights-out defense. However, the Florida coach might need to continue that success to distance himself from the Gators' former regime under Will Muschamp, who essentially crafted the defense that finished ranked No. 8 in the nation (No. 4 in the SEC). McElwain's saving grace could be his own recruiting prowess, which saw him haul in the nation's No. 13 overall recruiting class (No. 6 in the SEC). Just don't ask him about Muschamp who, after all, failed to win a divisional crown with many of those same players.
KIRBY SMART, GEORGIA
"Are you tired of hearing about Mark Richt, yet?"
Replacing a guy who won 145 games in 15 seasons on the Georgia sidelines is no easy task. Even if Mark Richt's Bulldogs failed to win the big game, he left an indelible impression between the hedges in Athens. The comparisons have only just begun for his replacement, Kirby Smart, who will likely be put under heavy scrutiny as he carves out his own tenure with Georgia. Seems as though Smart has the classy part already locked down.
Thanks @MarkRicht and congrats to Katharyn!

— Coach Kirby Smart (@KirbySmartUGA) May 1, 2016
MARK STOOPS, KENTUCKY
"Is it difficult living in your brother's shadow? Are Thanksgivings awkward?"
Bob Stoops is gearing up for a return to the College Football Playoff with a potential Heisman-candidate quarterback under center in Baker Mayfield. His younger brother, Mark Stoops, is fighting for his coaching life at Kentucky. The elder Stoops has bragging rights when they gather around the family dinner table, where Bob almost assuredly points out to Mark that, despite coaching the Sooners in the Big 12, Bob has more wins over SEC teams (six) than Mark does during his entire tenure with the Wildcats (four wins over conference foes in three years).
LES MILES, LSU
"Will you be back in 2017?"
Asking the cantankerous Les Miles any question comes with a certain degree of danger to it. Querying the LSU head coach about his future is almost a guaranteed way to draw the 62-year-old's wrath. Miles' future in Baton Rouge is an annual topic that's hotly contested despite his enormous success in Death Valley, including a national title. Will he be back? Time will tell, but Miles won't.
DAN MULLEN, MISSISSIPPI STATE
"Will this be the year you leave Mississippi State?"
Rumors regarding Dan Mullen's departure from Mississippi State have swirled at the conclusion of the last seven seasons after taking over for Sylvester Croom in 2009. In the past, Mullen has been linked to vacancies at Michigan, Maryland and Virginia Tech, as well as at Florida and Georgia. Yet the coach has stayed put, posting a .611 winning percentage and a 4-2 record in bowl games. He's certainly tired of answering the question about his time left in Starkville. Mullen did offer this when asked in November:
"I don't like commenting on other jobs just because it's a waste of time," Mullen said via The Clarion Ledger. "I love the one that I have. Not much else on it besides that."
BARRY ODOM, MISSOURI
"So … how are things on campus?"
Missouri's down season in 2015 bottomed out with racial tensions gripping campus, a boycott by the football team and the eventual stepping down of longtime head coach Gary Pinkel. Now it's Barry Odom's turn to right the ship and get the focus back on football. Pinkel's former defensive coordinator was on campus during the turmoil and should have a decent understanding of the situation, but don't expect too many comments, if any, on the matter. Instead, you'll hear the first-year head coach waxing about turning around his alma mater.
"My vision, without a question, will be championships in all walks of life," Odom said at his introductory press conference via GridIronNow.com. "I'm not afraid to say that out loud."
HUGH FREEZE, OLE MISS
"Will you consider banning players from using Twitter?"
Laremy Tunsil's draft-day meltdown began with a hacking of his Twitter account and ended with a slew of allegations levied against the Ole Miss coaching staff. The fallout was the school imposing its own sanctions in the face of 13 allegations, including a reduction in scholarships. Of course, it all can't be pinned on Tunsil. After all, the infractions took part between 20 players across three Ole Miss sports and is part of a four-year investigation that predates Freeze in some instances. Still, none of them come to light in such a fashion without the drama that unfolded in Chicago at the draft.
these self-imposed scholarship restrictions for OM aren't the worst but GL explaining all this to recruits' parents pic.twitter.com/ZF77EGvDeC

— Will Sammon (@WillSammon) May 27, 2016
WILL MUSCHAMP, SOUTH CAROLINA
"Have you considered anger management classes?"
Will Muschamp is a volatile guy and it's only a matter of time before the South Carolina faithful get a close-up look at Mount St. Muschamp erupting in spectacular fashion. Coach Boom's anger flare-ups are great for people-watching, but for the sake of his own blood pressure or the safety of a player that lands in his doghouse, we need to ask the first-year Gamecocks head coach if he needs to count to 10 and take a deep breath.
BUTCH JONES, TENNESSEE
"What kind of gift basket did you send Hugh Freeze?"
Butch Jones' Tennessee program was facing the ire brought on by allegations of sexual misconduct and a cover-up. Then along came Tunsil's draft-day nightmare, which eventually spilled over into Freeze's Ole Miss program in the form of 13 alleged misappropriations. As a result, Jones and the Vols have been pushed to the proverbial back pages for now. The bigger question for Jones should be whether the culture on Rocky Top has been amended, but we doubt he'd answer that query, either. Both Ole Miss and Tennessee figure to compete for their respective divisions this season, that is if they don't torpedo themselves first.
KEVIN SUMLIN, TEXAS A&M
"Does a 'Johnny Manziel culture' exist in College Station?"
That's what former Texas A&M quarterbacks Kyler Murray and Kyle Allen alleged on their way out of Kevin Sumlin's program in December. The departure of the two five-star talents gives the Aggies five quarterbacks under Sumlin who have decided to leave the program, including Matt Davis, Kenny Hill and Kohl Stewart, with the latter opting to join the Minnesota Twins rather than the Aggies. All told, Sumlin has watched as 22 stars-worth of talent walk out the door since taking over for the 2012 season.
DEREK MASON, VANDERBILT
"Will you consider hiring a defensive coordinator?"
Granted, defense hasn't been Vanderbilt's problem in the two seasons under head coach Derek Mason. The defensive guru is his own defensive coordinator, guiding the Commodores with the sixth-ranked defense in the SEC in 2015. But problems jump-starting the offense are prevalent, and perhaps if Vandy fails to make a bowl game in Mason's third season in Nashville, some other tough questions will also be asked of Mason.