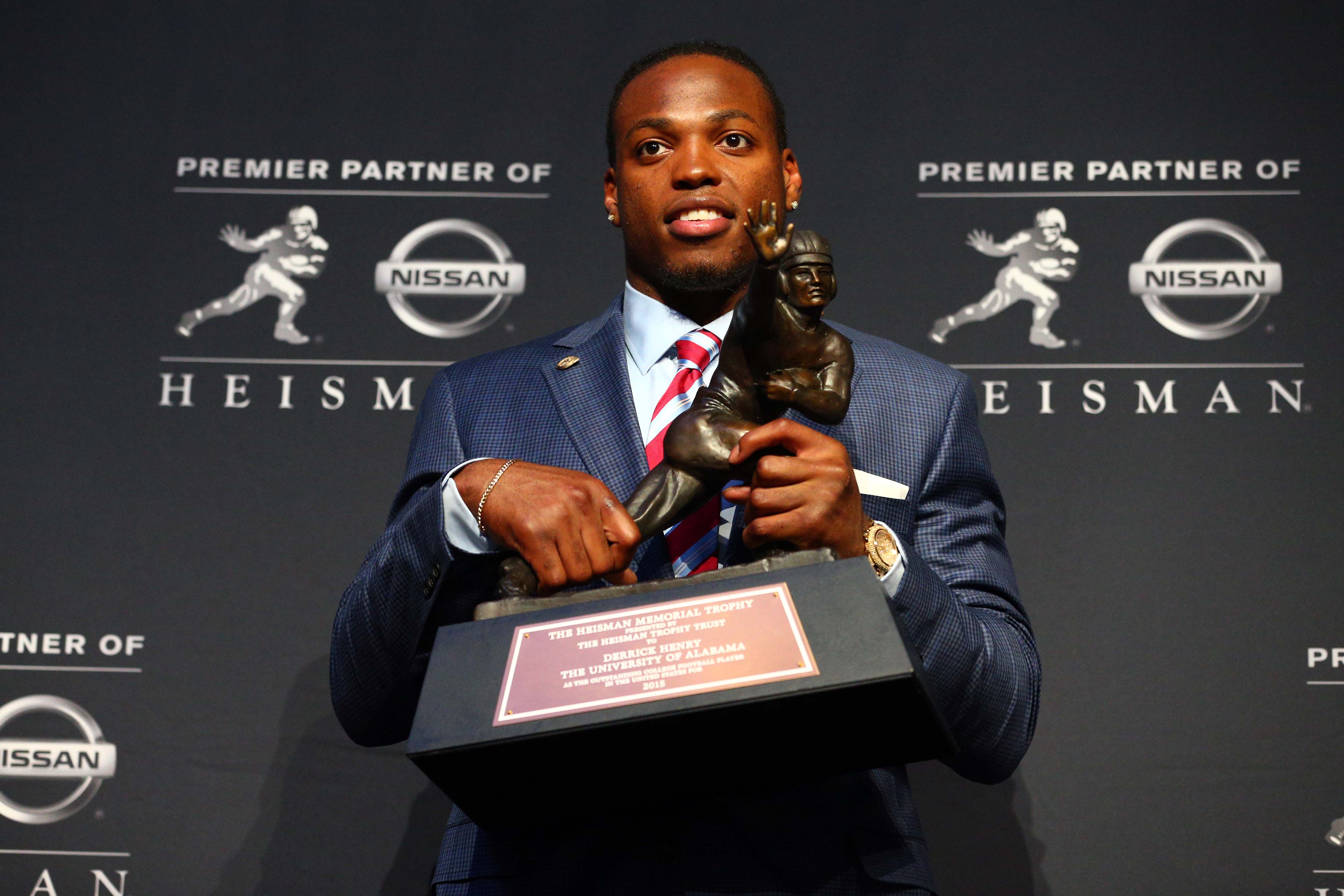 SEC
Ranking SEC's best running backs over past 20 seasons
In 2009, Alabama's Mark Ingram accomplished something no other SEC running back had since Bo Jackson: win the Heisman Trophy.
Just a sophomore, Ingram was the engine that powered one of the greatest Crimson Tide teams ever. Behind Ingram's then-single-season school rushing record of 1,658 yards and 17 touchdowns, Alabama rolled to an undefeated 14-0 season, capped by a 37-21 win over Texas in the BCS Championship Game.
Ingram became the first Crimson Tide player to claim the Heisman Trophy and the SEC's first running back recipient since Jackson in 1985.
So it should hardly come as a surprise that he is among the Mount Rushmore of SEC running backs from 1996-2015.
There were more than a dozen qualified candidates — from Trent Richardson, Tre Mason and Carnell Williams to Todd Gurley, Nick Chubb, Alex Collins, Anthony Dixon and others — but here's a look at the four best from the past 20 seasons.
1. Mark Ingram (Alabama): The son of former New York Giants wide receiver great Mark Ingram, Sr. was the SEC Offensive Player of the Year and a unanimous All-American as a sophomore in 2009. Ingram left school early for the NFL following his junior season and was a first-round pick by the New Orleans Saints.
2. Derrick Henry (Alabama): A tall, powerful runner whose bruising style inflicted perhaps more damage on defenders than he received, Henry became Alabama's 2nd Heisman winner in a span of seven seasons after taking home the award in 2015. He set a new school (and SEC) record as a junior in leading the Crimson Tide to another national championship, rushing for 2,219 yards and 28 touchdowns. He left early for the NFL following this past season and was selected by Tennessee Titans in the second round of the 2016 NFL Draft.
3. Darren McFadden (Arkansas): McFadden was a dazzling blend of speed and size who rushed for more than 1,100 yards in each of his three college seasons. As a true freshman in 2005, he chewed up 1,113 yards and 11 touchdowns on the ground while also catching 14 passes and averaging a robust 29 yards per kickoff return.
McFadden followed that effort with an even better sophomore season in 2006 that saw him earn first-team All-American honors after accounting for a school-record 1,647 rushing yards and 14 touchdowns while throwing three touchdown passes on just nine attempts.
McFadden accounted for an astounding 19 touchdowns that season in four ways — 14 touchdowns running, three passing touchdowns, one receiving touchdown and a kickoff return for a score.
He again earned first-team All-American honors as a junior in 2007 and won the Doak Walker Award that goes to the nation's best running back after rushing for 1,829 yards and 16 touchdowns, throwing for four additional scores and catching a touchdown pass.
The SEC Offensive Player of the Year for 2007 — he beat Heisman winner Tim Tebow — McFadden was recognized as the National Player of the Year when he was tapped for the Walter Camp Award. He finished second to Tebow in the Heisman vote. The Oakland Raiders made McFadden the fourth overall pick of the 2008 NFL Draft.
4. Leonard Fournette (LSU): A rising junior who has almost single-handedly shouldered the Tigers' offense the past two seasons, Fournette is a rare force of nature whose combination of speed, vision and size allows him to run over opposing defenders as easily as he outruns them.
Fournette is the prohibitive early front-runner for this year's Heisman Trophy and could be the No. 1 overall pick of the 2017 NFL Draft if he jumps to the pros as expected following this season.
He rushed for 1,953 yards and 22 touchdowns as a sophomore in 2015, totaling at least 150 yards in each of the Tigers' first seven games, including three consecutive games of at least 228 yards rushing.
A sixth-place finisher for last year's Heisman Trophy, Fournette turned in his fourth game of at least 200 yards rushing when he torched Texas Tech for 212 and four scores in the Texas Bowl. As a true freshman in 2014, he ran for 1,034 yards and 10 touchdowns.
Fournette enters his junior season with 2,987 yards. He's 1,570 yards behind LSU's career leader Kevin Faulk and needs 2,013 yards to join Herschel Walker as the only backs in SEC history to reach 5,000 career yards.