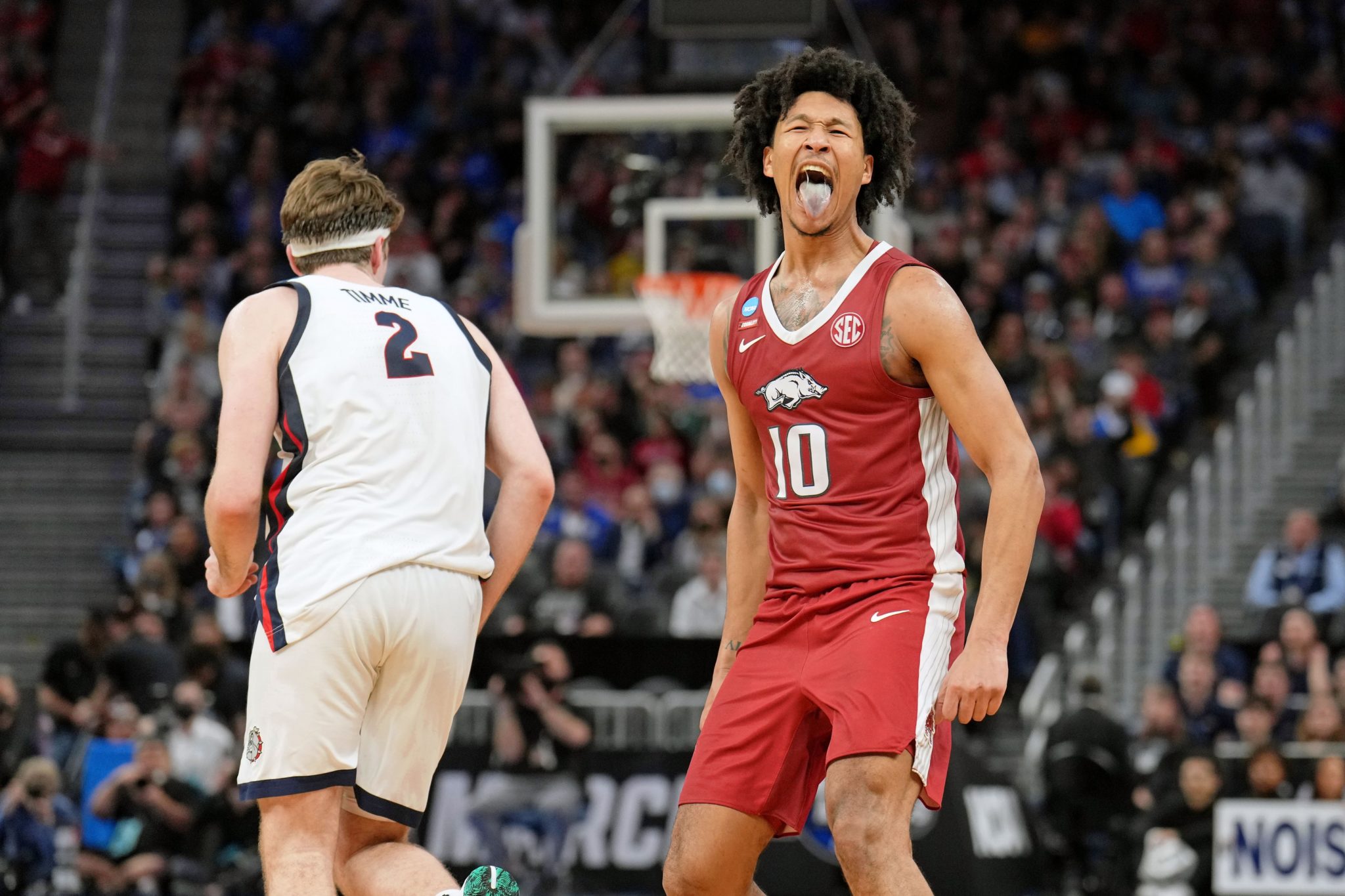 SEC
Ranking my 10 favorite SEC sports moments from the 2021-22 school year
School's out for summer.
Shout Alice Cooper. Shoutout "Dazed and Confused." For my money, that's the best coming-of-age movie ever made. My rankings for that will come out eventually.
Today, however, we'll be doing a different ranking. That is, my favorite SEC moments from the 2021-22 school year.
That moment can be individual-specific or it can be team-specific. It's not just big revenue sports, either. This won't be football-specific, though obviously, there's a certain bit of magnitude that comes with the sport that's tough to match.
So, let's dig into my favorite SEC moments from the 2021-22 school year:
10. Texas A&M eliminates Texas in College World Series
I don't know what the Guinness Book of World records is for "Horns Down" in a baseball stadium, but I'd like to imagine that A&M fans set the mark after the Aggies knocked off the Longhorns in Omaha. It was a brilliant pitching performance from Micah Dallas, who fittingly waved Texas goodbye from the College World Series:
Micah Dallas sent Texas home and, yeah, you know what came next. pic.twitter.com/Qpju3GyZqS

— Connor O'Gara (@cjogara) June 19, 2022
What that blowout win allowed A&M to do was eventually beat Notre Dame and earn its first CWS semifinal trip in school history. That came in Year 1 of the Jim Schlossnagle era. Not too shabby for a program that had 9 wins in SEC play in 2021.
9. Florida sweeps men's and women's outdoor track and field championships
For the first time since 2015, the same school swept the men's and women's outdoor track championships. The Gators won a pair of national titles and became the 7th school to accomplish that feat. Joseph Fahnbulleh led the way for the Florida men's squad with titles in both the 100-meter and 200-meter dash while the women were led by Jasmine Moore, who earned a national title in the long jump and triple jump.
Anna Hall (heptathlon) and Talitha Diggs (400 meters) also won national titles to help the Florida women's squad to its first ever outdoor track championship. Diggs had a sweep of her own by taking both 400-meter titles.
Talitha Diggs Sweeps the 400 Meters Indoors and Outdoors!

49.99!

📺 https://t.co/SSCcurimKD | @DiggsTalitha pic.twitter.com/nSdz8iJBpc

— Gators Track and Field & Cross Country (@GatorsTF) June 11, 2022
That's some serious SEC speed.
8. Lane Kiffin returns to Tennessee … and gets a fitting welcome
Mustard bottles, vape pens and golf balls.
What did I just describe? Lane Kiffin's first game back to Knoxville as a head coach since leaving Tennessee after the 2009 season. It was everything we could've hoped for and more. Well, at least from an entertainment standpoint. The SEC league offices probably won't be showing that on an "It Just Means More" commercial anytime soon. Some questionable officiating led to an already on-edge Neyland Stadium Crowd hurling so many objects onto the field in the midst of the thrilling Saturday night showdown that a 20-minute delayed ensued.
Lost in the shuffle of that night wherein Kiffin picked up a golf ball and pocketed it was the most resilient game of Matt Corral's career. He ran the ball 30 times (!) for 195 yards. The guy had 426 yards in that atmosphere and put his team on his back in a way that few have in recent memory. If not for that, Kiffin would've gone home empty-handed.
(Except for the golf ball, of course.)
Lane Kiffin after escaping Tennessee

"I don't know if I'm more excited we found a way to win or I didn't get hit by a golf ball they were throwing at me."

Absolute gold. pic.twitter.com/7gcGe3AUtX

— George Balekji (@GeorgeBalekji) October 17, 2021
7. Bryce Young wins the 2021 Heisman Trophy
I hope we appreciate just how remarkable Young is. That pertains to Alabama fans and college football fans as a whole. The most interesting discussion with the 2021 Heisman was why Will Anderson wasn't in New York and whether a defensive player could win the award. That took away from Young's brilliance. The guy totally torched arguably the best defense of the 21st century in a Playoff-or-bust game and he delivered one of the best individual seasons we've seen at the position in the past decade.
But instead of Young's play making the loudest statement in New York, he was picked apart for saying that he's always been "ruled out."
Bryce Young wanted to prove it to himself 💪 pic.twitter.com/pl9706B8To

— SportsCenter (@SportsCenter) December 12, 2021
Yeah, he was a 5-star player and the No. 2 recruit in the 2020 class. What we forget is just how hard it is to live up to sky-high expectations, much less exceed them and win a Heisman. Young took a page out of Michael Jordan's book with the whole "and I took that personally" mindset. So what? It worked. He was fantastic in 2021, and if we're lucky as college football fans, we'll see more brilliance out of him in 2022.
6. Arkansas knocks off top-seed Gonzaga in Sweet 16
How 'bout them Hogs? Eric Musselman's team was supposed to bow out of the NCAA Tournament once it got matched up with the top overall seed in the field, Gonzaga. Instead, the Hogs played a disciplined, physical game to stun Drew Timme, Chet Holmgren and the Zags. JD Notae gave Arkansas what it needed and cemented his status as a program legend.
Another trip to the Elite 8 further established the notion that the Hogs are knocking on the door of greatness. Not only did Arkansas win an NCAA Tournament game in consecutive years for the first time this century, it was also the only SEC team to accomplish that feat in 2021-22. If you're not on the Muss Bus yet, well, I'm not sure what you're waiting for.
5. Oklahoma and Texas officially agree to join the SEC
Yes, I realize this was technically the last weekend of July 2021, but I'm still gonna count it. Just a couple weeks after the bombshell came out from the Houston Chronicle that Oklahoma and Texas were joining the SEC, the move was signed, sealed and delivered. It was a stunning development, given the landscape of the sport with Power 5 realignment seemingly at a standstill since 2015. Greg Sankey pulled off a master heist that left the Big 12 scrambling.
It wasn't a coincidence that the announcement came after we found out there were plans to expand to a 12-team Playoff. Of course, that led to the short-lived "Alliance" being formed as a way to not get blindsided by the SEC's power moves. It took less than a year for The Alliance to go up in smoke when USC and UCLA agreed to leave the Pac-12 for the Big Ten. That happened as a direct result of the SEC adding powerhouse athletic programs Texas and Oklahoma.
Whenever they join the SEC — it's now looking like 2025 — get ready for the "super conference association" to take on a new life.
4. The Jimbo Fisher-Nick Saban feud
It was unlike anything we've seen between elite college football coaches in the internet age. Nick Saban claimed that A&M "bought" its entire recruiting class during a speaking event in Birmingham. That led to Jimbo Fisher going scorched earth on his former boss. He called Saban a "narcissist" and said that the media should look into "operations and tactics of certain people." That was really just the tip of the iceberg.
Texas A&M HC Jimbo Fisher just fired back at Nick Saban for saying they "bought" recruits.

Fisher calls Saban a "narcissist" and says he won't take his call.

"We built him up to be this czar of football. Go dig into his past." pic.twitter.com/iG4UQ4BH3I

— Ari Meirov (@MySportsUpdate) May 19, 2022
For what it's worth, Saban did apologize for singling out A&M. Fisher and Saban got a public reprimand from Sankey that day. We found out later that the Aggies actually tried to get the SEC to suspend and fine Saban. Sankey avoided a suspension and told SEC coaches to withhold speaking publicly until the SEC Meetings in Destin … where Fisher said "we're done with it."
Needless to say, we're not done with it. Something tells me that'll carry over into the 2022-23 school year when A&M travels to Alabama on Oct. 8.
3. South Carolina women's basketball wins its second national title
If you put together separate lists for "best coaches to have lunch with" and "most influential people in their sport in the past 30 years," Dawn Staley makes both lists without question. That's unique. It's also unique to be able to say "I've won 2 national titles since UConn last won it all." In fact, Staley is the only person who can say that after leading a national championship victory against the Huskies in 2022.
Think about where South Carolina was before Staley took over in 2008. It wasn't just that the Gamecocks had missed the NCAA Tournament in the previous 5 seasons. They were 20-50 against SEC competition during that stretch. In her past 5 seasons against SEC competition, Staley is 70-10. That doesn't even include the first national title with A'ja Wilson in 2016-17. Wilson has a statue at South Carolina. It's about time Staley got one of her own.
Speaking of statues …
2. Ole Miss baseball wins its first baseball national title
I call "dibs" on the Tim Elko movie rights. The mustached leader of Ole Miss led the program to its first national title ever with a dominant NCAA Tournament showing after his team barely snuck into the field. A losing record in SEC play didn't stop the Rebs from finally getting over that hump. Mike Bianco's team weathered a nasty midseason storm — starting off 7-14 in SEC play would qualify as "nasty" — and reached the pinnacle.
If we were doing a ranking of "best individual performances of the 2021-22 school year," there wouldn't be many ahead of Dylan DeLucia's gem against Arkansas in the CWS semifinals. How fitting it was that Elko delivered a 4-hit game to kick off the CWS finals against Oklahoma, and that a late come-from-behind victory was the story of the title-clinching Game 2. That was the Ole Miss season in a nutshell. The fact that it happened a year after in-state rival MSU baseball claimed the university's first team sport title made it that much sweeter.
1. Georgia football wins its first national championship since 1980
You knew what No. 1 was. I mean, come on.
It was a storybook season. The championship DVD would've started with the SEC Championship loss to Alabama and culminated with the Kelee Ringo pick-6 in the national title game. We would've gotten a slow-motion shot of Kirby Smart yelling from the sideline for Ringo to get down. Maybe we would've gotten drunk post-championship Stetson Bennett IV in the closing credits. Sprinkle in a shot of Brock Bowers running past the entire Georgia Tech defense with the Nakobe Dean pick-6 vs. Florida and perhaps a breakdown of Jordan Davis running down that UAB quarterback and yep … there's your championship DVD.
Witnessing Georgia's first national title since 1980 — and the parade that followed in Athens — put it all in perspective. It's so easy to take these moments for granted when someone we're used to seeing wins a title. But even as someone without a rooting interest, watching Georgia fans celebrate their ultimate bucket list moment was something that I'll never forget.