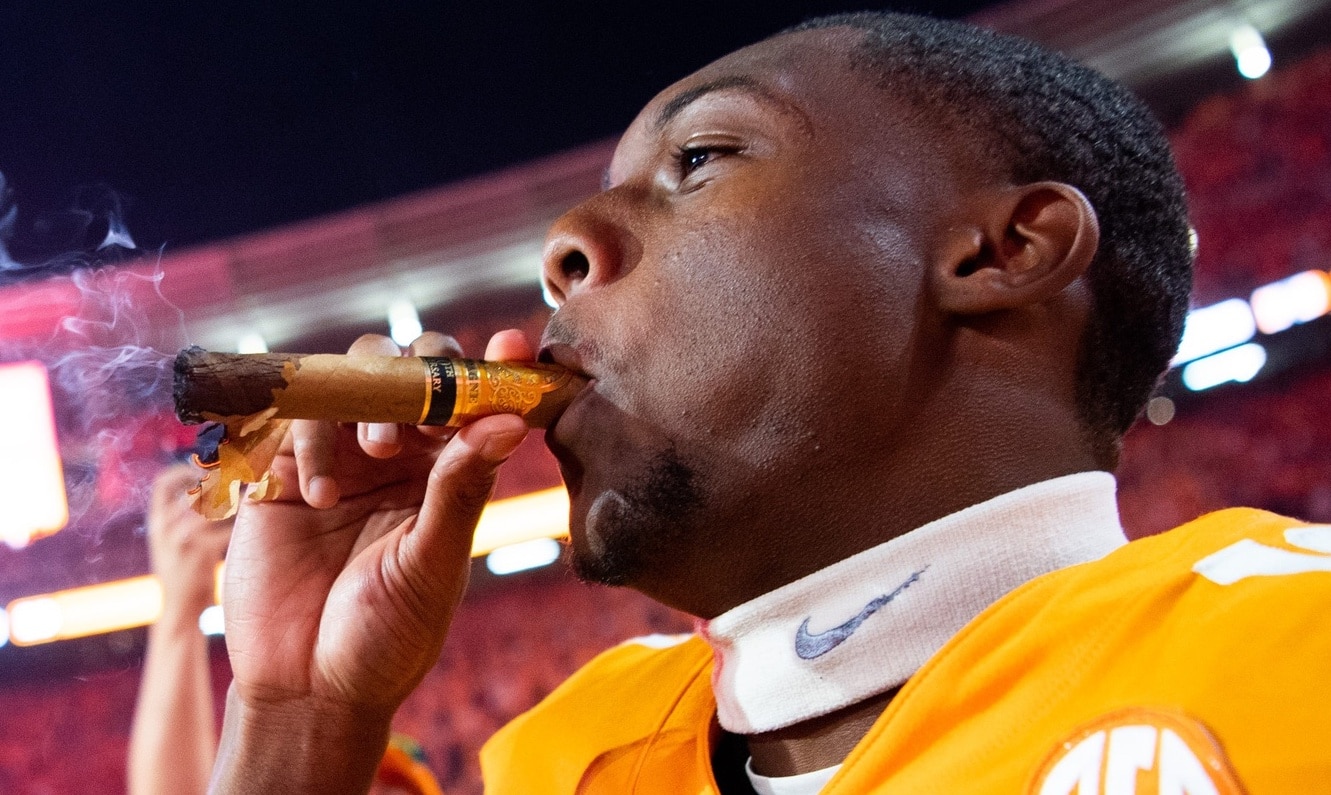 SEC
Ranking the SEC's top 10 moments from 2022
Smell ya later, 2022. You came, you saw, you conquered. And we're not just
Actually, 2022 is the early leader in the clubhouse for "best year of the decade." Of course, that's not really saying a whole lot when 2020 and 2021 are the competition.
But 2022 was another year in which the SEC was filled with plenty of notable moments, both on and off the field.
Let's subjectively (not objectively) rank those:
10. Florida sweeps men's and women's outdoor track and field championships
For the first time since 2015, the same school swept the men's and women's outdoor track championships. The Gators won a pair of national titles and became the 7th school to accomplish that feat. Joseph Fahnbulleh led the way for the Florida men's squad with titles in both the 100-meter and 200-meter dash while the women were led by Jasmine Moore, who earned a national title in the long jump and triple jump.
Anna Hall (heptathlon) and Talitha Diggs (400 meters) also won national titles to help the Florida women's squad to its first ever outdoor track championship. Diggs had a sweep of her own by taking both 400-meter titles.
Talitha Diggs Sweeps the 400 Meters Indoors and Outdoors!

49.99!

? https://t.co/SSCcurimKD | @DiggsTalitha pic.twitter.com/nSdz8iJBpc

— Gators Track and Field & Cross Country (@GatorsTF) June 11, 2022
That's some serious SEC speed.
9. Anthony Richardson leads upset of Utah in Billy Napier's debut
I promise this is the last Florida mention. Perhaps that's fitting because it felt like Florida's last relevant moment of the 2022 season was beating preseason No. 7 Utah. Talk about setting the bar high coming off a lost 6-win season.
Anthony Richardson dazzled the college football world with a handful of jaw-dropping plays to skyrocket his Heisman Trophy odds and Amari Burney's interception in the end zone capped off what turned out to be the top opening weekend game of 2022. Whatever conservative expectations there were for Napier in Year 1 quickly took on new life in front of a raucous crowd in The Swamp.
As for actually living up to those expectations, well, that was a different story.
8. Brian Kelly goes for 2 and takes down Alabama en route to a West title in Year 1
It was fair to wonder how long it would take for Kelly to start beating elite competition at LSU. After all, his lone win against a top-5 foe in his entire career came in 2020 when Notre Dame took down a Trevor Lawrence-less Clemson team in South Bend. How quickly would he quiet the "can't win the big one" narrative with a more talented roster at LSU?
Um, pretty quickly. With Death Valley rocking, Kelly took a massive gamble going for the 2-point conversion in an all-or-nothing play against No. 6 Alabama.
JAYDEN DANIELS TO MASON TAYLOR FOR THE GAME-WINNING 2-POINT CONVERSION

LSU BEATS ALABAMA AND TAKES CONTROL OF THE SEC WESTpic.twitter.com/Oa78A51LfG

— 247Sports (@247Sports) November 6, 2022
One game was all it took for Kelly to take down Nick Saban. That win essentially cleared the way for the Tigers to win the SEC West and get to Atlanta coming off the program's 2 worst seasons of the 21st century. And to think, some said Kelly would never work at LSU simply because of his poor dancing and attempts at a Southern accent.
7. South Carolina turns into the ultimate Playoff slayer
I remember watching SEC Nation in Columbia ahead of the Tennessee-South Carolina game. The Gamecocks were 6-6 coming off a beatdown loss at Florida, and seemingly all hope of a significant Year 2 improvement under Shane Beamer was gone with matchups against a pair of 1-loss teams remaining on the schedule. Marty Smith attempted to pump up a pretty subdued pregame crowd.
Little did they/anyone know what awaited.
South Carolina didn't just beat Tennessee. The Gamecocks took their soul. Spencer Rattler played essentially a perfect game and the college football gods smiled down on the garnet and black. The fact that Rattler doubled down the following week by stunning Clemson (and doing so in Death Valley) for the first time in the post-Steve Spurrier era only added to his instant status as a South Carolina legend. Beamer, just as he did in Year 1, tapped into a November gear that few thought his team had. Two Playoff-hopeful teams watched that dream die at the hands of the Gamecocks.
Who would've thought?
6. Arkansas knocks off top-seed Gonzaga in the Sweet 16
How 'bout them Hogs? Eric Musselman's team was supposed to bow out of the NCAA Tournament once it got matched up with the top overall seed in the field, Gonzaga. Instead, the Hogs played a disciplined, physical game to stun Drew Timme, Chet Holmgren and the Zags. JD Notae gave Arkansas what it needed and cemented his status as an all-time great Razorback.
What's your favorite @ArkRazorbacks moment from 2022?

For me… it's not close ⬇️ pic.twitter.com/YozqlMN6Xa

— Tye Richardson ? (@TyeSportsRadio) December 30, 2022
Another trip to the Elite 8 further established the notion that the Hogs are knocking on the door of greatness. Not only did Arkansas win an NCAA Tournament game in consecutive years for the first time this century, it was also the only SEC team to accomplish that feat in 2021-22. If you're not on the Muss Bus yet, well, I'm not sure what you're waiting for.
5. The Jimbo Fisher-Nick Saban feud
It was unlike anything we've seen between elite college football coaches in the internet age. Speaking at an event in Birmingham, Nick Saban claimed that A&M "bought" its entire recruiting class. That led to Jimbo Fisher going scorched earth on his former boss. He called Saban a "narcissist" and said that the media should look into "operations and tactics of certain people." That was really just the tip of the iceberg.
Texas A&M HC Jimbo Fisher just fired back at Nick Saban for saying they "bought" recruits.

Fisher calls Saban a "narcissist" and says he won't take his call.

"We built him up to be this czar of football. Go dig into his past." pic.twitter.com/iG4UQ4BH3I

— Ari Meirov (@MySportsUpdate) May 19, 2022
For what it's worth, Saban did apologize for singling out A&M. Fisher and Saban got a public reprimand from Sankey that day. We found out later that the Aggies actually tried to get the SEC to suspend and fine Saban. Sankey avoided a suspension and told SEC coaches to withhold speaking publicly until the SEC Meetings in Destin … where Fisher said "we're done with it."
It was as notable of a public feud as we've seen in recent memory. Sadly, we didn't get any more fireworks beyond that week in May. Fingers crossed that the flame reignites in 2023.
4. South Carolina women's basketball wins its 2nd national title
If you put together separate lists for "best coaches to have lunch with" and "most influential people in their sport in the past 30 years," Dawn Staley makes both lists without question. That's unique. It's also unique to be able to say "I've won 2 national titles since UConn last won it all." In fact, Staley is the only person who can say that after leading a national championship victory against the Huskies in 2022.
Think about where South Carolina was before Staley took over in 2008. It wasn't just that the Gamecocks had missed the NCAA Tournament in the previous 5 seasons. They were 20-50 against SEC competition during that stretch. In her past 5 seasons against SEC competition, Staley is 70-10. That doesn't even include the first national title with A'ja Wilson in 2016-17. Wilson has a statue at South Carolina. It's about time Staley got one of her own.
3. Tennessee ends the Alabama streak and sends the goalposts down the Tennessee River
They don't make 'em like this anymore. That is, regular-season games with this kind of buildup and exhale.
For the first time in 16 years, Tennessee took down Alabama. Finally, Nick Saban lost to the Vols and even better was the fact that it happened with a pair of unbeaten squads battling it out in a thriller in Neyland. It was only fitting that the game ended with a walk-off field goal for the ages.
VICTOIRE TENNESSEE !!!

K Chase McGrath réussit le FG de la gagne !

Tennessee bat Alabama, 52-49. Wow !

? @CBSSports pic.twitter.com/Cm2fPjWCwk

— TBP College Football (@thebluepennant) October 15, 2022
Knuckle ball kick or not, all that mattered was that the Vols finally slayed Goliath. Er, Alabama. The scene that ensued was iconic. People who have been covering the sport for decades talked about the unprecedented postgame pandemonium in Knoxville, most notably the sea of smoke after Vols fans puffed their long overdue cigars while carrying the goalposts into the Tennessee River. It was the perfect "we're back" moment.
2. Ole Miss baseball wins its first baseball national title
I call "dibs" on the Tim Elko movie rights. The mustached leader of Ole Miss led the program to its first national title ever with a dominant NCAA Tournament showing after his team barely snuck into the field. A losing record in SEC play didn't stop the Rebs from finally getting over that hump. Mike Bianco's team weathered a nasty midseason storm — starting off 7-14 in SEC play would qualify as "nasty" — and reached the pinnacle.
If we were doing a ranking of "best individual performances of the 2021-22 school year," there wouldn't be many ahead of Dylan DeLucia's gem against Arkansas in the CWS semifinals. How fitting it was that Elko delivered a 4-hit game to kick off the CWS finals against Oklahoma, and that a late come-from-behind victory was the story of the title-clinching Game 2. That was the Ole Miss season in a nutshell. The fact that it happened a year after in-state rival MSU baseball claimed the university's first team sport title made it that much sweeter.
1. Georgia football wins its first national championship since 1980
(I know, the Dawgs just won their 2nd consecutive national championship on Monday night, in historic fashion no less, but that technically happened in 2023. So we'll save that for next year's list and focus on the title they won to kick off the calendar year 2022.)
Was there any debate? The best moment of 2022 happened in the second week of January.
It was a storybook season. The championship DVD would've started with the SEC Championship loss to Alabama and culminated with the Kelee Ringo pick-6 in the national title game, which will stand the test of time as the most significant defensive play in program history. We would've gotten a slow-motion shot of Kirby Smart yelling from the sideline for Ringo to get down. Maybe we would've gotten drunk post-championship Stetson Bennett IV in the closing credits. Sprinkle in a shot of Brock Bowers running past the entire Georgia Tech defense with the Nakobe Dean pick-6 vs. Florida and perhaps a breakdown of Jordan Davis running down that UAB quarterback and yep … there's your championship DVD.
Witnessing Georgia's first national title since 1980 — and the parade that followed in Athens — put it all in perspective. It's so easy to take these moments for granted when someone we're used to seeing wins a title. But even as someone without a rooting interest, watching Georgia fans celebrate their ultimate bucket list moment was something that I'll never forget. It was an obvious choice for the best moment of 2022.