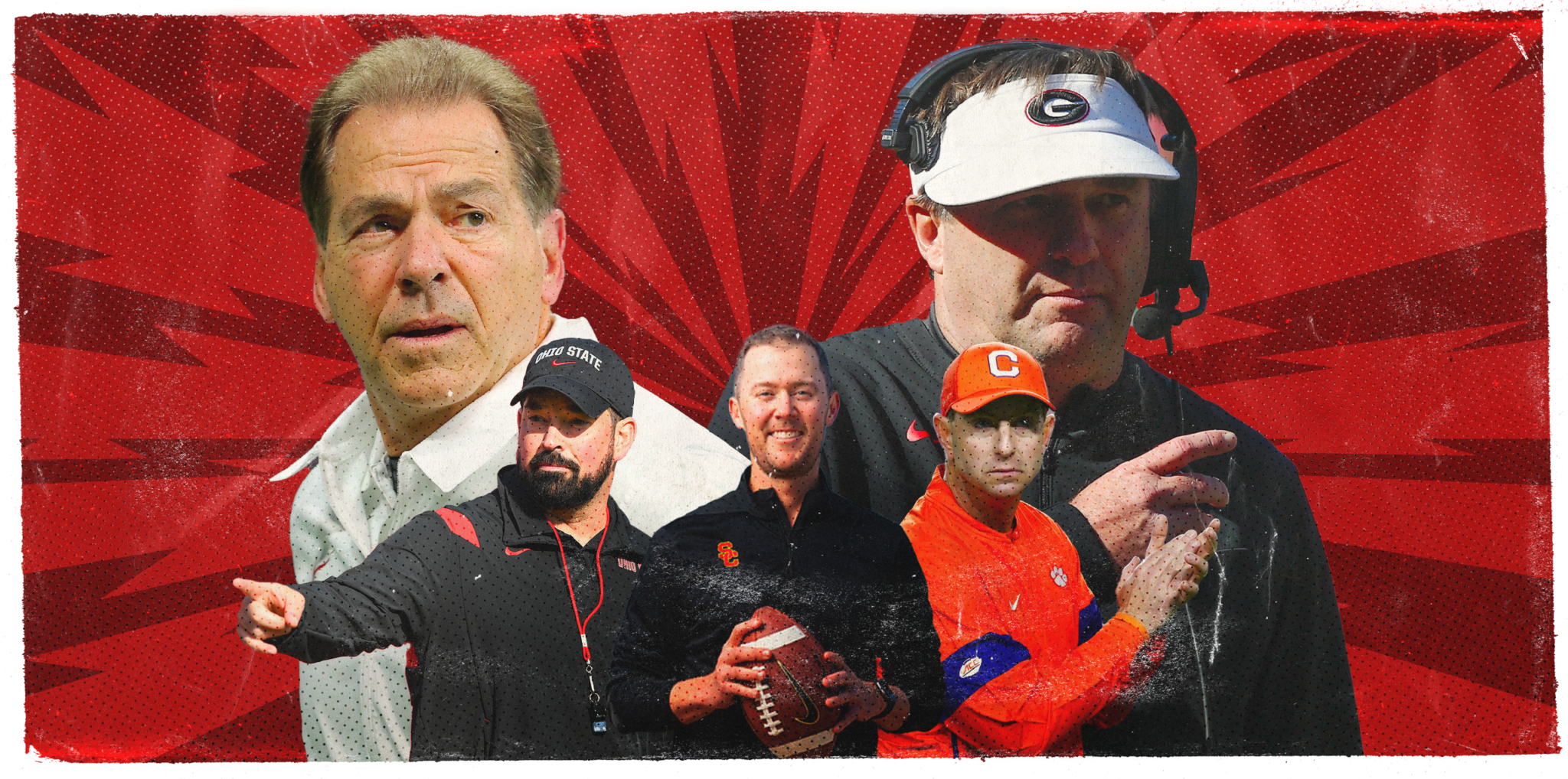 SEC
Ranking the Top 25 coaches in college football in 2022
Editor's note: Our annual Top 25 preview week continues with an updated ranking of the 25 best head coaches entering the 2022 season.
For the past decade, there wasn't always a lot of debate about who was the best college football coach in America.
The debate normally began with who followed Nick Saban on the list.
Did last season change that dynamic?
Here are the 25 best college football coaches in America heading into the 2022 season.
25. Jeff Monken, Army
Has coached so well since arriving at West Point in 2014, he has passed 2 other longtime top 25 coaches from the academies (Ken Niumatalolo of Navy, Troy Calhoun of Air Force). Has 44 wins in the past 5 seasons.
24. Kalani Sitake, BYU
Grown significantly in the job despite the inherent obstacles for all coaches of the last 2 seasons. Has 21 wins from 2020-21, and this year's team could also get double-digit wins.
23. David Clawson, Wake Forest
The Professor. A rare offensive mind, and a perfect fit at Wake Forest. They're not running off coaches who can't win 7-8 games, and Clawson is having a blast winning 7-8 — and sometimes more.
22. Mike Leach, Mississippi State
Texas Tech, Washington State and now Mississippi State. Three difficult places to win, and Leach made it work at the first two. This year, with 3-year starting QB Will Rogers and a strong defense, could be unique.
21. Mike Gundy, Oklahoma State
Don't discount all the good Gundy has accomplished at Oklahoma State just because of his poor record vs. Oklahoma. Many coaches had poor records vs. Bob Stoops and Lincoln Riley.
20. Lane Kiffin, Ole Miss
My initial thought was Ole Miss would be a layover for Kiffin. Now I think he might just stay where he makes good money and can enjoy the (relative) obscurity.
19. Matt Campbell, Iowa State
Has had serious interest from blue-blood Power 5 schools but has stayed in Ames. He's not built to cut and run, but can he reach the Playoff at Iowa State?
18. David Shaw, Stanford
Like a few on this list, the COVID season in 2020 sideswiped momentum. In 11 previous years at Stanford, he had 7 seasons of at least 9 wins. Stanford has 9 double-digit win seasons in more than 100 years of football. Shaw has 5 of them.
17. Pat Fitzgerald, Northwestern
Fitz has had these step-back years before. There's too much good history of elite player development to think it will continue in 2022.
16. Paul Chryst, Wisconsin
The past 2 seasons weren't typical of Chryst's Wisconsin teams. If it all clicks with 3-year starter QB Graham Mertz, Badgers will be back in the B1G championship game.
15. Dave Aranda, Baylor
We're barely 2 years into his first head coaching job, and already NFL franchises are interested. Stayed at Baylor this offseason when he could've gone elsewhere for more money.
14. Mack Brown, North Carolina
Brown is 1 of only 5 active coaches with a national championship. He loves a challenge, and is staring at one in Chapel Hill, which is starting over without QB Sam Howell.
13. Mark Stoops, Kentucky
The most underrated and undervalued coach in college football. Kentucky has 4 double-digit win seasons in the 107-year history of the program. Stoops owns 2 of them in the past 4 years.
12. James Franklin, Penn State
Don't panic in Happy Valley, even with the 11-10 record (8-10 in B1G) over the past 2 seasons. Players love him, and he's a proven winner — but it's time again to play important games in November.
11. Jim Harbaugh, Michigan
Michigan (and Harbaugh) got over the Ohio State hump. Now what? There's more talent (and confidence) in Ann Arbor than you think. A sneaky, dangerous Playoff pick.
10. Kyle Whittingham, Utah
He has always been an elite coach doing more with less (see: player development), it was merely certified with last year's Pac-12 championship. Utes can back it up in 2022 with a Playoff run.
9. Mario Cristobal, Miami
The Canes went through 2 lost decades without the right fit. They have him now, a proven recruiter and winner (2 Pac-12 titles at Oregon). Cristobal + South Florida recruiting = Playoff.
8. Luke Fickell, Cincinnati
He's 33-5 in his past 3 seasons, and before you start arguing Group of 5, his teams stood toe to toe with Georgia (2020) and Alabama (2021) in big-time games — and didn't blink.
7. Jimbo Fisher, Texas A&M
In 2013, when he won a national title at FSU, the starting 22 all either were drafted by the NFL or invited to camp. That's where, with elite recruiting, Fisher is headed in College Station.
6. Lincoln Riley, USC
The greatest threat to the SEC landing 2 spots in the Playoff moving forward: USC with Riley. Why? He's an elite recruiter, elite offensive mind at a top-3 program.
5. Brian Kelly, LSU
Go ahead and make fun of his assimilation off the field. Then watch the quick, dynamic assimilation on it. Everything is set up to become the 4th LSU coach since 2003 to win a national title. Only a matter of when.
4. Ryan Day, Ohio State
Hard to argue with a 31-4 record (22-1 in B1G), 2 conference titles and 2 Playoff appearances. This is Year 4. It's his team, his players. Watch out.
3. Dabo Swinney, Clemson
When Swinney won his second national title in 2018, he jumped Nick Saban in the pecking order. Briefly. He's not done winning championships at Clemson.
2. Nick Saban, Alabama
The greatest of the great. But what's more startling: that Saban needed the transfer portal to fix holes at wide receiver, tailback, left tackle and cornerback? Or that he got 5 elite players to do so?
1. Kirby Smart, Georgia
Fight amongst yourselves about the moment (Smart) vs. the résumé (Saban), I'm taking the moment — in a sport that screams what have you done for me lately?