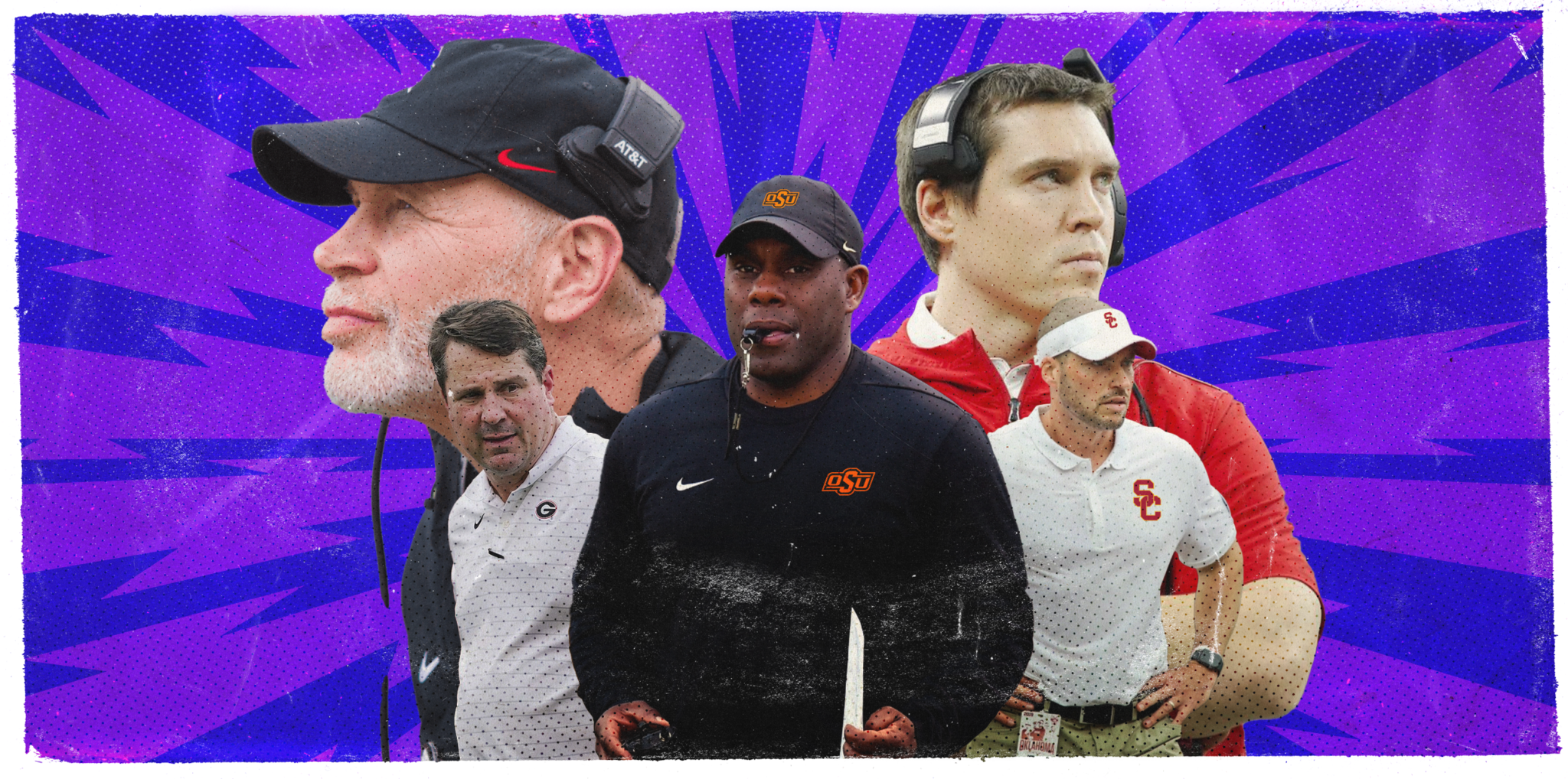 SEC
Ranking the Top 25 defensive coordinators in college football in 2022
Editor's note: Our annual Top 25 preview week continues with a breakdown of the best defensive coordinators in the business.
The hardest job in college football, where losing happens nearly every play — and it's only a question of how badly. The goal for defensive coordinators used to be 3-and-outs and forcing turnovers. Now it's simply getting a stop — and not giving up another score.
Who does that better than the rest?
Here are the Top 25 defensive coordinators in college football entering the 2022 season:
25. Tony Gibson, NC State
A longtime college assistant, his 2nd season as DC at NC State in 2021 finished with the No. 14-ranked scoring defense in the nation, and a unit that led the ACC with 15 INTs.
24. Jesse Minter, Michigan
Don't hold the Vanderbilt defense from 2021 against Minter, who came highly recommended to Michigan coach Jim Harbaugh by his brother, John, who had Minter on staff from 2017-20. A brutal rebuild (with limited personnel) in Nashville isn't the same thing as coaching at Michigan for Minter, the son of longtime successful college DC Rick Minter.
23. Doug Belk, Houston
He arrived with coach Dana Holgorsen in 2019, and the rebuild on defense was staggering. By Year 3 in 2021, the Cougars had climbed from 119th in the nation in scoring defense in 2018 to No. 19 last year.
22. Kurt Mattix, San Diego State
In 2 seasons with the Aztecs, Mattix's defenses have finished No. 11 and No. 16 in the nation in scoring defense.
21. Tim DeRuyter, Texas Tech
The DC mercenary over the past 3 decades, DeRuyter has led stout defenses at Ohio, Navy, Nevada, Air Force, Texas A&M, Cal, Oregon and now Texas Tech, where he's charged with fixing a defense that has allowed 30+ points per game in each of the past 12 seasons.
20. Pete Kwiatkowski, Texas
Yep, Texas was 99th in the nation in scoring defense last year. That's more about personnel than coaching. Kwiatkowski built elite defenses at Boise State and Washington. He'll do it again at Texas.
19. Patrick Toney/Sean Spencer, Florida
A quiet reality this offseason: Toney — a rising star in the coaching fraternity — was pursued by many this offseason, but stayed with new Gators coach Billy Napier.
18. Matt House, LSU
A longtime NFL assistant, he was on the verge on turning the Kentucky defense into a legit factor in the SEC, then left in 2019 for a job with the Kansas City Chiefs. He returned to the college game (and SEC) this offseason to lead Brian Kelly's defense.
17. Jon Heacock, Iowa State
He arrived in Ames in 2016 with Matt Campbell and has been a critical factor in the growth of the program. Iowa State allowed 31.6 points per game in 2016. It hasn't allowed more than 25.9 since and usually has hovered around the 20-point mark.
16. Morgan Scalley, Utah
Former Utah All-American safety was a Broyles Award finalist in 2019, when the Utes led the Pac-12 in scoring defense (15.0 points per game). They've stayed in the top 3 the past 2 seasons.
15. Joe Rossi, Minnesota
Forget about the 2020 COVID season. It's a wash with the uncertainty and lack of hitting in the preseason. The 2019 (No. 36 nationally in scoring defense) and 2021 (No. 6) seasons have been fantastic for the Gophers under Rossi.
14. DJ Durkin, Texas A&M
He's following one of the game's best (Mike Elko) at College Station, but he has produced elite defenses at Florida and Michigan, and turned around the Ole Miss defense in 2 years.
13. Brad White, Kentucky
His ability to take the defense and thrive has allowed Mark Stoops to become more of a CEO — and reset the offense with two smart coordinator hires and rebuilding offensive personnel through the portal.
12. Barry Odom, Arkansas
Long considered by his peers as one of the game's best defensive minds, he has been the perfect No. 2 for surging Hogs coach Sam Pittman. The Hogs surrendered 22.9 points per game last season — by far their best showing since 2014.
11. Ron Roberts, Baylor
Think Saban and Kirby Smart: For years, Smart didn't get the credit he deserved because it was "Saban's defense" — same thing with Roberts and Baylor coach Dave Aranda.
10. Pete Golding, Alabama
Golding gets more criticism than he should for the unit not being as dominant as it was in the early Nick Saban years. The offensive game has evolved, and everyone on defense at every program is scrambling to adjust.
9. Kevin Steele, Miami
His defense at Auburn in 2020 was one of the best in the nation. He's still an elite recruiter.
8. Zach Arnett, Mississippi State
Rocky Long, one of the game's best defensive minds, raves about Arnett, the former New Mexico linebacker who has become an elite young coach.
7. Alex Grinch, USC
Grinch rebuilt the Oklahoma defense over the past 3 seasons with Lincoln Riley, after producing a top 16 scoring defense in his 3rd season at Washington State with Mike Leach. The stress of coordinating defense behind an Air Raid offense will continue at USC.
6. Mike Tressel, Cincinnati
He was demoted in 2020 to safeties coach by new Michigan State coach Mel Tucker, despite his defenses finishing 36th and 8th in the nation in scoring over his 2 seasons as co-DC. A year later, he was hired at Cincinnati as DC, and the Bearcats had the No. 5 scoring defense in the nation.
5. Jim Knowles, Ohio State
Built one of the Big 12's best defenses over 4 seasons at Oklahoma State, including a record-setting unit it 2021. Buckeyes coach Ryan Day has done everything at Columbus except win it all — in part, because of an inconsistent defense. That's the expectation for Knowles in Year 1.
4. Phil Parker, Iowa
The longtime Hawkeyes DC might have had his most complete defense at Iowa in 2021, finishing 13th nationally in scoring defense, forcing 30 turnovers (nation-leading 25 INTs) and scoring 4 defensive touchdowns.
3. Derek Mason, Oklahoma State
Elite defenses under Jim Harbaugh and David Shaw at Stanford got him the Vanderbilt head coaching job, and after one successful year as Auburn's DC, he moves to a place that has had 2 DCs since 2011 (Glenn Spencer, Jim Knowles).
2. Will Muschamp/Glenn Schumann, Georgia
Muschamp has had successful defenses at LSU, Texas, Auburn and Florida, and last year worked with Oregon coach Dan Lanning and Schumann during Georgia's national championship run. He will have more control of the defense the season with Schumann.
1. Jim Leonhard, Wisconsin
In 5 seasons at Madison, Leonhard's defenses have finished 3rd, 34th, 10th, 9th and 4th in the nation. As impressive: They've forced 112 turnovers.