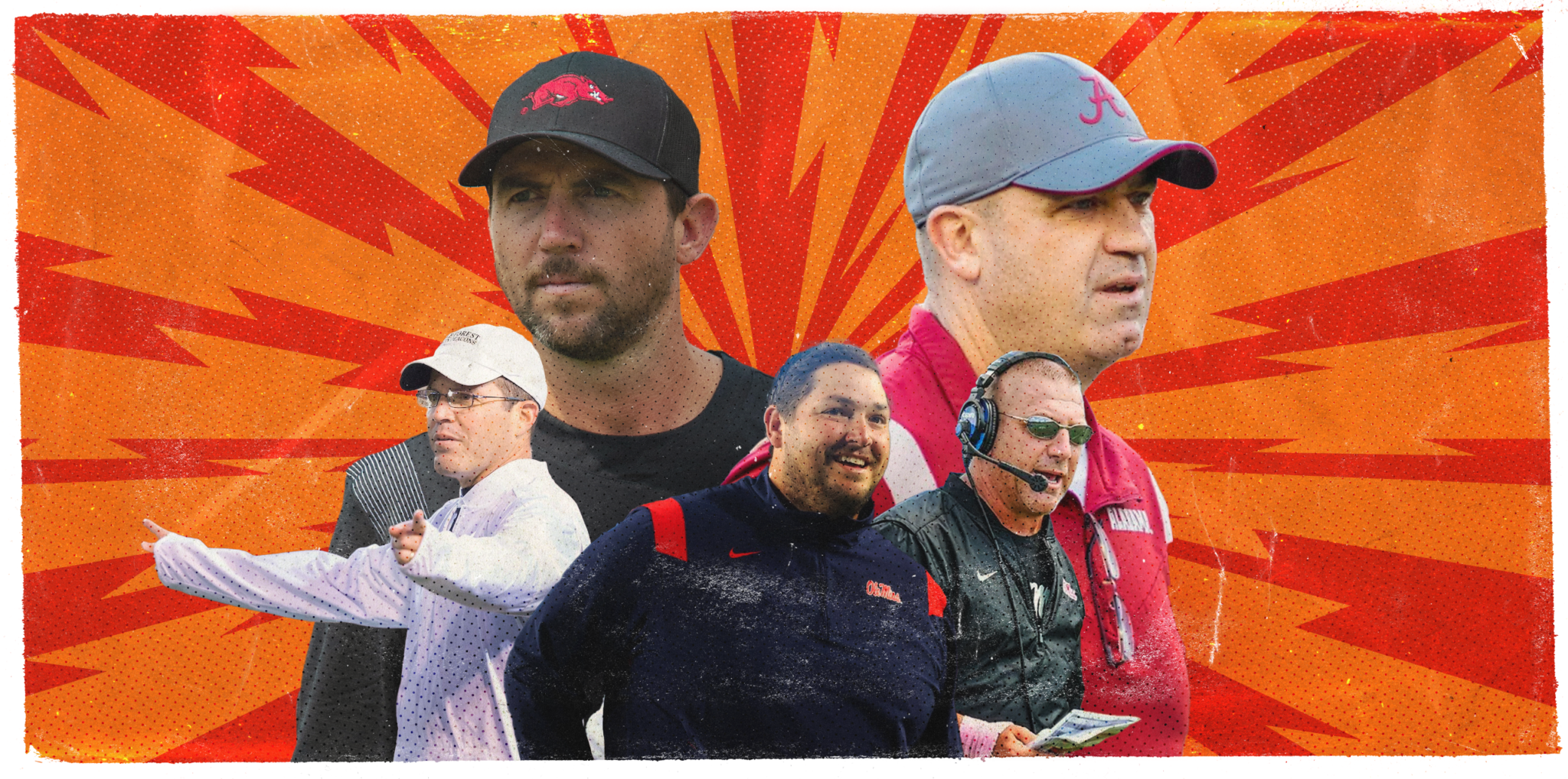 SEC
Ranking the Top 25 offensive coordinators in college football in 2022
Editor's note: Our annual Top 25 preview week continues with a ranking of the best offensive minds in the game.
Offensive coordinator in college football is the most unique coaching position of all.
Because some head coaches just can't relinquish what got them to the big chair in the first place.
That's why 6 of the top 10 offensive coordinators in the SDS annual rankings, and 13 of 25, are head coaches. In fact, 5 of the top 6 are head coaches.
These are the best of the best, which begin and end with a head coach:
25. Jason Candle, Toledo
Was a candidate for the Miami OC job last season (which would've paid significantly more than the HC job at Toledo), but stayed with the Rockets, who led the MAC in scoring last season at 33.4 points per game.
24. Andrew Sowder, Kent State
A critical piece to the turnaround at Kent State, which was No.1 in the nation in scoring offense in 2020, and No.30 in 2021.
23. Andy Ludwig, Utah
Ludwig was HC Kyle Whittingham's first OC at Utah from 2005-2008, then returned a decade later. In the past 3 seasons, Utah's offense has become more dynamic and QB Cameron Rising last year developed into the best QB in the Pac-12.
22. Willy Korn, Coastal Carolina
A combo system, with HC Jamey Chadwell still deeply involved in play calling but also giving Korn, the co-OC/QBs coach more input. Korn has been essential in the development of star QB Grayson McCall.
21. Garrett Riley, TCU
The younger brother of Lincoln Riley, Garrett's offenses at SMU the past 2 seasons — his first 2 as an OC — were No. 16 and No. 10 in the nation in scoring. His quarterbacks combined to throw 62 TDs, and SMU rushed for 3,702 yards and 44 TDs.
20. Mark Whipple, Nebraska
A coaching nomad, but a wildly successful one. He took a chance with the Nebraska OC job, and just might do enough to help save Scott Frost's job.
19. Tommy Rees, Notre Dame
Was given more and more control of the offense under former Notre Dame coach Brian Kelly and started calling plays in 2020. His work with Ian Book and Jack Coan the past 4 years has raised his coaching profile.
18. Billy Napier, Florida
In 2009, Clemson coach Dabo Swinney made Napier the youngest OC/QBs coach in the nation at 29. He's 43 now, and his offenses over the past 4 years at Louisiana were the foundation of a rebuilding project that included 4 appearances in the Sun Belt Conference Championship Game (1-2 record, 2020 game canceled).
17. Paul Chryst, Wisconsin
Highly-regarded play caller/QB coach within the coaching community. Everywhere he has coached — as a head coach and offensive coordinator — his offenses have been successful, and at times prolific.
16. Todd Monken, Georgia
His work with Stetson Bennett the past 2 seasons has been remarkable, consistently setting him up for success — and a national title. Bennett went from 8/6 TD/INT ratio in 2020, to a 29/7 in 2021.
15. Hugh Freeze, Liberty
The work he accomplished at Ole Miss with QBs Bo Wallace and Chad Kelly was impressive. What he did with Auburn castoff Malik Willis was phenomenal.
14. Jeff Brohm, Purdue
His career as an assistant, and as a head coach (WKU, Purdue), has revolved around developing quarterbacks and scoring points. It's more impressive with an experienced QB — so watch how well it unfolds this season with Aidan O'Connell.
13. Chip Kelly, UCLA
It's not that the rest of college football caught up with his offense, it's that he hadn't had the right combination of offensive line and quarterback. He does now with QB Dorian Thompson-Robinson, and UCLA won 5 of its last 7 games in 2021 while averaging 37 points per game.
12. Jimbo Fisher, Texas A&M
It worked so well as an assistant at Auburn, LSU and FSU, and as head coach at FSU, when he had the right quarterback. He might have one again this season with LSU transfer Max Johnson.
11. Josh Gattis, Miami
The Broyles Award winner in 2021 for the top assistant coach in the country, Gattis changed the Michigan offense and (QB Cade McNamara) from a liability to a strength during the Playoff run.
10. Phil Longo, North Carolina
A coaching jewel in the NCAA lower divisions, he got a shot at the FBS level at Ole Miss in 2017 and his offenses have been humming along since at both Ole Miss and North Carolina.
9. Warren Ruggiero, Wake Forest
The quiet assassin. Ruggiero isn't the loudest or most demonstrative guy on the sideline or in the meeting room, but he has few peers drawing it up and finding weaknesses in defenses. Wake Forest has finished 2nd, 3rd, 5th, 5th and 2nd in scoring in the ACC under his watch. That's 5 consecutive top-5 finishes, something Clemson can't claim.
8. Dana Holgorsen, Houston
A member of the Mike Leach coaching tree, Holgorsen has a fantastic offensive mind and unique play calling audacity. Houston QB Clayton Tune is a legitimate Heisman Trophy candidate in 2022.
7. Jeff Lebby, Oklahoma
His first job as an FBS OC was at UCF, where he developed both McKenzie Milton and Dillon Gabriel into elite quarterbacks. He did the same with Matt Corral at Ole Miss the past 2 years, and will get one more shot this fall with Gabriel.
6. Steve Sarkisian, Texas
His successful work as a coordinator/QBs coach/play caller goes all the way back to his time as an assistant at USC under Pete Carroll. If he can develop QB Quinn Ewers like he did Mac Jones at Alabama, the Texas offense will be dangerous.
5. Mike Leach, Mississippi State
It doesn't matter the quarterback; they're all successful and they all put up prolific numbers, no matter the team or conference (Texas Tech, Washington State, Mississippi State). Will Rogers is the latest example. He broke single-season school records last season.
4. Josh Heupel, Tennessee
Getting fired by his alma mater Oklahoma might have been the best thing for Heupel, who went to Missouri and was the architect of Drew Lock's monster season before his offense hit another level at UCF. In 1 year at Tennessee, his offense set multiple school records.
3. Bill O'Brien, Alabama
We know about O'Brien's work with Tom Brady in the NFL, and how he brought back to life the Penn State program. His work with first-year starting QB Bryce Young last year was wildly impressive, too. In his first year as a starter, Young became the first Alabama QB to win the Heisman.
2. Ryan Day, Ohio State
Since he returned to college football in 2017, his quarterbacks have thrown 198 TDs. That's 39.6 TDs per season — and that number includes the 2020-shortened COVID season, when Ohio State played only 6 regular-season games.
1. Lincoln Riley, USC
In 7 years as Oklahoma OC/head coach, his Sooners QBs threw 269 TDs (38.4 per season), won 2 Heisman Trophies (Baker Mayfield, Kyler Murray), added another finalist (Jalen Hurts) and 2 NFL No. 1 overall draft picks. Now he has OU transfer QB Caleb Williams in a stacked offense in Year 1 at USC.