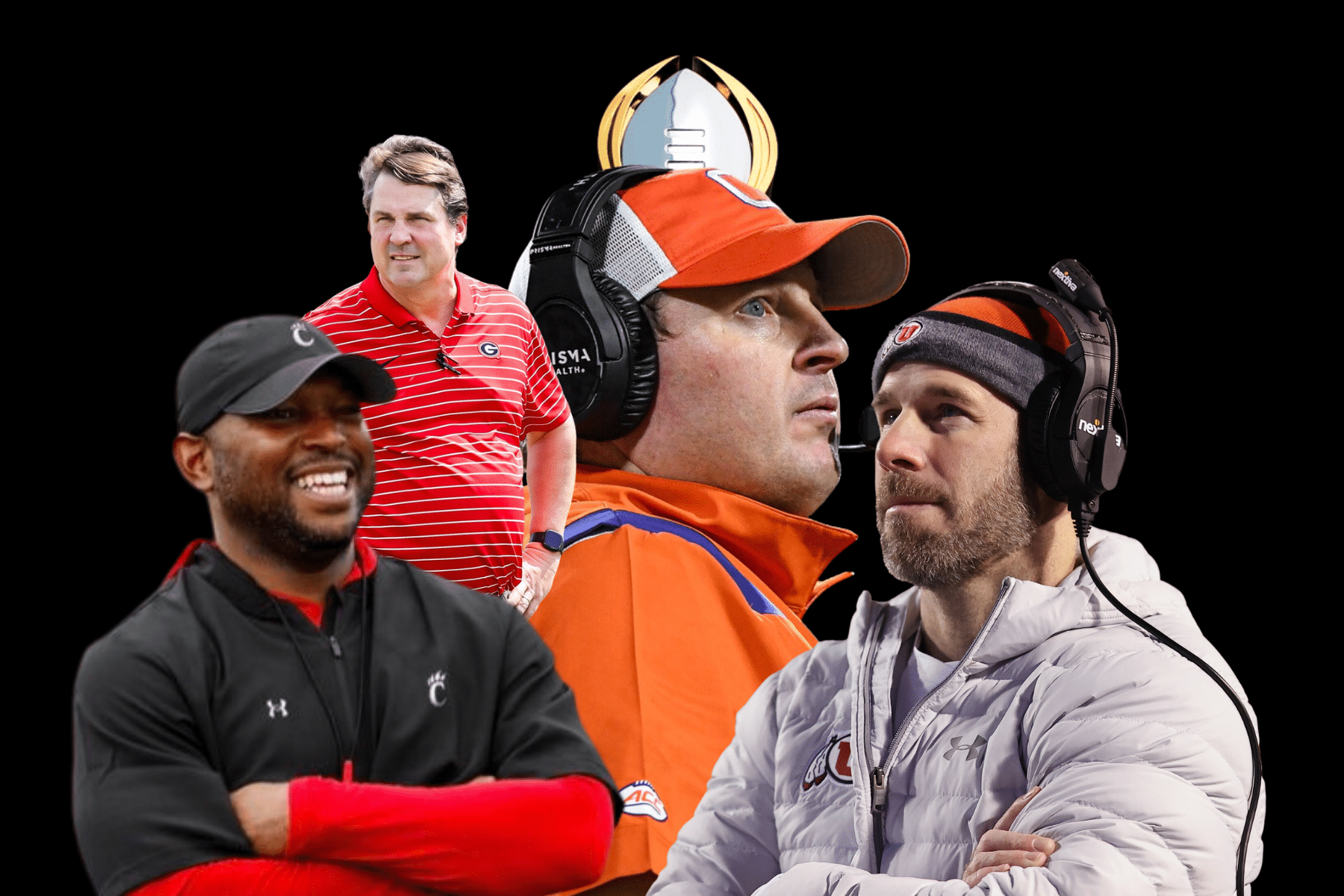 SEC
Ranking the Top 25 DCs in college football in 2023
Welcome to the most thankless job in all of football.
The rules favor the offense; the defense must adjust or die on the vine. And like our offensive coordinator rankings, head coaches who run the defense don't count.
On with the countdown of the 25 best defensive minds in college football in 2023:
25. Bryan Brown, Cincinnati
Once the talent caught up with the scheme at Louisville, Brown's defense was dominant. The Cardinals were No. 11 in scoring defense and No. 24 in total defense in 2022. Like many of the elite App State assistants in the 2010s who moved on, the right fit typically translates to success. Cincinnati is the next step.
24. Trent Bray, Oregon State
Longtime assistant — and former Nebraska interim coach — got his first coordinator job in 2022 and change was remarkable: the Beavers went from No. 74 to No. 25 in total defense, and No. 58 to No. 16 in total defense (20 ppg.).
23. Lance Guidry, Miami
Canes coach Mario Cristobal hired Guidry after Kevin Steele left for Alabama. A longtime assistant in the south, Guidry's Marshall defense in 2022 was No. 6 in the nation in scoring (16 ppg.), and his FAU defense in 2020 was No. 9 in the nation. His defenses at Marshall and FAU have 103 sacks in the past 3 seasons.
22. Blake Baker, Missouri
Began his career as an assistant at Texas under Manny Diaz, and his defenses at Louisiana Tech and Miami had a familiar Diaz look to them: aggressive, risk taking, turnover-producing. His 1st season at Missouri came with big improvement: from 113th to 56th in the nation in scoring defense, and from 106th in the nation to 34th in total defense.
21. Adam Fuller, Florida State
As the talent on the roster has improved, so has the FSU defense under Fuller. Now that the Seminoles are again among the top 3 teams in talent in the ACC, watch how Fuller's group grows in 2023. They were No. 15 in the nation in total defense in 2022 and No. 20 in scoring defense. The potential is there for a top-10 defense in 2023.
20. Joe Klanderman, Kansas State
Klanderman spent 5 years with K-State coach Chris Klieman as safeties coach at FCS North Dakota State, and the secondary had 104 interceptions in that time. He moved to K-State with Klieman, and year later was named DC in 2020. In 3 years, he has shaved K-State's defense has gone from giving up 32.2 mpg., to 21.9.
19. Ron Roberts, Auburn
Baylor was top 10 in scoring defense under Roberts in 2021 and slipped in 2022. The former NCAA lower division head coach (Delta State, Southeastern Louisiana) has a strong track record as a DC at Louisiana and Baylor. Roberts also is a terrific recruiter and perfect fit for new Auburn coach Hugh Freeze.
18. Pete Golding, Ole Miss
Golding left for Ole Miss, but Alabama coach Nick Saban was ready to move on. The defense had gotten stale and somewhat predictable in coverage (even though Alabama had a top-10 defense). Golding will be rejuvenated at Ole Miss, where he'll have the best defensive line in coach Lane Kiffin's tenure.
17. Mike Tressel, Wisconsin
In the past 2 seasons at Cincinnati, Tressel's defenses were No. 5 and No. 20 in scoring defense, and the key to the Bearcats becoming the first Group of 5 school in 2021 to reach the Playoff. He's back in the Big Ten now, after spending time as the Michigan State DC under former coach Mark Dantonio.
16. Jon Heacock, Iowa State
An original "Youngstown Boy" — head coach of the Penguins for 9 seasons — who made his bones at the FCS level, met up with Iowa State coach Matt Campbell at Toledo and followed him to Iowa State in 2016. The Cyclones have finished no worse than No. 3 in the Big 12 in scoring defense in the past 5 years, leading the league twice (2018, 2022).
15. Pete Kwiatkowski, Texas
His defenses were among the best in college football at Boise State (2010-2013) and Washington (2014-2020). The process at Texas is slowly coming into focus. The Longhorns gave up 31.1 ppg. in 2021, and 21.6 ppg. last season. Next up: increase takeaways (14 in each of the past 2 seasons).
14. Kevin Steele, Alabama
Steele says he was shocked to get a call from Saban about the Tide DC job. But the longtime SEC assistant is perfect for the job. The last time he was in the league, the Auburn defense finished 7th, 11th, 14th, 17th and 38th in the nation in scoring defense from 2016-2020. Now imagine those high-level numbers with better players.
13. DJ Durkin, Texas A&M
Durkin has been DC at 4 major programs (Florida, Michigan, Ole Miss, Texas A&M), and the plan is the same: pressure and turnovers. The Aggies are deep on the defensive line and talented in the secondary. Year 2 in College Station will be impressive.
12. Randy Bates, Pittsburgh
The numbers tell the story of the attacking Bates philosophy: In 5 seasons under Bates, Pitt has 231 sacks (46.2 per season) and has forced 97 turnovers. When Pitt has a complementary offense that can stay on the field, the defense is that much tougher to block.
11. Wes Goodwin, Clemson
He was never a full-time position coach before last season, when he was named Clemson's defensive coordinator. That's how much Tigers coach Dabo Swinney (and others in the coaching community) believes in Goodwin's meteoric rise and his rare knowledge of the game. Think The Beautiful Mind — and that's only the beginning.
10. Tony Gibson, NC State
After 5 uneven seasons as DC at West Virginia, Gibson moved to NC State in 2019 and in the past 2 seasons his unit finished 11th and 14th in the nation in scoring defense. In that span, the Wolfpack were among the top 20 in 3rd-down defense and tackles for loss.
9. Morgan Scalley, Utah
The past 6 years, Utah's scoring defense finished 2nd, 3rd, 3rd, 1st, 2nd 3rd in the Pac-12. Over that same period, Utah forced 123 turnovers and led the conference in rush defense in 4 of those seasons. That's how you win games defensively.
8. Manny Diaz, Penn State
It didn't work out at Miami as head coach, so Diaz put his head down last year and focused on making the Penn State defense better. The Lions were No. 9 in scoring defense (18.2 ppg.), 7th in turnovers gained (26) and 21st in 3rd-down defense (33.3%).
7. Brad White, Kentucky
Left the NFL to join UK coach Mark Stoops, and after 1 season as a position coach, he has been the DC for the past 4 seasons. In that time, UK has finished 3rd, 4th, 5th and 4th in the SEC in scoring defense. If you're finishing in the top 5 in the SEC in scoring defense, you're doing something right.
6. Jim Knowles, Ohio State
They tried the blitz/man coverage idea in 2022, and it worked until the 2 biggest games of the season (Michigan, Playoff semifinal vs. Georgia). They'll mix more zone coverages into the scheme this season, but Knowles won't philosophically change from the pressure packages that have made him elite at Duke, Oklahoma State and Ohio State.
5. Matt House, LSU
Longtime NFL and college football assistant who returned to the college game last year to join Brian Kelly at LSU. House left his position coach job with the Kansas City Chiefs, and he rebuilt the Tigers' defense in 1 season. LSU's linebacker coach, House personally developed star LB Harold Perkins, who was playing better than any defensive player in the country by the end of 2022.
4. Jesse Minter, Michigan
His father, Rick, was a longtime successful college football DC. Jesse Minter returned from the NFL to take the Vanderbilt DC job in 2021, where there is no truer reality that players win games. Minter's defense was last in the SEC in 2021, and a year later at Michigan, his unit was No. 7 nationally in scoring defense and No. 6 in total defense.
3. Joe Rossi, Minnesota
Minnesota isn't landing elite blue-chip recruits, which makes the results Rossi is producing all the more impressive. The Gophers were No. 4 nationally in scoring defense in 2022 (13.8 ppg.) and 6th in 2021 (17.3). In 2022, Minnesota was also 6th nationally in 3rd-down defense (28.7%).
2. Phil Parker, Iowa
In 11 seasons as Iowa DC, check out the national scoring defense ranks for Parker's defenses: 2nd, 13th, 6th, 5th, 11th, 17th, 13th, 19th, 50th, 9th and 33rd in his 1st season in 2012. Parker has had 20 players drafted by the NFL, and only this past April did he have a 1st-round selection (Edge Lukas Van Ness, LB Jack Campbell).
1. Glenn Schumann, Georgia
Georgia coach Kirby Smart is again in an ideal situation with longtime close friend — and elite DC — Will Muschamp on staff. Muschamp has worked with rising young star assistants Dan Lanning and Schumann and doesn't need the recognition.
Meanwhile, Lanning (currently the Oregon head coach) and Schumann work with Smart and Muschamp — 2 of the elite defensive coaches of the past 2 decades — to develop the best defense in college football.