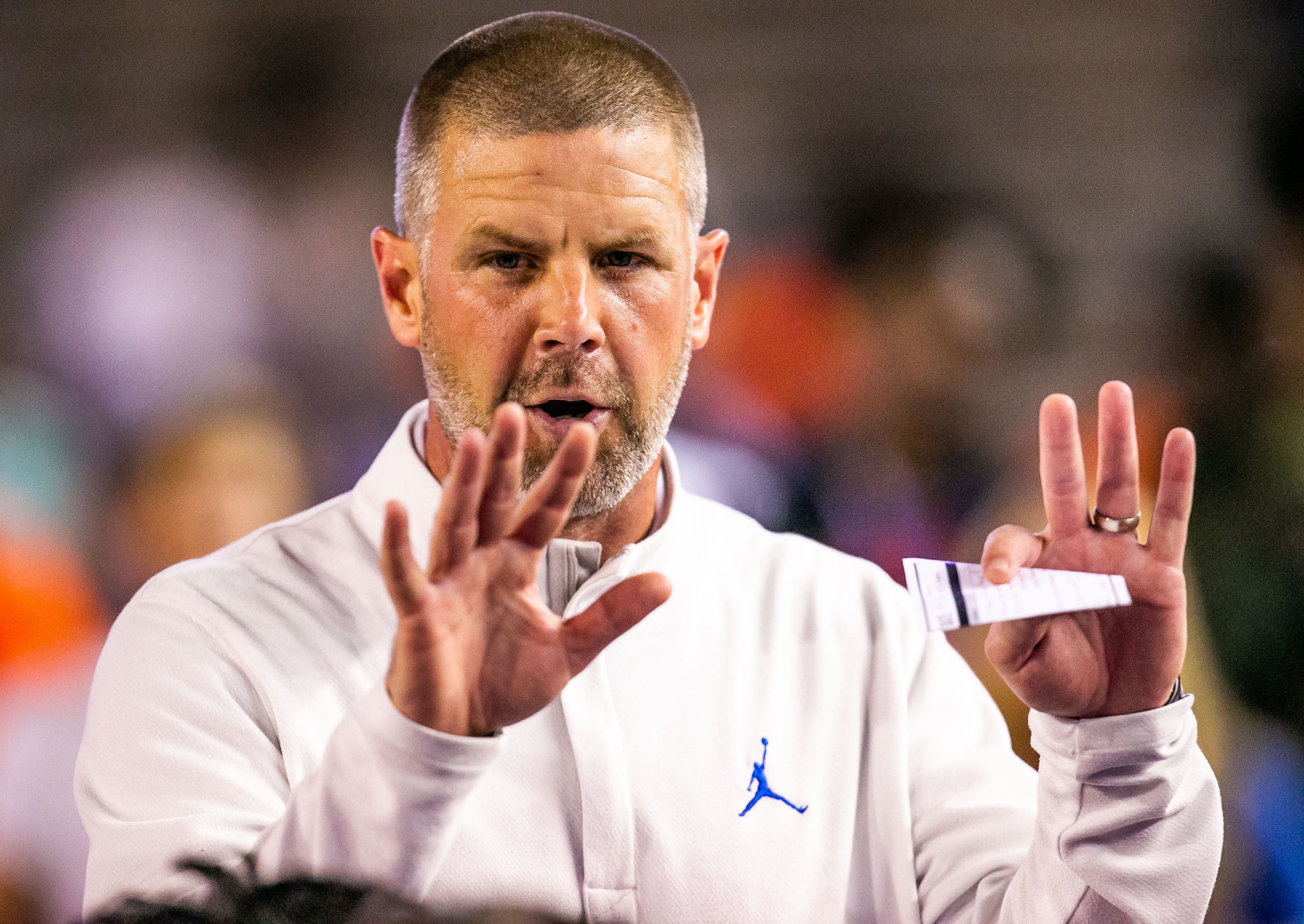 SEC
Ranking the Week 1 SEC games based on my own level of expected entertainment
A month. That's all we have left to wait until there's SEC football on our televisions.
Wait a minute. Did I say a month? My bad.
For the second time this week, I forgot that Vanderbilt will travel to face Hawaii on Aug. 27, and it kicks off at 10:30 p.m. ET. That Week 0 matchup will technically be the official start of SEC football in 2022.
Just so that things don't get confusing, I'm going to include Vanderbilt's Week 1 game against Elon instead.
Spoiler alert: The DVR will not be locked and loaded for that one.
Here's how I'd rank the 14 SEC matchups to kick off the season:
14. Elon vs. Vanderbilt
When — Saturday, Sept. 3 at 7:30 p.m. ET
TV — ESPN+
As much as I find myself buying into Mike Wright as a fun option at quarterback for a program that hasn't had that since Kyle Shurmur, no, this one won't move the needle for me. If the Phoenix (that's Elon's nickname) make this one interesting coming off a 6-win season at the FCS level, yikes.
13. Louisiana Tech vs. Mizzou
When — Thursday, Sept. 1 at 8 p.m. ET
TV — ESPNU
Yeah, part of me is looking forward to seeing a new-look Mizzou offense and the debut of Luther Burden. But against a 3-win Louisiana Tech squad who has a new coaching staff, well, let's just say it's telling that Mizzou is a 20-point favorite. For the sake of my viewing on a Thursday night, I'd appreciate if Louisiana Tech could repeat last year's performance against MSU in Week 1.
12. Mercer vs. Auburn
When — Saturday, Sept. 3 at 7 p.m. ET
TV — ESPN+
It's too bad that Bryan Harsin's revenge tour kicks off with an FCS foe. Last year, Auburn trounced those early-season cupcakes. Even if the offense is a bit of a work in progress, I'd still expect the Tigers' ground game to put this one away by halftime.
11. Sam Houston State vs. Texas A&M
When — Saturday, Sept. 3 at Noon ET
TV — SEC Network
The intrigue will be with who Jimbo Fisher rolls out at quarterback. We didn't get much of a sample size of Haynes King and Max Johnson, while experienced, would still be playing in a new offense. But the Aggies should roll over a team that doesn't even spell Bearkats properly.
10. Miami (OH) vs. Kentucky
When — Saturday, Sept. 3 at 7 p.m. ET
TV — ESPN+
To be fair, as recently as last year, a 10-win Kentucky team gave us a down-to-the-wire game against Chattanooga, so don't say a MAC school hanging around is impossible. Will Levis has a new offensive coordinator and a bunch of new targets to throw to. A slow start is certainly possible, but Kentucky is a 3-touchdown favorite for a reason.
9. Ball State vs. Tennessee
When — Thursday, Sept. 1 at 7 p.m. ET
TV — SEC Network
Tennessee is a legitimate candidate to boast the nation's top offense. Against a Ball State team who let up half a hundred to Georgia State the last time it took the field, I wouldn't be surprised if Josh Heupel's squad puts up 28 points in the first quarter. A shootout is always on the table for the Vols, especially if they take a step back defensively with some key pieces gone. But this one should never be in doubt.
8. Troy vs. Ole Miss
When — Saturday, Sept. 3 at 4 p.m. ET
TV — SEC Network
The new-look Lane Kiffin offense is always worth the price of admission. The intrigue is with the bevy of new skill players on offense. Zach Evans, Michael Trigg and Ulysses Bentley should have plenty of chances to shine, regardless of who starts at quarterback. I doubt we'll see clipboards flying in a game against a 5-win Sun Belt team, but we can hope.
7. Utah State vs. Alabama
When — Saturday, Sept. 3 at 7:30 p.m. ET
TV — SEC Network
I wonder how many times Nick Saban is gonna remind everyone that Utah State finished ranked in the AP Top 25? To quote "Mean Girls," well, "the limit does not exist." There's a chance that Alabama takes its foot off the gas a little early with Texas ahead in Week 2, but I wouldn't bank on this being competitive past halftime. The Bryce Young/Will Anderson show should be brief, but perhaps the most intrigue will be seeing Alabama's new transfer portal skill-players shine.
6. Memphis vs. Mississippi State
When — Saturday, Sept. 3 at 7:30 p.m. ET
TV — ESPNU
This was one of the best SEC games of nonconference play last year. It ended up being one of the stranger officiating games of the year with the non-call on the Memphis punt return touchdown and the ruling on the apparent MSU onside kick recovery. You never really know what you're gonna get from Mike Leach's squad. Last year was bookended by baffling results. Even as a 3-score favorite at home, never rule out the possibility of MSU playing down to its competition.
5. Georgia State vs. South Carolina
When — Saturday, Sept. 3 at 7:30 p.m. ET
TV — ESPN+
Do not sleep on this one. Why? Well, it's Spencer Rattler's debut. That alone should make this intriguing. We've also got Shawn Elliott's return to South Carolina. The post-Steve Spurrier interim coach will make his return to Columbia. What happened the last time he opened with an SEC road game? Um, the 2019 stunner in Tennessee. It was also Georgia State who nearly stunned Auburn at Jordan-Hare last year. Keep your eye on this one from start to finish.
4. Florida State vs. LSU (in New Orleans)
When — Sunday, Sept. 4 at 7:30 p.m. ET
TV — ABC
On 1 hand, you've got 2 teams who have won a national title in the last decade. In terms of prestigious programs, this matchup is great. On the other hand, both of these teams had losing records last year. Obviously, LSU is a very new team with Brian Kelly and his 15 transfer portal additions. We really don't know what to expect from the Tigers, but we're programmed to think that they show up and dominate when they're in New Orleans. Fingers crossed we get a game reminiscent of when Kelly opened against Florida State with Notre Dame last year.
3. Cincinnati vs. Arkansas
When — Saturday, Sept. 3 at 3:30 p.m. ET
TV — ESPN
Think I'm too high on this game? Nah. Both should be preseason Top 25 teams. Arkansas is fresh off its best season in a decade and Cincinnati is coming off a Playoff berth. Yeah, the Bearcats lost 9 dudes to the NFL Draft and Luke Fickell has a ton of production to replace. But regardless of the star power that Cincinnati lost, seeing KJ Jefferson and the Hogs battle against Fickell's defense will be a treat. This has all sorts of potential to be the best game of the day.
2. Utah vs. Florida
When — Saturday, Sept. 3 at 7 p.m. ET
TV — ESPN
Look. I've got Utah making the Playoff. I'm heavily invested into Kyle Whittingham's squad. I'm also extremely interested in Anthony Richardson's first start with Billy Napier. How does he command the offense? Does he look like the guy who flashed immense potential but still had inexcusable moments? Or does he make a handful of viral plays and knock off the top team in the Pac-12? You could certainly make a case that this should be No. 1, especially if Cameron Rising and Tavian Thomas start cooking against a new-look Florida defense and it turns into a shootout. Whatever the case, give us more elite home-and-home matchups like this, please.
1. Oregon vs. Georgia (in Atlanta)
When — Saturday, Sept. 3 at 3 p.m. ET
TV — ABC
Where should I start? How about the fact that Dan Lanning's debut as a head coach will be against the Georgia squad that he just help lead to its first national title in 41 years? Or what about the Stetson Bennett IV encore after quieting his doubters? Shoot, how about Bo Nix playing Georgia for a 4th time, but now as a member of Oregon? This game is full of juicy storylines. Yeah, it's a neutral site game. But Georgia fans will make Mercedes-Benz Stadium feel like Athens. This might not end up being the closest game of opening weekend — UGA is a 3-score favorite — but all of those elements will have me locked into the festivities in Atlanta from start to finish.