SEC
Sad fans are sad: Week 13 - 2015
We bring you the best of sad fan shots from the weekend of college football. Be sure to tweet the best ones as they happen on Saturdays to @SDS.
No. 14 FLORIDA STATE at No. 10 FLORIDA
You're looking at a sea of orange and blue sadness. While this is just a sample of the record 90,916 of them in attendance at The Swamp on Saturday, showing you these two photos pretty much sums up the feeling of the entire stadium in a gut-wrenching 27-2 loss to Florida State. The defeat ensured that Florida has no shot at this year's College Football Playoff.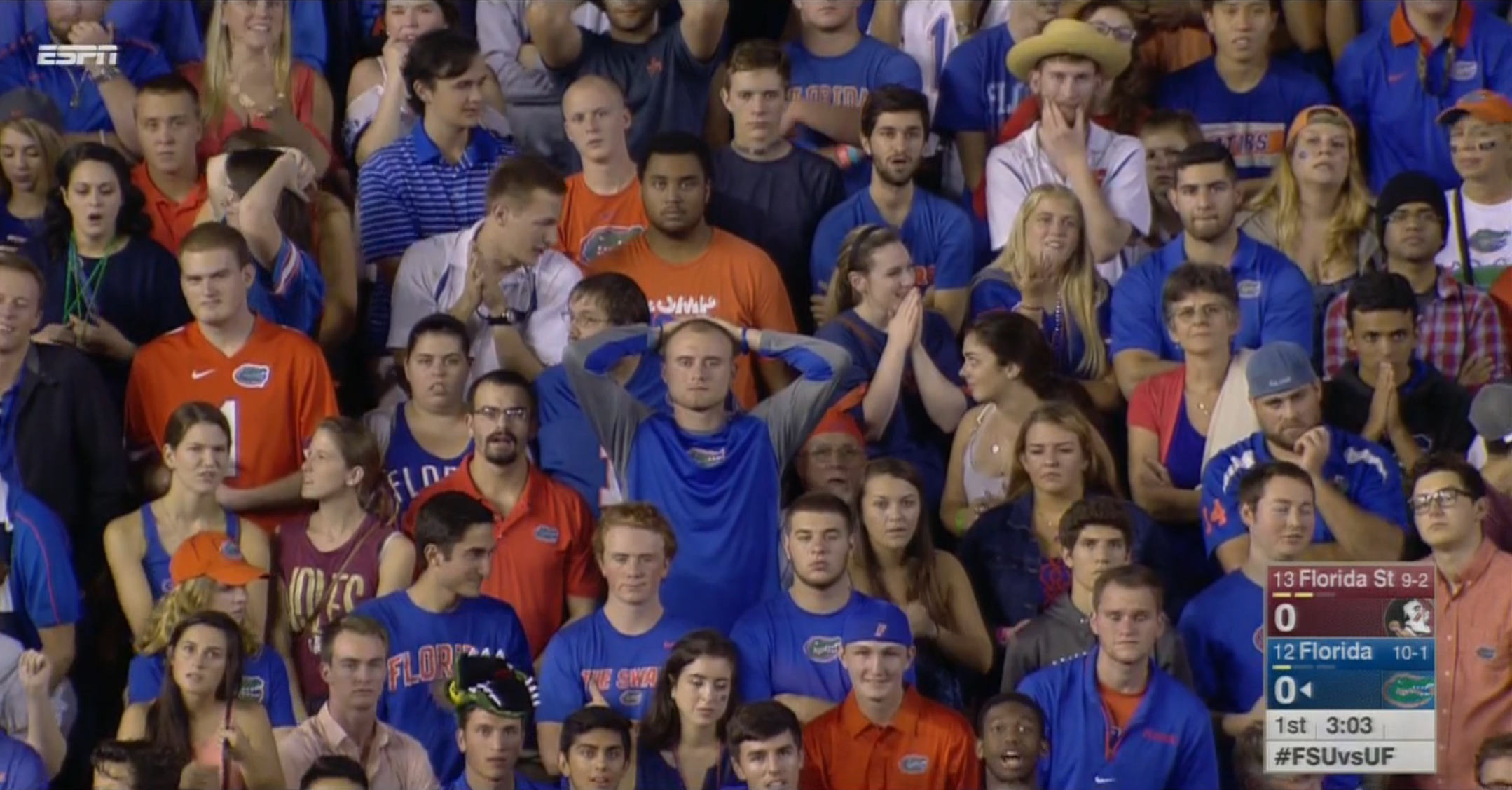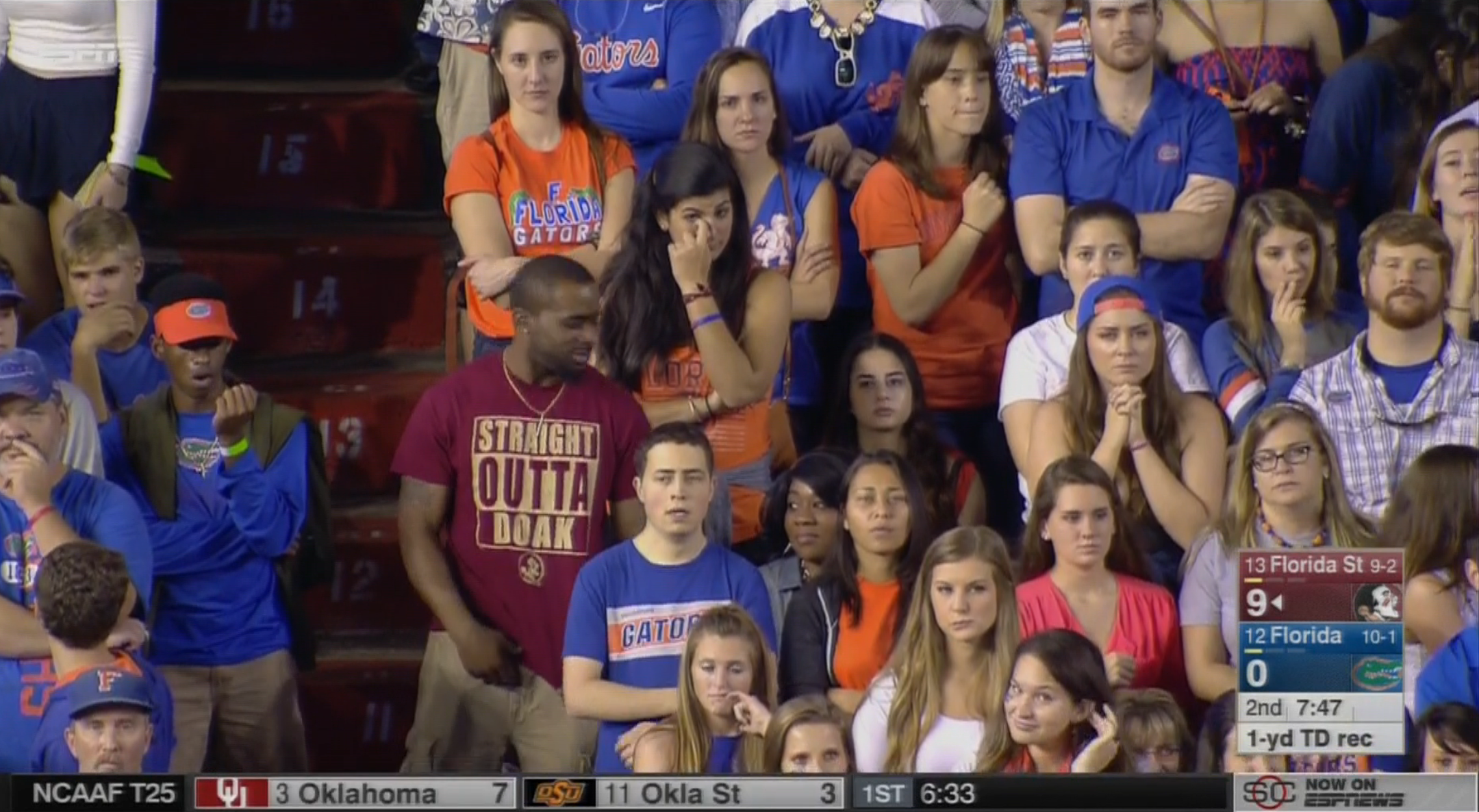 No. 2 ALABAMA at AUBURN
Likewise, Auburn fans were tortured by a 29-13 loss to Alabama in The Plains. This particular fan gave us two different classic sad fan reactions: the "Surrender Cobra," and the always fun "Squishy Face."
#handsonhead to #handsonface for this #auburn fan! #BAMAvsAUB #espn #bama #crimsontide #rolltide #collegefootball pic.twitter.com/BS6aFyrENX

— saaadurday (@saaadurday) November 29, 2015
I know he's not a "fan" in the traditional sense, but if you knew that I saw this photo and caption and didn't share it, you wouldn't be happy with me. He at least qualifies as a "sad coach."
when the chipotle hits pic.twitter.com/za3ODfLSdM

— HOLIDAY APPRECIATOR (@edsbs) November 28, 2015
No. 1 CLEMSON at SOUTH CAROLINA
South Carolina teased its fans at Williams-Brice Stadium on Saturday. The Gamecocks erased a 21-3 lead and pulled within striking range down the stretch. This is the general feeling among most South Carolina fans in the fourth quarter. This fan's reaction was at a critical juncture if the team was to have any shot, and the Gamecocks did force the punt to get the ball back, but they couldn't manage to move the chains on the ensuing possession and fell short of the upset bid.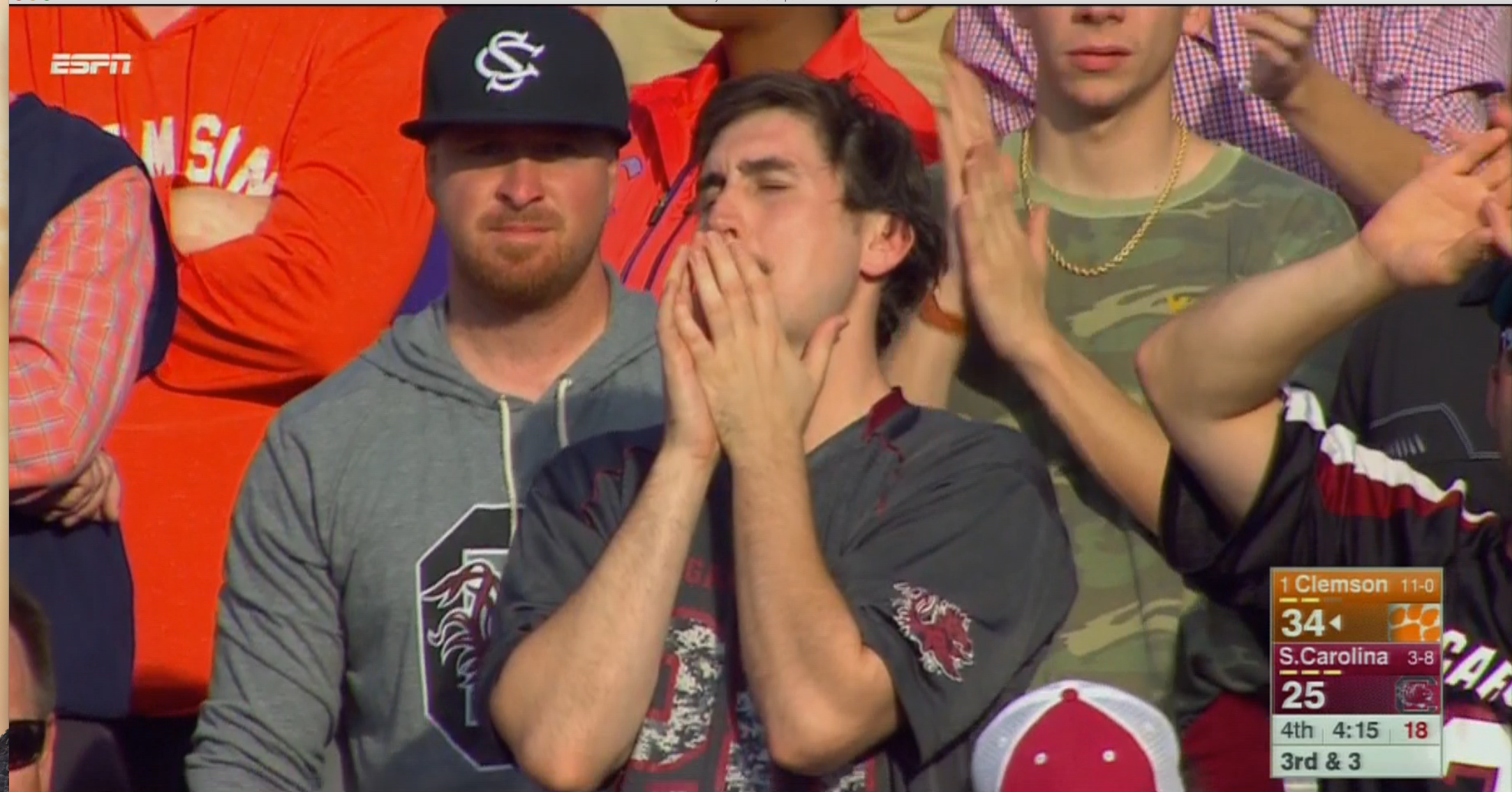 LOUISVILLE at KENTUCKY
Once again, the Surrender Cobra. Kentucky held a 21-0 lead, but it was outscored 38-3 the rest of the way in a 38-24 loss to Louisville. This came as the Cardinals leveled the game with a 35-yard TD pass from Lamar Jackson to James Quick. The sadness ensued in Lexington.
@tonyvanetti Sad UK fan pic.twitter.com/k8E3zBnZgu

— Mike (@KyNDfan) November 28, 2015
TEXAS A&M at LSU
This guy came there to party as his shirt clearly states, but it was a nail-biter the whole way against Texas A&M in Baton Rouge. This fan was more befuddled than sad after an LSU substitution infraction. Luckily for him, and especially coach Les Miles, the Tigers beat the Aggies 19-7.
GEORGIA at GEORGIA TECH
Ladies and gentlemen, this is a Georgia Tech fan. He doesn't look sad, but he's reading during the second half of a rivalry game that was close. That, in itself, is sad.
Typical Georgia Tech fan at the #GTvsUGA game pic.twitter.com/sY2TtLHM6a

— Pep Talk Sports (@PepTalkSports) November 28, 2015