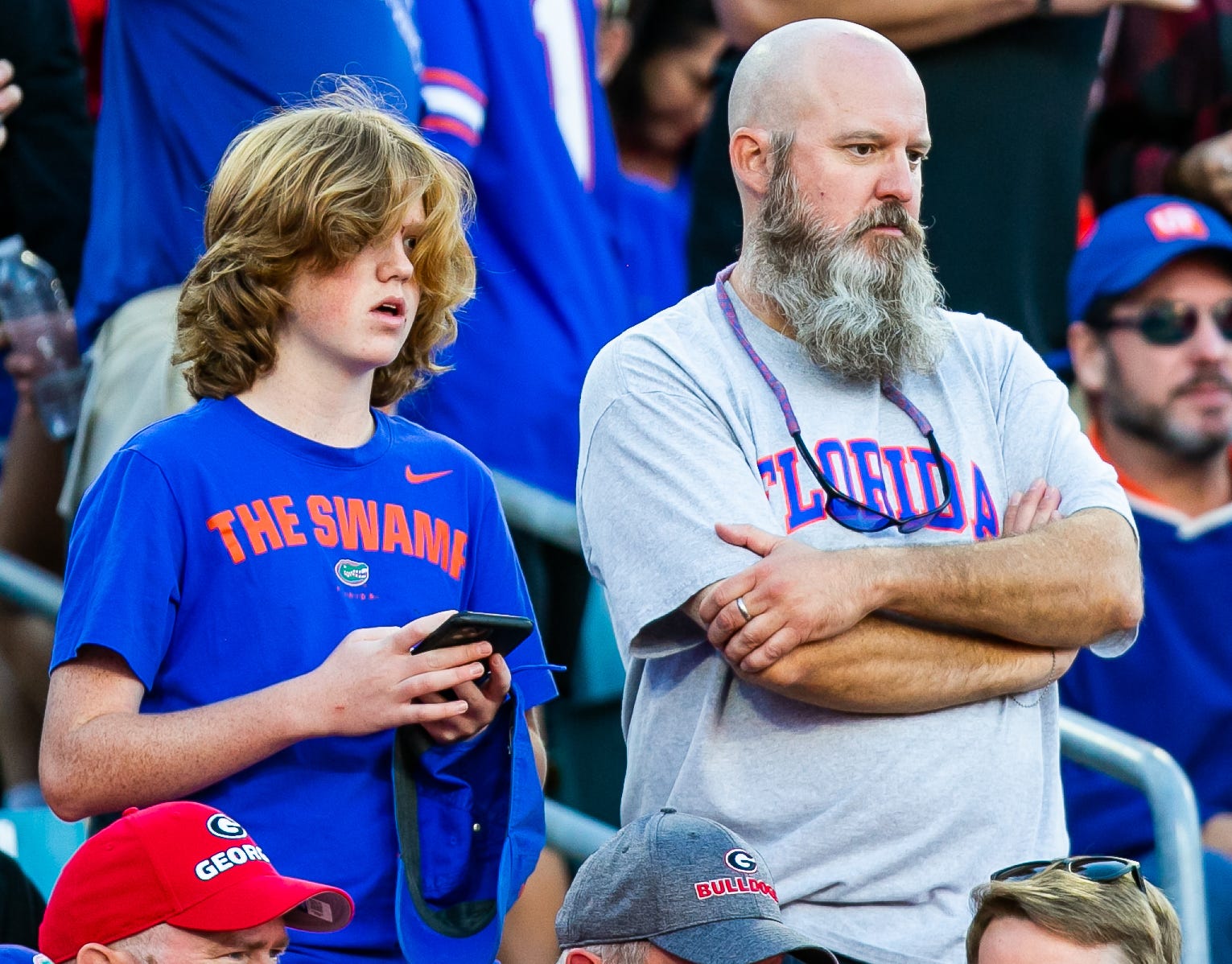 SEC
Sad fans are sad: Week 9 - 2021
Georgia easily won its annual rivalry game against Florida on Saturday, 34-7, in Jacksonville. The No. 1 Bulldogs were as dominant as expected — and what little optimism might have existed among Gators fans disappeared quickly:
It's always a telling sign when a fan of 2 struggling teams on different levels begins comparing:
Sometimes I think it's rough being a Chicago fan, then I remember I'm also a Gator fan and Dan Mullen is running the offense and I get a little more sad.

— Gage Nicholas (@G_N_Nicholas) October 30, 2021
The Georgia win, combined with Kentucky's loss at Mississippi State, meant that the Dawgs clinched a spot in the SEC Championship Game as the East Division representative. MSU took its role as upset specialists seriously, and fans around the country have noticed:
Mississippi State fan explains their role in the CFB ecosystem after a 31-17 win over Kentucky pic.twitter.com/2VzqP14jlt

— RedditCFB (@RedditCFB) October 31, 2021
Also, fans around the country dressed in their finest on the eve of All Hallows' Eve (a k a Halloween):
— no context college football (@nocontextcfb) October 31, 2021
Sometimes those costumes came in handy for keeping warm as some parts of the country endure fall weather:
— no context college football (@nocontextcfb) October 31, 2021
And speaking of scary, fans of schools where teams have already fired their coach this season are letting their imaginations run wild as to what's next, sometimes not in a good way:
USC took care of Arizona… what's next for the Trojans? #FightOn pic.twitter.com/bY7S35i2WE

— RedditCFB (@RedditCFB) October 31, 2021
One place where blown leads have become common is Austin, Texas. The Longhorns did it again on Saturday, squandering a 4th-quarter edge in a loss to Baylor. Or should we say, Texas surrendered:
Longhorn #SurrenderCobra in Waco pic.twitter.com/SWlNjlSEDL

— Jeff Frank (@JeffFrank) October 30, 2021
Speaking of the Surrender Cobra, it could be argued that the legend of the Cobra began a few years ago with Michigan State's astonishing last-play victory at Michigan:
WHOA HE HAS TROUBLE WITH THE SNAP, AND THE BALL IS FREE! IT'S PICKED UP BY MICHIGAN STATE'S, JALEN-WATTS-JACKSON! AND HE SCoooOOOOOoooRES! ON THE LAST PLAaaaY OF THE GAME! UNBELIEVABLE!#SurrenderCobra #BeatMichigan #SpartyOn pic.twitter.com/P17QJybSMk

— crayTon's of Fun (@craytonbowie) October 30, 2021
Fast forward to 2021, and Michigan is again dealing with a loss to rival Michigan State, once again losing a lead late. It's all looking really familiar to Wolverines fans:
We found a familiar face, with a familiar pose after a familiar result. #V4MSU #GoGreen #surrendercobra pic.twitter.com/eZkd2nXrkI

— Steven Culp (@coachculp) October 30, 2021
Florida State also gave us some Cobra sightings. Has there ever been a sadder football season in the Sunshine State?
Noles scoop'n'score to take the lead over Clemson, and the #SurrenderCobra is everywhere! pic.twitter.com/Gls0AFCCWF

— RedditCFB (@RedditCFB) October 30, 2021
SMU fell from the ranks of the unbeaten, losing to state rival and American Athletic Conference foe Houston:
You are looking live at TDECU stadium after the Jones KR TD w/ 0:17 left. UH leads 44-37. #SurrenderCobra @UHCougarFB @SMUfootball pic.twitter.com/Wb5IKb0Yup

— Adam Wexler (@AdamJWexler) October 31, 2021
Finally, Nebraska lost to Purdue 28-23 to fall to 3-6. Here's the thing about the Cornhuskers: All 6 of those losses have been by 8 or fewer points. Every defeat has been by 1 possession:
Nebraska #SurrenderCobra pic.twitter.com/wQQt9X2Kma

— Jeff Frank (@JeffFrank) October 30, 2021
Forget Halloween. Having that many close games with nothing to show for it is true nightmare fuel.