SEC
Saturday Down South's SEC Player Value Rankings: Part III (Nos. 10-1)
Part III: Nos. 10-1
By John Crist
We've already discussed the Player Value Rankings from Nos. 50-11. Only the Top 10 is left to be revealed.
PLAYER VALUE RANKINGS: Part I (Nos. 50-31) | Part II (Nos. 30-11)
Be it for just one season or perhaps a full four-year run, these are the players that every SEC program would love to include on its roster. Each is a potential All-American. Some are locks for NFL stardom.
Passers and blockers. Runners and receivers. Defenders big and defenders small. They are all represented.
There was a lot of debate in the SDS war room ranking players 50-11. But for the most part, everyone's Top 10 was pretty similar — at least in terms of the names chosen. It was just a matter of determining order.
While these may not be the 10 "best" players in the conference, they're the most "valuable" going forward.
NOS. 10-1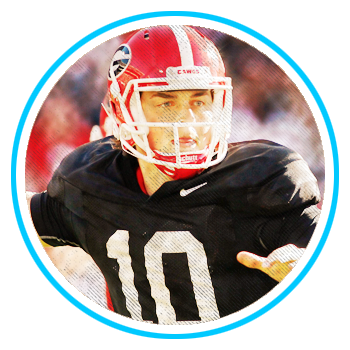 10. Georgia QB Jacob Eason (Fr.)
Go ahead. Criticize us for putting a true freshman in the Top 10. He hasn't even taken his first snap yet.
But not only is Eason the quarterback of the future in Athens, he might be the quarterback of the present, too. Greyson Lambert inspires little confidence. Brice Ramsey has never made a convincing case for No. 1.
Eason, a five-star early enrollee, was 19-of-29 passing for 244 yards and 0 INTs in the annual G-Day game.
Everyone is just expecting Tennessee to run away and hide in the division. But much like first-year coach Jim McElwain gave Florida a bit of a bump right out of the gate, Kirby Smart could do the same at Georgia.
With a strong running game and tons of talent on defense, the Bulldogs are sleeper candidates in the East.
If he were to rise to the top of the depth chart only a year removed from high school, Eason wouldn't be asked to do too much. Once he's comfortable throwing 20-25 passes per game, gradually stretch it to 30-35.
And even if Eason doesn't start in 2016, his ceiling for 2017-19 is still too high to rank him any lower.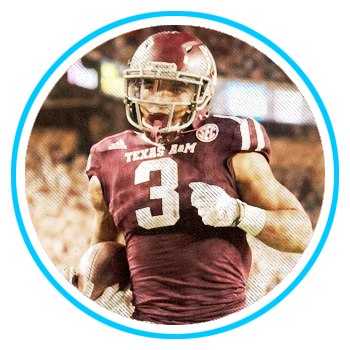 9. Texas A&M WR Christian Kirk (So.)
Like a lot of current and former Aggies, Kirk is subjected to the idea that he's simply a product of coach Kevin Sumlin's system. Particularly in the passing game, there are more than enough numbers to go around.
Perhaps the deepest and most dangerous receiving corps in the nation resides in College Station, where Kirk shares the spread formation with Speedy Noil, Josh Reynolds and Ricky Seals-Jones. Nevertheless, it was Kirk who led the team in catches (80) and yards receiving (1,009) this past year as a true freshman.
He's also scary as a punt returner, averaging 24.4 yards per return and scoring twice on only 14 attempts.
It's been a volatile spell for Texas A&M at QB. Kyle Allen transferred. So did Kyler Murray. Tate Martell, a blue-chip recruit for 2017, decommitted and instead opted for Ohio State. Trevor Knight, a castoff from Oklahoma who had his biggest moment three years ago in the Sugar Bowl, is the new starter.
He has a chance to succeed due to the scheme Sumlin and OC Noel Mazzone employ. But that scheme is all the more quarterback-friendly with Kirk keeping enemy defensive coordinators awake at night. His game-breaking ability is rare.
8. Georgia RB Nick Chubb (Jr.)
Chubb averaged 8.1 yards per carry last season before his injury. Sony Michel averaged 5.3 for the year.
Yes, Chubb got to pad his stats against the likes of Louisiana-Monroe and Southern early in the schedule, running for 120 and 131 yards, respectively. But as the competition increased, so did his effectiveness.
He got 189 at Vanderbilt, 159 vs. South Carolina and 146 at Alabama — the top rush defense in the nation. His 83-yard touchdown run was the longest the Tide allowed.
The five games he started and finished, Chubb averaged 7.5, 9.9, 7.6, 8.7 and 7.3 yards per attempt. Once elevated to the starter, Michel averaged 3.5 yards per rush or less against Missouri, Florida and Auburn.
One can only hope that Chubb's knee is fully healed. He's a potential all-time great at UGA when healthy.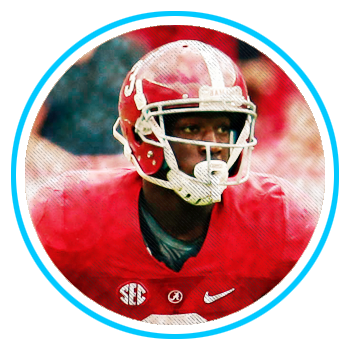 7. Alabama WR Calvin Ridley (So.)
Jake Coker might have a national title, but the NFL let him know that he's not a pro-caliber quarterback.
The 6-foot-5, 236-pounder with prototypical size and a huge arm didn't even get drafted this past April. The scouts probably watched Coker's tape and saw him repeatedly get bailed out by Ridley's high-wire act.
A five-star recruit from the class of 2015, Ridley arrived and immediately became the top target in the Crimson Tide's passing attack. His 89 catches, 1,045 yards and 7 TDs don't even tell the whole story. So much of his production was of the highlight-reel variety in pressure situations when Coker needed it most.
Cooper Bateman will likely take over for Coker at the game's most important position. But David Cornwell and Blake Barnett are in the mix, too. Regardless, the primary read on most passing plays will be Ridley.
If Ridley can make a champ out of a three-star transfer like Coker, then just about any 'Bama QB will do.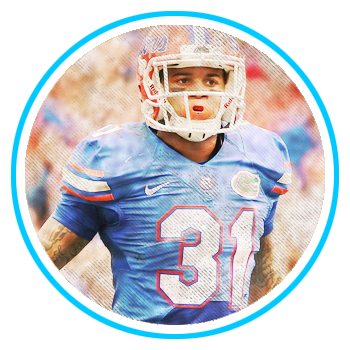 6. Florida CB Jalen Tabor (Jr.)
Vernon Hargreaves was the most celebrated cornerback in Gainesville since two-time Pro Bowler Joe Haden, which was highlighted when he got selected 11th overall by his hometown Tampa Bay Buccaneers in the draft.
But the amazing thing is that Hargreaves may not have even been the best corner on his own team last year.
While they were each credited with 4 INTs, Tabor's 14 passes defensed were more than triple Hargreaves' total (4). When the Gators were on the ropes against Florida Atlantic, Tabor had 5 PDs in that game alone.
At 6-foot-1, two inches taller than Hargreaves, Tabor is better equipped to cover today's bigger wideouts.
Both were first-team All-SEC in 2015, but Tabor was the more consistent defender week in and week out — despite being one season less experienced. He's the premier cover man in the SEC heading into 2016.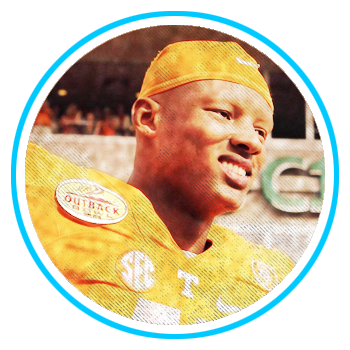 5. Tennessee QB Joshua Dobbs (Sr.)
As has been written ad nauseam in this series, everyone is picking the Vols to break through in the East.
One of the biggest reasons is the presence — and continued development, presumably — of Dobbs as the ultimate running-and-throwing combo at quarterback. He's improved as a rusher each season. Still, there's a ways to go for him as a passer, even after a TD-to-INT ratio of 15-to-5 in 2015.
For example, his completion percentage and yards per attempt were better his sophomore year than as a junior.
Dobbs will never be a pure thrower of the football from the pocket, but he's no less effective. Also, he might be irreplaceable at this point in Knoxville. His backup, Quinten Dormady, only saw action in five games as a freshman — all blowout victories. Losing Dobbs would mean losing the East.
Jalen Hurd, No. 11 on this list, is backed up by experienced runner Alvin Kamara. Dobbs is more valuable.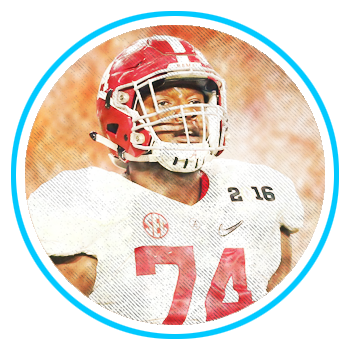 4. Alabama OT Cam Robinson (Jr.)
The dark cloud hanging above Robinson's head has apparently cleared, as the district attorney in Monroe, La., recently decided not to pursue the Crimson Tide's best blocker on drug possession and weapon charges.
The first-team All-SEC pick can go back to the business of protecting the blind side for a new quarterback and opening holes for a new running back. Coker has split, and so has Heisman Trophy winner Derrick Henry.
Robinson isn't Laremy Tunsil, who simply looked unbeatable at times — even facing some of the elite pass rushers in the nation. Clemson's Shaq Lawson got around Robinson for two sacks in the national title game.
But whether it's Bateman, Cornwell, Barnett or just about anybody else who wins the QB job, his odds of being effective are much higher with Robinson as the premier protector in the best conference in America.
As for the running game, despite the fact that Bo Scarbrough and Damien Harris have next to no experience, expect there to be lots of room to run on off-tackle plays to the left. Just plug and play.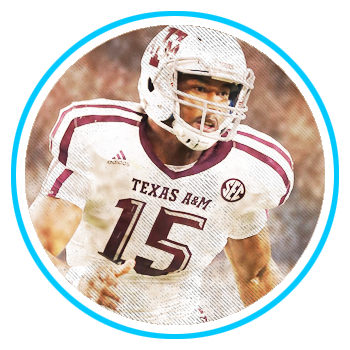 3. Texas A&M DE Myles Garrett (Jr.)
Much like Tennessee's Derek Barnett, who is No. 16 on this list, Garrett stepped on campus and immediately became a double-digit sack artist. No pass rusher in the SEC strikes more fear in opponents at this point.
As a matter of fact, he may be the best defender in the country. If there's a watch list, Garrett's on it.
A Greek god at 6-foot-5 and 260 pounds, Garrett was credited with 12.5 sacks and 19.5 tackles for loss in 2015 despite offensive coordinators specifically scheming against him week after week. He's unblockable.
Provided he doesn't pull a Jadeveon Clowney circa 2013, Garrett is preparing for a monster junior season. He has 24.0 career sacks. Breaking Aaron Wallace's school record (42) is unlikely, but he needs just nine to move past Von Miller into fifth place.
Garrett would have been a Top 5 draft pick last April had he been eligible as a sophomore. He's surely a lock for the Top 5 in 2017. You're only going to get one more year out of him, but what a year it will be.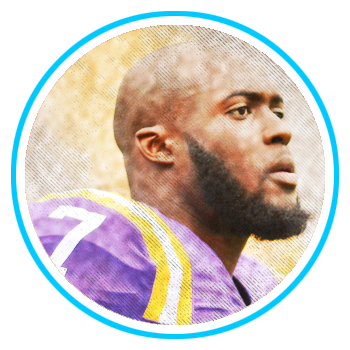 2. LSU RB Leonard Fournette (Jr.)
With regard to pure talent, Fournette is mentioned in the same breath as Herschel Walker and Bo Jackson.
That's rarified air. Even Henry, who smashed SEC records for carries, yards and touchdowns this past year, didn't get the Walker and Jackson treatment. The NFL agreed and gave Henry a Round 2 grade for the draft.
Had Fournette been in April's draft, he probably would've gone in the Top 5 ahead of Ezekiel Elliott.
Not only does Fournette have the highest ceiling of any running back in the country, but he may have the highest floor, too. He's a good bet to crack 2,000 yards, and anything less than 1,500 would be shocking.
You can shake a tree in Louisiana and find a great tailback. Still, Fournette is once-in-a-decade special.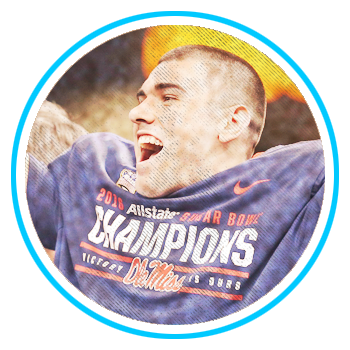 1. Ole Miss QB Chad Kelly (Sr.)
While Fournette is perhaps the "best" player, Kelly earns the top spot in our SEC Player Value Rankings.
The fact that Kelly plays quarterback, the game's most important position, is the tiebreaker. Fournette was totally ineffective in a loss to Alabama last season, but Kelly threw three TDs and upset the Tide.
Following an embarrassing exit at Clemson that forced him to JUCO purgatory, Kelly blossomed as a first-year starter for the Rebels. The 6-foot-2, 215-pounder completed 65.1 percent of his passes and assembled a touchdown-to-interception ratio of 31-to-13. He threw for a Rebels record 4,042 yards, becoming just the third SEC quarterback to top 4,000. He even added 500 yards and 10 more scores on the ground.
With Dak Prescott out of eligibility at Mississippi State, Kelly is clearly the conference's preeminent passer coming into 2016. The aforementioned Dobbs has nowhere near the arm talent. It's not even close.
He's a senior. That's difficult to justify on a list measuring not only current value, but future value.
Nevertheless, coaches are paid to win games, and Hugh Freeze in particular — it hasn't been the prettiest offseason in Oxford — could use an SEC title to change the conversation. A QB like Kelly can deliver one.
It's a quarterback world. The rest of us, even transcendent backs like Fournette, are just living in it.
John Crist is the senior writer for Saturday Down South. You can send him an e-mail directly at jcrist@saturdaydownsouth.com or follow him on Twitter @SaturdayJC.