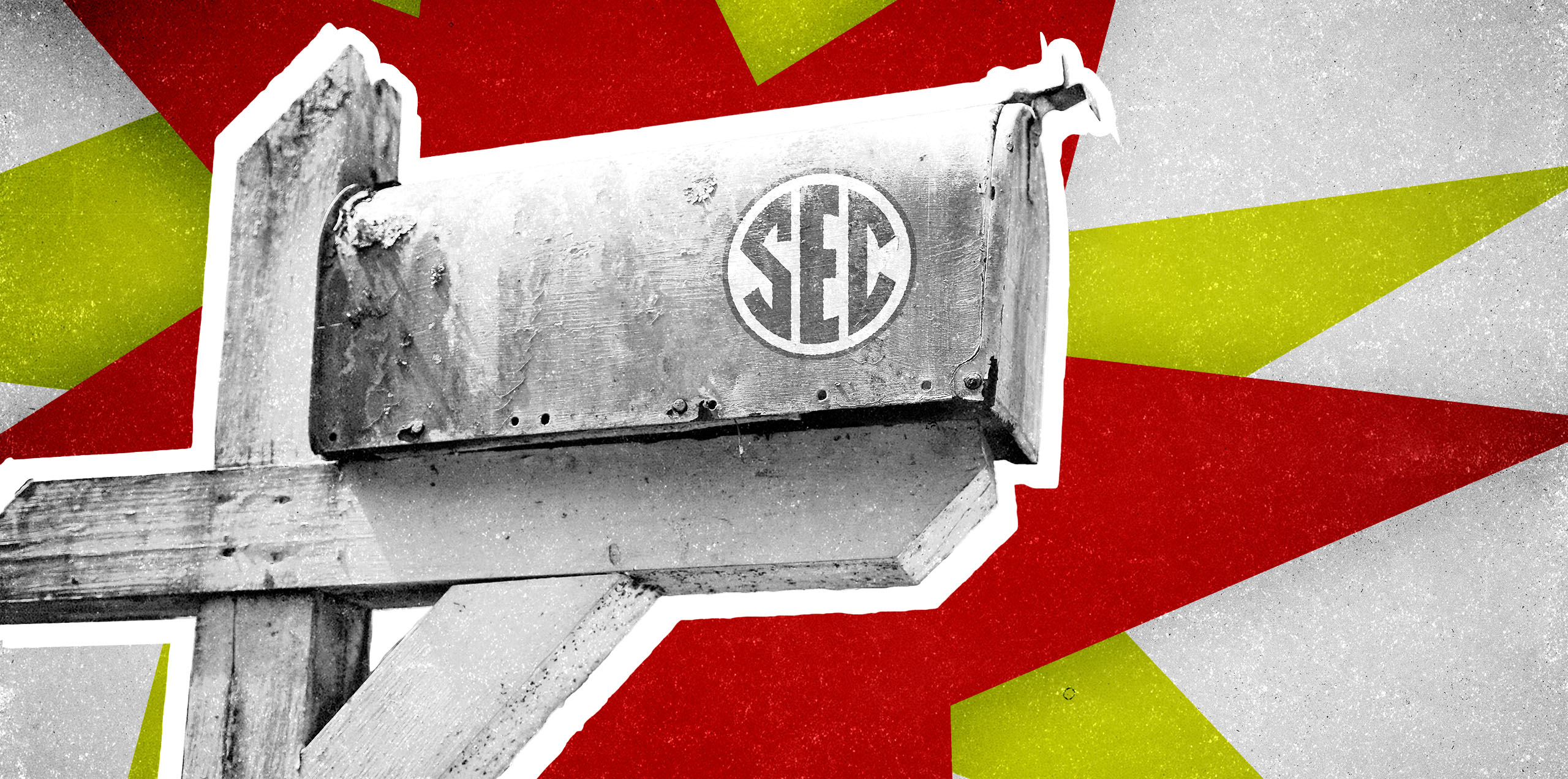 SEC
SDS Mailbag: CFP rematch chances, next first-time championship winner, conference title predictions
We finally have football back in our lives! Of course, it's only NFL preseason football, so temper your expectations.
I always get really excited and watch a ton of preseason action the first week, a little less in the second week and then I'm sick of it and ready for real games by the final week. I'm fully expecting that to happen again this year.
Fortunately for me, the final week of the NFL preseason coincides with Week 0 of college football. I'm definitely ready for that!
I hope you're ready for some Mailbag questions. Let's dive in, shall we?
Michael:
Now that we're only a couple of weeks away from games starting, who wins every Power 5 conference title this year?
I think there are 2 very obvious winners, as I believe Ohio State and Alabama are far and away the best teams in their respective leagues. From there, though, I'm going to make a few bold picks, perhaps.
Here's who I'd pick as of now to claim the Power 5 conference championships this year:
SEC: Alabama
Big Ten: Ohio State
ACC: Miami
Big 12: Baylor
Pac-12: USC
Utah is going to be a popular pick in the Pac-12, but I think USC has the offense to hang with the Utes' dynamic defense. I'm not worried at all about Clemson's elite defense, but that offense could struggle to find steady QB play and playmakers to put around said QB. Miami's Tyler Van Dyke, a first-round QB talent, makes a big play in a clutch moment in the ACC Championship Game to give the Hurricanes the title.
In the Big 12, I think Baylor, Oklahoma, Oklahoma State and Texas are all potential title winners, probably in that order, too. I predict a lot of chaos in that league this fall.
Will I go 5-for-5? Almost certainly not. But I do feel confident in the SEC, Big Ten and, to a lesser extent, the Pac-12.
Ed:
What's the likelihood of a Georgia-Alabama rematch for the national championship?
I wouldn't bet that a rematch happens, but it wouldn't shock me, either. I do think both the Crimson Tide and Bulldogs will make it to Atlanta for the SEC Championship Game. Then, it'll be hard to keep the loser out of the 4-team field (especially if Clemson falters and the Big 12 and Pac-12 don't produce undefeated champions).
The CFP Committee wouldn't dare to have an Alabama-Georgia rematch in the semifinals, therefore making the title game rematch possible.
But, I think Georgia needs a year to reload. Yes, there's still a ton of talent on the Bulldogs' roster. But, after having 5 defenders go in the first round of the 2022 NFL Draft, they'll take a step back on that side of the ball. Not much of one, as they still have 3 first-round guys on the defense this year (Jalen Carter, Nolan Smith and Kelee Ringo), but enough of a step back that a semifinal matchup against Ohio State will be difficult.
Of course, crazy things happen in college football all the time, and we've had dueling dynasties before. Heck, it was just a few years ago that Alabama and Clemson met in the title game 3 out of 4 years. Perhaps Kirby Smart and his Dawgs are ready to take the Tigers' spot as the biggest foil for Nick Saban and the Tide.
Jacob:
Saw this on a Reddit thread, but Florida in 1996 was the last first-time football national champion. Which school do you think will win its first title next?
It's crazy that it has been so long since we've had a first-time champion. I was 6 back when Florida won that title under Steve Spurrier. I'm … well, I'm older than that now. And I think it will be a long while before we see another first-time football champion.
In the first Coaches Poll of the 2022 season, the first team ranked that doesn't have a claimed title to its name is Utah at No. 8. Baylor (No. 10) and Oregon (No. 12) also have 0 claimed national championships between them.
Utah is a good team that could make some noise in the College Football Playoff race if it wins the Pac-12, but would you really put the Utes on par with Alabama, Georgia and Ohio State?
Yeah, I wouldn't either.
I do think Oregon, with its Nike backing, could fare well in the NIL era. If Dan Lanning ends up being a great recruiter and head coach, I could see the Ducks making the Playoff a few times over the next decade.
They'd be my pick to be the first new football champion, but there's going to be a long road ahead for any squad with 0 titles to reach the mountaintop of college football.
@Dobbe8:
What's the best tailgate game?
Well, it has to be anything you can do one-handed while holding a drink, right? I like throwing the football around at tailgates, but it's tough to go all-out when you're holding a beer.
There's a reason beer pong and cornhole are so popular. They're not very complicated, don't take up too much space and can be played while holding a drink.
I'd probably go with beer pong as the best game, since you don't have to bend down as much as you do in cornhole to pick up the bags (as long as you manage to keep the ping pong ball on the table more often than not).
And I know you didn't ask, but I'm also firmly on the side of filling the beer pong cups with water instead of alcohol. Just hold your drink. The ping pong balls and cups get so dirty, it's not worth it to drink directly from the cups.
Have a question for next week's Mailbag? Tweet at us using #SDSMailbag or email me at ASpencer@SaturdayDownSouth.com.