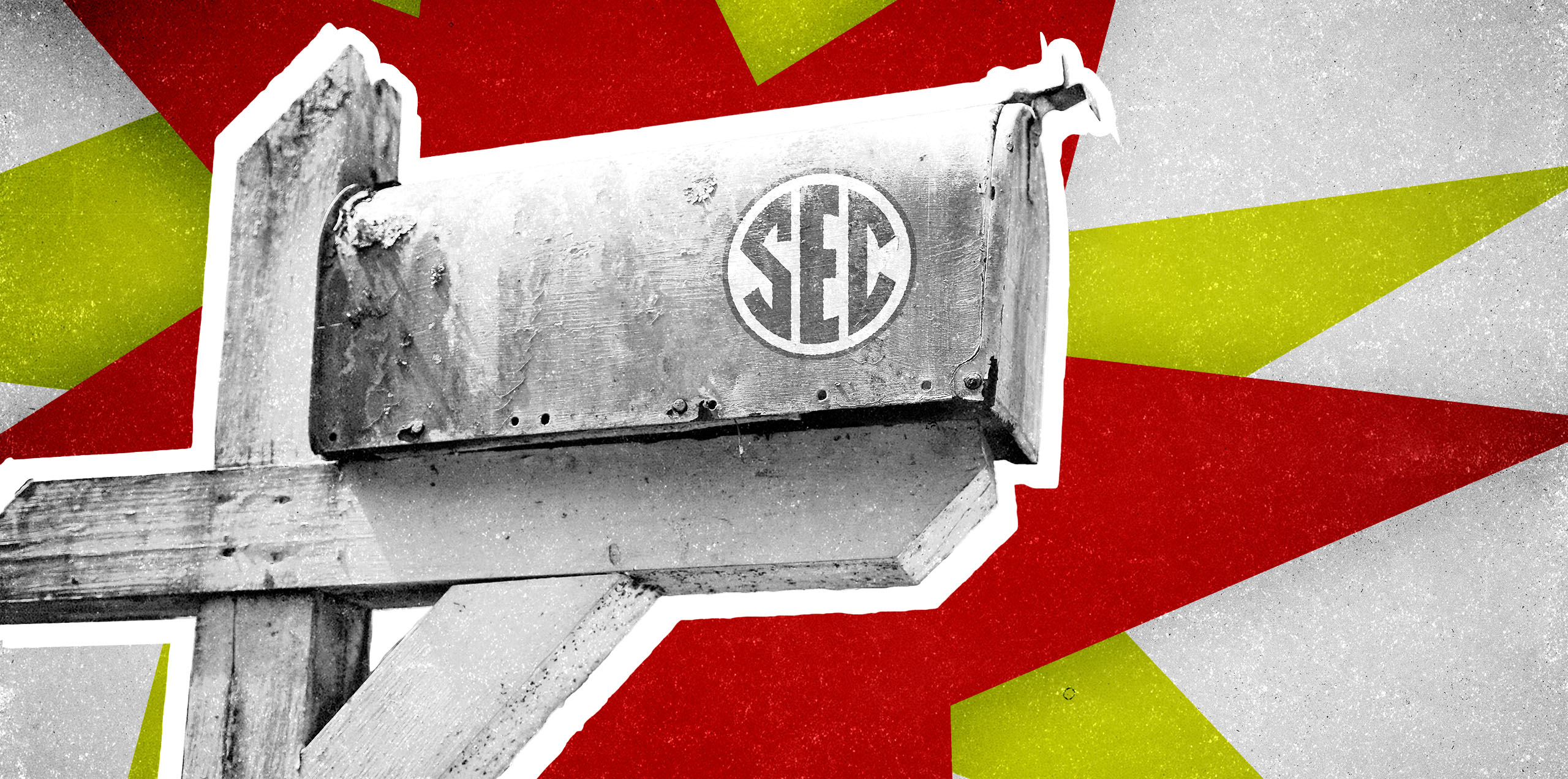 SEC
SDS Mailbag: CFP title game prediction, Kentucky hoops vs. everyone and SEC basketball hot seats
This is always a bittersweet time in the college football season. Sadly, there's only 1 game left before a long winter, spring and summer with no meaningful games.
But, also, that 1 game is sure to be a thriller, as it will pit Alabama and Georgia against one another for the second time since December, this time with a national title on the line.
The first time these 2 teams played in the College Football Playoff National Championship Game, it was one of the best college football games of the century. We all remember Tua Tagovailoa leading an epic comeback and finding DeVonta Smith for the game-winning touchdown on 2nd-and-26 in overtime.
Can the Bulldogs flip the script this time around? Will we get another all-time classic?
Let's start this week's Mailbag off with a question about the big game:
Jake:
What's your pick for Monday night's rematch between Alabama and Georgia?
Not to pat myself on the back (OK, maybe just a little), but I predicted last week that both Alabama and Georgia would win and advance to the title game. So, clearly, everything I say comes true.
That said, shield your eyes, Georgia fans. I think Alabama wins again, although it won't be nearly as lopsided as it was on Dec. 4 in Atlanta.
Georgia's defense will play better, especially since the Tide will be without WR John Metchie III for this game. But, I still have questions about whether Kirby Smart and his staff can out-scheme Nick Saban.
And, unless Georgia gets out to a big lead early, the pressure will be immense on the Bulldogs. Give me a close game, but I'll take Alabama to win 31-27. Stetson Bennett IV will have a chance to drive the Dawgs down the field to win it, but the last-ditch effort will come up just short.
You heard it here first, folks!
@SChinni12:
Which SEC men's basketball coach is on the hottest seat right now as we get going with SEC play?
Since you're a Mizzou guy, I know you want me to say Cuonzo Martin. But, while his seat is (deservedly) hot, he's not on the hottest seat in the league.
In fact, I'd rank him at No. 3 in the SEC if I had to put together some hot-seat rankings. The first 2 names on that list? Georgia's Tom Crean and Florida's Mike White.
Georgia has been a disaster this year. Yes, the Bulldogs lost PJ Horne to an injury before the season and lost breakout star Jailyn Ingram a couple of weeks ago, but this team still isn't good enough to be anything other than an SEC cellar-dweller.
Meanwhile, White's Florida teams continue to be maddeningly inconsistent. Florida is a program that should expect better, so if the Gators finish sixth or lower in the SEC standings during the regular season, White could be in serious trouble. I'd probably put Cuonzo Martin in the No. 3 spot behind those 2 guys.
Robert:
How many teams of Kentucky players in the NBA could you put together before a team made up of the rest of the SEC's NBA players could beat it?
That's a very interesting question, as the Wildcats continue to send elite talent to the NBA on a yearly basis. Here are 3 teams of Kentucky alums in the NBA that Robert and I put together:
Kentucky "A" Team:
G: De'Aaron Fox
G: Jamal Murray
G: Devin Booker
F: Anthony Davis
F: Karl-Anthony Towns
Kentucky "B" Team:
G: Shai Gilgeous-Alexander
G: Tyler Herro
F: Keldon Johnson
F: Julius Randle
F: Bam Adebayo
Kentucky "C" Team:
G: Tyrese Maxey
G: Hamidou Diallo
G: Malik Monk
F: PJ Washington
F: DeMarcus Cousins
That's a heck of a group from just one school, but that's Kentucky for you. So, what's the best team the rest of the SEC schools could put together? Here's my ideal rest-of-the-SEC roster:
SEC "A" Team:
G: Collin Sexton (Alabama)
G: Anthony Edwards (Georgia)
G: Bradley Beal (Florida)
F: Ben Simmons (LSU)
F: Al Horford (Florida)
That lineup would have Simmons as sort of a point-forward type of ball handler. Unfortunately, it lacks the inside presence of Kentucky's "A" team. So, the Wildcats' top squad rolls the rest of the SEC.
The SEC's team easily beats Kentucky's "C" team, in my opinion, leaving us with the Kentucky "B" team. I'm going to give a slight edge to the SEC All-Star team. The SEC as a whole is sending more talent to the NBA these days. Edwards and Simmons were both No. 1 overall picks.
Sexton is a bright young star, and Beal and Horford continue to impress as former Gators. That Kentucky "B" Team vs. the SEC All-Stars series would be a good one, though!
@Dobbe8:
You can pick 1 SEC quarterback currently in the NFL to build a team around for the next 10 years. Who do you take?
The SEC is sending more QBs to the NFL than ever before, so there are plenty of guys to choose from. Dak Prescott of the Dallas Cowboys (via Mississippi State) is a good option. There's also Georgia's Matthew Stafford (Los Angeles Rams), Alabama's Mac Jones (New England Patriots), Jalen Hurts (Philadelphia Eagles) and Tua Tagovailoa (Miami Dolphins), Texas A&M's Ryan Tannehill (Tennessee Titans) and Mizzou's Drew Lock (Denver Broncos).
Anyone who reads my stuff regularly knows how much of a Lock fan I am, but I can't pick him here (unfortunately).
The answer is obvious, to me. If you're drafting a QB for the next 10 years, you go with LSU's Joe Burrow (Cincinnati Bengals). I hate to agree with Colin Cowherd too often, but I think he nailed this point:
Joe Burrow, not Aaron Rodgers is the MVP…@ColinCowherd makes the case: pic.twitter.com/xXTjt4zW5V

— Herd w/Colin Cowherd (@TheHerd) January 6, 2022
Burrow and Ja'Marr Chase are the younger versions of Aaron Rodgers and Davante Adams. The future is bright in Cincinnati, which is something that hasn't been said much in the history of the Bengals' franchise.
Have a question for next week's Mailbag? Tweet at us using #SDSMailbag or email me at ASpencer@SaturdayDownSouth.com.