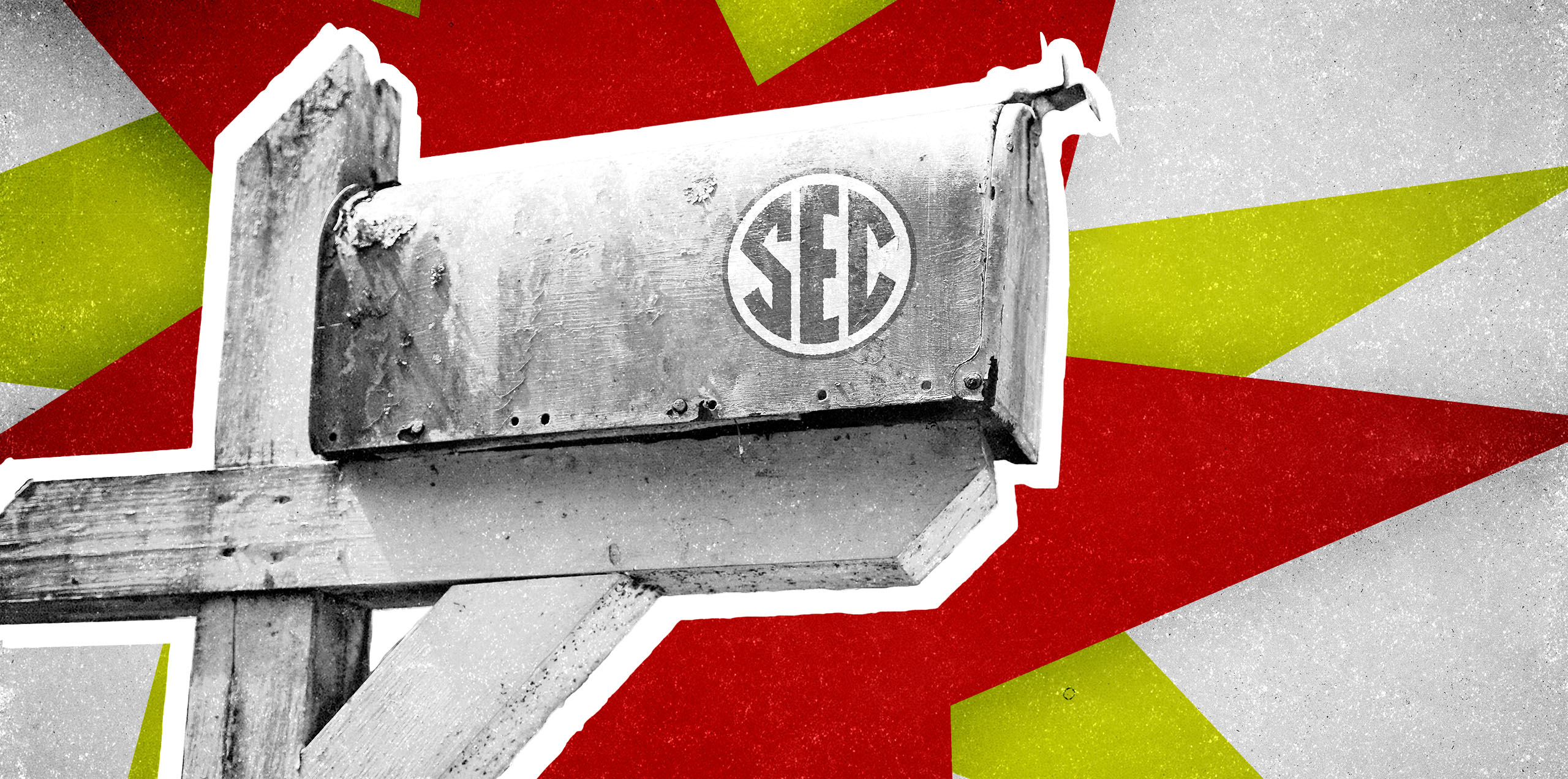 SEC
SDS Mailbag: First-year SEC coach win totals, best WRs in 2023 NFL Draft and next NCAA commish
Round 1 of the 2022 NFL Draft is over, but Day 2 is, in my opinion, the most important day of the entire event. Rounds 2 and 3 are where good teams get players who can contribute to winning right away.
And, after Thursday's debut in Las Vegas, there are still plenty of standout players on the board as the draft resumes on Friday night.
Side note: let's put the draft in Vegas every year. I am way less excited about the draft being in Kansas City next year (even though I think KC will do a great job with it). Vegas is a big-event city.
Anyway, let's dive into your questions for this week's Mailbag:
Shane:
How many wins do you see the first-year head coaches in the SEC (Brian Kelly and Billy Napier) getting in 2022?
Before y'all trash me in the comments, let me go on the record and let me say I think both Kelly and Napier will be successful at their new programs. But, in Year 1, to me, the answer is Kelly.
Kelly has brought in plenty of new talent through the transfer portal, particularly on the Tigers' defense. He's building a team that can win 8 or 9 games this fall, in my opinion.
Napier, on the other hand, is following his blueprint for success that he used at Louisiana. He learned from Nick Saban, so he's going to implement a culture rather than go for the quick wins in the portal for 2022. Let's not forget that Saban went 7-6 in Year 1 in Tuscaloosa (a mark that was lowered to 2-6 due to vacated wins).
I see Napier putting together a similar 7-6 or 6-7 record in 2022 before he starts to get Florida back into SEC East contention in 2023 and beyond. Meanwhile, I think LSU can start the 2022 season 5-0 before Tennessee comes to Death Valley for a game that is basically a pick 'em in my mind. Give me Florida to win 7 games in Napier's debut season and LSU to win 8.
Bob:
It seems more and more receivers are going in Round 1 these days. Which receivers are you most excited about in the 2023 class?
It all starts with Ohio State's Jaxon Smith-Njigba. He had 15 catches for 347 yards and 3 touchdowns when we saw him last in the Rose Bowl against Utah:
https://twitter.com/247Sports/status/1511414319866597378
In a receiving corps that also had Chris Olave and Garrett Wilson, Smith-Njigba might be the best of the bunch. He should be a lock to be a top-10 pick in the 2023 NFL Draft.
From there, we have 2021 Biletnikoff Award winner Jordan Addison at Pitt. I don't expect his production to go down too much after Kenny Pickett was replaced with USC transfer Kedon Slovis at quarterback.
From the SEC, LSU's Kayshon Boutte should be a Round 1 pick as long as he's healthy and able to play at a high level in 2022. And, Texas A&M's Ainias Smith is a guy I'm really high on. I think he should be a first-round pick, as long as the Aggies' quarterback (whoever that ends up being) gets him the ball.
We're seeing more and more receivers excel these days. And, since the NFL is a pass-heavy league at the moment, several will go in the first round of the draft each year for the foreseeable future.
Marcus:
With Mark Emmert set to step down as the NCAA president soon, who should replace him?
With SEC commissioner Greg Sankey off the board, having said he has no interest in the job, we'll have to look elsewhere. He would have been my top choice, but he arguably has more power as the SEC commissioner than he would as the NCAA president.
I think Jay Wright, the recently retired Villanova head men's basketball coach, would also be great at that job. But, I don't think he'd want it. That's the problem – it's a thankless job that not many people would want to do and even fewer people would be successful doing (and Emmert certainly wasn't very successful).
Emmert was the president of the University of Washington immediately before getting the NCAA president job. Prior to that, he was the chancellor at LSU. Will the NCAA go that route next?
Or, will the organization look to someone with more of an athletics background? If so, I think Kentucky AD Mitch Barnhart would do a great job. He seems to have the respect of his colleagues in the SEC and has worked wonders in Lexington.
Alabama AD Greg Byrne is someone else I'd make a call to if Barnhart said no. I also wouldn't be mad if Condoleezza Rice got the job. She's been on the Playoff committee and seems to have a genuine interest in college sports. I'd trust her to be a good leader for the organization.
We'll see which direction the NCAA goes, but I have very little faith that they'll make a good choice.
@Dobbe8:
Which Group of 5 team is the best bet to make the College Football Playoff this year?
Cincinnati may have broken down the door to the Power 5/Notre Dame party in 2021, but don't expect Group of 5 teams to start becoming regular participants in the Playoff.
In order to make the Playoff field, you almost certainly have to be ranked in the first AP Poll of the season. That isn't out yet, so let's look at ESPN's way-too-early top 25 rankings as a guide.
In that article by Mark Schlabach, Houston is the top-ranked Group of 5 team, checking in at No. 13. BYU (No. 19) and Cincinnati (No. 23) are the other non-Power 5, non-Notre Dame teams ranked. Cincinnati lost too much in QB Desmond Ridder and CB Sauce Gardner, in my opinion, so let's cross the Bearcats off.
BYU plays Baylor, Arkansas, Notre Dame and Oregon this coming season. I don't see the Cougars navigating those 4 games without a loss, especially when they play at Oregon.
That leaves Houston. I like that the Cougars get QB Clayton Tune back, who threw for 30 touchdowns and 10 picks in 2021. If he can take a step forward this fall, the Cougars have a chance. The problem? Their biggest nonconference games are against Kansas and Texas Tech and they avoid Cincinnati in AAC play.
Even if Houston goes undefeated, will it be enough to sway the CFP committee? I doubt it. It's not exactly a bold prediction, but I don't see any Group of 5 teams making the Playoff in 2022.
Have a question for next week's Mailbag? Tweet at us using #SDSMailbag or email me at ASpencer@SaturdayDownSouth.com.