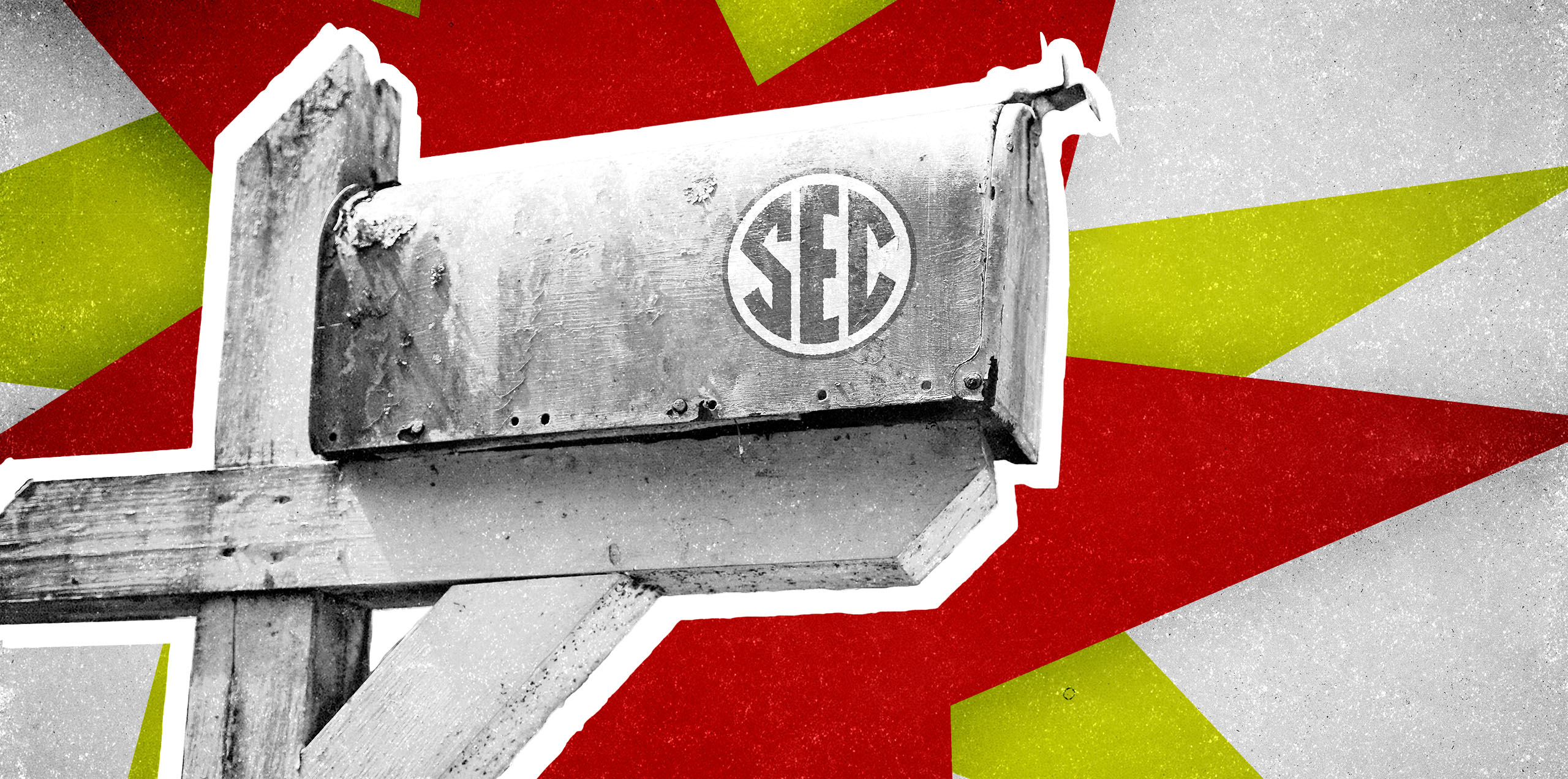 SEC
SDS Mailbag: Mike Leach's best SEC fit, Horns Down drama, best SEC teams not to win a title and more
Welcome to this week's SDS Mailbag! I'm writing this from Santa Cruz, California, home of the best mascot in all of college athletics.
UC Santa Cruz's mascot is a banana slug, and I find that incredibly awesome. It's unique, it adds local flavor (Santa Cruz is the southernmost reach of the banana slug's territory) and it's somewhat intimidating, somehow. Slugs are gross. No one wants to touch them. They aren't poisonous, but they look like they could be.
Anyway, more schools need unique mascots. I'm tired of Wildcats, Bulldogs, Cardinals, Cougars and, yes, even Tigers (though Mizzou should be the one school that gets to keep its tiger mascot). More regionally appropriate names like "Banana Slugs" please!
Here are your questions for this week's SDS Mailbag:
@ColeMiss22:
If Mike Leach ever coaches in the SEC, which school would it most likely be at?
I want to go on the record, right now, as saying I really, 100-percent hope that Leach is an SEC coach within the next 2 years. I think it could even happen after this season.
If you look around the SEC, the conference returned all 14 coaches from 2018 to 2019. That is unlikely to happen again from 2019 to 2020. One of the most likely jobs to open is Ole Miss, but if that opens up, it would be interesting to see if the Rebels simply promote OC Rich Rodriguez instead of searching for an outside hire.
South Carolina's absolutely brutal schedule probably buys Will Muschamp at least one more year, and I can't see Leach leaving Washington State for Vanderbilt if Derek Mason is let go.
That still leaves one school, and it would be absolutely perfect for Leach — Auburn. Can you imagine him sharing a state with Nick Saban and trying to revolutionize the Tigers' offense? Auburn fans would get whiplash trying to keep up with a coach who moves the ball through the air as much as Leach.
After watching Gus Malzahn's run-heavy approach for so many years, Leach would be a shock to the Auburn system. Malzahn, like Muschamp, faces a brutal 2019 schedule, but unlike Muschamp, he doesn't have any room for error. A 6-6 or, gasp, 5-7 record in 2019 likely gets him the axe.
If that's the case, the Tigers should give Leach whatever he wants to move to The Plains and bring the Tigers' offense into the 21st century.
Robert:
Between complaining to the Big 12 about the "Horns Down" gesture to beefs with Baker Mayfield, Terry Bradshaw and Drew Lock, have you ever seen a pettier top 10 caliber team than Texas?
The Longhorns do indeed have a lot of grievances. And a lot have to do with coach Tom Herman. (Though, to be fair, Mack Brown was the first one to get upset about the "Horns Down" thing.) What else would you expect from a guy who measures the color of his players' pee?
My thinking about the "Horns Down" gesture is that anything can be taunting if you do it toward an opponent. If you're going to penalize the Sooners or Mountaineers for making the gesture at a Longhorns player, you have to do it every time the hand motion is used. Let's say Kansas scores a touchdown (unlikely, I know, but stick with me) against Iowa State and a Jayhawk player does the "Horns Down" gesture in the face of the Cyclone player. That should be a flag, too. That way, Texas doesn't get special treatment.
As for the other beefs, Sam Ehlinger seems to be a divisive figure among former quarterbacks for some reason. I'm not sure why Terry Bradshaw needed to jump in and say Ehlinger "ain't that good." I understand Mayfield, being a former Sooner, taking an opportunity to get in a shot at a Texas player. Ehlinger had 41 total touchdowns last year (25 as a passer and 16 as a rusher), so he's pretty good, objectively.
Overall, I think the reason the Longhorns' grievances and feuds come off as petty is because they haven't won anything since 2005 and haven't been particularly relevant since 2009. Clemson and Alabama have feuds with each other and other schools, but they don't seem as small because both teams have won titles.
Can Texas get to that level again? This would be a good year to start climbing back to the ranks of the elite.
@DKing2796:
What's your all-time list of SEC teams (by year) to have never won a title?
So, it's important to note that my knowledge of the SEC starts a little later than most. I won't pretend to know which teams were robbed of title opportunities back when Herschel Walker and Bo Jackson and Danny Wuerffel and Peyton Manning were running the SEC. However, I am well-versed in the past decade of SEC action, so I'll stick to those squads.
Here's my list of five SEC teams that had all the talent in the world and should have won national titles in the past 10 years:
2017 Georgia — The Bulldogs obviously lost in dramatic fashion to freshman backup QB Tua Tagovailoa and the Alabama Crimson Tide in overtime in the national title game. Imagine if even one of those plays late in the second half had gone differently. With Roquan Smith, Nick Chubb, Sony Michel and others, that team was absolutely stacked.
2013 Auburn — The Tigers made it to the final BCS title game, taking on Jameis Winston and the Florida State Seminoles. What took place in Pasadena at the Rose Bowl was one of the closest games in BCS title history, with the Seminoles winning 34-31. That was a rough trip for both schools, but the 'Noles took home the trophy. Who knows what would have happened had QB Nick Marshall not missed an open Ricardo Lewis in the first quarter on a crucial 3rd-and-7 play?
2018 Alabama — The Crimson Tide cruised through the regular season in the SEC before running into some trouble in the SEC Championship Game against Georgia. Jalen Hurts had to relieve an injured Tagovailoa in the second half and led another impressive Alabama comeback. If Tagovailoa had been 100 percent healthy all year, though, it's worth wondering if the Tide could have taken down Clemson, instead of getting blown out 44-16.
2017 Auburn — Want a reason the Tigers could be dangerous this fall, despite a brutal schedule? The last time they hosted Georgia and Alabama in the same regular season, they beat both. They would have secured a berth in the Playoff if they'd beaten Georgia a second time in the SEC title game, but an injury to RB Kerryon Johnson limited his effectiveness. Could Auburn have taken down Oklahoma in the Rose Bowl and then beaten Alabama a second time in the title game? We'll never know.
2011 LSU — Remember how boring that January 2012 BCS title game between the Tigers and Alabama was? Well, believe it or not, they played another super-boring game during the regular season, with LSU winning 9-6 in overtime. That gave the Tigers the top seed heading into that title game, but it wasn't enough to stop the 21-0 beatdown that ensued. Still, it's not hard to imagine that game going a different way based on that regular-season matchup. Those were some nasty defenses, and incredible play on that side of the ball had defined the LSU-Alabama rivalry ever since.
So there you have it. Those are 5 teams that could have won titles, but based on bad luck and poor play at inopportune times, didn't manage to get the job done.
@SChinni12:
With the news that former LSU QB Danny Etling is working out at wide receiver a bit for the Patriots, which current SEC quarterback do you think would make the best receiver?
I'm not sure how long that Etling-at-receiver experiment will last in New England, as he's no Julian Edelman, but it is interesting. If he gets some time at receiver in the Patriots' 4 preseason games, we'll know it's more than just a joke.
As for current SEC quarterbacks making the switch, I think Mississippi State's Tommy Stevens would be the best receiver if he were forced to change positions. He's 6-5 and 240 pounds, and the best part is that he actually has some experience as a receiver.
During his final 2 years at Penn State, he had 14 catches for 62 yards and 2 touchdowns. He's athletic enough to make the switch and be a solid tight end, I have no doubt about that.
I also think Texas A&M's Kellen Mond would be an interesting athlete to switch from quarterback to receiver. But I'll stick with Stevens as my top candidate.
Have a question for next week's SDS Mailbag? Tweet at us using #SDSMailbag or email me at ASpencer@SaturdayDownSouth.com.