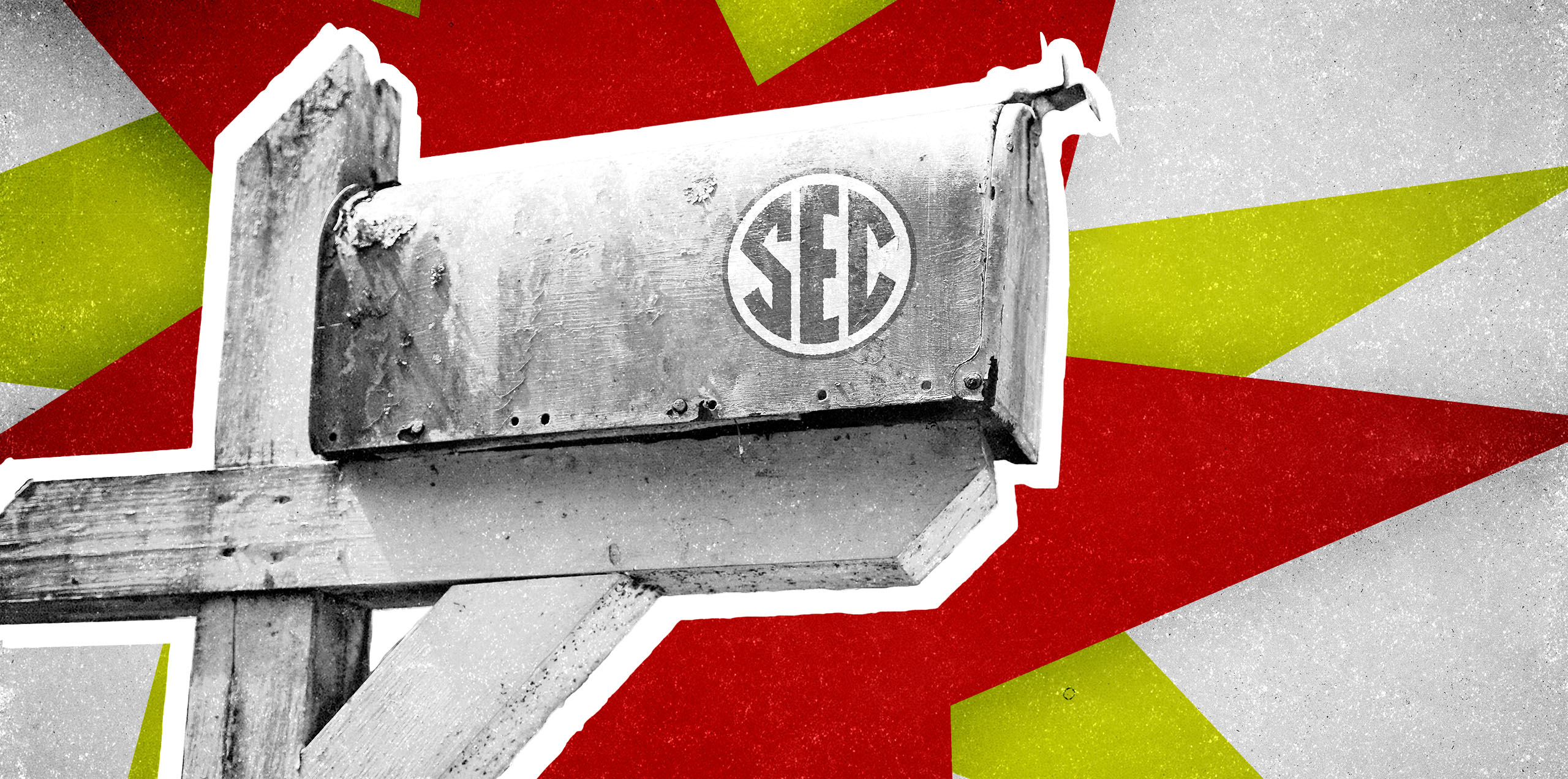 SEC
SDS Mailbag: More potential Big 12 teams, Mizzou-Kentucky prediction and book club recommendations
Cupcake Week comes early to the SEC this weekend, with several big-name teams playing lesser foes. Alabama plays Mercer, Auburn plays Alabama State, Ole Miss plays Austin Peay, LSU plays McNeese … and Colorado State gets Vanderbilt.
Sorry, I couldn't help it. But, hey, get blown out by an FCS team at home like Vandy did last week, and I'm going to make jokes about you. That seems fair.
Jokes at Vanderbilt's expense aside, let's dive into your questions for this week's Mailbag:
Barrie:
So the Big 12 is looking to add 4 teams in an attempt to make up for the losses of Texas and Oklahoma. They're targeting BYU, Houston, Cincinnati and UCF. For both football and basketball reasons, shouldn't they also be targeting Boise State and Memphis to become as close to a power conference as possible?
I don't disagree with you. Like you said, they both make sense from a basketball and football perspective. And, they make sense geographically. Also, the Big 12 will be at 12 teams if BYU, Houston, Cincinnati and Memphis join.
Meanwhile, the SEC will be at 16 once Texas and Oklahoma join. The ACC has 14 members (15 in non-football sports with Notre Dame). The Big Ten has 14. Only the Pac-12 has 12 members.
If you want to keep up in the conference realignment race, it makes sense to get to at least 14 teams. Once BYU, Cincinnati, UCF and Houston are off the board, Boise State and Memphis will be 2 of the more attractive Group of 5 schools out there.
If the Big 12 doesn't make a run at them, it's only a matter of time until another conference tries to scoop them up.
@SChinni12:
Who do you think will win this week's Mizzou-Kentucky game? Please say the Tigers.
I'm a big Mizzou homer, but I can't pick the Tigers this week. Mizzou's defense looked like it had no interest in tackling for much of the game against Central Michigan last week. That's, uh, that's gonna be a problem against Kentucky.
The Wildcats have one of the best offensive lines in the entire country, and RB Chris Rodriguez Jr. is one of the hardest guys in the conference to tackle. Combine that with the Tigers' tackling woes and the Wildcats might run for 250-300 yards on Saturday.
If Mizzou is going to win, QB Connor Bazelak and the receiving corps are going to have to have huge performances. I didn't see enough from the Mizzou passing game last week to feel confident predicting a win for my beloved Tigers.
My prediction? Kentucky wins the SEC East showdown 31-23.
@Dobbe8:
Sadly, the giraffe named after Joe Burrow at the Baton Rouge Zoo died this week. If you could have any animal named after you, what would you pick?
Well, I'm a Mizzou graduate, so I think having a tiger named after me would be pretty cool. I liked tigers even before I went to Missouri.
As for the name, I don't think "Adam" is a great name for a tiger. So, maybe I'd go with something with my last name. "Spencer" or "Spence" would be a better tiger name, I think.
I don't think I'll ever do something as impressive as leading my team to a 15-0 record, winning the national championship and winning the Heisman Trophy like Burrow did in 2019, but hey, I'll keep trying.
RIP Burreaux the giraffe.
Mike:
Aaron Rodgers started a "book club" on "The Pat McAfee Show" this week. His first recommendation was "The Alchemist." If you had a book club, what would your first recommendation be?
For fiction, I'd go with either "Bearskin" by James A. McLaughlin or "Little Eyes" by Samanta Schweblin. Both of those books are entertaining and some of the more unique reads I've taken on in recent years.
And, for nonfiction, I'd go with "Outlaw Ocean" by Ian Urbina. The adventures Urbina has been on in international waters and the sad, haunting stories he tells are incredible. I couldn't put the book down.
As for "The Alchemist," I'd have read along with the Aaron Rodgers Book Club if my wife hadn't literally just lent the book to our neighbor earlier this week. Talk about unfortunate timing.
Oh well, I have a stack of about 20 books on my shelf I haven't read yet, so I'll be busy for a few months.
Have a question for next week's Mailbag? Tweet at us using #SDSMailbag or email me at ASpencer@SaturdayDownSouth.com.