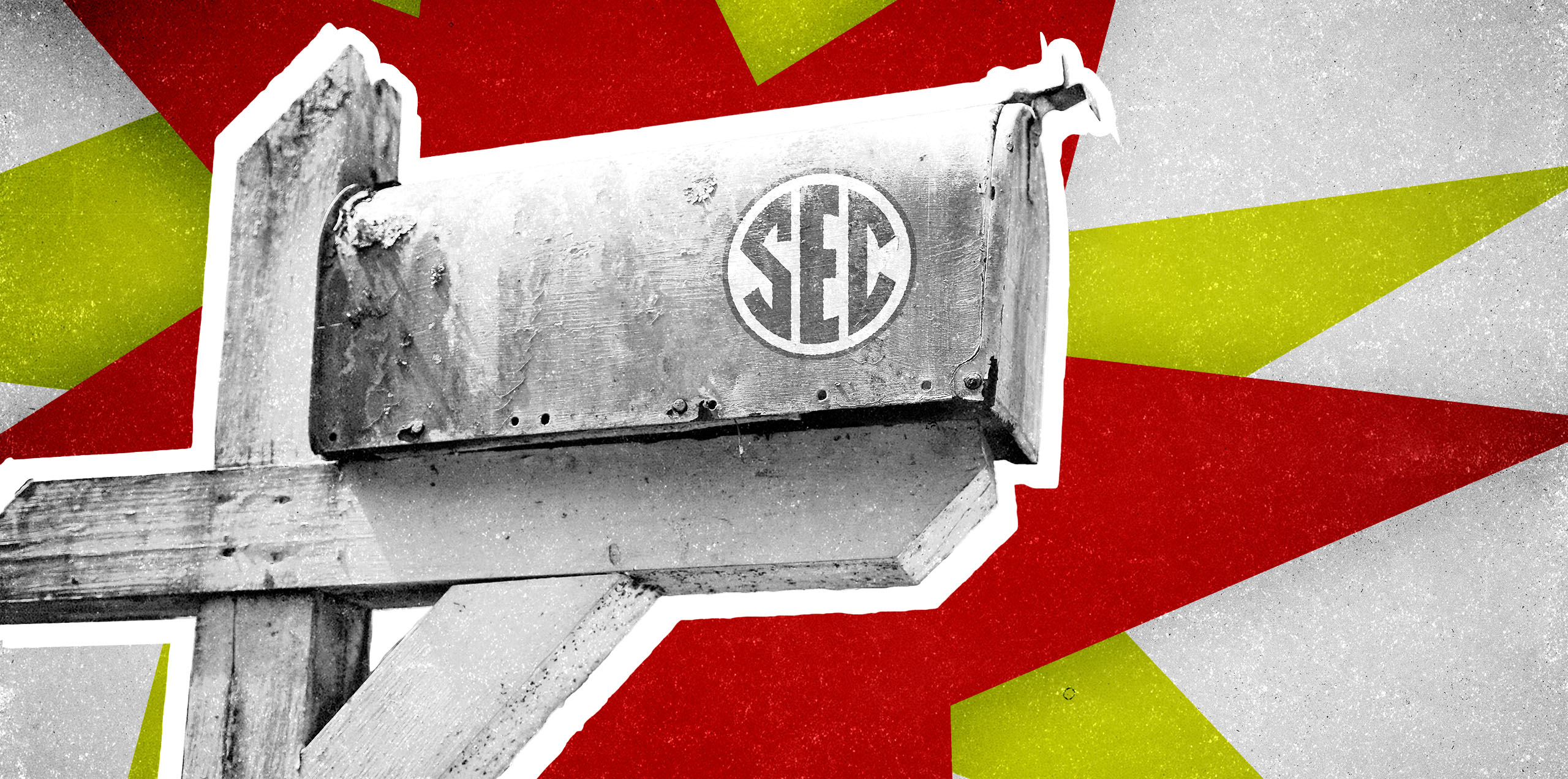 SEC
SDS Mailbag: Next year's championship pick, college hoops All-Name Team and CFP title game TV options
Well, folks, we've officially reached the end of the college football season. While it's always exciting to see a champion crowned, it's also sad to see the season come to an end. Now, we only have the NFL playoffs to look forward to before spring football starts.
Fortunately, we can also shift our attention to college basketball, where both the men's and women's teams in the SEC are having great seasons. South Carolina's women's team continues to be ranked No. 1, while Auburn's men's squad could find itself at No. 1 in the AP Poll by Monday.
We have 2 hoops and 2 football questions for you in today's Mailbag. So, without any further ado, let's dive in:
Joe:
Now that the 2021 season is over, who is your early pick to win the 2022 college football title?
I'm not going to overthink this one. Alabama figures to have Heisman-winning QB Bryce Young and star defender Will Anderson Jr. returning in 2022. Oh, and they have a guy named Nick Saban as their head coach.
I expect the Tide to be active in the transfer portal, perhaps bringing in another impact receiver to follow in Jameson Williams' footsteps. Defensively, they've already added former LSU CB Eli Ricks via the portal. And, I don't think they're done on that side of the ball, either.
Yes, I expect Georgia and Texas A&M to make some noise in the SEC, too, and contend for spots in the College Football Playoff. I also think Ohio State will be a force, and Notre Dame should be intriguing under first-year coach Marcus Freeman.
But, at the end of the day, I'm going with Alabama to win the 2022 national championship. The Tide will be hungry to avenge this year's loss to the Bulldogs.
Robert:
Who are your picks for the men's college basketball all-name team this year? Mine look something like this:
Adonis Arms – Texas Tech
Sincere Carry – Kent State
Boo Buie – Northwestern
Javon Freeman-Liberty – DePaul
Both Gach – Utah
Who would you change?
I like that list! I'd keep Adonis Arms, Boo Buie and one of my long-time favorites, Both Gach, on the team, for sure.
But, since this is an SEC website, I'll add my favorite SEC name to the lineup – Florida's Phlandrous Fleming Jr. And, for my final spot, I'd go with Chris Cross, a Southern Illinois guard.
I'd also add Churchill Bounds (Central Arkansas), Aidan McCool (Maryland) and Kobe Elvis (Dayton) to my honorable mentions. All of them have great names.
You can't go wrong with any of those names, though. Now, I'm off to the gym so I can try to earn "Adonis Arms" as a nickname.
Tom:
The CFP title game drew the second-lowest number of viewers since its inception, above only the 2020 title game following the pandemic season. What would you do to increase viewership of college football's biggest game?
Well, the first part of the equation, to me, seems pretty obvious. Having the game on a Monday night isn't doing college football any favors.
Sure, there's nothing else going on that night, as the NFL's regular season concludes the day before. But, it's tough for working folks who don't root for 1 of the 2 teams playing in the CFP title game to host big parties or get togethers on Monday nights. This year, Jan. 10 was also the first day back at school for a lot of districts.
The Super Bowl is on a Sunday and is almost always the most-watched TV event of the year. And, even then, we have people complaining that the Monday after the game should be a national holiday.
So, why not put the CFP title game on a Saturday? I know there were 2 NFL games on Jan. 8, but who cares? The NFL isn't putting its best games on Saturdays, so just compete against it if you have to. College basketball will adjust, putting its games earlier in the day so as not to compete with the championship.
Also, expand the field. I'm in favor of 8 teams, but I support anything short of 16 – 8, 10, 12 … it's all good. Oh, and don't put the semifinals on New Year's Eve. That's a no-brainer. These all seem like no-brainers, but yet, here we are again. The CFP isn't doing itself any favors at all.
@Dobbe8:
Which SEC men's basketball team has the best home-court advantage?
I'm sure my answer to this won't fire people up at all. OK, here goes …
The answer, at least for this year, is Auburn. When the Tigers are good, that arena can get loud. Auburn Arena is far from the biggest arena in the SEC, but the fans are right on top of you when you're on the court. It can feel claustrophobic when ravenous Auburn fans are cheering on their team.
And, this year, with the Tigers potentially moving up to the No. 1 spot in the AP Poll on Monday, the atmosphere is absolutely electric. It beats Tennessee, Kentucky, Florida and Arkansas – other notable home-court advantages.
Those 5 schools all have legitimate claims to the "best home-court advantage" title depending on the year, but for the 2021-22 season, Auburn is wearing the crown. No doubt in my mind about that.
Have a question for next week's Mailbag? Tweet at us using #SDSMailbag or email me at ASpencer@SaturdayDownSouth.com.