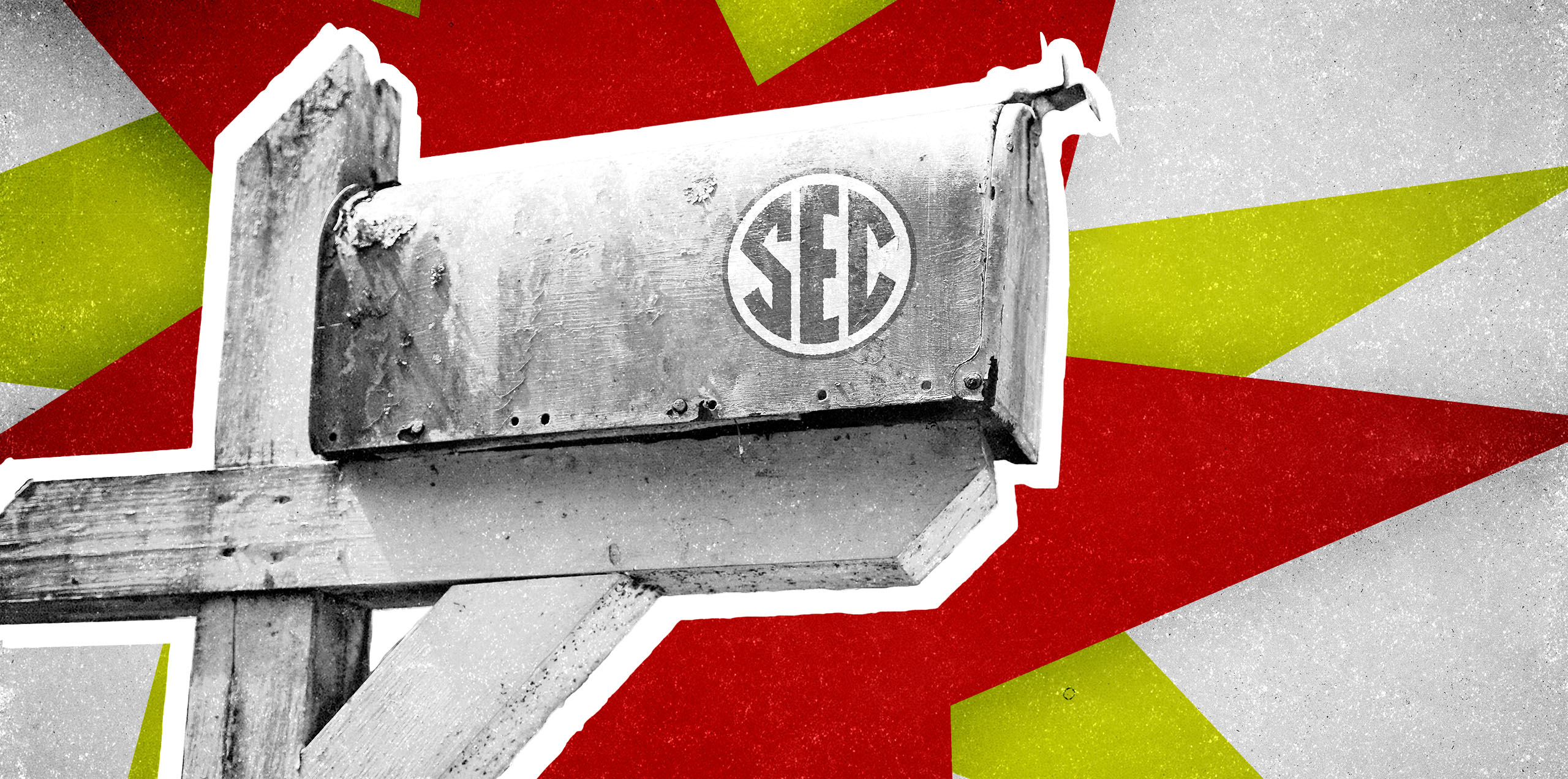 SEC
SDS Mailbag: Predicting SEC order of finish, top SEC color schemes and best SEC states
Another SEC Media Days has come and gone. Next year, the event will be held in Dallas, with Texas and Oklahoma making their debuts in front of the microphones.
The MLB All-Star Game is apparently also happening in Dallas that week, so it should be quite the spectacle to behold. What could possibly go wrong?
Anyway, let's dive into your questions for this week's Mailbag:
Cory:
Now that we know how media members voted at SEC Media Days, what's your predicted order of finish for the SEC West and SEC East this year?
I've given this a lot of thought, and my picks will be pretty chalky. The top teams in the SEC simply have too much talent.
But I do have a couple of surprises. Here's a look at how I think the SEC West and SEC East will shake out this fall:
SEC East
Georgia – No doubt about this one.
Tennessee – The Vols might have some growing pains with Joe Milton at QB, but they'll figure it out in time for the stretch run.
Kentucky – Devin Leary has the potential to be the breakout QB star of the season.
Mizzou – Maybe a bit of a homer pick here, but if all goes right for the Tigers and they find the right quarterback, fourth in the East is an attainable goal. This defense should still be solid.
South Carolina – I like the program Shane Beamer is building. Once he gets another strong recruiting class in Columbia, the Gamecocks should start to be a more formidable opponent for other SEC squads.
Florida – I'm really not buying into Graham Mertz as the savior for this team.
Vanderbilt – No disrespect to Clark Lea and the Commodores. They aren't a laughingstock after last year. That's more than many recent Vanderbilt teams have been able to say.
SEC West
LSU – Give me the stability of LSU over the turnover at Alabama. The Tigers return both coordinators, star QB Jayden Daniels and elite WR Malik Nabers. Oh and then there's 1-man wrecking ball Harold Perkins. That's a good place to start an SEC West title defense.
Alabama – The Crimson Tide are still a Playoff contender. There's no reason to start claiming Nick Saban has lost his touch or anything outlandish than that. But this year, turnover at both coordinator positions and at quarterback will lead the Tide to coming up just short of an SEC West title.
Ole Miss – I'm a big believer in Lane Kiffin, as always. I think this offense will be elite once again.
Texas A&M – The Aggies will improve significantly, but probably not enough to make the fans in College Station happy.
Arkansas – I like KJ Jefferson and Rocket Sanders, but I'm not sure this defense has improved enough this offseason.
Auburn – Hugh Freeze helps the Tigers improve a bit this fall, but let's wait until Year 2 to really start judging him.
Mississippi State – I think the transition from an offensive mastermind to a hard-nosed defensive head coach, especially under the circumstances in which the coaching change happened, will take some time to come to fruition. The 2023 season could be a long one in Starkville, but I still think this program made the right decision in promoting Zach Arnett.
SEC Championship Game: Georgia over LSU
Boring, I know. I wish I could pick something different, too. I'll say that I think LSU keeps it much closer than last year's 50-30 defeat. The Tigers are a solid team.
Chris:
Who has the best color scheme in the SEC?
I'll say right off the bat that I'm just not a fan of maroon or any random shade of red that isn't a true red. So my apologies to Mississippi State, Texas A&M, South Carolina and Alabama, but I won't be picking you for this question.
Arkansas is also borderline for me. I'll just eliminate Arkansas and Georgia to avoid any red whatsoever in my answer.
I'm obviously partial to black and gold as a Mizzou grad, but I'll eliminate the Tigers for the sake of not being a homer. That also eliminates Vanderbilt, unfortunately.
My favorite uniforms are ones that pair a bold color with a crisp white. Thus, Kentucky and Tennessee stand out to me. Once Texas joins the league, I love the burnt orange/white combo. I think the Texas all-white uniforms are the best in college football.
But for now, I'll go with Tennessee. When the Vols are in their all-white uniforms, they look really sharp. The smokey gray look isn't my vibe, though.
Honorable mention to Ole Miss's powder blue look. I'm a big powder blue uniform fan, too.
Jacob:
Which state with multiple SEC football teams (Alabama, Mississippi, Tennessee) will combine for the most wins this fall?
While I do think Tennessee could be in for a big year in 2023, and while I'm a big fan of what Lane Kiffin continues to do in Oxford, I am going with Alabama here. The Crimson Tide had what many considered a "down" year in 2022 and still won 11 games. Auburn went 5-7, but under Hugh Freeze, I expect the Tigers to improve steadily in Year 1.
Meanwhile, I have some questions about Zach Arnett at Mississippi State. I worry that a defensive coach following an offensive genius will lead to a mediocre season. Just look at Oklahoma last year and how much the Sooners dropped after losing Lincoln Riley to USC and replacing him with longtime Clemson DC Brent Venables.
Vanderbilt is a tough team under Clark Lea, but even winning 2 SEC games in a single season seems like a monumental task for the Commodores.
I think Alabama will win 11-12 games again this year. Combine that with 6 or 7 from Auburn and it should be enough to give the Yellowhammer State the edge over Mississippi and Tennessee.
@Dobbe8:
If you could trade places with any SEC coach for a day, who would it be?
Can I pick Coach O? That would be intense and interesting, for sure. But I guess since he's not an active SEC head coach, I'll have to pick someone else.
I'll go with the easy answer here and say Nick Saban. I don't want to deal with all the drama at Georgia right now, so Kirby Smart is out. It would be fun to be the GOAT of college football coaches for a day.
I'd wear all 7 national championship rings everywhere I went that day, driving in a fancy car (since Saban owns a dealership). I'd take his boat out on the lake and do all that sort of fun stuff.
Then I'd get to practice and everyone would look at me and wonder why Saban had lost his mind. That would be stressful. But the day overall would be worth it.
Have a question for next week's Mailbag? Tweet at us using #SDSMailbag or email me at Adam.Spencer@XLMedia.com.