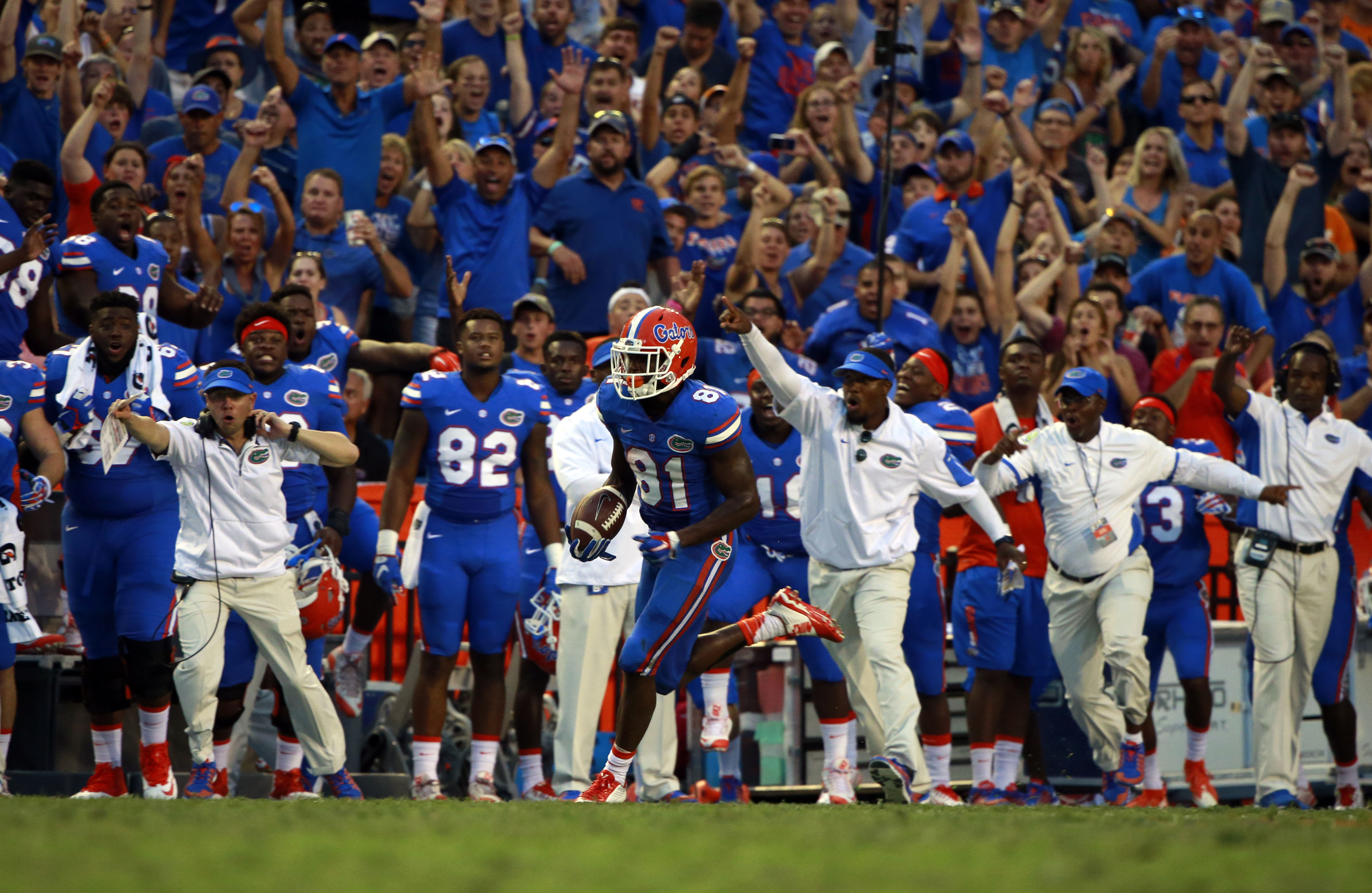 SEC
One stat each SEC East must improve in 2016
In the thick of the preseason, the SEC favorites are scheming to stay on top and the bottom-dwellers and figuring out ways to improve. As each SEC East program looks at the state of its team heading into 2016, there is always a focus area to improve.
Here's a stat that really needs to change, if the team wants to stay on top or work their way up the ladder — and how the team might make the change needed.
Florida: 126.9
There were many surprises in Jim McElwain's first year. The unexpected SEC East title is a good memory, but a bad one was the lack of productivity from Florida's running game.
Granted, stud freshman QB Will Grier's mid-season suspension (and subsequent transfer) was an unexpected hurdle for the Florida offense. But without Grier as a passing threat, the Gators managed just 126.9 rushing yards per game, next-to- worst in the SEC. They gained just 15 yards in the SEC Championship Game loss to Alabama. Kelvin Taylor (below) was held to 8 yards on seven carries.
Sophomore RB Jordan Cronkrite was solid as a freshman, but look for spring-game star, JUCO Mark Thompson (who at 242 pounds can handle the physical wars of the SEC) to become Florida's answer in the backfield.
Georgia: 92
The Mark Richt era is over, and the Kirby Smart era is on. Smart built his reputation as a defensive wizard, but he and offensive coordinator Jim Chaney will be tasked with rebuilding the offense, which underachieved after Nick Chubb's injury midway through 2015.
That season-ending knee injury limited Chubb to 92 carries.
Georgia will probably limit Chubb against opponents like Nicholls State and Louisiana-Lafayette, but Smart's job will be much easier against Tennessee, Florida, and Ole Miss, if Greyson Lambert, Jacob Eason, or whomever ends up under center can hand the ball to Chubb 25 or 30 times.
Georgia's potential to retake the East is probably hanging in the balance of how well Chubb can handle the workload — and stay healthy.
Kentucky: 17
Mark Stoops's 2015 campaign, like his 2014 one, ended with five wins. Now entering his fourth year at Kentucky, Stoops's long-term job security will be in question without a better 2016 campaign.
Kentucky has a relatively solid defensive secondary, but questions about the Wildcats begin up front, where UK managed a paltry 17 sacks in 2015. That was last in the SEC and tied for No. 109 nationally.
Senior pass-rusher Jason Hatcher was kicked off the UK team, which adds pressure for sophomore DE Denzil Ware (pictured pursuing Missouri QB Maty Mauk). If Ware can get in opposing backfields like he did in UK's spring game, when he totaled four sacks, Kentucky's bowl chances will improve dramatically.
Missouri: 280.1
Mizzou won the East in 2013 and 2014, and began 2015 on a 3-0 start before finishing 5-7. New head coach Barry Odom has plenty of work to get the Tigers back to the top of the East, and most of his struggle will be on offense.
Even in losing seven games last year, the Tigers allowed more than 21 points only twice. But Missouri's anemic 280.1 yards per game of offense wasn't just last in the SEC, it was more than 45 yards behind the next-worst team and No. 125 nationally.
In consecutive weeks they ran for 21 yards in a 9-6 loss at Georgia and 80 in a 10-3 loss at Vanderbilt.
Sophomore QB Drew Lock had to play in relief of the disappointing Mauk in 2015, but with QB whisperer Josh Heupel calling plays, Lock will be key in Mizzou keeping the chains moving, and working back into the bowl picture.
South Carolina: 55
Will Muschamp's first Gamecocks squad will be a bit ragged around the edges. If South Carolina will make it back to the bowl schedule, they will have to lean on a veteran defense and be opportunistic.
One place South Carolina did not capitalize on opportunities in 2015 was in punt returns, where the Gamecocks had just 55 yards for the season. The Gamecocks were last in the SEC and No. 118 nationally. And that was with Pharoh Cooper (below) returning the punts.
Sophomore Deebo Samuel battled injuries in 2015, but if Samuel could rip off a few timely returns, he would likely ease the load on the offense, and give the team a pivotal boost in a fairly wide-open East.
Tennessee: 75 percent
It is early, but the Vols are the favorite for the SEC East title, despite struggling mightily in close games in the Butch Jones era. Obviously, a big key to UT's title hopes will be the ability to make big plays in tight games.
One place to start is 4th-down defense. Foes converted a whopping 75 percent of their fourth-down tries against UT last year.
And it wasn't a small or insignificant number, either. Overall opponents converted 18 of 24 tries. Only three teams in the country allowed more conversions.
And in the Vols' four losses, opponents were 7-for-9 on fourth down. The most heartbreaking for Vols fans was Florida's game-winner on 4th-and-14, when Will Grier hit Antonio Callaway (below) for a 63-yard touchdown with 1:26 left.
Who might turn back the Tide for UT? Highly-regarded defensive tackles Kahlil McKenzie and Shy Tuttle both showed ability as freshmen, but UT's clutch defense needs a big boost right in the middle. If McKenzie and Tuttle can live up to their hype, that might be the difference in another 9-4 year versus an 11-2 or 12-1 year for the Vols.
Vanderbilt: 171.8
After a tough start to 2015, Derek Mason's Commodores showed some life down the stretch, largely on the back of a tough defense. Vandy generally seems to anchor down on defense, and with talented RB Ralph Webb on offense, Vandy could surprise some observers in the East.
The weakness for Vandy in 2015 was under center. The Commodores managed a meager 171.8 passing yards per game. Rising sophomore Kyle Shurmur (below) showed promise, gaining wins in starts against Kentucky and Missouri.
But that number has to grow after ranking No. 112 nationally last season.
Want a glass half-full perspective? It was almost 50 yards better than the 2008 Commodores.