SEC
One reason every SEC East team will suck in 2015
Some SEC straight talk intended to keep fans' expectations in check. Just remember, somebody's gotta lose. It may as well be you. Check out the SEC West edition.
WHY FLORIDA WILL SUCK: Land of misfit toys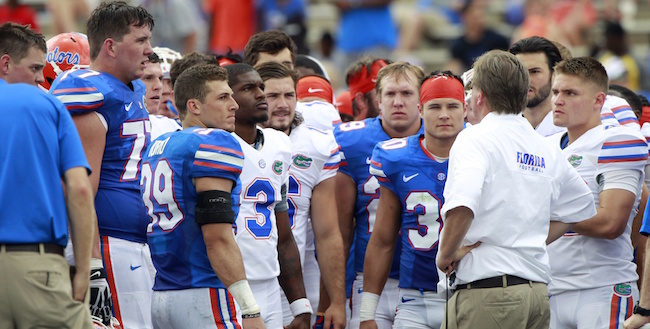 The Gators begin the Jim McElwain era, and I think he can be a good hire. The man can develop quarterbacks, and Florida should maintain a respectable defense simply due to the talent available in its backyard. But, Florida's probably going to suck in 2015.
The reality is that Florida's offense is the land of misfit toys. And the toys aren't very talented.
McElwain has a new quarterback in Will Grier (most likely) behind what might be the worst offensive line in the league.
Florida's on its 7th straight wide receivers coach in seven years. Is it a surprise that Florida's wide receivers have been mediocre at best since Urban's offense was running wild in Gainesville?
Jim McElwain will build an offensive identify (something that hasn't been seen in years at Florida), but it is going to take time. Even if the offense is making progress in 2015, the offensive line woes will likely make the progress quite difficult to see for the average fan.
WHY GEORGIA WILL SUCK: Oh, c'mon, it's Georgia!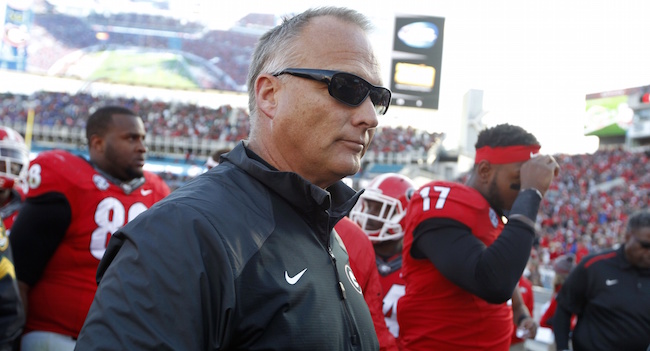 Let's clarify something… Georgia's not going to suck. In fact, they're going to be very good, but they probably won't get it done. Why? Because Georgia.
Georgia, one of the best programs in the country, just can't get it done under Richt, I'm afraid. And, by get it done, we're referring to winning it all of course. Isn't that what expectations are for Richt and Georgia? To get it done? Eventually? 2015 seems like a decent opportunity, no?
Florida's still down, and Tennessee isn't yet back to elite levels. And Georgia is loaded with talent.
Unfortunately, the timing works out to where Georgia has to play Auburn and Alabama this year (both top ten teams). LOL. Oh, also, Georgia's QB situation is less than ideal.
Yeah, enjoy the 9-3 east championship.
WHY KENTUCKY WILL SUCK: Mark Stoops is a secret agent sent by Bob Stoops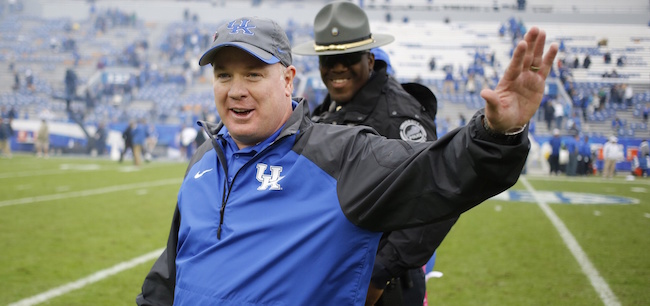 Remember when Bob Stoops used to tell the world that the SEC was no good because the crappy SEC teams were so crappy? What better way to ensure that his argument held up than to send his brother to coach Kentucky?
Unfortunately for Bob, the 2014 campaign almost got away from him because it turns out that Mark is a decent football coach. Mark forgot his mission temporarily and led the Cats to a 5-1 start in 2014.
Then, he got a call from Bob.
Bob: MARK WHAT THE HELL ARE YOU DOING?!?

Mark: I'm sorry, Bob. I got carried away, and c'mon, I can't lose to Derek Mason!

Bob: Who is Derek Mas… nevermind, it doesn't matter. Get back to losing! My reputation is on the line!

Mark: Absolutely.
The rest is history. The Cats lost the next six games. No bowling in 2014 despite a 5-1 start. What else would explain it?
WHY MISSOURI WILL SUCK: Mauktober has no targets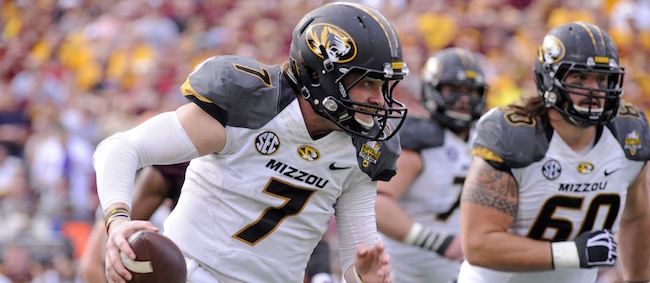 The Missouri defensive front has carried the Tigers to back-to-back SEC East titles, but with guys like Ray and Golden gone to the NFL, Brantley out for the year due to a bad car wreck and the dismissal of Marcus Loud, it's unlikely that this unit will carry Mizzou as we've become accustomed to.
Instead, Maty "Mauktober" Mauk will need to carry this team to some wins. The problem is that Mauk was pretty unreliable when he had good receivers to throw to. In 2015, those wide receivers are gone.
As noted by a recent rockmnation.com article:
Nate Brown heads into 2015 as the leading returning wideout … with five career catches. That's pretty obscene.
You know what that means right? Mauk scramble left. Mauk scramble right. Repeat.
WHY SOUTH CAROLINA WILL SUCK: Pharoh is playing with a bunch of minions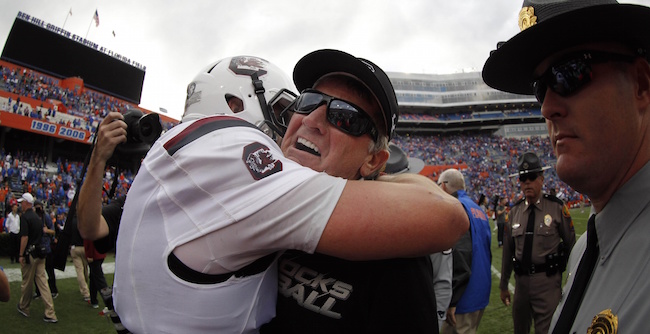 The talent well that supplied in-state elite talents such as Marcus Lattimore and Jadeveon Clowney has run dry. Throw in one of the most underrated talents in SEC history in Connor Shaw, and you had enough talent to win a bunch of games.
Add in the fact that Florida and Tennessee were struggling to find winning ways, and you had the recipe for the golden age of South Carolina football.
These reasons for success take nothing away from Spurrier and the teams that won 11 games in three consecutive seasons. All great runs in sports have to have a number of factors line up to make big things happen.
As Spurrier looks to get back to double-digit wins, his main problem currently is talent… especially on defense. While the offense has King Touchdown (Pharoh Cooper) to make plays, the defense needs a spark. The unit was horrendous in 2014.
The Gamecocks were 119th in the country last season in total sacks, last in the SEC.
WHY TENNESSEE WILL SUCK: Are we sure that Dobbs is that good?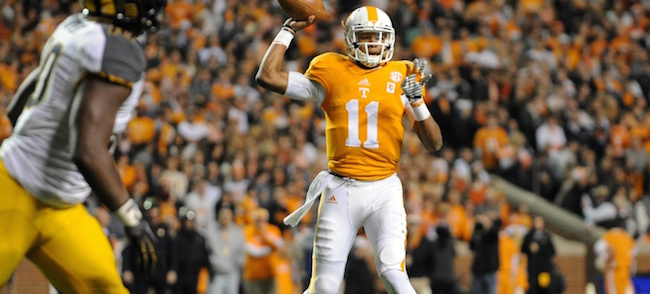 Count me in the camp that likes Joshua Dobbs. He looks like a nice player, but I think fans are getting ahead of themselves with regards to how the season finished last year.
The Vols finished 4-1 in their last five games with wins over South Carolina, Vanderbilt, Kentucky and Iowa. What am I missing?
Since when do we go nuts over beating Iowa?
It's worth noting that it took overtime to beat South Carolina, and the Vols beat Vandy 24-17.
When Spurrier's Gamecocks beat Vandy earlier in the season, he was quoted after the game saying "That was a game I didn't like a bit….the way we play is embarrassing." That is the proper response after a non-blow out win over Mason's 2014 'Dores.
Heck, even Florida beat Vandy 34-10 in the midst of Muschamp-led downward death spiral.
Looking specifically at Dobbs, he threw for 1206 yards, nine touchdowns and six interceptions in his six starts. Not bad, but if Johnny Manziel put up those kind of numbers, he'd have been on suicide watch.
What happens if Tennessee loses to Oklahoma big in week two? What happens if they follow it up with yet another loss to Florida (current streak is at ten!)?
Good news for fans is that you can also legitimately consider the opposite question: What if Tennessee beats Oklahoma and Florida and exits September with a 4-0 record? At least that question is plausible… See how far we've come since Derek Dooley?!
WHY VANDERBILT WILL SUCK: James Franklin coaches Penn State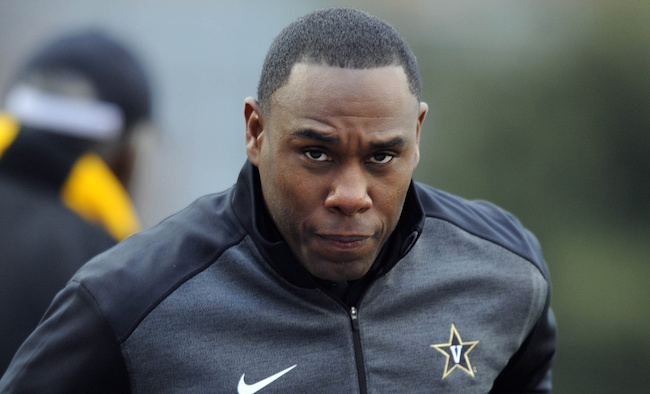 The recent Vanderbilt social media gaffe was the most interesting thing that will happen to the program all year.
Head coach Derek Mason might make it in Nashville simply due to forgiving fans and low expectations, but 2015 is not likely to be a resume builder for the coach.
Making matters worse for Vanderbilt includes the fact that quarterback Patton Robinette quit football to focus on medical school (The most Vandy-ish Vandy problem that you could have) and leading receiver C.J. Duncan is out for the year.
Enjoy the read? Check out the SEC West edition.