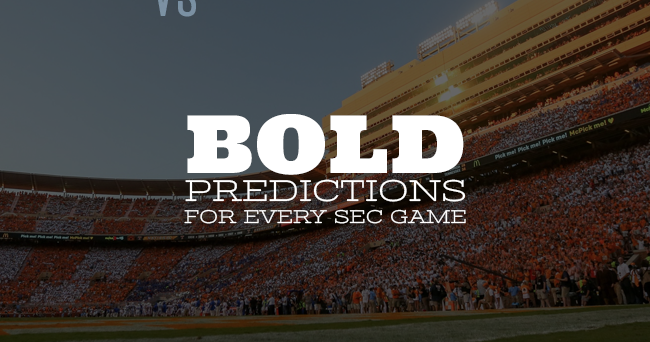 SEC
A bold prediction for each SEC game in Week 6
Fall is in the air, and college football's midseason mark arrives this weekend for some teams. Feels like it's time to sit back, enjoy the atmosphere and get a little crazy. And the bold predictions department is the place for all that. We'll be the first to admit, everything we predict won't come to pass. But we'll be right about a couple things — and isn't guessing which ones part of the fun? Here's a bold prediction for each SEC Week 6 game.
LSU — led by Daniels — pulls off the upset
One of the hardest teams to figure out this season has been LSU. It has been great, it has been terrible, sometimes in the same game. Meanwhile, Tennessee enters off a bye week. At some point this season, Brian Kelly is going to win a game that, on paper, he probably shouldn't. This feels like that game. LSU is very decent against the pass (allowing 5 TDs to 4 interceptions on the season), and UT's defense was gashed pretty consistently by a Florida team that hasn't exactly looked great on offense. Jayden Daniels is coming off an ugly game, but he'll be much sharper against the Vols, passing for 250 yards and a pair of TDs as LSU wins, 35-31.
State throws for 400 as the Bulldogs roll over Arkansas
Arkansas comes in on a 2-game losing streak and with the 13th-ranked pass efficiency defense in the SEC. The 8.6 yards per pass attempt Arkansas is allowing is worst in the league by half a yard. Combine that with Mississippi State being red-hot, having just beaten Texas A&M by 18 (the week after the Aggies slipped by Arkansas). Last week's game was actually appropriate, because State is primed to take over A&M's spot as the West team to challenge Alabama. Will Rogers is good for 400 yards in this one, and State claims a 38-21 victory.
Mizzou leads early, Florida rallies late with AR-15
Missouri nearly pulled off a season-saving upset last week, but "nearly" is the buzzword for horseshoes and hand grenades. That said, it will nearly win again this week. The Tigers aren't built to get blown out (only beatdown came at Kansas State), and Florida isn't built to blow teams out (only FCS Eastern Washington). Florida has the statistically worst rush defense in the SEC, and the Tigers' ground game is surprisingly solid. Nathaniel Peat and Cody Schrader will each score a 1st-half touchdown, and Mizzou is up 17-7 at the half. Florida won't lose this game, at home, though. Anthony Richardson has a 4th quarter to remember, and he leads the winning drive in the last 2 minutes as Mizzou has a 2nd straight heartbreak, this one 31-27 for the Gators.
Dual 100-yard rushers for ground-minded Georgia
It has been a rough couple of weeks for Georgia, but a home game against Auburn feels like an opportunity to get right. UGA has had to rely on Stetson Bennett IV to pull it through a pair of ugly wins, and with sub-8 yards per pass attempt, it looks like opposing defenses have made Bennett play the slow game to beat them. No Bulldog has 100 rushing yards in a game this season, but we'll say that Kendall Milton and Daijun Edwards each reaches the mark in an easy Georgia victory.
Rebels throw for 250, run for 250 while blowing out Vandy
Lane Kiffin doesn't mind a balanced offense. Normally, his teams are pass-heavy, but this Rebels squad is 11th in the SEC in passing yardage. Ole Miss, however, leads the SEC in rushing, and Vandy gives the Rebels another chance to run to set up the pass. Quinshon Judkins will be SEC Freshman of the Week after his 4th 100-yard game of the season, this one a season-high 150-yard day. But Jaxson Dart also will have his best passing game of the season to date, eclipsing the 213 yards he threw against Kentucky. The Rebels can pick their score, and they'll do it with balance, passing and running for 250 in a 48-10 win.
Rodriguez is the SEC's top rusher as Kentucky uglies one out
No game will get more speculation than Kentucky-South Carolina, particularly on the heels of indications that UK QB Will Levis might be out for the game. One thing is clear — Kentucky needs to shore up its woeful running game, and senior RB Chris Rodriguez Jr.'s 2nd game back will be the time to do it. Whether UK is without Levis or is just trying to be careful to keep him upright, it will lean on C-Rod, and he'll have the SEC's top rushing day. Spencer Rattler will throw for 300 yards, but a critical defensive stop late preserves a 24-21 UK win.
Bryce plays, Tide rolls
The other great QB mystery is in Tuscaloosa, where Bryce Young might or might not play against Texas A&M. Before the season, this game looked like the matchup that would decide the SEC West, but that looks extremely unlikely. The Aggies just don't have enough offense to hang with Alabama — they're last in the SEC in total yardage and in scoring. Meanwhile, Alabama served notice last week that it doesn't need the passing game to be explosive. Bama's 7.4 yards per carry is some videogame stuff, and the Tide lead or share the SEC lead for most rushes of 20-, 30-, 40- and 50-plus yards. Alabama will spread the love around, but it also will want to make a statement. Surely, nobody thinks Nick Saban forgot the offseason imbroglio with Jimbo Fisher. Or the loss at A&M last season. Alabama 52, Texas A&M 10, with Alabama rushing for 300 yards.