SEC
PHOTOS: SEC football stadium renovations update
Five SEC football stadiums underwent off-season renovations. Kentucky, LSU, Missouri, Mississippi State and Texas A&M are currently undergoing or have completed their stadium renovations.
Let's get an update from each:
Kentucky Wildcats: Commonwealth Stadium
Kentucky's 41-year-old Commonwealth Stadium is undergoing a $110 million facelift that is projected to be finished for the 2015 football season. The Wildcats are actually reducing the capacity from 67,000 to 61,000 to make it a smaller, more fan-friendly atmosphere. The photos below were taken on July 16 by the UK Athletics' Twitter handle.
[H/T @UKAthletics]
LSU Tigers: Tiger Stadium
LSU expanded the South End Zone and added a new upper deck with luxury suites. The school announced a capacity of 102,321, exactly 500 seats more than Bryant-Denny Stadium. Tiger Stadium now becomes the SEC's third biggest stadium, behind Texas A&M and Tennessee. You can specifically see the upper deck on the right hand side of the below photo.

[H/T @CPriceSports]
Mississippi State: Davis Wade Stadium
Davis Wade is undergoing a $75 million expansion renovation this offseason that will increase the capacity to 61,337. It created a new west side concourse, as well as new restrooms and concessions. The expansion includes sealing off the north end zone and installing a large high-definition video board that will replace the JumboTron installed in 1997.
[H/T @JTMcBride19]
Missouri Tigers: Memorial Stadium
By the start of the 2013 season, the west side press box at Faurot Field was renovated, and the facilities housing the press were moved to the sixth floor. The existing press box facilities were converted into premium suites. Also, the "Rock M" and grass berm were moved closer to the north end zone, and the northern concourse was expanded. For the 2014 season, an upper bowl will be completed for the east side of the stadium, providing 5,200 general admission seats and 800 club seats. You can see that progress in the photo below.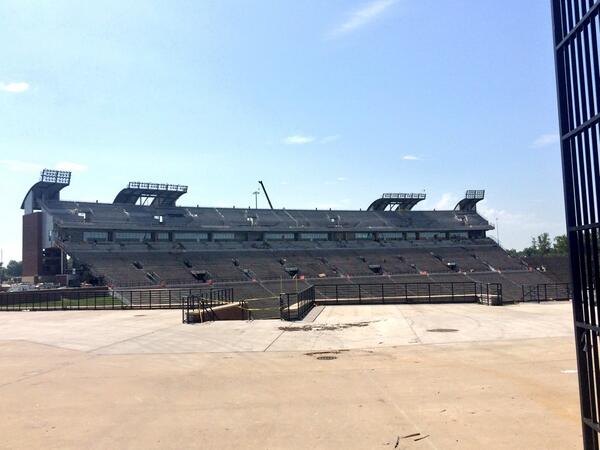 [H/T @LukeLoveless5]
Texas A&M Aggies: Kyle Field
Texas A&M will have a two-phase renovation. The first phase will be complete by August, with the second phase taking place next offseason. Phase I: Demolition of the first deck of the east side of the stadium, re-construction of the first deck, and construction of the south end zone, which will include seating, media interview areas, 12th Man Productions and related gameday support, a commissary and recruiting area. Phase II: Demolition of the entire west side of the stadium, complete construction of the south end zone, and re-construction of the west side that will be ready for the 2015 season.
[H/T @Statboy203]