SEC
Elite Eight Revealed: SEC's all-time stars battle for Final Four spots
Welcome to the third round of SEC Madness! You, the SEC football fan, get to decide the top SEC star of all-time. View the entire bracket below. Scroll down to read about each matchup and cast your vote on the four matchups in the Elite Eight. You can view the previous rounds here:
The Full Bracket
(Click the image below to expand the bracket)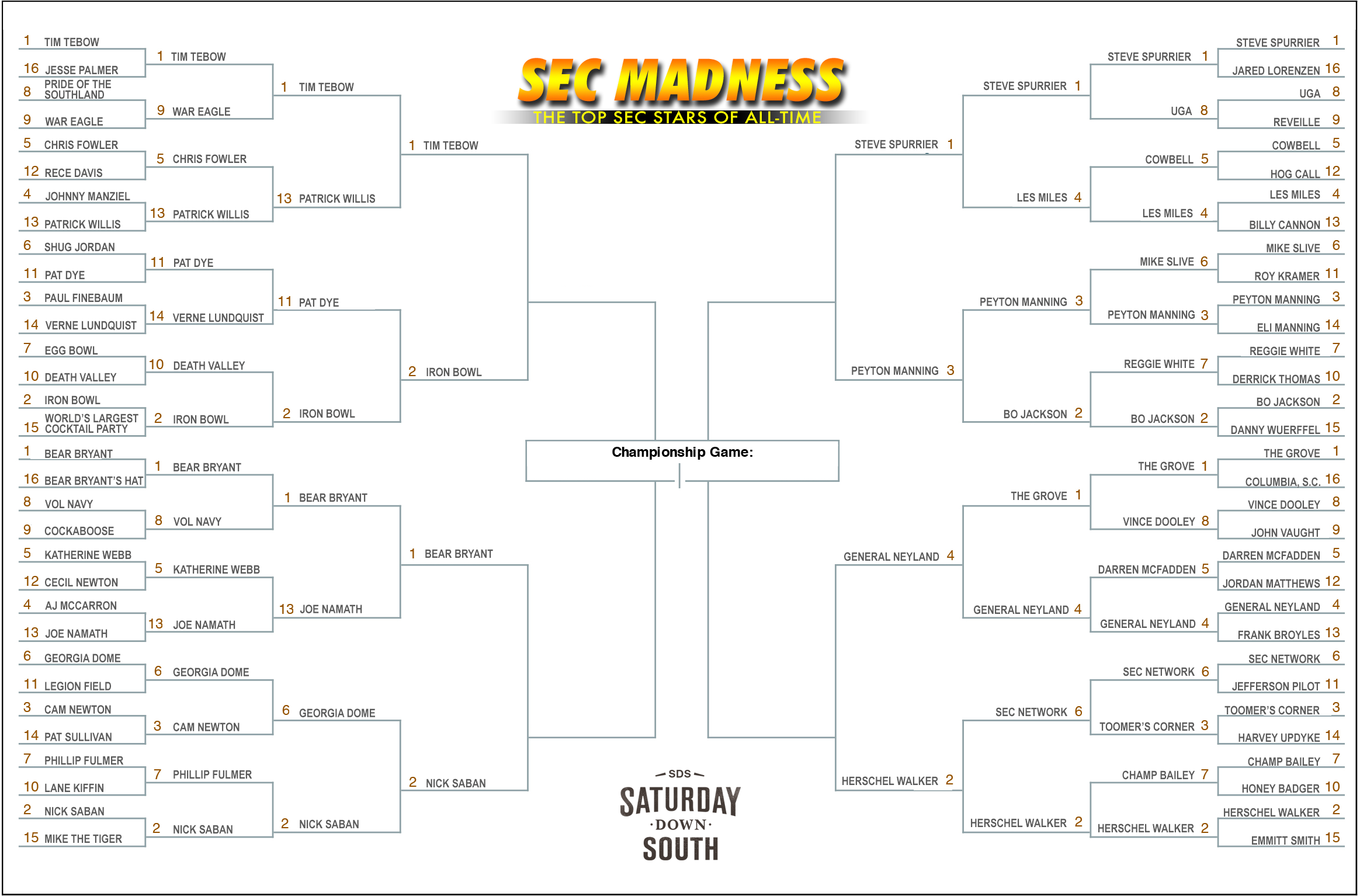 NO. 1 TIM TEBOW VS. NO. 2 IRON BOWL
How Tebow Got Here: Def. No. 16 Jesse Palmer (85.7%), Def. No. 9 War Eagle (57.4%), Def. No. 13 Patrick Willis (69.6%)
How Iron Bowl Got Here: Def. No. 15 World's Largest Cocktail Party (70.3%), Def. No. 10 Death Valley (65.3%), Def. No. 11 Pat Dye (78.7%)
Before Tim Tebow chose Florida, the Crimson Tide hoped it could convince the Ponte Vedra, Fla., native to become part of Iron Bowl lore. Instead, he became the most famous Gators quarterback ever — popular bend what Danny Wuerffel and Steve Spurrier ever achieved. Are two national championships, one Heisman Trophy and a lifetime of good deeds enough to overcome the most significant annual football game in all of college football? Tebow, beloved and polarizing, is just but one man, after all, while Alabama-Auburn contains dozens of SEC legends.
What moves the needle more, SEC fans? The star QB or the iconic rivalry?
NO. 1 BEAR BRYANT VS. NO. 2 NICK SABAN
How Bryant Got Here: Def. No. 16 Bear Bryant's Hat (69.2%), Def. No. 8 Vol Navy (58.5%), Def. No. 13 Joe Namath (74.3%)
How Saban Got Here: Def. No. 15 Mike The Tigers (62.2%), Def. No. 7 Phillip Fulmer (52.3%), Def. No. 6 Georgia Dome (50.02%)
Perhaps inspired by the 2013 Iron Bowl, Nick Saban pulled off a near-miracle in the final second of his Sweet 16 matchup against the Georgia Dome, winning by a single vote with several thousand counted. The win ensures that Alabama will be represented in the Final Four in our search to find the biggest football star in the history of the SEC.
Now comes a debate that, outside of this fun March exercise, probably is premature. Bear Bryant has more wins, more national championships and a stronger cultural legacy in Alabama at this point. But perhaps a vote for Saban is a projection that he'll win another national championship or two before he retires. Or maybe it's a nod to how much the game has changed: Saban coaches in a global era, while Bryant's legacy is somewhat limited geographically.
Let's frame it this way. Vote for the legendary Alabama coach whom you think is the bigger star.
NO. 1 STEVE SPURRIER VS. NO. 3 PEYTON MANNING
How Spurrier Got Here: Def. No. 16 Jared Lorenzen (65.4%), Def. No. 8 Uga (68.0%), Def. No. 4 Les Miles (74.4%)
How Manning Got Here: Def. No. 15 Danny Wuerffel (87.6%), Def. No. 7 Reggie White (68.2%), Def. No. 2 Bo Jackson (50.8%)
Peyton Manning could be a Steve Spurrier type coach when he retires if he wants: Competitive as heck, good with the media and a strong game planner. On the field, Spurrier has something Manning does not — a Heisman Trophy. Of course, Manning has the family name, a Super Bowl ring and nearly 70,000 career passing yards in the NFL.
On the field, these two met three times when Manning played for the Vols and Spurrier coached the Gators. Florida won all three, including a 62-37 chomping in '95. (Manning was on the bench for a 31-0 Florida beat-down in '94.) Manning is more accomplished as a player and, unlike Rob Base, internationally-known. But Spurrier has been associated with the SEC for so many decades as a player or coach.
Who will reach the Final Four, the Gators and Gamecocks or the Vols? And will this matchup eventually determine one of our championship game slots?
NO. 4 GENERAL NEYLAND VS. NO. 2 HERSCHEL WALKER
How Neyland Got Here: Def. No. 13 Frank Broyles (65.6%), Def. No. 5 Darren McFadden (57.9%), Def. No. 1 The Grove (52.1%)
How Walker Got Here: Def. No. 15 Emmitt Smith (74.8%), Def. No. 7 Champ Bailey (90.6%), Def. No. 6 SEC Network (71.3%)
Tennessee Vols fans are like swarming ants. General Neyland survived and advanced despite the fact that we accidentally left him off the bracket for a short time when we released the Sweet 16 voting. The former professor of military science coached nine years producing five undefeated seasons, then served one year of active duty in the Army (1935). After, he returned to the Vols as head coach and led 71 consecutive shutout quarters. Called into military service once again, he departed for five years before returning for one final run, this time as a World War II brigadier general. Oh, and Neyland designed the stadium named after him as well.
Will the military credentials push him past the SEC's all-time workout warrior in Georgia running back Herschel Walker? The Bulldogs great broke the NCAA freshman rushing record as the first true freshman to earn first-team All-American status, helping UGA to a national championship in 1980. He followed that with 1,891 rushing yards and 20 total touchdowns in '81, then led the Bulldogs to a third consecutive SEC championship and won the Heisman Trophy in '82. A standout in the USFL and NFL, Walker also earned All-American status as a college sprinter, competed in the 1992 Winter Olympics in bobsled and most recently enjoyed a brief unbeaten MMA career — winning his first fight at 47 years old.