SEC
Bracket revealed: SEC's 64 biggest stars of all-time
Welcome to the first round of SEC Madness! You, the SEC football fan, get to decide the top SEC star of all-time. View the entire bracket below. Scroll down to read about each matchup and cast your vote on the 32 matchups in the Round of 64.
The Full Bracket
(Click the image below to expand the bracket)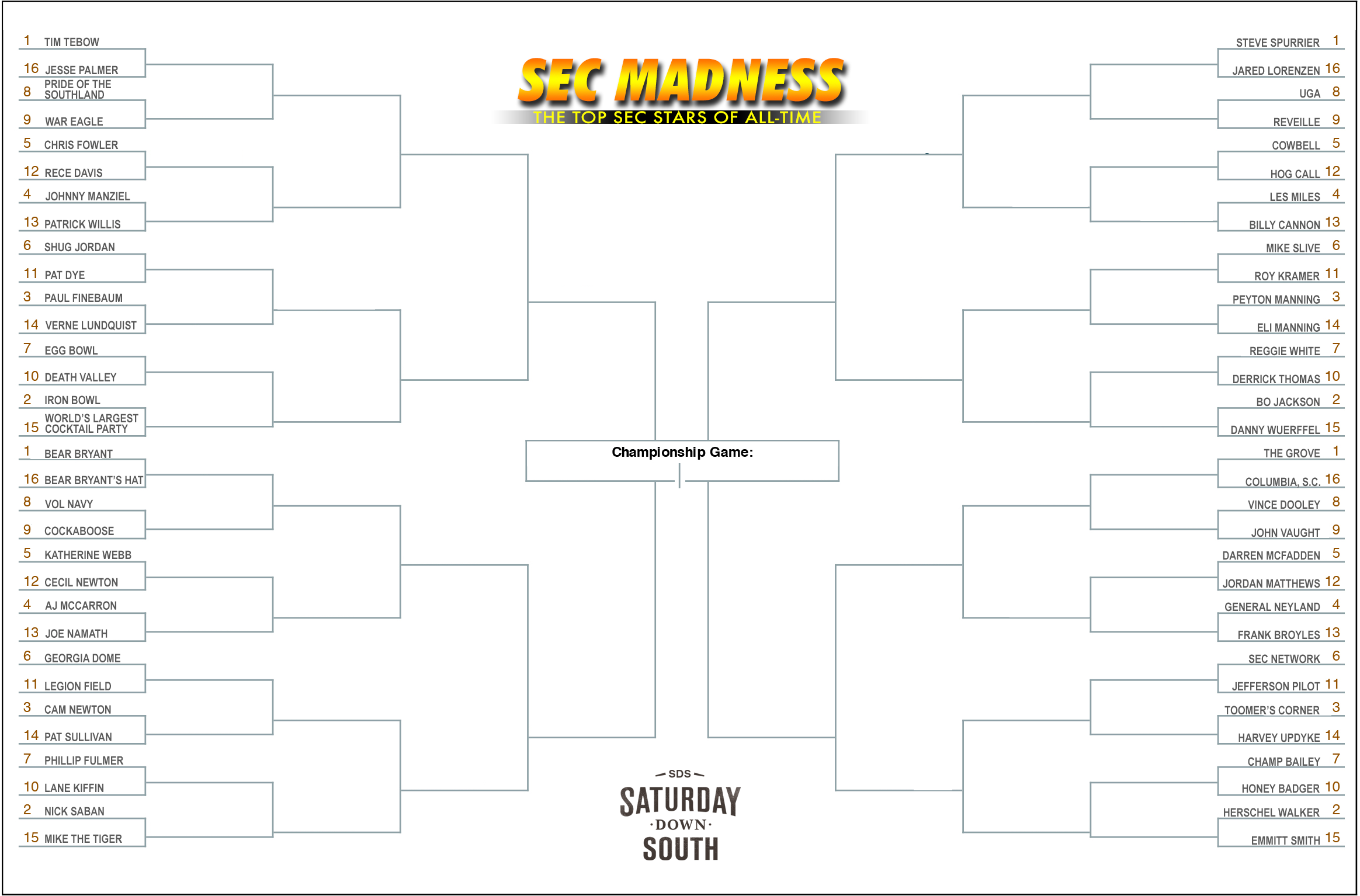 The Play In Games
Jared Lorenzen vs. Tim Couch
On the field, there's no contest. Couch, the No. 1 overall pick in the 1999 NFL draft, was a Heisman Trophy finalist and threw for more than 11,000 yards as a professional despite failing to live up to his draft status. In his most prolific season at Kentucky in terms of yards, Lorenzen still threw 21 interceptions. Couch has a former Playboy playmate as a wife, while Lorenzen is known for his inspiring girth. Still, the latter has the nickname — Hefty Lefty — the Super Bowl ring and the MVP trophy (of the Ultimate Indoor Football League while playing for the Northern Kentucky River Monsters, but still). The always-lovable Lorenzen gets the nod as the bigger star. Winner: Jared Lorenzen
Columbia, S.C. vs. Columbia, MO.
On the field, the Tigers and Gamecocks have produced some fine drama the last two seasons, between an injured Connor Shaw coming off the bench to lead a huge SC comeback in overtime and Maty Mauk launching a fourth-quarter comeback of his own, both on the road. Columbia, Mo., is a fine place filled with tremendous journalism and progressive politics. But the South Carolina version of Columbia is slightly bigger, more diverse and, most importantly for the purposes of our bracket, has been a part of the Southeastern Conference since 1991. Seniority rules here as Mizzou's only entrant gets knocked out early. Hey, at least the Tigers made it further than the basketball team. Winner: Columbia, S.C.
Steve Spurrier's Visor vs. Bear Bryant's Hat
No offense to Gus Malzahn's sweater vest, but these are the two most iconic game-day fashion accessories in SEC history. Spurrier's visor defined the Fun 'n' Gun era at Florida, as he'd hurl it to the ground whenever steam started billowing out of his ears. But attend any Alabama game and you're likely to see dozens of fans wearing houndstooth. Bryant died more than 32 years ago. Granted, it's easier to make a fashion statement with an interesting, gender-inclusive pattern, but do you think we'll see dozens of Spurrier visors in the stands at Gators or Gamecocks games in 2050? Like it or not, Bryant's hat is more iconic. Winner: Bear Bryant's Hat
Jesse Palmer vs. Josh Murray
A second-round pick in the MLB draft and the winner of Season 10 of The Bachelorette, Josh Murray's failed engagement to Andi Dorfman has kept him in the news, if sites that cover B-list reality TV personalities can be considered as such. The first line on his resume, though, still reads "brother of former Georgia quarterback Aaron Murray." Jesse Palmer has a much more diverse dossier, going from a young Canadian to a star quarterback at Florida on the 2000 SEC championship team to an NFL backup to a successful broadcaster and host. Oh, and did we mention that Palmer also starred on The Bachelor? For the uninitiated, that means the former Gators player had a slew of beautiful women vying for his attention, while Murray was one of several guys vying for Dorfman's affection. Advantage: Palmer.Winner: Jesse Palmer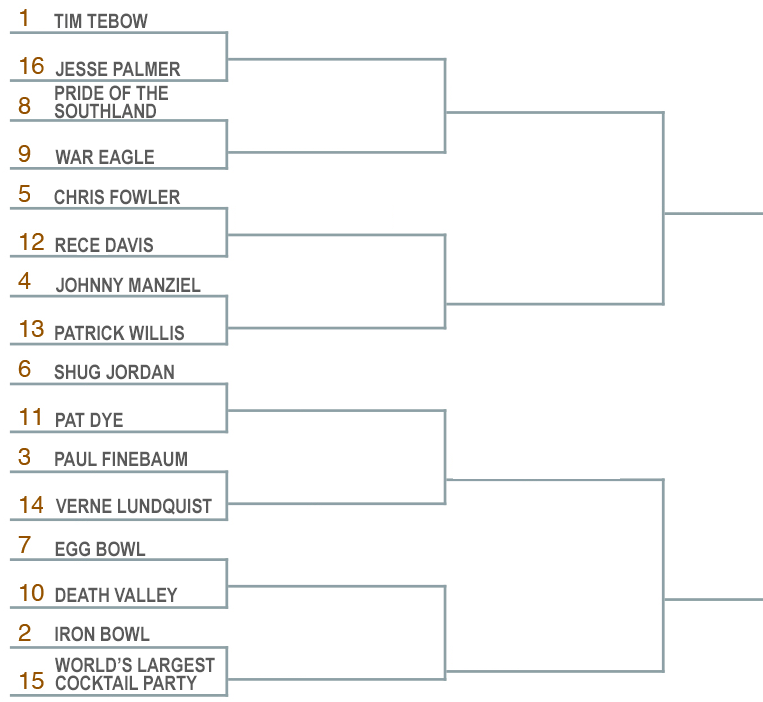 No. 1 Tim Tebow vs. No. 16 Jesse Palmer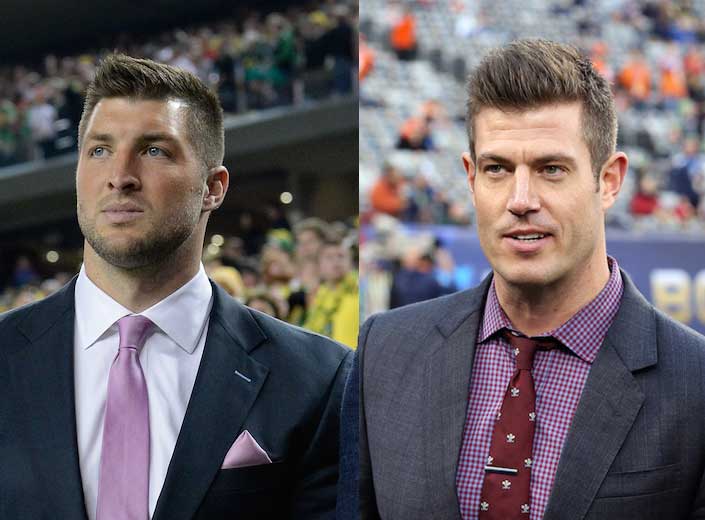 No matter that Tim Tebow couldn't even get an invite to the NFL's first-ever veteran Combine this month. Or that he's an inferior broadcaster. Or that Palmer, 36 years old and retired for eight years, probably could work Tebow on the field today. No. 1 with puppies, grandmas and babies, Tebow also was tops in the world with jersey-wielding fan-boys during his NFL career. Oh, and there's the fact that he could be the greatest SEC quarterback ever, won two national championships and a Heisman Trophy. Tebow is a religious symbol to boot. Don't expect any March Madness here.
No. 8 Pride of the Southland vs. No. 9 War Eagle
One of the oldest and most famous college bands in the country, Tennessee's Pride of the Southland has contributed much more than the persistent rendition of "Rocky Top." The Vols band has performed at more presidential inaugurations than any non-military band in the United States. In addition to being a battle cry and the school's official fight song, "War Eagle" is a majestic predatory bird that graces Jordan-Hare Stadium with pre-game flights.
No. 5 Chris Fowler vs. No. 12 Rece Davis
It's not entirely accurate to portray this as old vs. new — Fowler got to ESPN just a few years before Davis — but it does pit the long-time College GameDay host with his 2015 replacement. This one may be easier to decide once we've seen Davis lead GameDay for a season, or even a single Saturday. But the No. 12 seed does have the advantage of having attended an SEC school, while Fowler just spent hours talking about the conference for the last few decades.
No. 13 Patrick Willis vs. No. 4 Johnny Manziel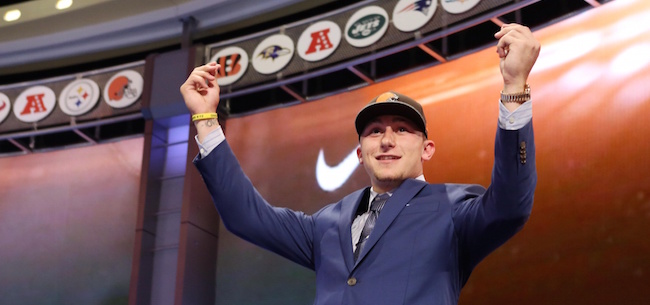 Willis gets the sentimental vote, retiring from the NFL this month at 30 years old after what some are arguing was a Hall of Fame career. While Willis talks about spending more time preaching the gospel, Manziel remains in rehab, supposedly for a substance-abuse issue. His NFL career appears to be headed nowhere fast. But Johnny Football's cultural cache stemming from his ride-or-die attitude on and off the field made Texas A&M one of the most nationally-relevant and interesting teams in college football for two years. Outside of Tim Tebow and Joe Namath, has there been a more polarizing quarterback in SEC history?
No. 11 Pat Dye vs. No. 6 Shug Jordan
A three-sport star at Auburn as a college athlete, Jordan led the team to its first national championship (and first major NCAA probation) as a coach, received a Purple Heart for his service in World War II and provides the namesake for the Tigers' stadium. Dye is a member of the College Football Hall of Fame. After playing for Georgia, he coached defense for Bear Bryant and eventually won four SEC championships as Auburn's head man. Who was the bigger star as a coach on the Plains?
No. 14 Verne Lundquist vs. No. 3 Paul Finebaum

The journalist most synonymous with SEC football for the last several decades is a cult hero as judge and jury among some of the more cultured members of the Southern states, sort of like a bald Jerry Springer for the SEC Network. The jovial Lundquist, affectionately known as "Uncle Verne," is one of the most accomplished and versatile sports broadcasters on network TV, currently teaming with Gary Danielson to broadcast the CBS game of the week in SEC country.
No. 7 Egg Bowl vs. No. 10 Death Valley
One of the longest uninterrupted football series in history, the Egg Bowl also is near its peak with both Mississippi State and Ole Miss coming off New Year's Six bowl appearances. The game to determine Magnolia State bragging rights is everything you want in a rivalry: unpredictable and energetic with a weird trophy for the winner. Death Valley lays claim to the highest blood-alcohol content of any single square mile in the country on a regular basis during LSU home games and may represent the single-toughest home atmosphere in the conference.
No. 2 Iron Bowl vs. No. 15 World's Largest Cocktail Party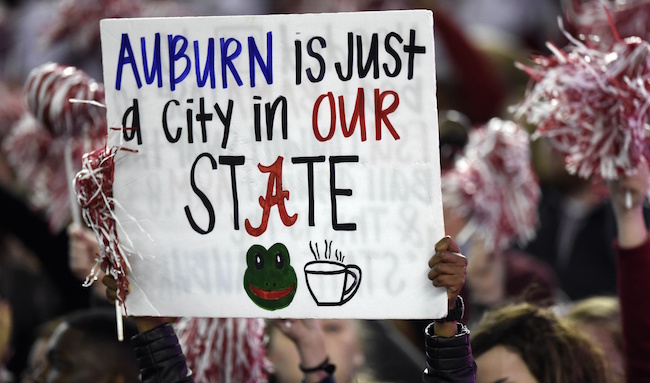 Substance vs. style. One of the most historic rivalries in all of sports vs. one of its most noteworthy annual parties. The Alabama-Auburn game has served as a virtual play-in for the national championship for many years running, but Florida-Georgia has featured plenty of meaningful classics as well. Whether you get excited by Kick Six or the "Gator Stomp," there's plenty of drama in this matchup of matchups.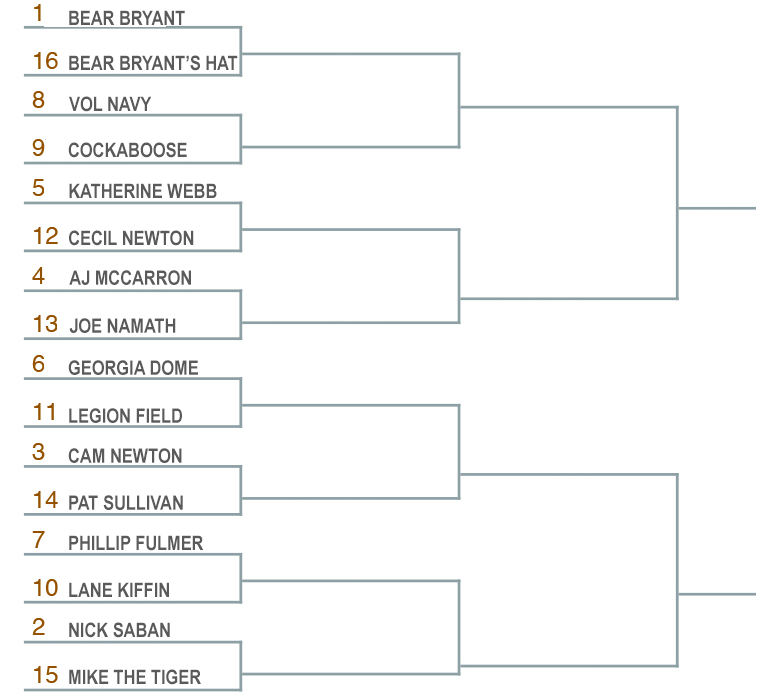 No. 1 Bear Bryant vs. No. 16 Bear Bryant's Hat
This may be the biggest mismatch in our entire bracket. In some cases, a man's hat is equal to the man — at least in the postscript, like Abe Lincoln. Bryant, in addition to being a cultural icon, won six national championships and 14 SEC championships, at one point finishing in the Top 10 of the Coaches Poll in 11 consecutive seasons. He's a legend for what he accomplished at Alabama, but Bryant also won conference titles at Kentucky and Texas A&M. The man with the most famous hat in college football history claims the most popular gravesite as well.
No. 8 Vol Navy vs. No. 9 Cockaboose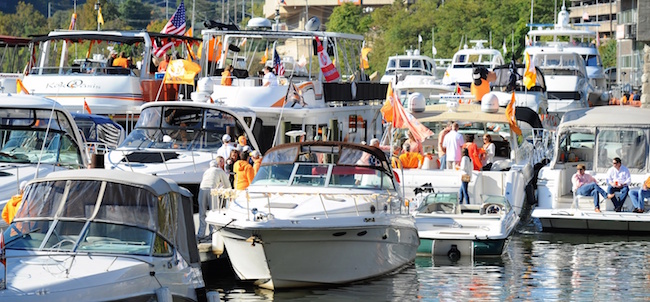 Before the San Francisco Giants, Baylor Bears and others built stadiums next to bodies of water, the Vols built Neyland Stadium on the Tennessee River. Former Vols broadcaster George Mooney docked his boat there starting in 1962, giving birth to one of the SECs most underrated traditions, the Vol Navy. Now it's become a fashionable trend to be able to roll up to sporting events in a boat. Another lesser-known tradition that's also fun: South Carolina's renovated cabooses that rest dormant on railroad tracks outside Williams-Brice Stadium. Anyone who guts train cars just to upgrade the tailgating experience deserves props.
No. 5 Katherine Webb vs. No. 12 Cecil Newton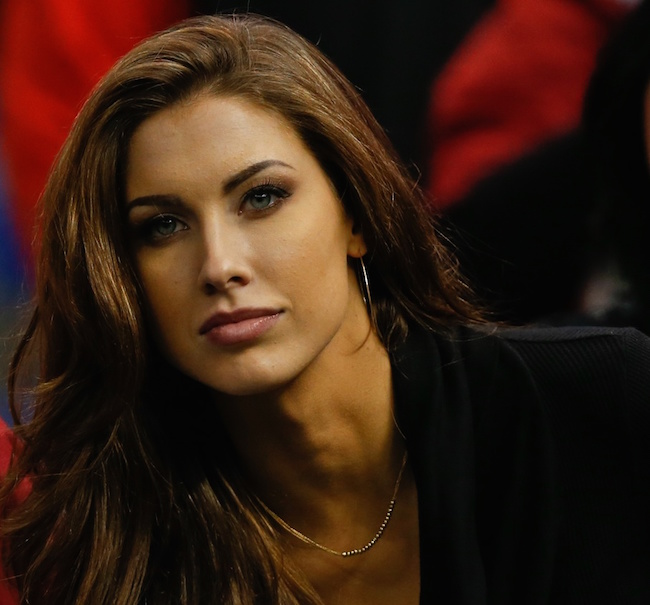 How will AJ McCarron react if he gets beat by his wife in the Round of 32? That's looking ahead a bit, but the woman who inspired Brent Musburger's libido is a favorite in her first-round matchup. The former Miss Alabama USA got famous during the broadcast of the 2013 BCS championship telecast, rooting for her then-boyfriend McCarron against Notre Dame. Now she's a professional model. Cecil Newton Sr., though, has a strong chance to pull off the 5/12 upset. He reportedly shopped his junior-college son for anywhere between $100,000 and $180,000 to Mississippi State. Considering Cam Newton eventually landed at Auburn, winning a Heisman Trophy and national championship, many wonder whether the Tigers payed an even bigger sum for the quarterback's services. If Newton Sr. did get paid, he did an excellent job of covering his tracks.
No. 13 Joe Namath vs. No. 4 AJ McCarron
Both earned BMOC status in Tuscaloosa, but McCarron arguably was just as prominent of a figure in popular culture while quarterbacking the Tide, but earned three national championship rings to one for Joe Namath. They both played for iconic coaches in Nick Saban and Bear Bryant. Both dated or married sex symbols. But Broadway Joe proved to have cultural longevity, while McCarron looks destined to become a career backup and afterthought in the NFL. Which one was the bigger SEC star? And can either challenge some of the coaches in this stacked regional?
No. 11 Legion Field vs. No. 6 Georgia Dome
The current host of the SEC championship game, the Georgia Dome is a newer, bigger, better stadium in a sexier city. Legion Field, "The Old Grey Lady," began hosting football games in 1927. Both have played a role in some historic SEC matchups. Legion Field claims four decades of Iron Bowls, UAB and Olympic soccer in 1996. The Georgia Dome claims the Atlanta Falcons, several NCAA Final Fours and Olympic basketball in 1996. Both are losing their current tenants and may be in danger of demolition. Which is more deserving of remembrance in SEC history?
No. 14 Pat Sullivan vs. No. 3 Cam Newton
Pat Sullivan recently retired as a coach after a 28-season career that began at Auburn University. He's also been a broadcaster and a Heisman-winning quarterback in the SEC in addition to six NFL seasons. He even recruited and coached LaDainian Tomlinson at TCU and was a dual-threat quarterback before that term entered the sports lexicon. But Sullivan never inspired the hysteria that Cam Newton created between the national championship and Heisman Trophy he won at Auburn during the 2010 season and the 2011 NFL draft, when the Carolina Panthers drafted him No. 1 overall. Newton has an argument for producing the single-greatest season by a quarterback in SEC history, and will play spoiler in an Alabama-heavy regional.
No. 7 Phillip Fulmer vs. No. 10 Lane Kiffin
The most successful coach in Tennessee football history without "general" in front of his name takes on arguably the most hated former Vols coach in an intriguing first-round matchup. Fulmer won 152 games and a national championship in Knoxville. Meanwhile, Lane Kiffin has captured more frequent flier miles before the age of 40 than perhaps any major college or NFL football coach ever. After a controversial stint with the Vols, he's returned to the SEC as one of Nick Saban's henchmen.
No. 2 Nick Saban vs. No. 15 Mike The Tiger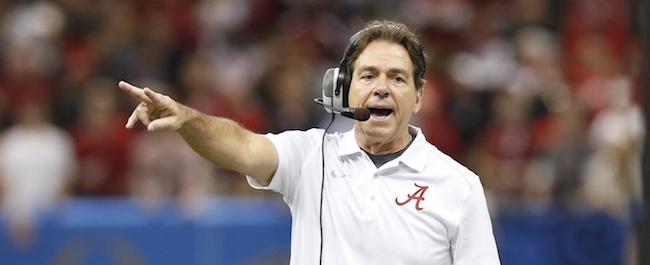 Saban is one or two national championships away from a legacy big enough to challenge Bear Bryant. He's won four national titles and five SEC championships at LSU and Alabama, also coaching Toledo, Michigan State and the Miami Dolphins. But many in Baton Rouge remain bitter with Saban, who continues to dominate in the same division as his former team after a short NFL dalliance. If live mascot Mike the Tiger shares those sentiments, Saban may be in mortal trouble in this first-round matchup.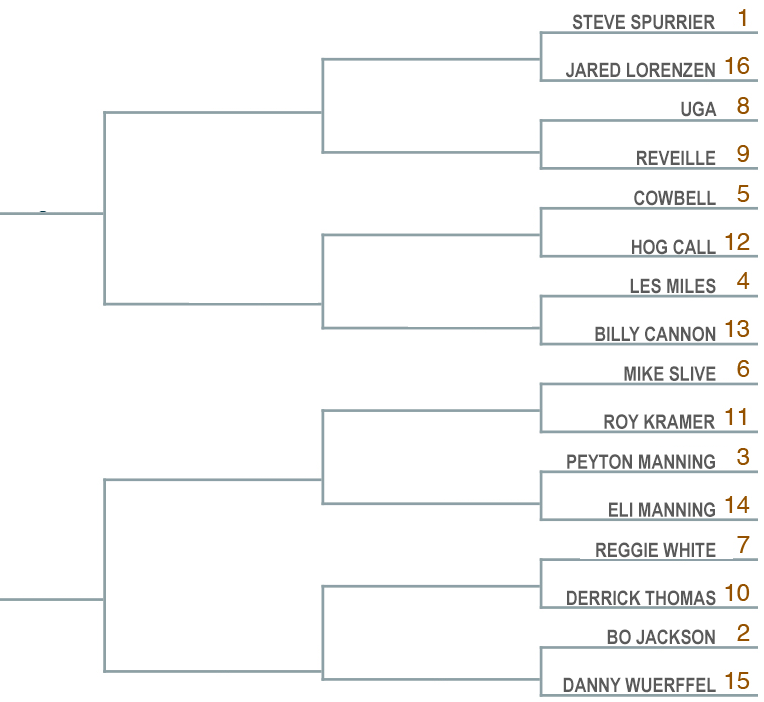 No. 1 Steve Spurrier vs. No. 16 Jared Lorenzen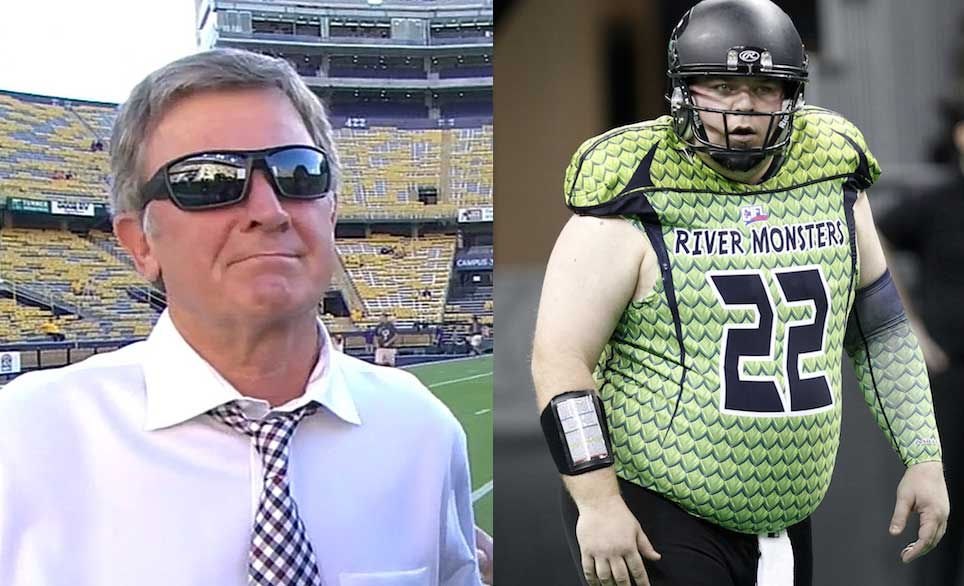 Steve Spurrier's Florida Gators went 4-0 against Jared Lorenzen's Wildcats from 2000-03, averaging 42 points per game (Lorenzen did not play in the '01 game). Spurrier's media one-liners, longevity and fierce, lightly-veiled competitiveness make him one of the most famous SEC coaching stars ever, as he's won six SEC championships, a national title and 226 games. But he also was a much better SEC quarterback than Lorenzen, winning a Heisman Trophy in 1966.


No. 8 UGA vs. No. 9 Reveille
There may be two Bulldogs in the SEC, but just one school can claim Uga, arguably the most iconic SEC mascot. From Uga I to Uga IX, the lineage has existed between the hedges since 1956. The Reveille tradition goes back even further — to 1931 — and a collie formerly named Twix just became Reveille IX. Which dog you prefer may depend on your predilection for intimidating or adorable.


No. 5 Cowbell vs. No. 12 Hog Call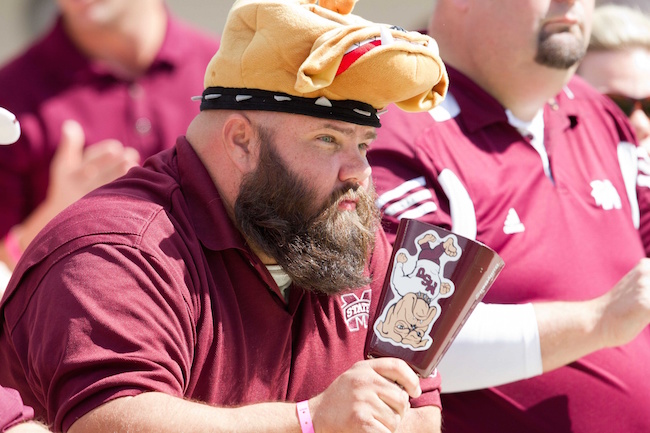 Mississippi State's clanga vs. Arkansas' "Woo Pig Sooie" is the redneck Super Bowl. Doesn't it feel like College GameDay dropped the ball by failing to ask Jase and Willie Robertson of Duck Dynasty to settle this debate? Both these SEC icons arguably are the biggest stars of their respective programs and have connected generations of Bulldogs and Razorbacks fans.


No. 13 Billy Cannon vs. No. 4 Les Miles
Billy Cannon arguably is the greatest LSU player ever, winning a Heisman Trophy in 1959 and leading the Tigers to a national championship. He put together a remarkable AFL career as well, mostly with the Houston Oilers and Oakland Raiders. But has he been away from the spotlight for too long to challenge Les Miles? "The Mad Hatter" is one of the weirdest, most memorable coaches in SEC history, a gold mine for reporters. He's won a national championship and is 103-29 to date as a head coach, but may be best remembered for eating grass during a game — more than once.


No. 11 Roy Kramer vs. No. 6 Mike Slive
If you have an "on the shoulders of giants" mentality, Roy Kramer deserves serious consideration here. Known nationally for creating the Bowl Championship Series, a precursor to today's College Football Playoff, Kramer served as SEC commissioner from 1990 to 2002. He added Arkansas and South Carolina to the conference, helped create the SEC championship football game, and negotiated some hefty TV packages with CBS and ESPN, in addition to a lengthy tenure as Vanderbilt's athletic director. But the retiring Mike Slive has a couple of huge assets, presiding over the conference during its run of seven consecutive football national championships, helping the league add Texas A&M and Missouri, creating the SEC Network and cleaning up the league's compliance with the NCAA. Who was the greater commissioner?


No. 14 Eli Manning vs. No. 3 Peyton Manning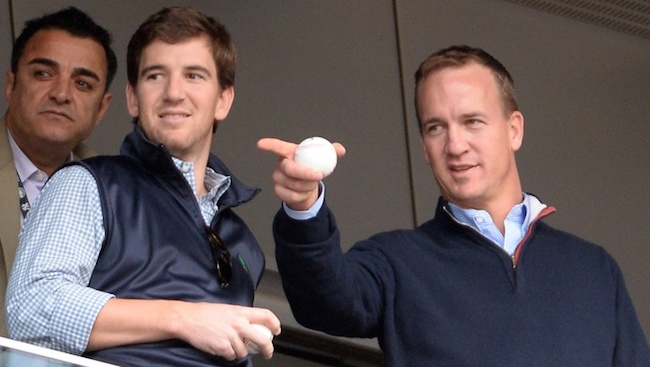 Peyton Manning broke stride with the family by choosing to attend Tennessee. Jilted for the Heisman Trophy, he still threw for more than 11,000 yards in college and broke the SEC record for career wins as a quarterback with 39. A 14-time Pro Bowler in the NFL, he's considered one of the greatest quarterbacks in pro football history, but he's struggled in the playoffs, winning just one Super Bowl. Little brother Eli Manning is not quite the same caliber of media and advertising superstar. He threw for more than 10,000 yards at Ole Miss, obliverating basically every school record, and since has won two Super Bowls with the New York Giants. Can either of them threaten SEC nemesis Steve Spurrier as the biggest SEC star?
No. 7 Reggie White vs. No. 10 Derrick Thomas
Both players died young as well-liked defensive superstars. Reggie White set Tennessee's school record with 15 sacks, but became an even bigger star in the NFL, retiring as the league's all-time sacks leader with 198. He died of cardiac arrhythmia in 2004 at 43 years old. His college career barely preceded that of Thomas, who holds the NCAA single-season sacks record with an unbelievable 27 in 1988 for Alabama. Thomas made nine Pro Bowls and put together a 20-sack season for the Kansas City Chiefs in 1990 before dying of complications from a car accident in 2000 at 33 years old.


No. 2 Bo Jackson vs. No. 15 Danny Wuerffel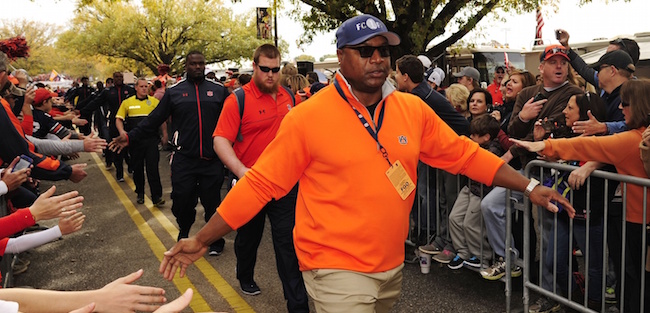 The best quarterback of Steve Spurrier's glory days as Florida's coach, Danny Wuerffel epitomized the Fun 'n' Gun offense, throwing for nearly 11,000 yards in four seasons. He won a Heisman Trophy and a national championship orchestrating a near-unbeatable passing game, but faded in the NFL. ESPN named Bo Jackson the greatest athlete of all-time, in any sport (coincidentally, he excelled at two professionally and was scary good as a track star). A cultural icon, Jackson won the 1985 Heisman Trophy at Auburn, where he averaged 6.6 yards per carry. A bad hip injury in 1991 ended his football career.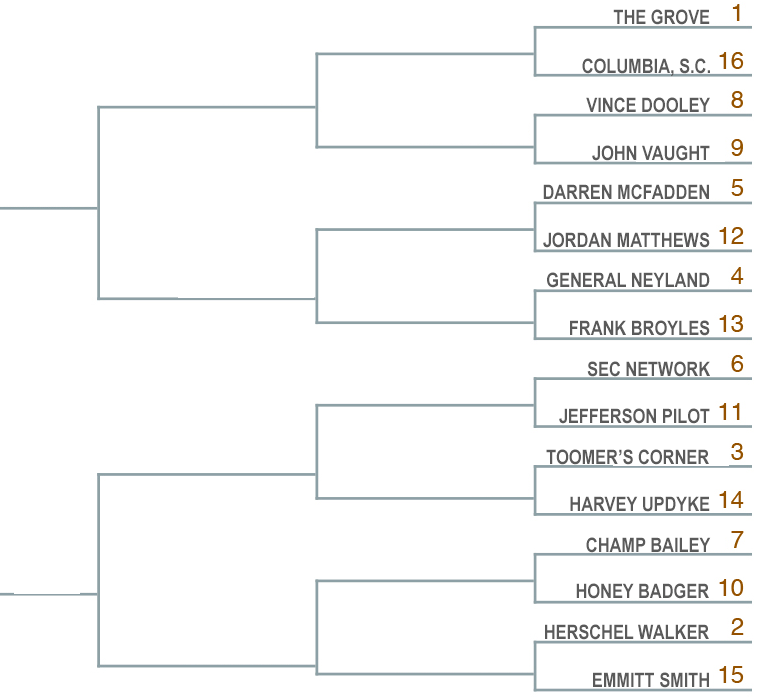 No. 1 The Grove vs. No. 16 Columbia, S.C.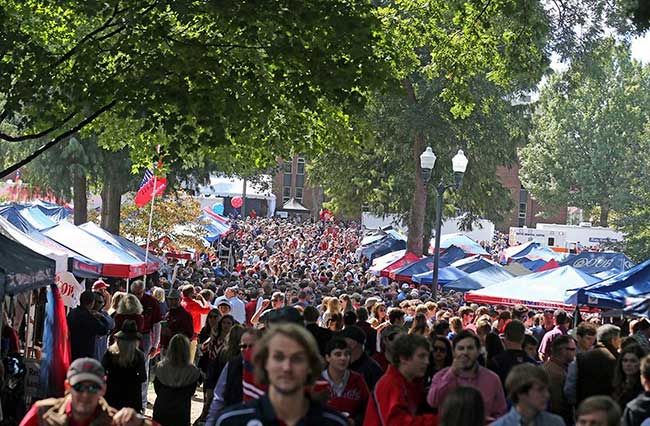 There's nothing wrong with Columbia, S.C., regardless of what you may have seen in the Sacha Baron Cohen movie "Borat." But The Grove is a college football destination and a heavy favorite in this matchup. It transcends fandom, as people desire to attend a game in Oxford whether or not they root for the Rebels, or even like football at all. The 10-acre plot of ancient oaks, elms and Mississippi magnolias hosts some of the most famous tailgating in the world. The sorority and fraternity types who populate this locale often say "we may not win every game, but we've never lost a party." If you've ever been to The Grove, you know they're right.


No. 8 Vince Dooley vs. No. 9 John Vaught
Dooley played for and coached under another legendary coach, Ralph "Shug" Jordan, at Auburn. Then he spent his entire 25 years as a head coach at Georgia, winning six SEC championships, a national title and 201 games. Dooley also served as UGA's athletic director from 1979 to 2004, hiring current coach Mark Richt. Vaught, easily the most famous figure in Ole Miss football history — no offense to the Manning family — won six SEC championships and a remarkable three national titles coaching the Rebels. Ole Miss finished 10 different seasons ranked in the AP Top 10 with Vaught, a former military commander and the namesake of the university's football stadium, as coach. Bear Bryant (7-6-1) and Robert Neyland (3-2) were the only two coaches with a winning record against Vaught, who served a short stint as athletic director as well.


No. 5 Darren McFadden vs. No. 12 Jordan Matthews
The most electrifying, unstoppable running back in the SEC since Bo Jackson and Herschel Walker, McFadden twice finished as the Heisman Trophy runner-up. He started the Wildcat trend that not many backs were able to emulate, throwing seven touchdown passes for Arkansas in two seasons. He also rushed for 5,490 yards and 41 touchdowns for the Razorbacks from 2005-07. Though coach James Franklin deservedly gets tons of credit for Vanderbilt's pair of nine-win seasons, perhaps we should give Jordan Matthews a bigger share. Matthews is the SEC's all-time leading receiver with 3,759 yards, earning a second-round NFL draft pick in '14 and showing promise as a rookie.


No. 13 Frank Broyles vs. No. 4 General Neyland
Neyland squashed opponents with one of the greatest multi-year defenses by a college coach in SEC history. In addition to four national championships, he coached six unbeaten Tennessee teams, helped the Vols to win streaks of 33, 28, 23, 19 and 14 games, and — most fitting for a general — won 112 games(!) via shutout. Tennessee's stadium is named after the man who served the university from 1925 to 1962 as a coach or athletic director. Frank Broyles also led a multifaceted career at Arkansas, where he won 144 games, one national championship and eight conference titles. Broyles also embarked on a long, impressive broadcasting career and served the Razorbacks as athletic director from 1974 to 2007. His namesake, the Broyles Award, goes to the best assistant coach in college football annually.


No. 11 Jefferson Pilot vs. No. 6 SEC Network
The SEC Network has a corporate feel. It's great for the conference in terms of dollars and national exposure, with an ESPN backing and big names like Paul Finebaum and Tim Tebow. But there's something to be said for the now-extinct Jefferson Pilot/Raycom broadcasts of SEC football. It felt less corporate, somehow more authentic to the South. And who could ever forget The Three Daves?


No. 14 Harvey Updyke vs. No. 3 Toomer's Corner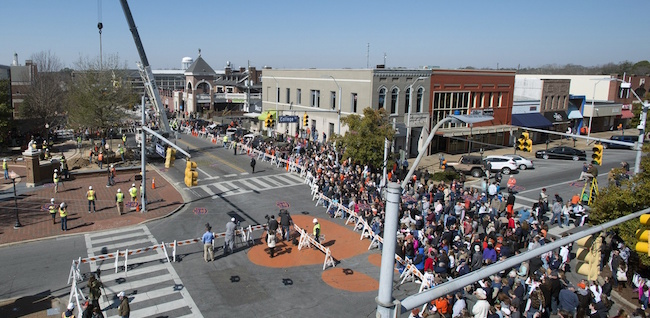 One of college football's greatest traditions got temporarily destroyed by a dispicable and possibly deranged "fan" who decided to poison some famous trees. But Toomer's Corner is back and on its way to being better than ever, thanks to some new giant oak trees and a bunch of saplings from the original Toomer's Corner oaks. It won't be long before the famous Auburn intersection is decorated with glorious streams of tissue paper once again. It enters our tournament as a No. 3 seed with lots of emotional momentum. Harvey Updike may never pay his court-ordered restitution, but we think it's only fair that Toomer's Corner gets the right to square off with Updyke 1-on-1 in what should be a humiliating defeat.
No. 7 Champ Bailey vs. No. 10 Honey Badger


Both of these players were tremendous playmakers in different ways. Champ Bailey returned kicks and played receiver at Georgia, while LSU's Tyrann Mathieu returned kicks and took the ball away from any running back or receiver who dared to advance it against the Tigers. Quarterbacks tended to avoid Bailey in college at all costs. After getting drafted seventh overall in 1999, he made 12 Pro Bowls and intercepted 78 passes in the NFL. Mathieu, perhaps the most perfect fit for a nickname ("Honey Badger") of any SEC player ever, played like a cartoon character. He's seemingly overcome an issue with marijuana to become a solid NFL defensive back. But whom is the bigger SEC star?
No. 2 Herschel Walker vs. No. 15 Emmitt Smith

Herschel Walker arguably is the best running back in SEC history with more than 1,600 yards and at least 15 rushing touchdowns in all three college seasons. Walker won the Heisman Trophy and then became one of the best all-purpose backs in pro football history, if you combine his USFL and NFL careers. The only SEC player to rival Bo Jackson in terms of folk-hero physique and athleticism, he can probably beat you up today, at 53 years old. Emmitt Smith was a terrific college back himself, a three-time All-SEC performer who smashed all sorts of Florida rushing records. But he didn't stop there, earning the distinction as the NFL's all-time leading rusher with 18,355 yards, winning three Super Bowls with the Dallas Cowboys.
Get your votes in on the opening round! The round of 32 will begin on Wednesday.