SEC
Round of 32: SEC stars square off to advance to Sweet 16
Welcome to the second round of SEC Madness! You, the SEC football fan, get to decide the top SEC star of all-time. View the entire bracket below. Scroll down to read about each matchup and cast your vote on the 16 matchups in the Round of 32. You can view Round 1 here.
The Full Bracket
(Click the image below to expand the bracket)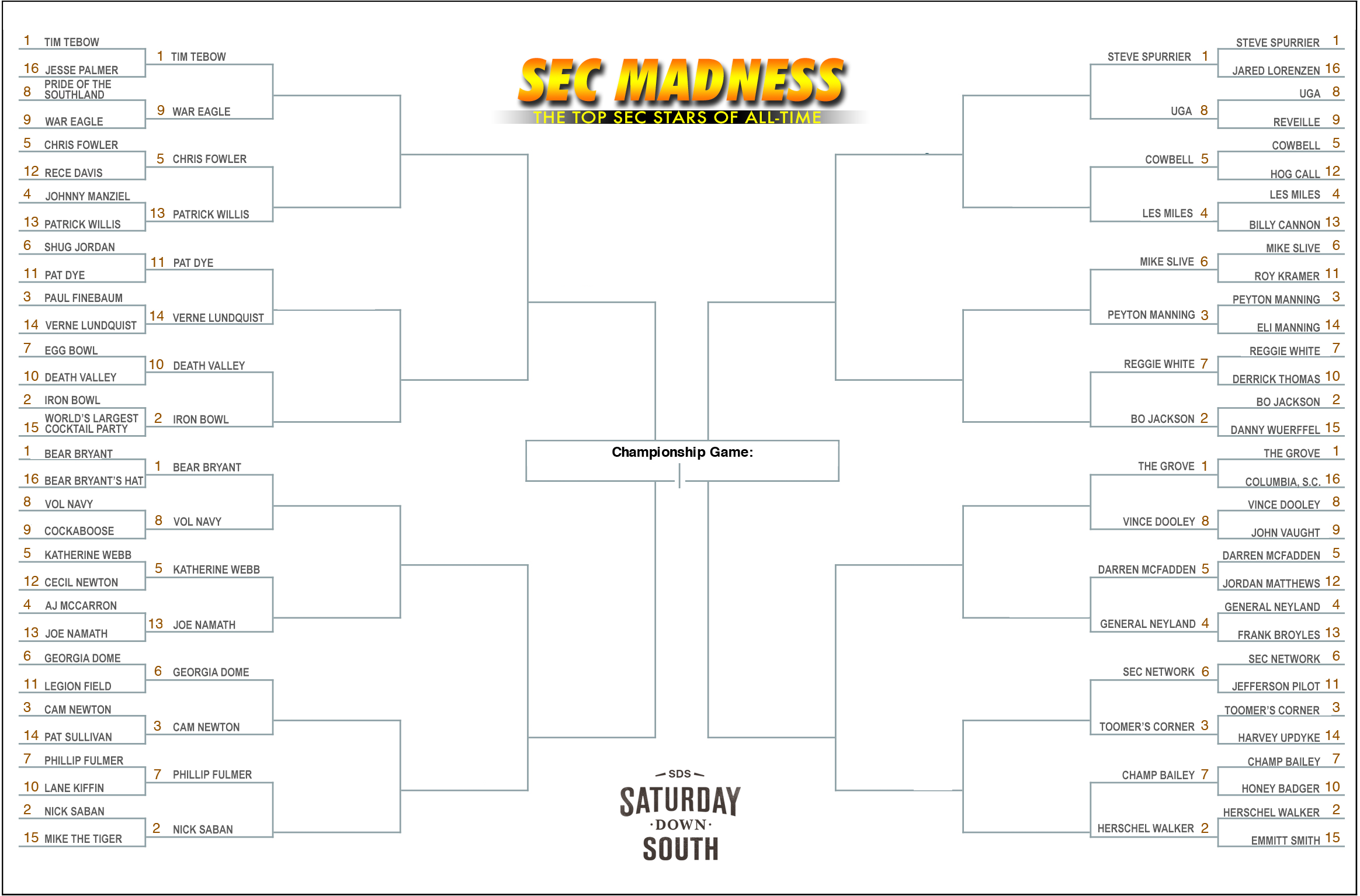 NO. 1 TIM TEBOW VS. NO. 9 WAR EAGLE
The Florida Gators went 0-2 against Auburn during Tim Tebow's career. But "War Eagle" is more than a fan slogan. It's also a live bird of prey with large talons. One that just survived a relatively close matchup with Pride of the Southland, Tennessee's band. But Tebow is relentless, as evidenced by his recent tryout with the Philadelphia Eagles. His star has faded ever so slightly since he left Gainesville — and Denver — but he remains one of the most recognizable players in SEC history. No chance he goes down before the Sweet 16, right?
NO. 5 CHRIS FOWLER VS. NO. 13 PATRICK WILLIS
Patrick Willis, perhaps riding momentum from his recent NFL retirement, pulled off the first shocker in the SEC version of March Madness. Somehow you, the reader, judged him as a bigger star than Johnny Football. Which speaks well to your sensibilities and values, as Willis was by far a better on-field player than Johnny Manziel. But now the former Ole Miss linebacker must take on a man at the pinnacle of the college football broadcasting world. Fowler may be transitioning away from College GameDay, but he may earn a No. 1 seed if this was purely a college football media bracket. Will his lack of a direct tie to the SEC hurt him in this round?
NO. 11 PAT DYE VS. NO. 14 VERNE LUNDQUIST
Both of these men pulled off strong upsets in the first round. Pat Dye knocked out Shug Jordan, a war hero, three-sport star athlete and national championship coach for whom Auburn named its stadium. Verne Lundquist eliminated the Jim Rome of the SEC by edging out Paul Finebaum. Now you must decide who deserves a spot as one of the 16 biggest stars in SEC history: A former Bear Bryant assistant who won four SEC titles at Auburn or the affable "Uncle Verne," currently broadcasting the CBS game of the week?
NO. 10 DEATH VALLEY VS. NO. 2 IRON BOWL
It's been established that Death Valley is an intimidating place, one that represents the passion and enthusiasm of you, the SEC fan. Then there's the Iron Bowl, arguably the single-greatest rivalry in college football history. So which is a greater representation of SEC stardom: A stadium packed with screaming, raucous fans that makes the simple act of communicating tough for the opposition, or a game built on hate and a deep sense of loyalty and year-round bragging rights?
NO. 1 BEAR BRYANT VS. NO. 8 VOL NAVY
The fleet of boats that congregate outside Neyland Stadium on the Tennessee River dispatched South Carolina's Cockaboose without difficulty in the Round of 64. But metaphorically speaking, Bear Bryant sunk a fleet of football teams in his day. Do you think the gruff, no-nonsense Bryant is really going to struggle with a bunch of football-loving revelers? This is Crimson Tide vs. Vols, but the playing field isn't even. Bryant won six national titles and 14 SEC championships, coaching Kentucky and Texas A&M as well. Will he have any trouble prior to a potential regional final against Nick Saban?
NO. 5 KATHERINE WEBB VS. NO. 13 JOE NAMATH
The most glamorous matchup in our bracket pits the cocky, smooth-talking Broadway Joe against the SEC's most famous eye candy. (We must pause to recognize AJ McCarron's poor effort in the Round of 64. Clearly McCarron plays well in postseason, so we think the fact that he let Namath run him off the field may be a sign he was terrified to get blown out by his wife in our bracket.)
NO. 6 GEORGIA DOME VS. NO. 3 CAM NEWTON
Gamecocks fans, Steve Spurrier and Stephen Garcia may block out this matchup on their brackets. That's because Cam Newton stormed into the Georgia Dome in 2010 and accounted for a record-tying six touchdowns in the SEC championship, beating South Carolina, 56-17. It was a punctuation mark on Newton's 2010 SEC season and set up a national championship win a few weeks later. But while Newton was one-and-done at Auburn, the Georgia Dome has hosted big game after big game, including a parade of big early-season non-conference matchups in addition to the conference title game. Which one gets the nod, the player, or the venue that helped him create his greatness?
NO. 7 PHILLIP FULMER VS. NO. 2 NICK SABAN
Both coaches won national championships in the SEC. But, for those of you who can't recall, Nick Saban was 4-0 against Phillip Fulmer as a head coach at LSU and Alabama. Saban's Tide played the Vols in '07 and '08, Fulmer's last two seasons as a college head coach, and won by a combined 70-26. He's since surpassed Fulmer for most career wins as well. After doing UT fans everywhere a favor by dispatching Lane Kiffin, Fulmer is a heavy underdog against Kiffin's current boss.
NO. 1 STEVE SPURRIER VS. NO. 8 UGA
The Head Ball Coach boasts of a 16-6 career record against Georgia. Just this fall, the Gamecocks struggled to beat just about every good team on the schedule, but still managed to get past the Bulldogs. Uga can't be pleased with that. But Georgia beat Spurrier two out of three times during his days as a Florida quarterback, picking him off three times in a 27-10 win in 1966 just after Spurrier locked up that year's Heisman Trophy. Spurrier is the rare coach with more bite than an actual live Bulldog, and he'll enter this matchup as a heavy favorite.
NO. 5 COWBELL VS. NO. 4 LES MILES
If voters base this solely on 2014, then The Mad Hatter is in trouble. Clanga got the best of the LSU Tigers last season as part of Mississippi State's rise to No. 1 in the country. The cowbells are a great SEC tradition, one of the most memorable the conference has to offer. But from his meandering press conferences to his quirky antics to his on-field decisions (both the gutsy calls and the sometimes-quizzical clock management), it's tough to turn away from anything Les Miles. This may be the last realistic chance at a win for either, as Spurrier's smirk likely awaits the winner in the Sweet 16.
NO. 6 MIKE SLIVE VS. NO. 3 PEYTON MANNING
One of the strongest commissioners in college football history, Mike Slive is respected by media, university administration and coaches across the South and the country. But is that good enough to compete with arguably the most famous quarterback in SEC history? It's possible that Peyton Manning's first-round matchup against his brother Eli Manning was more dangerous. Could we see a juicy Manning-Bo Jackson matchup in the next round?
NO. 7 REGGIE WHITE VS. NO. 2 BO JACKSON
Reggie White won his first-round matchup against former Alabama and Kansas City Chiefs great Derrick Thomas by a surprisingly wide margin. Now the man who retired as the NFL's all-time sacks leader, after setting Tennessee's single-season record with 15, faces perhaps the SEC's greatest athlete ever. White and Jackson's college careers overlapped two years, as the Tigers bested the Vols 24-14 in '82 and 37-14 in '83. Can the sack master get revenge here, or will Bo Knows roll toward what would be the most compelling Sweet 16 matchup in the bracket?
NO. 1 THE GROVE VS. NO. 8 VINCE DOOLEY
Vince Dooley excelled as a player, coach and athletic director. But even considering his extensive connection to and influence on the SEC, which spans from Shug Jordan to Mark Richt, is that enough to combat the Mississippi magnolias and sun dresses that populate The Grove in Oxford, Miss., every Saturday during the fall? It seems likely that all four of our No. 1 seeds will advance to the second round of action as we search for the biggest SEC star, unless the Georgia faithful can vote Dooley to a win.
NO. 5 DARREN MCFADDEN VS. NO. 4 GENERAL NEYLAND
This is the kind of fantasy matchup that pure football junkies dream up in bed at night this time of the year. General Neyland arguably is the best defensive coach in SEC history. His 1939 team held every regular-season opponent scoreless, and the Tennessee Vols once strung together 71 consecutive shutout quarters. He's got a bronze nine-foot statue outside the stadium named after him. But has he been gone too long to earn the nod over a recent star player? Neyland's teams surely never faced any player like Darren McFadden, either. It's hard to come up with anyone more dynamic as a college running back than McFadden during his final two years at Arkansas.
NO. 6 SEC NETWORK VS. NO. 3 TOOMER'S CORNER
Toomer's Corner is the sentimental favorite of the entire bracket, having demolished nemesis Harvey Updyke in the Round of 64. Auburn recently planted new oaks at the famous intersection, and it won't be long until Tigers fans are rolling Toomer's Corner once again. Speaking of saplings, the SEC Network is the new kid on the block, but it packs a broadcasting punch, including ESPN, Tim Tebow, Paul Finebaum, Greg McElroy and other big names. Toomer's Corner, one of the coolest and most unique traditions in college football, is the favorite here and could set up a compelling matchup with Herschel Walker in the Sweet 16.
NO. 7 CHAMP BAILEY VS. NO. 2 HERSCHEL WALKER
Two of the greatest players in Georgia football history square off for the right to advance to the Sweet 16. Herschel Walker is the definition of a living legend, inspiring Leonard Fournette-level hype before arriving at Athens and prior to the advent of social media, and then living up to it. Champ Bailey's Georgia career is underrated because, in addition to being a dynamic two-way player, he didn't put up huge interception totals because teams avoided his side of the field. Bailey is an all-time NFL great while Walker is a real-life college Paul Bunyan. Which is the bigger SEC star?
Get your votes in on the round now! The Sweet 16 will begin on Saturday.