SEC
Biggest takeaways from SEC Media Days: Day 4
Now, you know it's getting close!
With the official end to SEC Media Days, we're just 42 days away from Southeastern Conference football. Time is flying.
We knew day four of SEC Media Days would surely be a winner, with two main contenders in Alabama and Georgia, along with a dark-horse contender in Ole Miss and a rebuilding Kentucky squad.
Mark Richt likes Georgia
What a boring header. Of course, Mark Richt likes Georgia, right? But Richt had that quiet confidence when talking about his team today. He knows his offense could be really nasty, and all focus was more on his defense and Jeremy Pruitt. Richt reiterated what players were saying this spring: Pruitt simplified the defense. He's excited about the staff and their experience, and about being known as winners.
"But I know this year, Coach Pruitt, he's a proven coach," Richt said. "He's won everywhere he's been. Not only Coach Pruitt, but the rest of our defensive staff. We have brand new coaches all the way across the board. Tracy Rocker, Mike Ekeler, and Kevin Sherrer coaching our outside linebackers and our star position, along with Jeremy.They're all brand new. They all coached high school ball, which I think is great. They know how to take a kid from ground zero. They know how to teach fundamentals extremely well."
Coach Richt said he expects Georgia to win the SEC East. Coach speak or not, it's obvious Richt is feeling great about his team.
Impressive
Maybe the most common theme of the day was Georgia wide receiver Chris Conley. Our SDS guys as well as others said he was continually the most impressive of any of the players. The future Oscar winner and Pro Bowl hopeful turned heads today.
@FootballUGA WR Chris Conley is one of the most well-spoken players in the entire country. Can you say future #SECNetwork star? Impressive.

— Phil Savage (@SeniorBowlPhil) July 17, 2014
I have met few young men as impressive @FootballUGA WR Chris Conley. Pretty sure we will all be working for him someday. — Ivan Maisel (@Ivan_Maisel) July 17, 2014
Chris Conley is the most impressive college athlete I've ever interviewed. Up there w/ Andrew Luck and Patric Young.

— Braden Gall (@BradenGall) July 17, 2014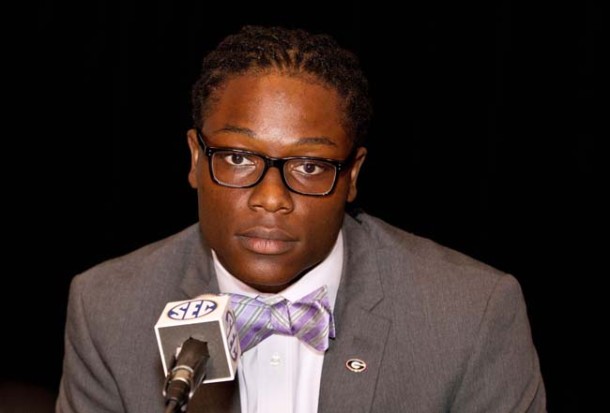 Why not us
Ole Miss and its players are looking forward to this year. Head coach Hugh Freeze says the Rebels are way ahead of where he thought they'd be in year three.
"To be very candid, I think the journey that we've been on, I think it's faster than I thought possible. When I first arrived there, I really thought we would be going to hopefully a bowl game in year three. We were able to do that in year one and two, and win both of them."
Freeze oozed confidence as the hyped Rebels entered SEC Media Days, which creates an interesting storyline for the state of Mississippi, with both Ole Miss and Mississippi State looking to ruin somebody's season.
And his quarterback Bo Wallace wants to know why this year's surprise team can't be Ole Miss.
"Why can't we be a team that comes out of the West and makes some noise," Wallace said. "We're not saying, let's go to a national championship. We're going to take it one game at a time. Why not us? Why can't we have an impact like that and win a lot of football games.
"Going to Atlanta would cement your legacy forever being the first quarterback to be able to do it. I know I'm going to put up the numbers because Coach Freeze's offense is built for a quarterback to put up number. I know I can do that. It would be priceless to take this team to Atlanta."
Wallace's continued improvement will have the biggest impact on how well the offense performs.
Just don't know yet
Alabama coach Nick Saban stayed mum on the quarterback situation. Why? Because he doesn't know yet who the quarterback will be. Of course, many expect Jacob Coker to step right in, but Saban isn't one who just gives the job to anybody. Coker will have to earn it over returner Blake Sims.
"Blake Sims has been competing for the position," Saban said. "Really did a pretty good job in the spring. Didn't play great in the spring game, but we really didn't do the things that he's capable of doing. So there's going to be a competition there, as well as some of the younger players will be involved in that competition."
Saban talked about his players checking their egos at the door.
"I think you basically need to check your ego at the door, all of us in our organizations: players, coaches, everybody in our organization," Saban said. You know, really trust and believe in the things that have helped us be successful. Have enough humility to understand our role, what we need to do to help the team be successful, and certainly have the willingness as a family and a group to serve each other and help each other so that we have the best opportunity to accomplish this."
On a side note, The Wynfrey was packed with Alabama fans, including one who had a sign that said he flew from Australia to see Nick Saban, and his wish was fulfilled.
Slow and steady
The rebuilding process is well underway. Because the Cats have recruited so well in a short time since Mark Stoops' arrival, you can actually see a glimmer of light at the end of the tunnel from his mindset and the way he talks. Stoops stayed mum on the quarterback battle, and he reiterated it may be more about the players around the quarterback.
"I know everybody's asked a lot about our quarterback situation," Stoops said. "We're still unsettled on who the starter is going to be. But I'm very confident that we're going to improve at that position. It starts with the players around him.
"Our wide receivers will be better. Four of our top‑five pass catchers were first‑year guys in our program a year ago, three true freshmen and one junior college transfer. Our leading rusher was a true freshman. Those guys being a little older, a little stronger, more experienced is going to help the quarterbacks as well."