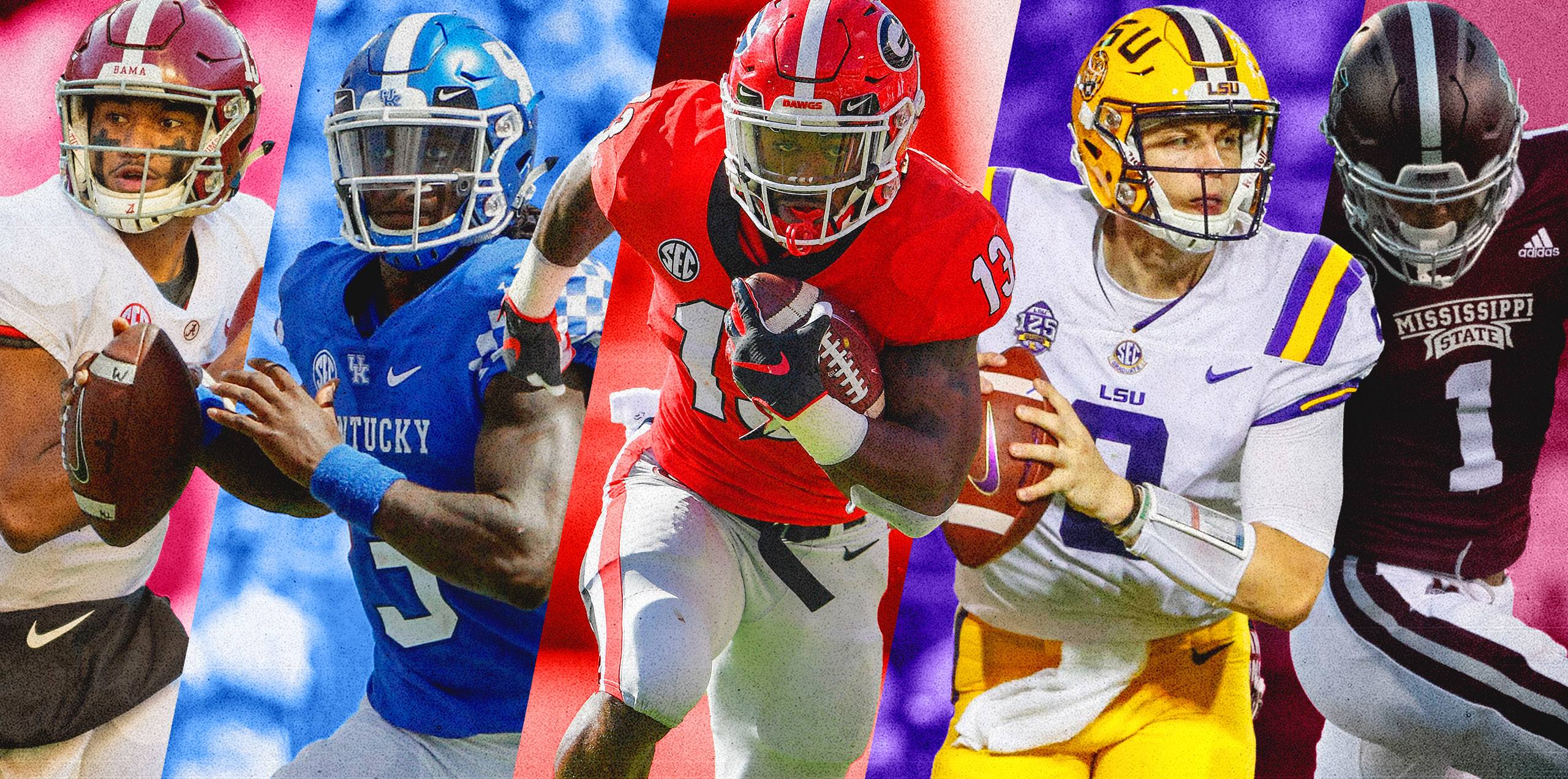 SEC
SEC Power Rankings after Week 12
SEC Week 12 featured few surprises, but it did add some definition to the SEC rankings. So now it's time for us to do what we do, and rank the squads in the conference based off what we've seen.
14. Arkansas (2-9, lost to Mississippi State 52-6)
This game started and ended at the line of scrimmage, where Mississippi State absolutely manhandled Arkansas, which is probably going to be thankful that it only has to suffer through one more blood-letting in 2018. It's been a long, hard first season for Chadd Morris and the Razorbacks.
13. Mississippi (5-6, lost to Vanderbilt 36-29)
Ole Miss outgained Vanderbilt by nearly 200 yards — but the Rebels still lost the game. Ole Miss has been fun to watch this season, especially on offense, but they've had issues on defense all year and giving up 36 points to Vandy just isn't good. Their best win this season was against a Texas Tech team that is also 5-6.
12. Tennessee (5-6, lost to Missouri 50-17)
Yes, Tennessee looked great last week against Kentucky, but it did not carry over. What could be more embarrassing than losing by 33 points to Missouri? Maybe learning that you lost by the EXACT same score last year. Yikes.
11.Vanderbilt (5-6, beat Mississippi 36-29)
It's not always pretty with Vanderbilt, but the Commodores found a way to win against Ole Miss and can still reach bowl eligibility if they beat Tennessee at home on Saturday. Getting that fifth win was a big deal, because it sets the stage to get the sixth on. Being in position to be in position is what it's all about when you're chasing a much-needed bowl bid.
10. South Carolina (6-4, beat Chattanooga 49-9)
South Carolina took care of business in a game in which it was the far-superior team. USC could have been really good (lost to Florida by four, lost to A&M by three) or really bad (beat Tennessee by three, beat Ole Miss by four). The exact parallels between those scenarios mean they probably ended up right where they belong.
9. Auburn (7-4, beat Liberty 53-0)
If this game had been in Week 3, it probably would have impressed us. As it is, it's just another example of Auburn's bipolar season. Unless the Tigers pull off a shocker in the Iron Bowl, it all feels like going through the motions.
8. Texas A&M (7-4, beat UAB 41-20)
The Aggies did what they do, taking care of business and grinding a weaker opponent under the wheels. There's a real temptation to rank them higher than this, but LSU should be a sufficient proving ground to show us whether the team has made actual progress or just been a colorful 7-5 team.
7. Kentucky (8-3, beat Middle Tennessee 34-23)
On the other hand, this was an incredibly unimpressive win for Kentucky, as they were outgained by a CUSA team that was previously blasted not only by Georgia, but also by Vanderbilt. Sure, the Wildcats are a team that wins early, but watching the same Tennessee team that kicked Kentucky into submission last week get crushed doesn't help their street credibility.
6. Missouri (7-4, beat Tennessee 50-17)
Missouri is finishing its season red hot, and there's no reason to think that next week changes anything. Had the Tigers not lost to South Carolina by two and Kentucky by one, they would have finished second in the East.
5. Florida (8-3, beat Idaho 63-10)
The Gators defense outscored Idaho, which wasn't exactly a surprise. Still, occasional obstacles (and home losses to Kentucky and Missouri) aside, Dan Mullen has had a solid first season in Gainesville.
4. Mississippi State (7-4, beat Arkansas 52-6)
Mississippi State has gradually evolved into the team that many expected them to be in the preseason. Had they done so a little quicker, they could have filled the LSU role as Alabama's best challenger.
3. LSU (9-2, beat Rice 42-10)
The LSU Tigers can finish an impressive season with a 10th win against Texas A&M. Sure, they couldn't compete with Alabama, but who can? It's hard to say whether Kentucky's second-place finish in the East or LSU's second-place finish in the West is the bigger surprise.
2. Georgia (10-1, beat UMass 66-27)
Probably the biggest story here is the continued development of Justin Fields, who topped 100 yards in both rushing and receiving on Saturday. The outing was further proof that he's ready to go if Jake Fromm struggles in front of him against Alabama in two weeks.
1. Alabama (11-0, beat Citadel 50-17)
Look, this was the best moment of the week. The Alabama juggernaut, assumed to be literally unbeatable, played to a 10-10 halftime draw against The Citadel, a 4-5 FCS foe. What does it mean? It means that in football absolutely nothing is certain. But the supremacy of Alabama is pretty close, and that 40-7 second half tells that story.