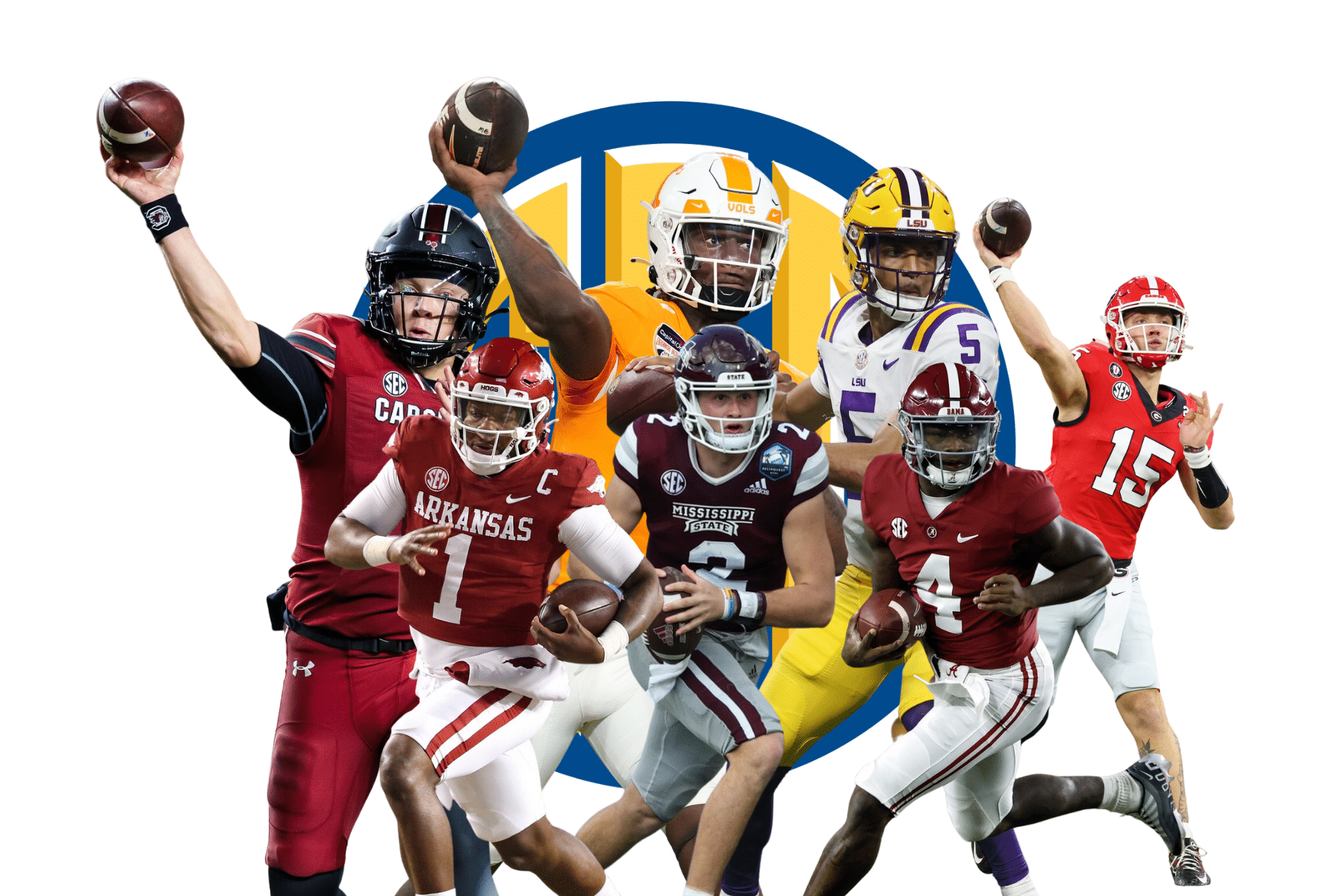 SEC
SEC Power Rankings after Week 2
Y'all.
The SEC might not be good this year.
Alabama lost to Texas. Vanderbilt lost to Wake Forest. Mizzou struggled against Middle Tennessee. Tennessee had problems with FCS foe Austin Peay. Kentucky struggled vs. Eastern Kentucky.
It hasn't been a banner year for the league thus far, but of course, there's still time to turn things around. Can the SEC get back on track starting in Week 3?
We'll see what happens moving forward, but the SEC is going to face its fair share of media scrutiny this coming week.
That said, here's a look at our updated power rankings after Week 2:
14. Vanderbilt (2-1)
Last week: 36-20 L to Wake Forest
This week: at UNLV
Previous ranking: 14
The writing was on the wall when Vanderbilt couldn't beat up on weaker foes like Hawaii and Alabama A&M. Sure, the Commodores won those games, but they weren't dominant performances. Thus, Saturday's loss at Wake Forest wasn't a huge surprise. This team still has a long way to go to be a bowl-worthy squad.
13. Florida (1-1)
Last week: 49-7 W over McNeese
This week: vs. Tennessee
Previous ranking: 13
Forgive me for not moving the Gators up after a dominant win over an FCS opponent. Yes, this was a solid confidence booster, but Florida needs to be even better when Tennessee comes to The Swamp next weekend. That should be a true test of where this Florida program is in Year 2 under Billy Napier.
12. South Carolina (1-1)
Last week: 47-21 W over Furman
This week: at Georgia
Previous ranking: 12
Giving up 21 points at home to an FCS opponent when you're going into a game at No. 1 Georgia. The defense has major question marks. The offensive line is still a problem. Things could get ugly at Sanford Stadium on Saturday afternoon unless Spencer Rattler has a transcendent performance.
11. Texas A&M (1-1)
Last week: 48-33 L at Miami
This week: vs. Louisiana-Monroe
Previous ranking: 5
Oof. Let the Jimbo Fisher hot seat rumors intensify yet again. After taking a 17-7 lead in this game, the Aggies completely imploded in Miami on Saturday afternoon. This was a bad loss for Texas A&M and a bad sign for what's to come the rest of the year. Can Fisher survive the 2023 season? He's off to an awful start.
10. Mizzou (2-0)
Last week: 23-19 W over Middle Tennessee
This week: vs. Kansas State
Previous ranking: 10
The Tigers, like many of the teams already mentioned in these rankings, have problems. The offense is lackluster. Brady Cook might not be the answer at quarterback. No one is stepping up in the receiving corps alongside Luther Burden. The defense isn't as dominant as it was last year. But wins are wins, and the Tigers have 2 of them. We'll see if that holds when a tough Kansas State team visits Columbia next weekend.
9. Kentucky (2-0)
Last week: 28-17 W over E Kentucky
This week: vs. Akron
Previous ranking: 8
Much like Mizzou above, the Wildcats keep winning, but are doing so in less-than-impressive fashion. The offensive line isn't great. The defense allowed too many points to an FCS foe. Devin Leary doesn't seem to have settled in at quarterback just yet. The Wildcats have 1 more tuneup against a MAC school next weekend before SEC action starts and things get real.
8. Auburn (2-0)
Last week: 14-10 W at Cal
This week: vs. Samford
Previous ranking: 9
I guess this is where we'll put the Tigers? Auburn didn't impress offensively in a Pac-12 After Dark game at Cal late Saturday night, but a win is a win. And with the league's struggles against Power 5 nonconference foes thus far, a win over the Bears is nothing to turn your nose up at. Yes, there's a lot of work for Hugh Freeze and his staff to do moving forward, but sitting at 2-0 is a good sign.
7. Mississippi State (2-0)
Last week: 31-24 (OT) W over Arizona
This week: vs. LSU
Previous ranking: 11
This is as much about Mississippi State pulling off a nice win as it is about the rest of the SEC struggling. I have no idea what to make of the middle-of-the-pack SEC squads through 2 weeks. Mississippi State showed a lot of heart beating Arizona in OT in Starkville, though. Can they knock off LSU in Starkville next weekend? Don't rule anything out in the SEC this year.
6. Arkansas (2-0)
Last week: 28-6 W over Kent State
This week: vs. BYU
Previous ranking: 6
The Hogs hold steady after a solid, but not overly exciting, victory against Kent State on Saturday. The defense looked sharp, though, and that's encouraging. This week, the Hogs take on an interesting opponent when new Big 12 school BYU pays a visit to Fayetteville.
5. LSU (1-1)
Last week: 72-10 W over Grambling
This week: at Mississippi State
Previous ranking: 7
The Tigers jump a couple of spots due to ineptitude around the rest of the conference. I don't put too much stock in a dominant win over an FCS foe, but it was a good offensive night for the Tigers. If Jayden Daniels can carry this confidence into next week, LSU has a real chance to go into Starkville and make a statement to start SEC play.
4. Alabama (1-1)
Last week: 34-24 L to No. 11 Texas
This week: at USF
Previous ranking: 2
Did Alabama get schooled on Saturday night at home by the Longhorns? Yes. Do I still think Alabama can beat everyone else we've already discussed in these rankings? Also yes. The Tide have some problems on offense. The defense isn't pressuring the QB the way it needs to. But there's talent to work with in Tuscaloosa. And it's a down year in the SEC. That helps, too.
3. Tennessee (2-0)
Last week: 30-13 W over Austin Peay
This week: at Florida
Previous ranking: 3
Yeah … there were concerning signs for Tennessee against FCS foe Austin Peay on Saturday evening. Joe Milton struggled in the first half as the Vols scored late to take a narrow 13-6 lead into the intermission. He started 1-for-8 passing for 11 yards. But he came on strong in the second half, finishing the game with 228 passing yards, 2 touchdowns and 0 interceptions. The running attack remains dominant. There are good things happening, but it'll be important to show signs of improvement next weekend.
2. Ole Miss (2-0)
Last week: 37-20 W over No. 24 Tulane
This week: vs. Georgia Tech
Previous ranking: 4
Going to Tulane and scoring a win, even in a game where Green Wave QB Michael Pratt didn't play due to injury, is impressive. This is a really good Tulane team. Ole Miss struggled early, but stayed the course and picked up the victory. Lane Kiffin was his usual aggressive self, going for it on a couple of key first downs and trusting his kicker with a career-long 56-yard field goal. He pressed all the right buttons. It's clear he trusts DC Pete Golding. The Rebels are for real.
1. Georgia (2-0)
Last week: 45-3 W over Ball State
This week: vs. South Carolina
Previous ranking: 1
As the rest of the SEC struggles, Georgia keeps chugging along. Now, the Bulldogs haven't played any school even remotely as competent as the Power 5 schools the rest of the SEC is struggling with, but you have to admire what the Dawgs are doing. The offense is balanced through the air and the defense continues to thrive. This is still the best team in the country, folks.