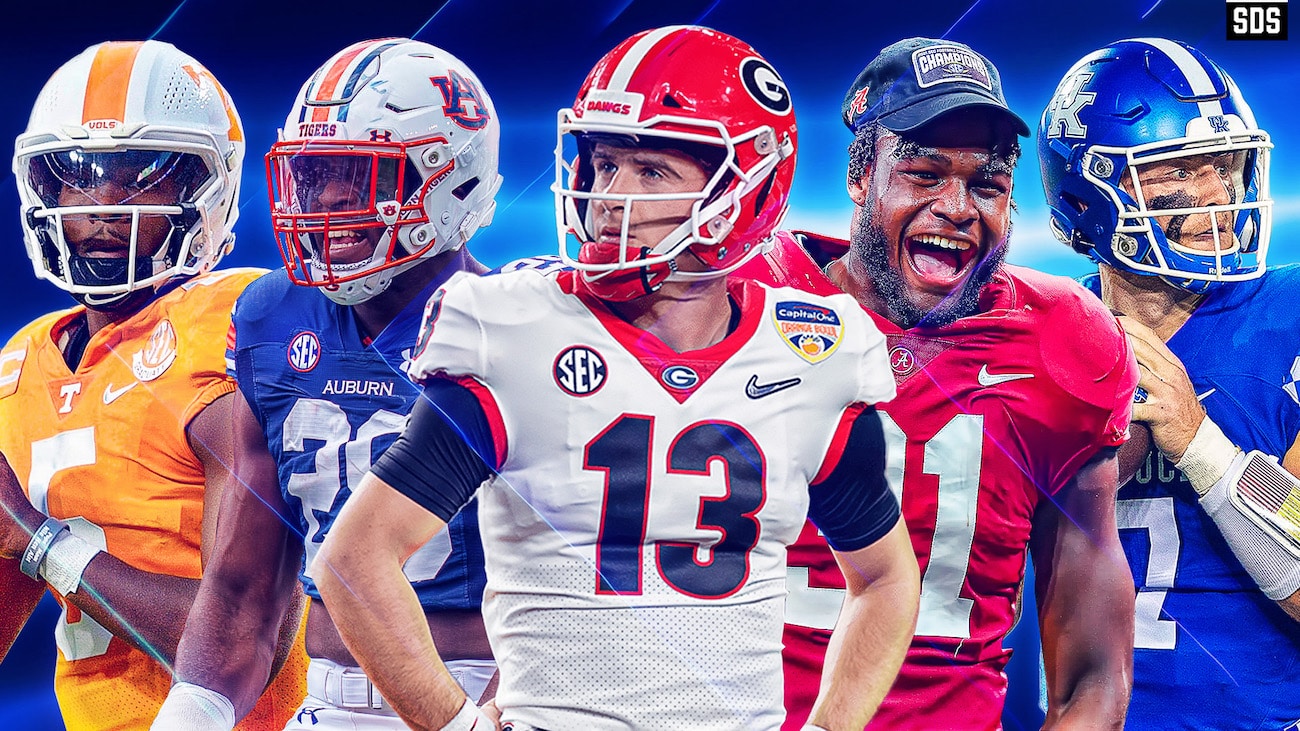 SEC
SEC Power Rankings: Final ranking of every SEC team for 2022 season
The regular season has officially come to an end. Now all that's left is conference championship week, the Army-Navy game, bowl season and the College Football Playoff.
But what a regular season it was! A total of 11 SEC squads reached 6 wins and qualified for postseason play. Mizzou clinched its bowl berth in its regular-season finale. Auburn and Vanderbilt failed in their last-ditch attempts for win No. 6.
So where does that leave us when it comes to the SEC power rankings? Here are our final 1-14 rankings of every SEC squad for the 2022 campaign:
14. Vanderbilt (5-7, 2-6)
Previous ranking: 12
This week: 56-0 L to No. 10 Tennessee
The Commodores' season ended not with a bang, but with a whimper. Following 2-straight SEC wins over Kentucky and Florida, Vanderbilt got smoked at home by the Vols to end the regular season and kill the bowl hopes of Clark Lea's squad. Yes, there were some good things done by the Commodores this year, but there is still a lot of work that needs to be done to get this team regularly competing for bowl berths.
13. Auburn (5-7, 2-6)
Previous ranking: 13
This week: 49-27 L to No. 27 Alabama
This team played hard for Cadillac Williams. The Iron Bowl in Tuscaloosa was always going to be a difficult task for the Tigers with their limitations, but Robby Ashford gave his all. Jarquez Hunter ran hard and the defense made some plays early to make it close for at least a little while. Now the attention turns to the coaching carousel, where we'll see if the next Auburn coach is Hugh Freeze or someone else.
12. Texas A&M (5-7, 2-6)
Previous ranking: 14
This week: 38-23 W over No. 5 LSU
Credit to Jimbo Fisher's Aggies. Even though they knew they weren't going to a bowl game this year, they came out and dominated a top-5 opponent in LSU. The Tigers had everything to play for, as they still had slim CFP hopes. The young guys on this team, led by QB Conner Weigman, have bright futures. RB Devon Achane showed why he's a superstar. Now we'll see what changes Fisher makes as he prepares for a very important 2023 season.
11. Florida (6-6, 3-5)
Previous ranking: 10
This week: 45-38 L to No. 16 Florida State
It wasn't a good look for the Gators to limp to the finish line of the regular season like this, losing in back-to-back weeks to Vanderbilt and Florida State. Both of those games were on the road, but they were still missed opportunities for Billy Napier's squad. Now a mediocre bowl game awaits. We'll see how motivated the Gators are for that one.
10. Arkansas (6-6, 3-5)
Previous ranking: 7
This week: 29-27 L to Mizzou
Arkansas finished the regular season with a lackluster loss in the Battle Line Rivalry to a Mizzou squad that was fighting for its postseason life. Still, the Hogs had every opportunity to win the game and couldn't do it. Brady Cook ran for 138 yards and a touchdown and threw for 242 yards and another score, torching the Arkansas defense early and often. That'll need to be fixed before the bowl game.
9. Mizzou (6-6, 3-5)
Previous ranking: 11
This week: 29-27 W over Arkansas
Kudos to the Tigers for performing under pressure. They needed this win to get bowl-eligible and they got it. In the process, they beat Arkansas for the sixth time in 7 years. Now the Tigers have earned a couple of additional weeks of practices, which is absolutely critical for a young team. Brady Cook is playing the best football of his career the past 3 weeks. He'll be a huge key to any success the Tigers have in their bowl game.
8. Kentucky (7-5, 3-5)
Previous ranking: 9
This week: 26-13 W over No. 25 Louisville
Things haven't gone the Wildcats' way lately, especially after back-to-back losses to Vanderbilt and Georgia. But even with Louisville entering the game with the better record and a ranking next to its name, the Cardinals looked like the inferior team on Saturday. Now that the Wildcats have a couple of weeks to get QB Will Levis and some other guys healthy, they should be a very dangerous bowl opponent.
7. South Carolina (8-4, 4-4)
Previous ranking: 8
This week: 31-30 W over No. 9 Clemson
What a couple of weeks for Shane Beamer and the Gamecocks. First, they dropped 63 points to kill Tennessee's College Football Playoff hopes. Then, they continued to play grim reaper for orange teams, snapping Clemson's 40-game home winning streak and also crushing the Tigers' CFP dreams. These 2 weeks for the Gamecocks will be huge for the program moving forward. And now a more prestigious bowl game is likely in the works for South Carolina.
6. Ole Miss (8-4, 4-4)
Previous ranking: 5
This week: 24-22 L to Mississippi State
Clearly, despite any insistence to the contrary, the Auburn rumors swirling around Lane Kiffin hurt this team down the stretch. He's staying, so perhaps the rumors will die down next year. But for now, the regular season ended with a disappointing Egg Bowl loss, the first Egg Bowl loss of the Kiffin era. The Rebels' bowl standing also took a major hit. We'll see if this team can turn things around in its final game of the year.
5. Mississippi State (8-4, 4-4)
Previous ranking: 6
This week: 24-22 W over No. 20 Ole Miss
Ole Miss had the top passer, rusher and receiver in Thursday's Egg Bowl. Ole Miss won the turnover battle 3-1. Ole Miss had fewer penalties for fewer yards. It didn't matter, as Mississippi State made one more key stop on a 2-point conversion to earn Mike Leach's first Egg Bowl victory. This wasn't a pretty game, but the Bulldogs showed a lot of grit in a tough environment. In the process, they likely earned themselves a much better bowl bid.
4. LSU (9-3, 6-2)
Previous ranking: 2
This week: 38-23 L to Texas A&M
This was not the finish to the regular season the Tigers wanted. Now their College Football Playoff hopes are dead even if they manage to upset No. 1 Georgia in the SEC title game. Yes, the Tigers are still ahead of schedule in their rebuild under first-year coach Brian Kelly, but the chances at a truly special season just evaporated with a disappointing loss in College Station.
3. Alabama (10-2, 6-2)
Previous ranking: 4
This week: 49-27 W over Auburn
This was a master class from Bryce Young. He is the best player in college football this year, even if he won't win the Heisman Trophy. No, going 10-2 wasn't what anyone wanted or anticipated in Tuscaloosa this year, but with 2 losses on the final play of games by a grand total of 4 points, this is still one of the best teams in the country. Now we'll see if enough chaos happens to sneak the Tide into the College Football Playoff. I wouldn't hold my breath if I were an Alabama fan, but crazier things have happened!
2. Tennessee (10-2, 6-2)
Previous ranking: 3
This week: 56-0 W over Vanderbilt
The Vols bounced back from a blowout loss at South Carolina by trouncing their in-state rivals to end the season. Joe Milton looked great replacing the injured Hendon Hooker. He has a cannon for an arm and has been in the system for 2 years now. The Vols should be fine with him under center in the bowl game. No, they didn't make a Playoff push after losing at South Carolina, but this is still a wonderful season for the Vols, who are now back among the contenders in the college football world.
1. Georgia (12-0, 8-0)
Previous ranking: 1
This week: 37-14 W over Georgia Tech
Yeah, it took the reigning champs a while to get rolling on Saturday afternoon, but it didn't matter. This team has so much talent it eventually pulled away from its overmatched rivals to finish off a second-straight perfect regular season. Now LSU awaits in Atlanta. Can the Bulldogs enter the College Football Playoff perfect, unlike last year? Stay tuned!