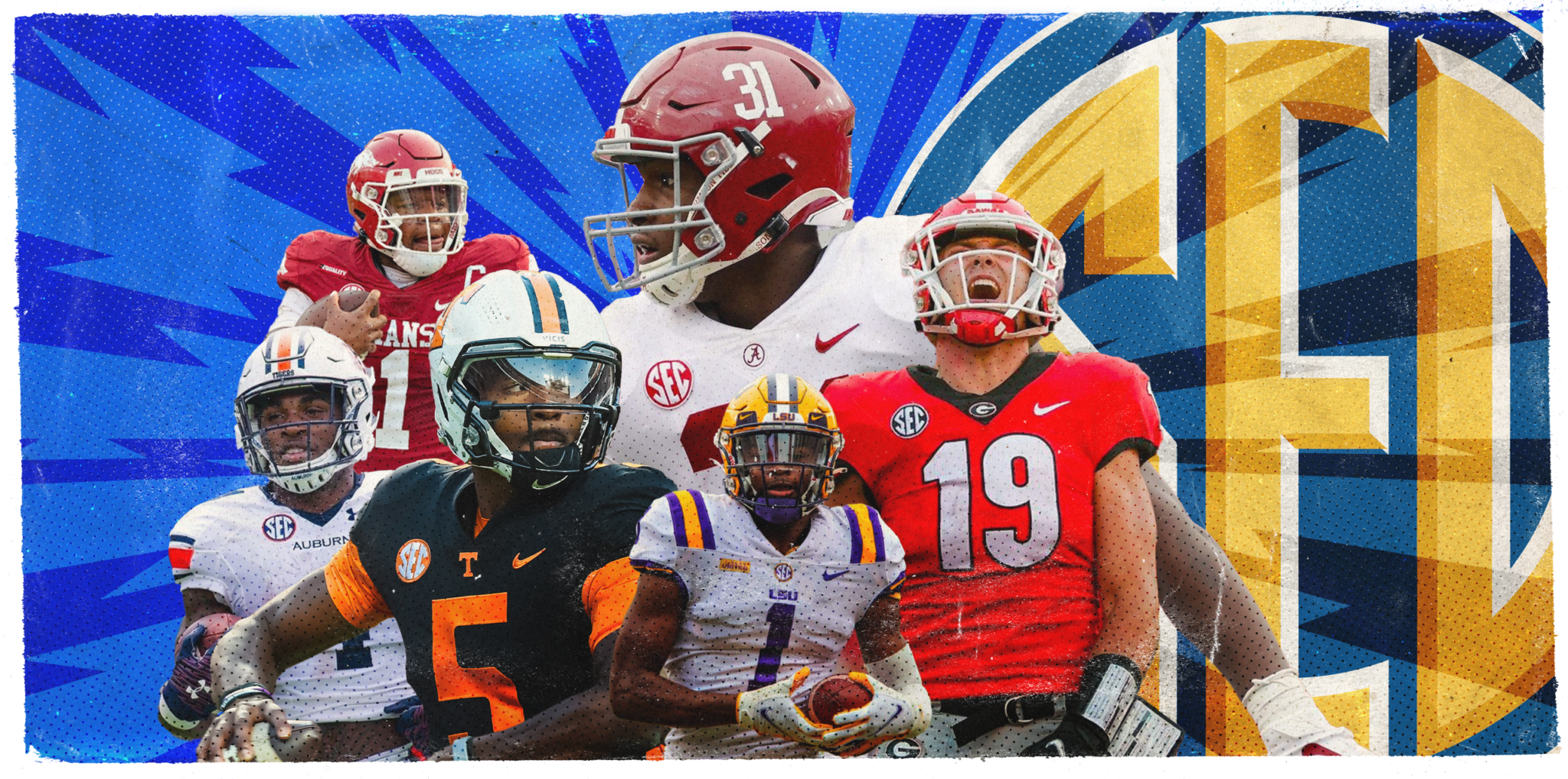 SEC
SEC Power Rankings: Ranking every SEC team after Week 2
Weekends like this are what make college football so great. No. 6 Texas A&M fell to Appalachian State. No. 8 Notre Dame lost to Marshall. No. 12 Florida fell to No. 20 Kentucky in The Swamp. No. 19 Wisconsin lost at home to Washington State.
Chaos was the name of the game on Saturday, and that should lead to some exciting action in the AP and Coaches Polls on Sunday.
But, first, we need to update the SEC Power Rankings! So, without further ado, here's how all 14 SEC squads stack up following a wild Week 2 around the nation:
14. Vanderbilt (2-1)
Previous ranking: 14
This week: 45-25 L to No. 23 Wake Forest
Once it was announced that Sam Hartman was coming back for Wake Forest, it was all over for Vanderbilt. Hartman didn't miss a beat after being held out of the first 2 games of the year with a blood clot issue. Now, the Commodores' 2-0 start is a distant memory. And, a tough nonconference finale looms large next weekend, as Vanderbilt travels to take on Northern Illinois.
13. Mizzou (1-1)
Previous ranking: 13
This week: 40-12 L to Kansas State
The offense was absolutely abysmal in Manhattan on Saturday, amassing only 6 points before scoring on garbage-time touchdown on the final play of the game. If these are the best plays Eli Drinkwitz has in his arsenal, it might be time to bring in an offensive coordinator. It's becoming clear that not landing JT or Jayden Daniels in the transfer portal was a major miss for the Tigers. Finding a competent quarterback will be important moving forward in order to keep Luther Burden around for the next couple of years.
12. Auburn (2-0)
Previous ranking: 12
This week: 24-16 W over San Jose State
You never want to be in a situation where you have to eke out a 1-possession win over San Jose State at home. But, that's where the Tigers found themselves on Saturday night on The Plains. Yes, they ended up winning, but there are still some big-time issues at quarterback and across the entire offense. With Penn State visiting next weekend, things could get ugly if TJ Finley and Robby Ashford don't play better.
11. LSU (1-1)
Previous ranking: 11
This week: 65-17 W over Southern
Yes, I liked that the Tigers worked out some of the issues we saw in Week 1, but I'm not going to give them too much credit for blowing out an FCS foe. It was smart of Brian Kelly and company to get star WR Kayshon Boutte some confidence early. He had a 41-yard run and added 5 catches for 42 yards. There's still a lot of room for improvement for this LSU team, though.
10. South Carolina (1-1)
Previous ranking: 10
This week: 44-30 L to No. 16 Arkansas
The Gamecocks showed some fight after a rough start, but they still got bullied by the strength of Arkansas. This team will certainly fight for Shane Beamer, and there's talent across the board, but Arkansas is clearly the better program as things stand right now. Some analysts predicted South Carolina would upset Georgia in Week 3. Well, that game is coming up in just a few short days. We'll see if the Gamecocks are up to the task.
9. Texas A&M (1-1)
Previous ranking: 6
This week: 17-14 L to Appalachian State
The defense is absolutely legit for the Aggies. The offense is an abject disaster. The Aggies only scored 7 offensive points against the Mountaineers in the stunning loss on Saturday, as the other 7 points came on an incredible kickoff return touchdown by Devon Achane. It might be time for Jimbo Fisher to see what Max Johnson brings to the Aggie offense.
8. Ole Miss (2-0)
Previous ranking: 9
This week: 59-3 W over Central Arkansas
The offense looked a lot better with both Luke Altmyer and Jaxson Dart playing quarterback this week, albeit against FCS foe Central Arkansas. Both guys threw for 2 touchdowns. The running game remains the strength of the offense, though. The Rebels play at Georgia Tech next week, so we'll see if that unit continues to improve against Power 5 competition.
7. Florida (1-1)
Previous ranking: 5
This week: 26-16 L to No. 20 Kentucky
Florida just looked off all night long against Kentucky. This was not the same team that beat No. 7 Utah in The Swamp last weekend. Anthony Richardson no longer looked like the Heisman favorite he was proclaimed after Week 1. Credit to the Kentucky defense for making things difficult for the Gators' offense all night long. I still think this Florida team can regroup and have a solid year, but this was definitely a gut punch.
6. Mississippi State (2-0)
Previous ranking: 7
This week: 39-17 W over Arizona
The Bulldogs went to Arizona for a tough road test. Those Pac-12 After Dark games are never easy, but the Bulldogs passed a tough test. Will Rogers continued to play well and the defense was excellent against the overmatched Wildcats. If the Bulldogs can keep playing like this, there are going to be some incredible SEC West games involving Mississippi State this year.
5. Arkansas (2-0)
Previous ranking: 4
This week: 44-30 W over South Carolina
You can really put teams 3-5 in any order you want and I wouldn't have a problem with it. I'm going to slightly knock the Hogs here, though, putting them at No. 5 simply because No. 4 and No. 3 each picked up true road wins over ranked teams on Saturday. That's nothing against Arkansas, as I expect KJ Jefferson and company to take care of business when they hit the road later this season. Saturday's win over South Carolina was another great sign for Sam Pittman and company.
4. Kentucky (2-0)
Previous ranking: 8
This week: 26-16 W over No. 12 Florida
The Wildcats were short-handed, especially in the backfield, but still gave the Gators all they could handle on Saturday night. Mark Stoops passed Bear Bryant on Kentucky's all-time wins list and the Wildcats sent a strong opening punch in the SEC East race. It wasn't pretty, but it was a classic gritty Kentucky victory. Just imagine what this team can do when it's back at full strength!
3. Tennessee (2-0)
Previous ranking: 3
This week: 31-24 W (OT) over No. 17 Pitt
Tennessee went on the road in a tough environment in Pittsburgh and gritted out an overtime win against a ranked Pitt squad. Were the Vols perfect? No, not by any means. Did they benefit from Pitt QB Kedon Slovis leaving the game with an injury? Of course, but that's how football works sometimes. The fact remains that the Vols picked up a road win over a ranked team, and that's downright impressive.
2. Alabama (2-0)
Previous ranking: 1
This week: 20-19 W over Texas
The Crimson Tide were exposed a bit on Saturday at Texas. The running game wasn't what it needed to be outside of an 80-yard TD run by Jase McClellan. The offensive line didn't look good for much of the game. The receivers had trouble getting open. The defense gave up some big plays. They committed way too many penalties as a team.
But … they won. The Tide went into an intense road environment and won. QB Bryce Young was special on the final drive, calmly guiding the Crimson Tide into field goal range. Will Reichard was automatic. Will Anderson Jr. made a big play when he needed to. The Tide have some major issues they need to fix, as they haven't looked good in road games the last couple of years. But, they're 2-0 and still one of the best teams in the country.
1. Georgia (2-0)
Previous ranking: 2
This week: 33-0 W over Samford
I flirted with moving the Bulldogs up to the No. 1 spot in the rankings last week after they dismantled a ranked Oregon team. Now, I think they'll not only take the top spot in my prestigious power rankings, but in the AP and Coaches Polls, as well. Stetson Bennett has this offense rolling and the defense hasn't missed a beat. The Bulldogs look like they're once again the best team in the country.