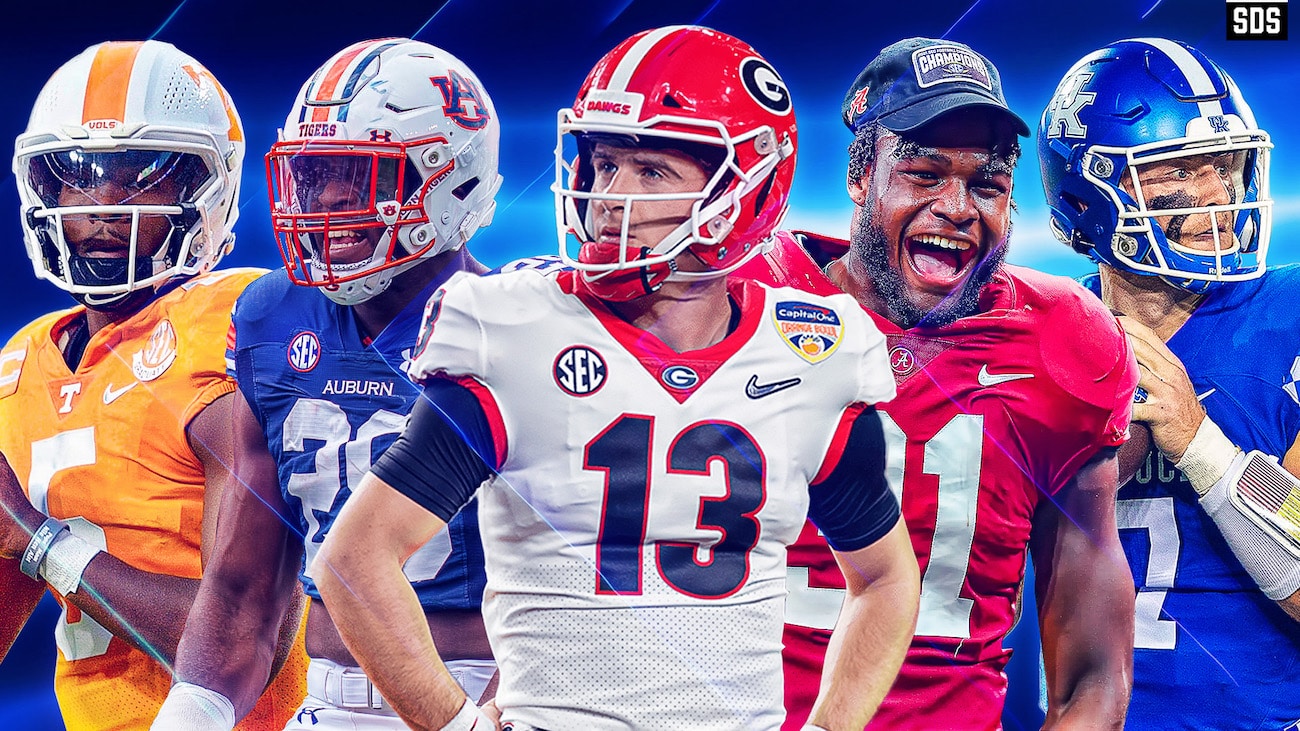 SEC
SEC Power Rankings: Ranking every SEC team after Week 5
Another week of unpredictable mayhem in college football and the SEC!
The No. 1 team in the country, Georgia, got all it could handle from Mizzou. LSU and Auburn battled at Jordan-Hare. The early game between unbeaten Kentucky and unbeaten Ole Miss was a thriller to the final whistle.
This has been one of the wildest starts to the SEC season in a while. So, what should we make of all 14 SEC squads?
Here are our power rankings as we head into Week 5!
14. Vanderbilt (3-2 overall, 0-1 in SEC)
Previous ranking: 14
This week: OFF
The Commodores were off this week. That was a good thing after a 55-3 drubbing at the hands of Alabama. This team is going to be in the 14 spot until it shows it can actually compete against SEC opposition. That won't be easy this coming week, as 5-0 Ole Miss heads to Nashville on Saturday afternoon.
13. Auburn (3-2, 1-1)
Previous ranking: 11
This week: 21-17 L to LSU
There was no Jordan-Hare magic this week. No, this time around, the Tigers took a big lead, only to watch it all fall apart against LSU. Coach Bryan Harsin is on the hottest of hot seats at the moment. The offense is a disaster. The second halves of games have been problematic, to say the least. And now, the Tigers have to head to Sanford Stadium to play Georgia on Saturday afternoon. Yikes. Will Harsin still be the head coach by then?
12. Mizzou (2-3, 0-2)
Previous ranking: 13
This week: 26-22 L to No. 1 Georgia
Look, this defense is solid. The offense has its moments. However, when Eli Drinkwitz calls plays that take so long to develop in the backfield, it never ends well. If he had an offensive coordinator, that person could tell Drinkwitz to lose those plays forever. But, alas, he doesn't have an offensive coordinator. Also, after every big play, it seems this team shoots itself in the foot with a costly penalty. Yes, the Tigers showed a lot of fight against the No. 1 team in the country, but there's still a long way to go before wins start coming regularly in CoMo.
11. South Carolina (3-2, 0-2)
Previous ranking: 12
This week: 50-10 W over SC State
Spencer Rattler has struggled mightily this year. There's no sugar coating that. He hasn't been the potential first-round pick advertised. But, there's still time for him to turn things around. It won't be easy, heading into Kentucky next weekend, but if the Gamecocks are going to improve on last year's 7-6 record, time is running out. Everything starts from the quarterback position.
10. Texas A&M (3-2, 1-1)
Previous ranking: 6
This week: 42-24 L to Mississippi State
Texas A&M's offense is horrible. Putrid, frankly. The Aggies got shut out in the first half against the Bulldogs. Yes, Mississippi State has a good defense, but a team that was expected to challenge for a College Football Playoff spot shouldn't be struggling like this. Now, a trip to Tuscaloosa to face Alabama awaits. That could spell trouble for Jimbo Fisher, who is feeling the heat after another disappointing loss.
9. Florida (2-2, 0-2)
Previous ranking: 10
This week: Plays on Sunday vs. Eastern Washington
Florida had its Week 5 game delayed a day to avoid the worst impacts of Hurricane Ian. The Gators will play in The Swamp on Sunday in what should be a fairly comfortable win for them. We'll see how Anthony Richardson fares with an extra day of preparation. It'll also be interesting to see what sort of Sunday afternoon crowd the Gators draw in the aftermath of a hurricane. Hopefully, everyone can rally around the Gators for this unusual Sunday matchup.
8. LSU (4-1, 2-0)
Previous ranking: 8
This week: 21-17 W over Auburn
Jayden Daniels' injury situation is certainly something to monitor. But, this was a great come-from-behind win in hostile territory. No, beating Auburn isn't an elite win by any means, but it is a road win in conference play. Those are nothing to turn your nose up at. The Tigers are feisty. With unbeaten Tennessee coming to town next weekend, we'll see if Brian Kelly's squad can pull off a major upset.
7. Kentucky (4-1, 1-1)
Previous ranking: 4
This week: 22-19 L to No. 14 Ole Miss
I'm not going to hammer the Wildcats for a tough road loss against an undefeated, ranked foe. The Wildcats had a brutal day of special teams. And, Will Levis made a couple of abnormal mistakes. I expect the Wildcats to be fine moving forward. South Carolina comes to Kroger Field next weekend. If Kentucky struggles in that game, it'll be time to re-evaluate. For now, this is still a top-half squad in the SEC.
6. Arkansas (3-2, 1-2)
Previous ranking: 7
This week: 49-26 L to No. 2 Alabama
The Hogs made a great push to cut the Crimson Tide lead to 28-23 in the second half after Bryce Young left with a shoulder injury. But, then the Tide pulled away late, as Jalen Milroe and Jahmyr Gibbs proved to be too much for the Arkansas run defense to stop. At 3-2 overall and 1-2 in SEC play, this team is a far cry from the top-10 squad it was 2 short weeks ago. But, there's still time to turn things around, and this is still a top-half team in the SEC.
5. Mississippi State (4-1, 1-1)
Previous ranking: 9
This week: 42-24 W over No. 17 Texas A&M
When this offense is clicking, the Bulldogs are unstoppable. They also had a special teams and defensive touchdown in this game, which helped in a big way. After pitching a first-half shutout against the Aggies, the defense took its foot off the gas a bit in the second half. But, winning over a ranked SEC team is never easy. Mike Leach teams have had trouble building off of positive momentum in the past, so we'll see if that trend changes this coming weekend.
4. Ole Miss (5-0, 1-0)
Previous ranking: 5
This week: 22-19 W over No. 7 Kentucky
Ole Miss wasn't perfect on Saturday against Kentucky. There were some questionable fourth-down calls. There were some botched plays. There were some lapses on defense. But, the important thing? The Rebels left the game 5-0. And, they made some incredible plays to force turnovers down the stretch when it was needed the most. This is a fun team to watch. As QB Jaxson Dart continues to improve, the Rebels will only get better offensively.
3. Tennessee (4-0, 1-0)
Previous ranking: 3
This week: OFF
The Vols were off this week and, boy, did they ever need it. This is a banged up squad. Who knows how long star WR Cedric Tillman will be out. But, there's still plenty of momentum and talent on Rocky Top. A trip to LSU this weekend will show whether this is going to be a special season for the Vols or merely a really good season. Hendon Hooker will need to be at his best for an early kickoff at Death Valley.
2. Alabama (5-0, 2-0)
Previous ranking: 2
This week: 49-26 over No. 20 Arkansas
Obviously, the focus this week will be on Bryce Young's shoulder strain, but here's a truth for college football fans everywhere – this team can win with Jalen Milroe. Jahmyr Gibbs and this defense are so talented that a win over Texas A&M is possible in Tuscaloosa next weekend even if the reigning Heisman winner can't play. This Alabama squad is developing more contributors every weekend, and that's a scary thought for future opponents.
1. Georgia (5-0, 2-0)
Previous ranking: 1
This week: 26-22 W over Mizzou
Was this a comfortable win? No. Are there problems with this team? Yes. But, the mark of an elite team is second-half adjustments. Georgia made them. Mizzou didn't. That coaching clinic Kirby Smart and his staff put on against an overmatched Eli Drinkwitz and company was the difference in the game. Georgia's game-winning drive was a thing of beauty, keeping the stout Tiger defense on its heels. There's a lot of work to do in Athens, but winning on the road in the SEC is never easy and should always be celebrated.