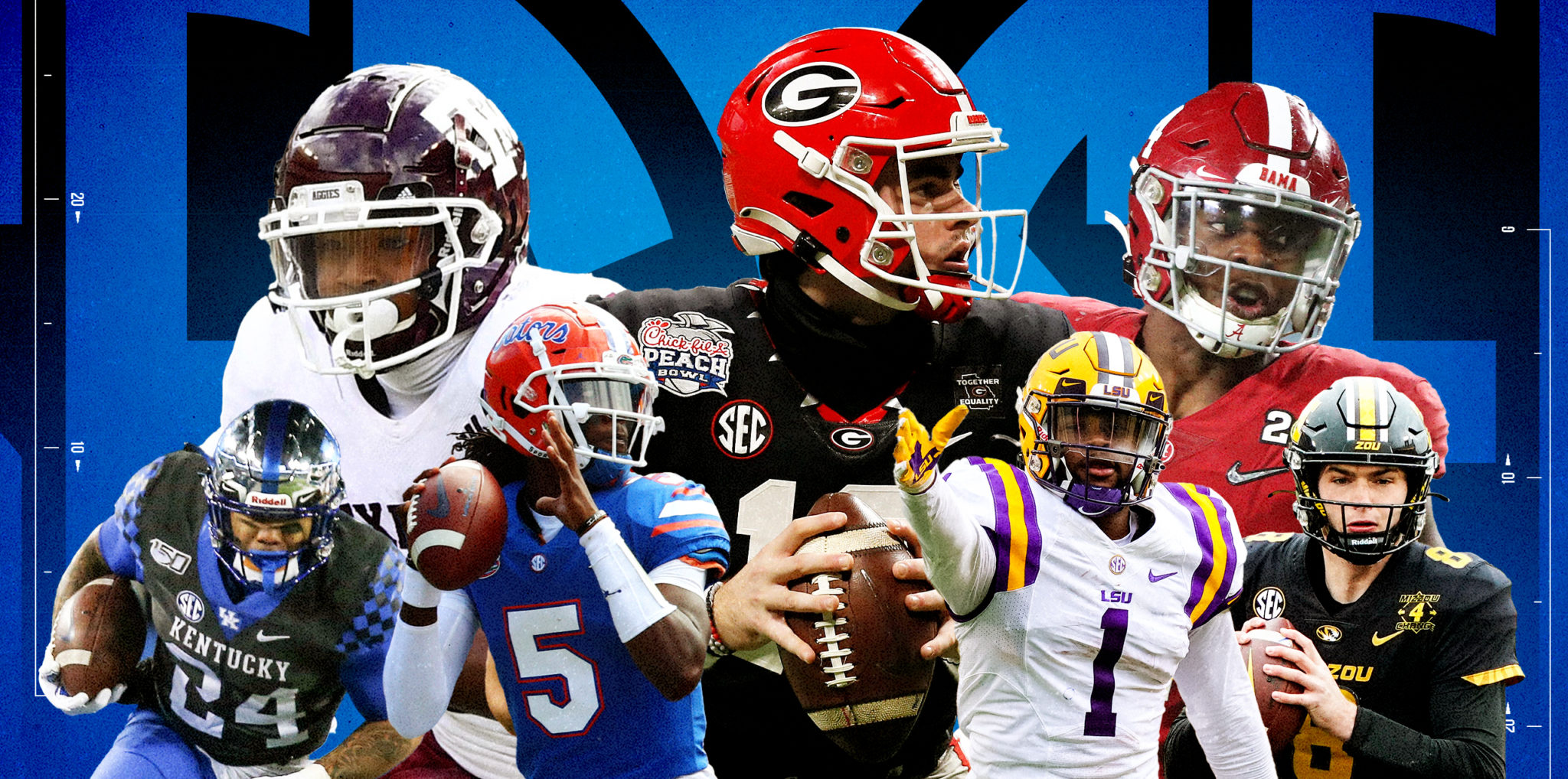 SEC
SEC Power Rankings: Ranking every SEC team after Week 7
SEC football is never boring.
Week 7 featured 7 conference games. And, naturally, there were some surprising results and tight games.
Florida-LSU was insane. Even Vanderbilt-South Carolina was entertaining. And Georgia continued to look like the best team in the nation.
So, how did the Week 7 action shake things up in the SEC?
Here's a look at our post-Week 7 SEC power rankings:
14. Vanderbilt (2-5 overall, 0-3 in SEC)
Previous ranking: 14
This week: 21-20 L to South Carolina
Next week: vs. Mississippi State (3-3)
Let's start with a positive. The Commodores scored their first points against SEC competition this year! In fact, they scored 20 points. It even looked like they were going to hold on and win! Then Zeb Noland happened. It turned into another painful loss for the Commodores. That might have been the Commodores' best chance for an SEC win this year. We'll see if they can beat Mizzou in a couple of weeks.
13. South Carolina (4-3, 1-3)
Previous ranking: 13
This week: 21-20 W over Vanderbilt
Next week: at Texas A&M (5-2)
Beating Vanderbilt by 1 point isn't going to do much to change my opinion of the Gamecocks. That was an ugly game that South Carolina should have lost. Of course, it is always better to win ugly than lose ugly, so that's a plus for Shane Beamer's squad. Still, there are a ton of problems with this team that need to be fixed moving forward.
12. Mizzou (3-4, 0-3)
Previous ranking: 12
This week: 35-14 L to No. 21 Texas A&M
Next week: OFF
No one really expected the Tigers to win this game. There was some talk from the Aggies and head coach Jimbo Fisher that this could be a "trap game," but come on. That was just to keep the team focused. If anything, though, the Tigers' defense actually improved. The Tigers "only" allowed 35 points and "only" 283 rushing yards. Improvement! Now, the Mizzou squad gets a week off and then will prepare for a trip to Vanderbilt. That's a must-win game for Eli Drinkwitz and the Tigers.
11. Mississippi State (3-3, 1-2)
Previous ranking: 9
This week: 49-9 L to No. 5 Alabama
Next week: at Vanderbilt (2-5)
This was a bad game from the Bulldogs. Yes, it was against an angry Alabama squad coming off a loss and yes, QB Will Rogers was banged up and not playing at 100%. But it was still a blowout in front of their home crowd. Fortunately, this team has a chance to regroup on the road at Vanderbilt next weekend. We'll see what Rogers' status is moving forward.
10. Tennessee (4-3, 2-2)
Previous ranking: 8
This week: 31-26 L to No. 13 Ole Miss
Next week: at Alabama (6-1)
Tough loss for the Vols. Ugly scene at Neyland Stadium. But the biggest concern I have now is whether Hendon Hooker is OK. He wasn't putting a lot of weight on that injured leg after he was helped off the field late in the fourth quarter. If he can't go, the Vols are worse off for it. And, heading into a game at Alabama, things could get ugly quickly next weekend.
9. Florida (4-3, 2-3)
Previous ranking: 5
This week: 49-42 L to LSU
Next week: OFF
That was a terrible loss for the Gators. There's no way around it. Coach Dan Mullen is being dragged on social media, and frankly, he deserves it. The way this team played in Baton Rouge was unacceptable. Giving up an LSU school-record 287 rushing yards to Ty Davis-Price was ridiculous. The Tigers haven't been able to run all year. Anthony Richardson clearly needs to be the Gators' starting quarterback moving forward. We'll see what Mullen does next, but this year just turned into a massive disappointment.
8. LSU (4-3, 2-2)
Previous ranking: 11
This week: 49-42 W over No. 20 Florida
Next week: at Ole Miss (5-1)
I give this Tiger team a ton of credit for this win. Kayshon Boutte, Eli Ricks, Derek Stingley Jr. and a host of other key players all missed the game with injury. Coach Ed Orgeron was (and probably still is) on the hot seat. This team could have given up, which it looked like it had been doing in a couple of previous games. Instead, the Tigers finally got the running game going and made just enough plays to win. That was a big-time effort in front of the home fans.
7. Arkansas (4-3, 1-3)
Previous ranking: 7
This week: 38-23 L to Auburn
Next week: vs. UAPB (1-5) in Little Rock
Without Jalen Catalon, this defense isn't nearly as scary. He did a lot for the Razorbacks, and now he's out for the year. This marks 3 consecutive SEC losses for Arkansas. The Hogs will get a chance to bounce back next weekend against UA-Pine Bluff in Little Rock, but there are some major concerns with this team moving forward.
6. Auburn (5-2, 2-1)
Previous ranking: 10
This week: 38-23 W over No. 17 Arkansas
Next week: OFF
Bo Nix played like a Heisman contender on Saturday afternoon at Arkansas. These days, it seems we either get that version of Nix or a version who looks like he shouldn't start for a high school team, let alone at Auburn. When Nix plays like that, though, Auburn is a formidable squad. That was a big-time road win for the Tigers. Now, after a week off, we'll see if they can keep rolling against a tough Ole Miss squad on Oct. 30.
5. Texas A&M (5-2, 2-2)
Previous ranking: 6
This week: 35-14 W over Mizzou
Next week: vs. South Carolina (4-3)
No letdown here! Yes, Texas A&M probably should have beaten Mizzou by more than 21 points, but it was a solid performance from the Aggies nonetheless. The running game put up nearly 300 yards. The passing game wasn't great, but the defense kept the Tigers in check all day. It's fair to say this team is back on track, and the good times should keep going next weekend against a South Carolina team that barely beat Vanderbilt in Week 7.
4. Kentucky (6-1, 4-1)
Previous ranking: 3
This week: 30-13 L to No. 1 Georgia
Next week: OFF
I am not going to punish the Wildcats too much for losing to Georgia. The Bulldogs are the best team in the country, by far. They shut down Kentucky's running game, which has been its bread and butter all year. The SEC's leading rusher, Chris Rodriguez Jr., was held to 7 yards on 7 carries. That's how good the Dawgs are on defense. This still can be a special season for the Wildcats. They'll have a chance to get back on track on Oct. 30 at Mississippi State after an off week in Week 8.
3. Ole Miss (5-1, 2-1)
Previous ranking: 4
This week: 31-26 W over Tennessee
Next week: vs. LSU (4-3)
Wow. What a performance from Matt Corral. Ole Miss was without a pair of key receivers, a tight end and a starting offensive lineman. No matter. Corral threw for 231 yards and 2 touchdowns. He also added 195 yards as a runner. That is an insane performance. He willed his team to a win. He's the Heisman front-runner right now, in my mind.
2. Alabama (6-1, 3-1)
Previous ranking: 2
This week: 49-9 W over Mississippi State
Next week: vs. Tennessee (4-3)
I was wondering if this Alabama team would respond well to a loss last week. Question answered. The Tide looked incredible on Saturday night in Starkville. Bryce Young looked like a Heisman candidate again, while star pass rusher Will Anderson had an impressive 4-sack performance. Yeah, the Tide are back. I feel bad for Tennessee next weekend.
1. Georgia (7-0, 5-0)
Previous ranking: 1
This week: 30-13 W over No. 11 Kentucky
Next week: OFF
This is the No. 1 team in the country. It is so dominant in all 3 aspects of the game. The special teams came up huge on Saturday, blocking 2 kicks. Meanwhile, the offense continues to chug along under backup QB Stetson Bennett IV. Scoring 30 points with your backup QB against a defense like Kentucky's is an impressive feat. This is a complete team, and the scary thing is that I think the Bulldogs can be significantly better when they're at 100%.