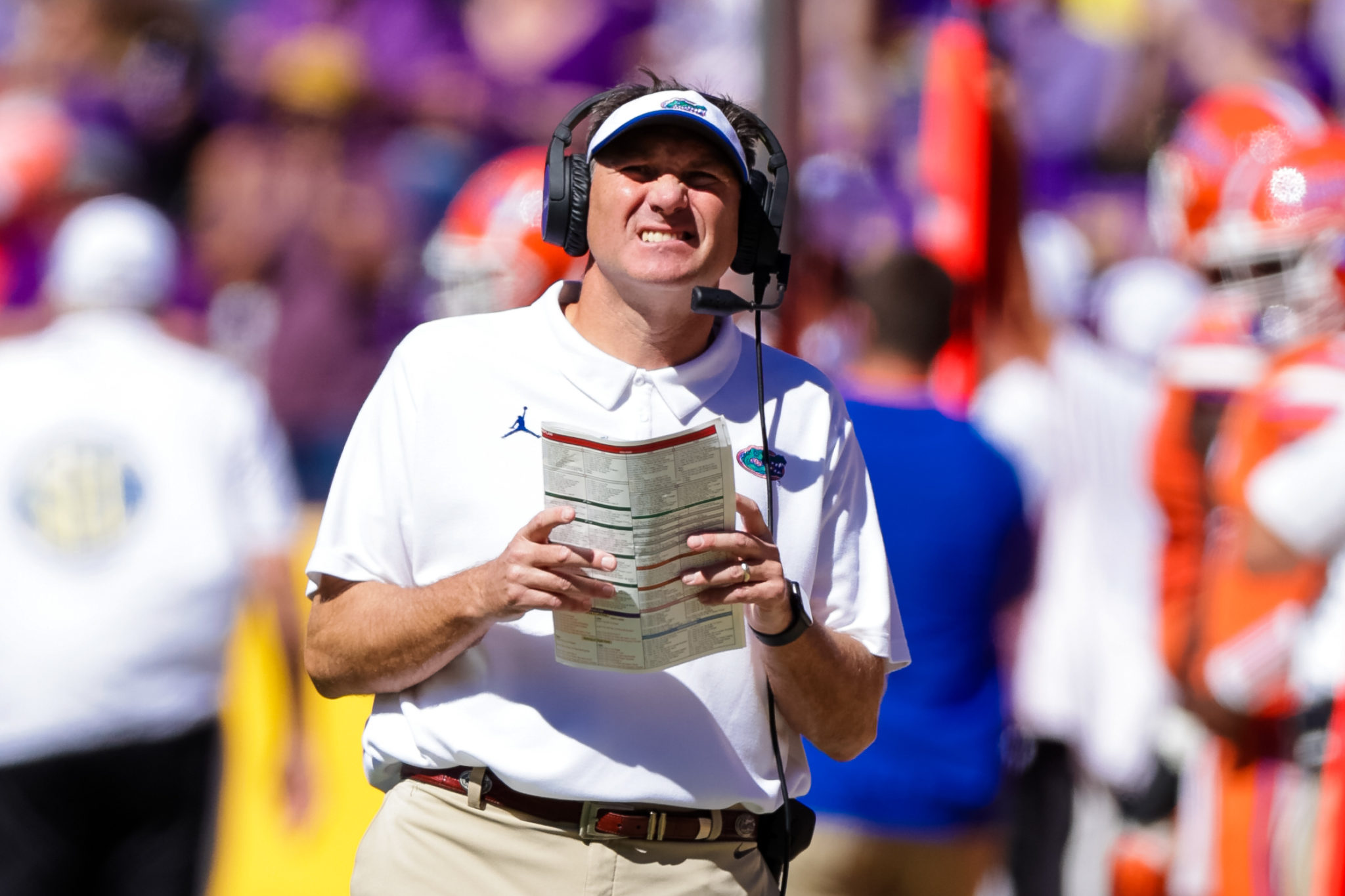 FLORIDA
After shocking loss at LSU, it's time to be concerned about Dan Mullen at Florida
There comes a point in time in every coaching tenure when it's important to tell the truth about where you are.
To be sure, life in the SEC isn't easy, and nothing is ever normal when Florida and LSU get together on a football field.
Fake field goals win games. Five 4th-down conversions win games. Pick-6s win games. Heisman moments win games. Goal-line stands win games. Shoe tosses lose games and 57-yard field goals in the fog win them.
Anything and everything can and will happen.
It did again Saturday. LSU outlasted No. 20 Florida 49-42 in the latest instant classic between two storied SEC programs very used to delivering the unexpected.
It's time for Florida fans to talk about what that means — not just for this now lost 2021 season, but for the program long-term.
Everything about Saturday's game in Baton Rouge between Dan Mullen's Florida and a limping LSU screamed "Advantage, Gators."
To wit:
— Florida entered as an 11.5-point favorite, making LSU a double-digit home underdog against a team that wasn't Alabama for just the second time in the past 12 seasons (Florida, 2009).
— LSU was playing without a slew of All-SEC and All-American candidates, including Derek Stingley Jr., Eli Ricks, Kayshon Boutte, Andre Anthony and Ali Gaye.
— Florida arrived in Baton Rouge with the nation's best rushing offense in terms of yards per rush and success rate and figured to dominate a LSU run defense ranked 77th in the country that was shredded to the tune of 270 yards allowed per game in their only 2 matchups with power run games on the season (UCLA, Kentucky).
— LSU had lost 2 consecutive games, there were around 10,000 empty seats and tickets available for $25 before kickoff and, by most accounts, LSU head coach Ed Orgeron arrived at Tiger Stadium Saturday morning a "dead man walking."
Of course, this is Florida and LSU.
Things rarely happen according to script and rationality and reason need not apply.
We were reminded of that again Saturday afternoon.
One of the nation's worst rushing offenses outrushed one of the nation's best rushing offenses by almost 200 yards. LSU running back Ty Davis-Price, who came into the game with 288 yards rushing on the season, rushed for 287 against the Gators, breaking Leonard Fournette's single-game school record.
A banged-up LSU defensive line at times overwhelmed a Florida offensive line that had been among the nation's best this season, collecting multiple sacks and pressuring both Florida quarterbacks all afternoon.
If wild and weird plays are your thing, Florida scored on a Hail Mary to end the first half. LSU scored on a 4th-and-goal play-action pass from the 2-foot line in the fourth quarter. And, for the 9th consecutive season, the Florida-LSU game entered the fourth quarter as a one-possession game.
Last year, LSU erased a 4-point deficit entering the 4th quarter to win in The Swamp. This year, LSU held on to a 7-point lead to win again.
It was a shameful loss for Mullen and his Florida program, one that will ratchet up the heat on Mullen and his staff in Gainesville, and rightfully so.
Forget that LSU's program has been no better than mediocre since winning the 2019 national championship. Forget the numerous fires LSU's athletic program is trying to put out off the field as well.
The Gators had plenty of reasons of their own to be motivated.
How about building some momentum before the bye week ahead of a huge rivalry clash with No. 1 Georgia? How about finally beating a team with equal (or better) talent this season — something Florida hasn't done since last year's rout of Georgia in the Cocktail Party? How about revenge?
After all, just a season ago another struggling, banged up LSU team, then a 23.5-point underdog, came into The Swamp and spoiled a special Florida team's Senior Night. Why did Florida need a wake up call — again — to start fast? Wasn't the chance to compete and win in a tough venue enough?
For whatever reason, none of that mattered.
The Gators were bullied at the line of scrimmage, outcoached and outplayed. Florida's game plan made little sense, as the Gators ignored their power run game and tried to pass before setting up the run, a mistake that resulted in 2 turnovers, 2 short fields and allowed LSU to build confidence — and a 15-point lead, in the first half. Florida's adjustments, to the extent they made any (Todd Grantham did not), came too late.
I wrote Monday that the LSU game was, very quietly, perhaps the biggest regular-season game to date in Mullen's tenure. Florida's recent struggles meant the Gators desperately needed to handle business at a struggling LSU. The fact that they did not is the latest troubling sign for Mullen and his staff.
Make no mistake, this is the worst loss of Mullen's tenure, and one that should raise serious questions about his future in Gainesville.
How bad have things gotten?
After Saturday's loss in Death Valley, the Gators have won just 2 of their past 8 games against Power 5 competition. That number will likely be 2 of 9 after the Cocktail Party against archrival and No. 1 Georgia in two weeks. For perspective, Florida's in-state rival, the butt of many Florida fan jokes during the Taggart and Norvell eras, has won 3 of its past 8 against Power 5 opponents.
Does that sound like a program ascending its way back to the nation's elite? Does that sound like "the Gator Standard" Mullen spoke of when he took the job 4 Novembers ago?
It isn't. Not even close.
After an electric 29-6 start in Gainesville, Mullen's program has suffered the type of swan-dive, momentum-killing stretch that can change a narrative about a staff quickly, especially in the cutthroat world of SEC football.
Saturday's loss should change that narrative.
Spare us the "Mullen the game-planner" stories.
The book against LSU was simple. Use the power run early and often and when LSU cheats their safeties, throw over the top. This worked beautifully for UCLA and Kentucky. Florida refused to run, despite being better at it entering the game than anyone in the Power 5. That's hubris, not good game planning.
Spare us the "Mullen develops his guys" soundbites.
Florida was lost on defense when safety Rashad Torrence II left with an injury, and while Florida continues to miss starting All-SEC linebacker Ventrell Miller, the linebackers' inability to fit gaps on the same simple counter play is a trend that should send Grantham his walking papers. Isn't the whole argument for Mullen as a "talent evaluator" is that his guys constantly get better? It didn't seem that way Saturday.
Spare us the "transitional year" narrative.
It's Year 4, and the high-water mark appears to be either a hard-fought SEC Championship game loss to perhaps the greatest Alabama team ever or an 11-2 Orange Bowl winning team that gave up 10 3rd-down conversions to Jake Fromm and managed to miss Atlanta in the process. Program building takes time, but a transitional year "builds" to something — it doesn't feature obvious decline and disappointing lack of growth.
Can Mullen flip the script down the stretch?
It's difficult to see how.
Florida will be a heavy favorite in every game it plays except the Georgia game, where it will be a massive underdog. If Florida finishes 8-4, they'll play in a "B list" bowl game and, if current trends hold, sign another "B list" recruiting class, one ranked just outside the top 10 and leagues away from the quality brought in by perennial Playoff contenders Alabama, Georgia and yes, LSU.
Stripped of any momentum, Florida is headed down the stretch playing out the string and ultimately, headed to the 2021 offseason faced with existential questions about what it wants to be as a program.
Is the NCAA trouble Mullen got Florida into early in his tenure worth it when the team isn't piling up wins? Does Florida, a top 5 public university that demands excellence in all facets of its operation, want to keep a coach whose regular-season ceiling is 2 wins away from his floor? Or does it strive to be something better, to be the kind of program that consistently competes for championships?
For a while under Mullen, it looked as if Florida could compete for championships.
It no longer looks or feels that way. And it's time to tell the truth about it.