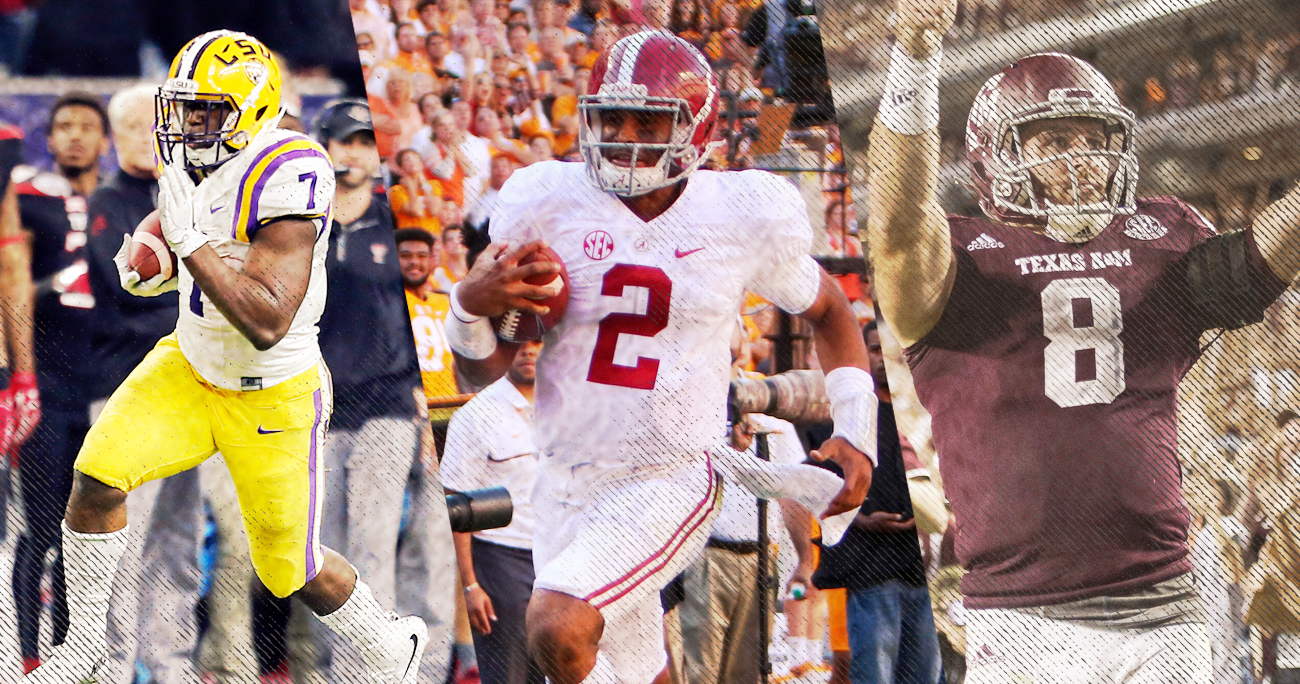 SEC
SEC Power Rankings entering Week 8
At this point, does it even matter who's No. 2?
Nick Saban has his greatest team ever — and that's a ridiculous sentence to write considering this one is led by a true freshman quarterback and he's had four previous ones win national championships.
But it's true. This one scores more. It scores in more ways, too. And, somehow, it's even better than last year's defense. There are no weaknesses, no flaws.
The only thing that's missing is Lane Kiffin raising his arms, touchdown style, as soon as his offense breaks the huddle. Maybe he's saving that for Ohio State in the national championship game.
So, no, there's no doubt who's No. 1 in the Week 8 SEC Power Rankings. The drama is everything below.
14. Mississippi State
Last week: 13
Skinny: Whatever little hope the Bulldogs had of extending Dan Mullen's bowl streak to seven consecutive years disappeared Friday night in Provo, Utah.
13. South Carolina
Last week: 12
Skinny: The Gamecocks were idle Saturday and hope to get their offense in gear next week against UMass.
12. Missouri
Last week: 11
Skinny: So those numbers Drew Lock built up against inferior competition had more to do with the inferior competition. The Tigers aren't done, however. They still have four very winnable games remaining in their quest to return to a bowl game.
11. Vanderbilt
Last week: 14
Skinny: Give Derek Mason credit. He's resilient, tough, and his football team follows his lead. His defense bent like a gold medal-winning gymnast but never broke Saturday. Georgia outgained Vandy 421-171, but Zach Cunningham made the biggest tackle to end the Bulldogs' final bid and give Mason his first SEC road win.
10. Kentucky
Last week: 10
Skinny: Kentucky was idle, too, but it beat Vandy last week to keep its bowl hopes alive. The Wildcats have three wins and three winnable games. It starts next week against reeling Mississippi State.
9. Georgia
Last week: 7
Skinny: The Bulldogs are too talented to be held to 16 points at home. Curious play-calling certainly hasn't helped. They're off this week, but getting the offense untracked against Florida on Oct. 29 won't resemble anything close to easy. Jacob Eason is more likely to throw 3 interceptions than 3 touchdown passes against those Gators cornerbacks.
8. Auburn
Last week: 6
Skinny: The Tigers were idle Saturday, giving others the opportunity to move up. They jump back into the fire Saturday though, starting a two-game stretch against Arkansas and Ole Miss.
7. Ole Miss
Last week: 4
Skinny: Ole Miss has lost three games to three ranked opponents by a combined 20 points. They're so close to being elite, but too often, it's Chad Kelly and hope for the best. They can't win the West, but they still play LSU and Texas A&M, which means they still can influence who does.
6. Florida
Last week: 8
Skinny: The Gators didn't play well on offense but still rolled past Missouri thanks to three non-offensive touchdowns. Of the East contenders, they have the most potential to grow later this season.
5. Tennessee
Last week: 2
Skinny: It wasn't a fair fight. The Vols were so banged up defensively that I couldn't find a single, logical reason to think they'd stay within two touchdowns. After facing four consecutive ranked opponents in four grueling weeks, the Vols will get a week off. As difficult as this stretch was, the final five regular-season games are just as easy.
Remember, they hold the head-to-head tiebreaker over Florida. So the Gators, in all likelihood, will have to run the table on their remaining conference games.
4. Arkansas
Last week: 9
Skinny: Austin Allen was efficient and Rawleigh Williams was explosive. They made just enough plays to hold off Chad Kelly, who accounted for three touchdowns but also had a turnover. Arkansas is just 1-2 in the league, and there's zero letup. After splitting with Alabama and Ole Miss in back-to-back weeks, the Razorbacks' next three games are against Auburn, Florida and LSU. Auburn and Florida are ranked, and LSU soon will be again.
3. LSU
Last week: 5
Skinny: The Tigers rolled again Saturday. Their season-defining three-game gauntlet starts next Saturday against visiting Ole Miss. Alabama visits on Nov. 5 and then the Tigers travel to Arkansas. If Ed Orgeron goes 2-1, will the Tigers keep looking for their next coach?
2. Texas A&M
Last week: 3
Skinny: The Aggies were resting and probably watching Alabama rip apart Tennessee. They're up next, Saturday in Tuscaloosa. Can Trevor Knight beat Nick Saban for a second time? No full-time SEC quarterback has. It's the game of the year in the SEC.
1. Alabama
Last week: 1
Skinny: Two more non-offensive touchdowns. Another game in which the defense and special teams score. Another game in which the Tide outscores its opponent without needing a single point from its offense. And of course Jalen Hurts and Co. did their thing, too.
The craziest thing about Saturday's beatdown in Knoxville? Alabama has played four ranked opponents this season, and it has scored at least 48 points against every one of them.
This team is just, wow.
Chris Wright is Executive Editor at SaturdayDownSouth.com. Email him at cwright@saturdaydownsouth.com.