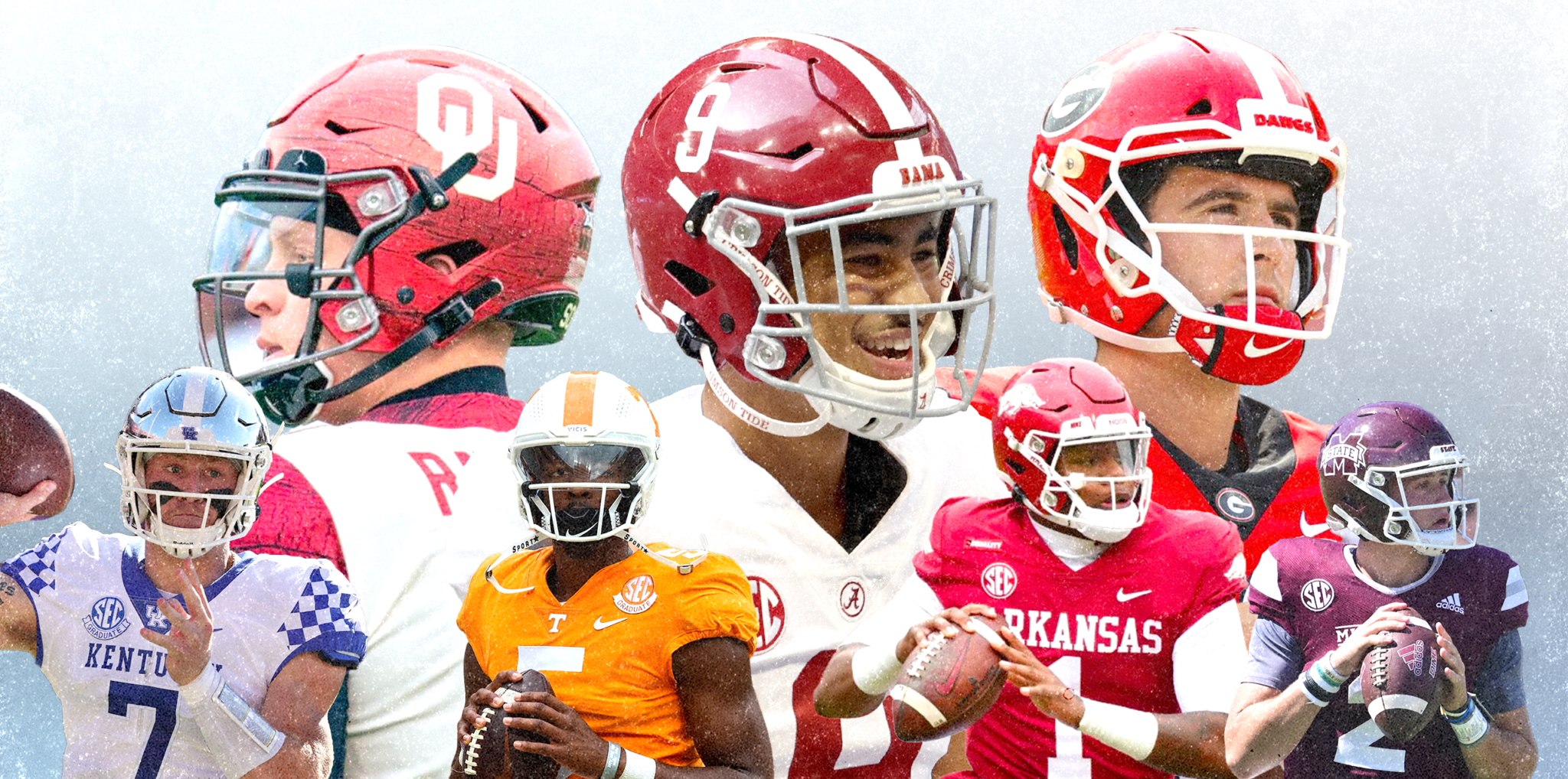 SEC
SEC QB Rankings, 2022 Reset: To win 1 Heisman, Bryce Young had to be great. To win 2, he'll have to be a legend
Quarterbacks: There are a lot of them! With the 2021 season in the books, SDS' weekly QB rankings are back to keep the game's most important position in perspective by ranking the prospective SEC starters for 2022 according to highly scientific processes and/or pure gut-level instinct. Previously: 2021 Regular-Season Wrap.
1. Bryce Young, Alabama
In a stunning development, the reigning Heisman Trophy winner takes the pole position. Young was the most consistent quarterback in college football in 2021 and the most dynamic, easily justifying his massive recruiting hype and leading Bama to the cusp of another national championship in his first year as a starter. He could have been the first QB off the board if he was eligible for this year's draft, and enters (presumably) his last year on campus as a heavy favorite to go out as the top pick in 2023.
Going back-to-back in the Heisman race might be a longer shot. Famously, only one winner, Ohio State RB Archie Griffin in 1974-75, has claimed the trophy 2 years in a row, a feat that might be impossible to replicate unless Young demolishes his sophomore production so thoroughly he leaves voters with no choice but to grant him the distinction. You can't become That Guy by default. Obviously, he's a great player. Is he a historic player? That's the bar he'll be measured against this time around.
2. Spencer Rattler, South Carolina
Rattler, heir apparent to the prolific QB lineage at Oklahoma, was one of the season's biggest disappointments, falling from preseason Heisman favorite to confirmed backup in the span of a few weeks. By mid-October, he already had one foot out the door. But his descent was as much a reflection of the enormous expectations that came with the role as it was of Rattler's actual performance. He was still good enough to go 5-0 as a starter before being overtaken by blue-chip freshman Caleb Williams, and the same potential that made him a rising star in the first place also made him the most coveted free-agent on the December transfer market.
At any rate, South Carolina is in dire need of new energy on offense, and landing a next-level talent in high demand was a major coup. The Gamecocks don't get many of those: Recruiting at the position has been largely unproductive for a decade, and it's been so long since a Carolina quarterback was drafted that the most recent name on the list, Todd Ellis in 1990, got picked in a round that doesn't even exist anymore (the 9th). No one who's occupied the job in the intervening 30 years has had a better shot at breaking that streak than Rattler.
3. Stetson Bennett IV, Georgia
Bennett, improbable hero of the Dawgs' national championship run, is back for a 6th year. There will be another competition against more 5-stars, but, for our purposes, we're going to assume Bennett remains QB1 – undisputed, this time.
I must plead guilty here to being a Stetson skeptic. I doubted a former walk-on could generate enough downfield juice to win big against elite competition, I spent most of the regular season writing him off as a placeholder until Daniels was fully recovered from a minor abdominal injury, and I explicitly called for Kirby Smart to make the switch after Georgia's loss to Alabama in the SEC title game. In hindsight that all sounds faintly ridiculous. "Game manager" rep notwithstanding, Bennett was everything UGA needed him to be, finishing among the national leaders for the season in yards per attempt, overall passer rating and Total QBR and delivering on some legitimately big-time throws in the playoff wins over Bama and Michigan.
His go-ahead, 40-yard touchdown strike to Adonai Mitchell in the fourth quarter of the CFP Championship Game was exactly the kind of throw he wasn't supposed to be able to make on that stage, and instantly rivaled Buck Belue to Lindsay Scott as the biggest pass in Georgia history.
https://twitter.com/espn/status/1480758554546130944?s=20
With that, the walk-on stigma is officially retired. Redshirt freshman Brock Vandagriff and incoming signee Gunner Stockton should inherit most of Daniels' reps in the spring. They'll be competing for the job sooner or later.
4. KJ Jefferson, Arkansas
Jefferson's stock peaked in September, in the course of a 4-0 start highlighted by wins over Texas and Texas A&M. Even after the Razorbacks fell off the national radar, though, his combination of size, athleticism and efficiency continued to mark him as a rising star. Through the air, Jefferson averaged a solid 9.1 yards per attempt for the year with 21 touchdowns to just 4 INTs, turning in his best games in a couple of shootout losses at Ole Miss and Alabama; on the ground, he finished as the team's leading rusher even after subtracting for negative yardage on sacks.
More importantly going forward: As a first-year starter, he was only scratching the surface of his potential. Is he the next Cam Newton? Probably not. But with a year under his belt, Jefferson is on schedule for at least one maxed-out campaign before the next level beckons.
5. Hendon Hooker, Tennessee
Hooker's decision to return for a 6th year was a big win for Tennessee at a position where the program has been notoriously unstable. He vastly exceeded expectations in his first season in Knoxville, elevating a lifeless offense into one of the most productive attacks in UT history. The 2021 Vols set school records for points (511) and yards (6,174), while Hooker himself demolished the previous mark for pass efficiency. (His overall rating, 181.4, led the SEC and ranked 3rd nationally.) Their scoring average vs. Power 5 opponents improved over 2020 by 2 full touchdowns per game.
So: What next? At 24, Hooker is likely maxed out athletically, and his production may be, too. Last year's gains didn't leave much room to grow on. On the other hand, he should be more comfortable in his second year in Josh Heupel's offense, and he'll have the luxury of throwing to the league's leading returning receiver, Cedric Tillman, who just turned in Tennessee's first 1,000-yard receiving season since 2012. Tillman is a bona fide All-SEC candidate on track for a huge senior year. But for Hooker to say the same, other playmakers must emerge.
6. Will Rogers, Mississippi State
Rogers had a very Leach-ian sophomore campaign – occasionally brilliant, occasionally dreadful, ultimately leveling out at average. The good: A 408-yard, 3-TD outing in an upset win at Texas A&M; a near-perfect game against Kentucky; and historic comebacks against Louisiana Tech and Auburn. The not-so-good: A 3-INT flop against Alabama; a Thanksgiving no-show against Ole Miss; and a lame-duck, blowout loss vs. Texas Tech in the Independence Bowl. The average: Rogers finished 7th among SEC starters in efficiency and QBR; Mississippi State as a team finished seventh in total offense; and the Bulldogs finished 7-6.
Also like most Leach quarterbacks, Rogers doesn't project as a high-upside pro prospect, so the guy MSU fans saw last year was probably close to the finished product. This year, he's the league's most seasoned returning passer, with 20 career starts under his belt in the same high-volume system. As long as he's upright, you can go ahead and mark him down for 4,500 yards and 35 touchdowns just by virtue of playing in an offense that puts the ball in the air 50 times per game. The key to taking another step forward in Year 3 is week-in, week-out consistency.
7. Will Levis, Kentucky
Kentucky has been at its best under Mark Stoops with athletic QBs who complement a run-first mindset, and with Levis at the controls first-year coordinator Liam Coen didn't alter that formula nearly as much as his NFL background implied. At 6-3/232, Levis was a far cry from Lynn Bowden Jr., but he was plenty athletic enough to serve as a reliable presence in the zone-read game, adding 9 rushing touchdowns to his 24 TDs as a passer – the most by a Wildcats quarterback since Andre' Woodson in 2007.
Can't wait to see more of this in year 2! 229 days left. #BBN @will_levis pic.twitter.com/7bkEbPxn5Z

— FQ Kentucky (@FQKentucky) January 18, 2022
More of that would be great, but against the top of the schedule, the Wildcats could also use more from Levis' arm. Half of his passing TDs came in 4 games against UL-Monroe, UT-Chattanooga, New Mexico State and Vanderbilt. In 7 wins vs. Power 5 competition, he averaged just 20 attempts per game. In their 3 losses (vs. Georgia, Mississippi State and Tennessee), he averaged 39.7 attempts, at only 5.9 a pop. Losing the electric Wan'Dale Robinson, who set single-season UK records for receptions (104) and receiving yards (1,334), obviously doesn't help on that front, nor does losing stalwart tackle Darian Kinnard up front. At some point, staying ahead of Florida and Tennessee in the division pecking order will require Levis to level up.
8. Anthony Richardson, Florida
Based on his raw physical traits alone, Richardson might be the most intriguing name on this list. But fleeting glimpses of his talent over the first half of his redshirt freshman campaign were offset by injuries and inconsistency over the second half, and his second-banana status behind the equally mercurial Emory Jones was an ongoing source of frustration as the Gators' season unraveled. Richardson's only start, a blowout loss against Georgia, went badly, and he barely saw the field again over the last 5 games.
This throw by Anthony Richardson is just stupid good pic.twitter.com/H50FKm7Mit

— Cam Mellor (@CamMellor) September 11, 2021
Technically, Jones is still enrolled at UF and remains with the team despite his stated plan in December to transfer out following Dan Mullen's ouster as head coach; Jones hasn't entered his name into the portal and retains the right to stay in Gainesville if and when he does. Between the coaching change and the arrival of Ohio State transfer Jack Miller, though, the signs hardly favor the incumbent. At the end of the day, Richardson's potential is to big to wind up wondering what might have been.
9. Myles Brennan or Garrett Nussmeier or Walker Howard, LSU
Brennan shocked everyone last month – well, certainly me, anyway – by agreeing to return for a 6th year in Baton Rouge after initially putting his name in the portal in November. The man has paid his dues. In 2018, he was set to take over the full-time job as a redshirt sophomore before Joe Burrow transferred in and relegated him to 2 more years on the sideline. When Brennan's turn finally came, it was in the wake of a historic exodus of talent from the 2019 national championship team and a pandemic that nearly derailed the 2020 season. (All-Universe WR Ja'Marr Chase was one of many Tigers to opt out entirely.) His subsequent tenure as the starter lasted 3 games before a season-ending injury. And with a chance to reassert his grip on the job last year, a freak accident on a fishing trip left him with a broken arm that cost him all of 2021.
After all that, one might assume Brennan's top priority in his final year of eligibility would be essentially guaranteed playing time. Instead, he opted to come back to a crowded depth chart with a couple of blue-chip freshmen who are under no obligation to bide their time. Nussmeier, one of the gems of the 2021 recruiting class, saw the field late last year as a true freshman and had his moments while preserving a redshirt; Howard, a 5-star early enrollee, never wavered on his commitment during the transition from Ed Orgeron to Brian Kelly and ought to come in on equal footing under the new administration. The odds of all 3 still being on the roster for the Sept. 4 opener against Florida State aren't great, especially if one of the younger guys overtakes Brennan in the spring. Beyond that, the pecking order at that point is anybody's guess. And all of that would change immediately if Oklahoma transfer Caleb Williams decides to sign with LSU, too. He reportedly is down to 2 schools: rejoining Lincoln Riley at USC, or LSU.
10. Max Johnson or Haynes King or Conner Weigman, Texas A&M
Johnson's defection from LSU to A&M was an eyebrow-raiser on a couple of levels. One, it came just a couple weeks after Johnson threw the game-winning touchdown pass against the Aggies to close the regular season. And two, it added a veteran presence to a competition that, like the one at LSU, arguably favors the underclassmen.
King, a redshirt sophomore, won the starting job last year but only made it one series into the second game before an ankle injury ended his season; he remains largely a blank slate, which isn't necessarily a negative compared to Johnson's well-established mediocrity at LSU (5-6 as a starter vs. Power 5 opponents). The wild card is Weigman, the SEC's top incoming quarterback per 247Sports' composite rating and the face of A&M's blockbuster recruiting class. Starting as a freshman for Jimbo Fisher, a notorious hard-ass when it comes to his quarterbacks, is a stretch for anyone. But if Weigman's good enough to eventually be the guy who takes the Aggies to the next level, there's no good reason to keep him waiting.
11. TJ Finley or Zach Calzada or Robby Ashford, Auburn
Do they still recruit quarterbacks at Auburn? The Tigers' failure to sign a viable successor to Bo Nix in the past 3 classes is evident here with 3 guys who washed ashore after falling overboard at their original schools. Finley (originally at LSU) was 0-3 as a starter last year after taking over for the injured Nix in mid-November. Calzada (Texas A&M) etched his name in SEC history last October by leading a stunning upset over Alabama, which only looks more stunning in retrospect given that he didn't come close to replicating that performance in any other game; for the season, he came in at or near the bottom of the conference in every major category. Ashford, an Alabama native, joined the mix earlier this week after 2 quiet seasons as a backup at Oregon.
Between them, there's some raw talent – if you could combine Finley's size, Calzada's arm and toughness, and Ashford's mobility you might have a heck of a quarterback. Individually, though, none of their respective skill sets is an upgrade over Nix, who never cracked the top half of the conference statistically himself in any of his 3 seasons as the starter. By the end of last year, few Auburn fans were very sorry to see Nix move on. By the end of this one, they may find themselves wishing he'd hung around.
12. Brady Cook or TBD, Missouri
Cook spent his first 2 years at Mizzou backing up the now-departed Connor Bazelak, but in Year 3 it might be his job to lose. Handed the reins for the Armed Forces Bowl, Cook acquitted himself well, accounting for 291 total yards and 2 TDs (1 rushing, 1 passing) in a last-second, 24-22 loss to Army – good enough to give him a leg up on redshirt freshman Tyler Macon going into the offseason, at least, if not to close the door on the transfer market. Spring drills could determine whether the Tigers can afford to stand pat.
13. Luke Altmyer or TBD, Ole Miss
Bet the boat on TBD. Altmyer, a true freshman, didn't inspire much confidence after Matt Corral's injury in the Sugar Bowl, finishing with 2 interceptions and 7 sacks in what amounted to an extended audition against Baylor. Yes, caveats apply: Green player, big game, good opponent, etc. The kid was thrown to the wolves. But it's 2022, and Ole Miss is a team with a high-profile, QB-friendly head coach, rising expectations, and little incentive to settle for the next man up. USC transfer Jaxson Dart has already visited campus as part of his free-agency tour, and there's likely to be plenty more movement through the portal over the coming months. (JT Daniels, hello.) With most of the other prominent QB vacancies already filled, Oxford might be the prime destination.
14. Ken Seals or Mike Wright, Vanderbilt
Seals clearly regressed in 2021, following a promising freshman campaign in 2020 with an injury-riddled season that ended with him yielding to Wright for all or most of the last six games. Transfer rumors ensued. But he's not going anywhere, it seems: Seals' father told 247Sports last month that his son is "absolutely coming back" and plans to finish his college career as a Commodore. Personally, I'd recommend waiting until Seals actually regains the starting job before taking that promise to the bank.