SEC
Monday Down South: Zach Calzada is as unlikely a legend as they come
Weekly takeaways, trends and technicalities from the weekend's action.
Admit it: You thought it was over.
It's OK. You had every right to think it was over. By all rights, it was over. We all know how these things go, and how they don't. A big home underdog, energized by an overachieving quarterback and a feral crowd, comes out swinging and puts up the fight of its life on the way to a shocking lead against one of the sport's heavyweight contenders; the upset sirens go off, the ratings swell, the energy in the stadium shifts from determined hope to stunned belief. Wait: This is actually happening. The tension holds, for a while.
And then, slowly but surely, the pendulum swings back. The waters calm, the earth resets itself on its axis, and the deeper, more talented team finally asserts its will in a fashion that, at the end of the night, feels inevitable, if not routine. The crowd deflates. The losers, exhausted but proud, take solace in the fight and the glimpse at their true potential. The audience at home shrugs. The king, challenged but none the worse for wear ambition-wise, stays the king.
For 55 minutes, Texas A&M's upset bid vs. Alabama followed that script to the letter. The Aggies put Bama on the ropes in the first half, taking a 24-10 lead to the break on the strength of a swarming pass rush and an unconscious performance by QB Zach Calzada. (Calzada was 13/14 for 183 yards and 2 TDs at the half.) After trading special teams touchdowns in the third quarter, Bama seized control, scoring on 4 consecutive possessions while locking down A&M's offense in the same span.
Bryce Young, under siege for much of the night, looked like the Heisman front-runner he's supposed to be with the game on the line; Calzada, accordingly, turned back into a pumpkin. The Crimson Tide scored the go-ahead touchdown with 5 minutes to play, leaving the Aggies with a 38-31 hole on the scoreboard, a huge deficit in total offense, and a coupon redeemable for 1 moral victory.
How many times have we seen this game? The No. 1 team had completed the comeback. Test passed. Game over.
WIDE OPEN FOR JAMESON WILLIAMS. ALABAMA TAKES THE LEAD. pic.twitter.com/QoxHys5Lbz

— CBS Sports (@CBSSports) October 10, 2021
Except, somehow, it … wasn't. The script, having devolved into a standard-issue Bama production, veered abruptly into an ending straight out of Hollywood instead. Calzada, who hadn't thrown for a first down in the second half and had missed on his last 7 attempts before A&M surrendered the lead, found his glass slipper: On the Aggies' ensuing drive, he went 4/5 for 61 yards, capped by a 25-yard beauty of a throw to Ainias Smith in the face of a heavy blitz that left Calzada sprawled on the turf with an apparent knee injury.
TOUCHDOWN AGGIES.

This game is a classic. pic.twitter.com/XMpJelshC7

— CBS Sports (@CBSSports) October 10, 2021
Wait: This is ACTUALLY happening. Alabama's offense, looking slightly dazed at the prospect of having to win the game again, promptly went 3-and-out for the first time all night, punting the ball back to the Aggies with 2:08 to play. Where Young bowed to the moment, Calzada seized it, emerging from the medical tent shot full of lord knows what to account for 55 of the biggest yards in recent A&M history – 29 passing, 11 rushing on a gimpy leg, and the final 15 on a pass interference penalty that set up the kick heard round college football.
THE AGGIES UPSET NO. 1 ALABAMA. pic.twitter.com/p68Rj1KKwG

— CBS Sports (@CBSSports) October 10, 2021
Any time No. 1 goes down, it's a momentous occasion, partly due to the ramifications on the national championship race and partly due to the fact it happens so rarely in the regular season. But this particular Texas A&M team beating Alabama in this particular fashion is genuinely historic, on several levels.
First, you have the streaks: The Aggies are the first unranked team to knock off the sitting AP No. 1 since 2008, and the first to knock off Alabama since 2007, snapping a mind-blowing run of 100 consecutive wins over unranked teams dating to Nick Saban's first season. And after years of lording over his former assistants, Saban finally ceded a W to one of them, bringing his record vs. erstwhile employees to a 24-1. Jimbo Fisher earns the distinction, along with at least a brief respite from scrutiny over his contract.
When the game takes its place in the sport's collective memory, though, none of that is going to be what people remember. What they're going to remember is Calzada, as wildly improbable hero as they come, playing as far as above his head as anyone ever has on that bright of a stage.
There's not really any historical context for the leap Calzada made on Saturday night, or any rational way to reconcile it with his first month on the job. To put it bluntly, his presence on the list of Heisman hopefuls and aspiring draft picks who have beaten Bama in the Saban era makes no sense. He wasn't a notable recruit out of high school, wasn't expected to play significantly this season before opening-day starter Haynes King went down with a foot injury, and didn't do anything in his first 4 games that might have suggested he had a star turn in him, against Bama or anyone else.
Quite the opposite: He came into Saturday night ranked at or near the bottom of the SEC in every major passing category, holding onto the job mainly by virtue of being the only available warm body at the position on scholarship. He looked overmatched in losses to Arkansas and Mississippi State, averaging a meager 5.1 yards per attempt in those games with just 1 touchdown.
Against Bama, he averaged a stellar 9.2 yards per attempt with 3 TDs. He posted the highest-graded performance by an opposing QB vs. Alabama in the past 3 years, per Pro Football Focus, edging out Justin Fields and Joe Burrow. He outgunned Bryce Young. He made plays he hadn't given any indication he was capable of making prior to Saturday night, and which he as likely as not may never make again. In every respect, it was the game of his life.
Most importantly, when the upset bid seemed to have run out of gas, he was the one who supplied the spark for the final rally. When the Legend of Calzada gets passed down through the generations, it won't be his near-flawless first-half effort that survives, crucial as it was: It will be his effort at the end, putting a dismal second half behind him to pull off a comeback that possibly no one outside of his own huddle could see coming. The numbers pale in comparison to the guts.
Whether it turns out to be the beginning of something big or one of the all-time greatest outliers is, for now, beside the point. That answer will come soon enough. But it won't add or detract from a truly one-of-a-kind performance, and won't define it, either. If it was one night only, it was a hell of a night.
Notebook
Around the conference.
Texas A&M 41 • Alabama 38. There are limits to the praise you can heap on a defense on a night when the opposing offense scores 31 points* on 522 total yards, but when the offense in question is Alabama's and it takes them the better part of 3 quarters to get in sync then the defense has certainly held up its end of the bargain. (*Bama's other 7 points came via special teams on a blocked punt.) There were stretches of the game where A&M's defense was in control, specifically a stretch in the mid-second and early third quarters when defensive coordinator Mike Elko seemed to be dialing up a free rusher at will on obvious passing downs. The Aggies pressured Bryce Young on 19 of his 57 dropbacks and sacked him 4 times, a season high.
A good example of how Elko blitz schemes created confusion came on a critical series midway through the second quarter with Alabama trailing 17-7 but threatening following an interception in Aggies territory. Bama faced 3rd-and-6 from the A&M 12-yard line. Expecting pass, A&M's pre-snap alignment presented a heavy blitz look with 6 defenders in the box while a 7th, safety Leon O'Neal, crept toward the line on the strong side of the formation. Because the tight end is releasing into a route here, that left Alabama with 6 blockers for 7 potential rushers.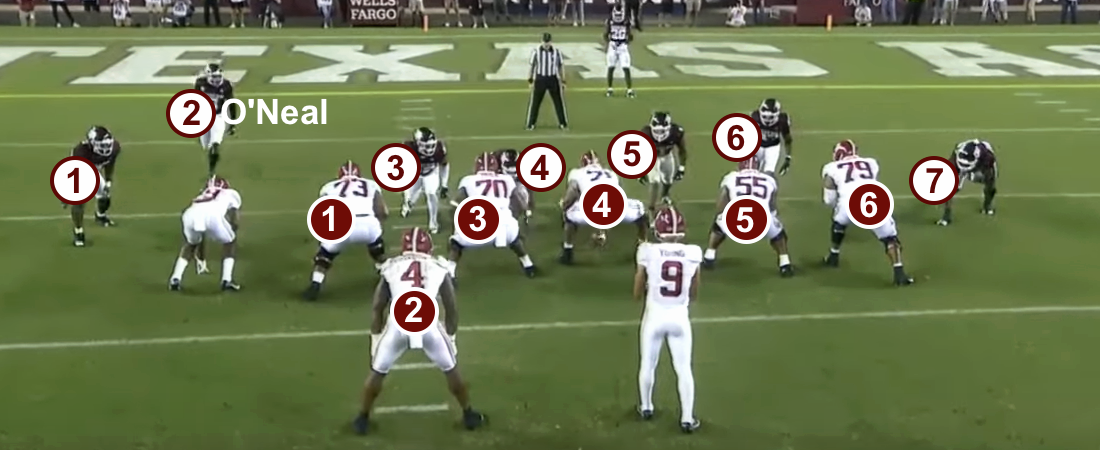 Alabama's line has some decisions to make: Namely, who is actually coming and who isn't? In this case, they choose poorly. Although A&M has overloaded the strong (left) side of the line with 4 potential rushers to the center's left, at the snap the o-line — possibly failing to account for O'Neal's late approach from the secondary — focuses its protection to the right, where there are only 3. Bizarrely, left guard Javion Cohen (No. 70) and center Darrian Dalcourt (71) both move to double-team the nose tackle, while right guard Emil Ekiyor (No. 55) sets up for a blitz that doesn't come. Instead, the linebacker threatening the A-gap between Dalcourt and Ekiyor immediately bails out of the blitz look to cover TE Jahleel Billingsley (19), while the linebacker who was initially head-up on Ekiyor attempts to loop behind the LG/C double-team: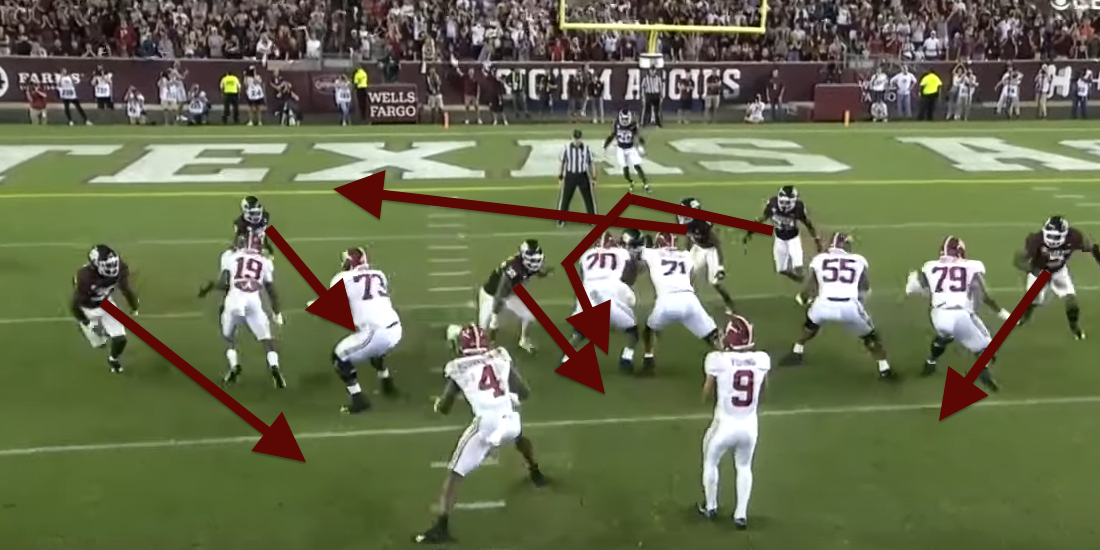 The result: Two remaining blockers on the left side, LT Evan Neal (73) and RB Brian Robinson Jr. to block 3 oncoming rushers while Cohen comes off the double team to pick up the looping 'backer, Ekiyor blocks air, and a clear lane opens to the quarterback for O'Neal: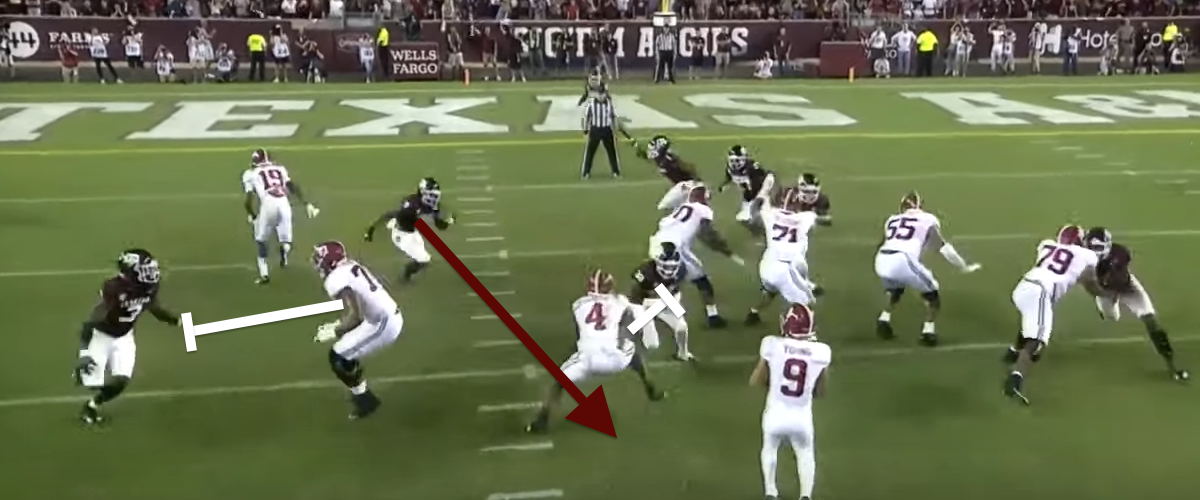 Although Neal and Robinson both handled their respective blocks as well as they could be asked to, the initial confusion by the interior line left Young dodging one blitzer directly into the path of another.
It was that kind of night for the Tide for a little too long before they managed to straighten out their issues midway through the third quarter and began moving the ball more consistently. By that point, A&M had built enough of a cushion to give its offense a chance at the end, and against the odds, the offense came through.
Kentucky 42, LSU 21. The scene in Lexington was a tale of two sidelines.
First, for Kentucky, it's time to start talking about Mark Stoops among the best coaches in school history. Now in his 9th season, Stoops has coached in more games (105) than anyone else who's held the job, and won more (55) than anyone on that list except Bear Bryant, who claimed 60 wins from 1946-53 — a mark that, with at least 7 more games to go this season, Stoops could plausibly hit by year's end. He's the first coach since Bryant's successor, Blanton Collier (1954-61), with a winning record over the course of his tenure. He already owns 1 of only 3 10-win seasons, in 2018; the current team, the first UK outfit to start 6-0 since the 1950 SEC championship squad that cemented Bryant's reputation as a young coach, is well on its way to matching or exceeding that number, which would make Stoops the only Kentucky coach to crack double digits twice.
The 1950 team was also the last one to play in the Sugar Bowl, or any major bowl, period, which is suddenly looking like a not-outlandish possibility for this one, too. The Wildcats are up from unranked 2 weeks ago to No. 11 in the updated AP and Coaches' polls, and after this weekend's trip to Georgia will likely be favored in each of their last 5 games.
Beyond the records, the energy around the program in Year 9 speaks for itself. The stadium formerly known as Commonwealth is a legitimately hostile environment, one capable of leaving the likes of Florida and LSU visibly disoriented on consecutive Saturdays, an unthinkable prospect a decade ago. You don't hear so many cracks about basketball season these days. Saturday's win, especially, might be the closest Kentucky has come to playing a perfect game under the Stoops model against a real opponent: The Cats ran the ball consistently (330 yards on 7.3 per carry), threw it efficiently (14/17 for 147 yards, 3 TDs and no INTs), and effectively shut down LSU's offense when it mattered (the Tigers trailed 21-0 before finally denting the scoreboard in the third quarter and 35-7 before tacking on a couple of meaningless TDs in garbage time). It was a physical, fundamentally sound beating from the start, and also a party for the home crowd, which seems to appreciate that these are the good times.
.@d_square10 forced it, @josaihhayes recovered it! #ForTheTeam | ? – @SECNetwork – https://t.co/6abWyURPxu pic.twitter.com/ahOG2EZ2VE

— Kentucky Football (@UKFootball) October 9, 2021
For LSU, it's time to start talking about the end for Ed Orgeron. The good times in Baton Rouge receded into the rearview mirror as quickly as they arrived 2 years ago, and Saturday night felt like a point of no return for the idea that the current administration has any chance of reviving them.
At 3-2, the Tigers' season was still more or less salvageable if they managed to put the pieces together in time for a midseason turnaround. Instead, they staggered into a must-win game looking like they didn't want to be there and proceeded to take a giant step toward getting their head coach Chizik'd less than 2 years removed from winning a national title. The light's not coming on, there's no silver lining, the dam is broken. It's not a question of if, but when, and who's next.
It is true that Orgeron has rallied the Tigers from low points before — the 2017 team finished in the top 20 after humiliating September losses to Mississippi State and Troy; last year's team climbed out of the tank in December to avoid a losing record by winning its last two games. But this isn't Coach O's first year on the job, and unlike last year, the 2021 Tigers don't have the excuse of a championship hangover, an unprecedented exodus of talent, or a pandemic. Nor do they have much to hang their hats on going forward. Their best player on defense, Derek Stingley Jr., is out indefinitely with a foot injury and has no incentive to return with a lucrative draft slot at stake. Their best player on offense, Kayshon Boutte, was carted off the field on Saturday night with an unspecified injury that puts the rest of his season in doubt. (As of Sunday night there was no word yet on Boutte's diagnosis or status.) Name a statistical category, and you can be almost certain they come in below average.
That's all depressing enough as it is. But it gets worse when you consider that the first half of the schedule was supposed to be the lighter half — LSU was the Vegas favorite in each of its first 5 games and was only a 2.5-point dog at Kentucky. That won't be the case over the back end of the schedule, when ESPN's Football Power Index projects the Tigers as underdogs in all 5 remaining SEC games: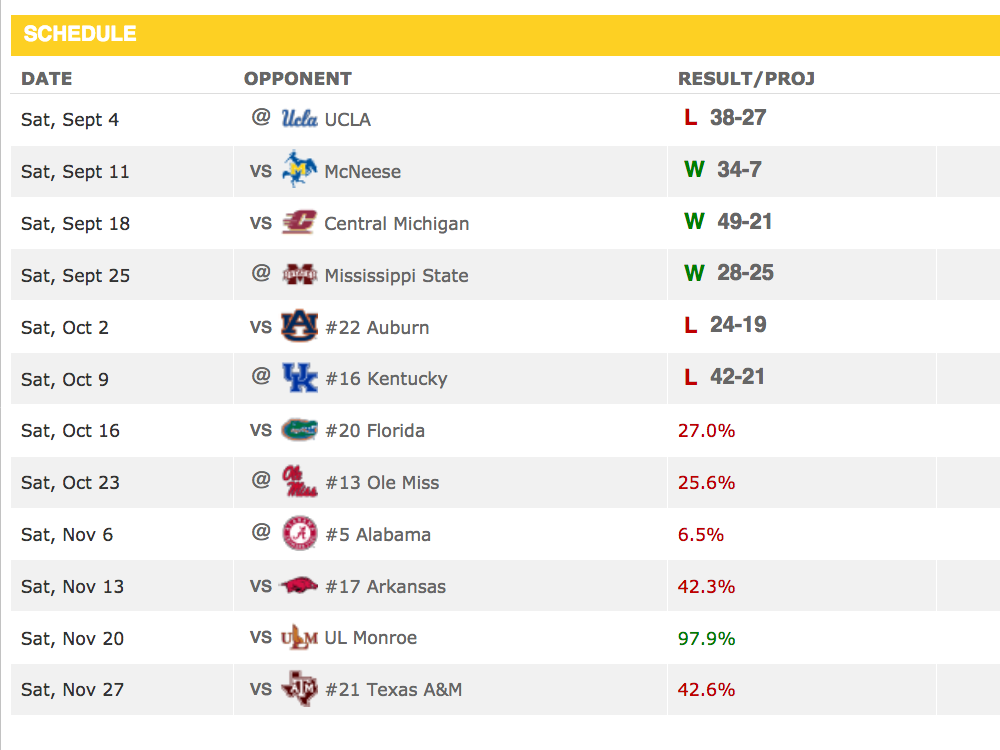 The Tigers are staring down the barrel of the first losing season since 1999 for the second year in a row. How many of those games do they need to win to keep Orgeron employed in 2022? If there's a bowl game (unlikely at the moment), what are the odds he's coaching in it?
What are the odds he makes it to UL-Monroe?
It's not out of the question to imagine LSU stealing a couple of conference wins along with the Sun Belt patsy and eking out bowl eligibility at 6-6; a 7th win is doable but might be pushing it. Beyond that, it's a fantasy. When just breaking even starts to look like the best-case scenario, nostalgia for better days doesn't count for much.
If the entirety of Orgeron's legacy winds up being that he was the guy who plucked Joe Burrow from the transfer portal and Joe Brady from obscurity, well, you can do a lot worse. The 2019 run was worth everything else, and then some. If his future depends on his capacity to do it again, that goose (turducken?) is pretty well cooked.
Georgia 34 • Auburn 10. As someone who spent a good chunk of the offseason talking up the latent potential of Georgia's blue-chip passing game, let me assure you I sincerely appreciated the irony of the Bulldogs getting an electric big-play performance in a major SEC road game from… Stetson Bennett IV and Ladd McConkey.
LONG DISTANCE DELIVERY FROM THE MAILMAN pic.twitter.com/LPbXo28NdJ

— CBS Sports (@CBSSports) October 9, 2021
UGA's injury and attrition issues at quarterback and wide receiver are well-documented. Since the season-opener vs. Clemson, they just haven't mattered: The top 4 receivers on the year (McConkey, Brock Bowers, Jermaine Burton and Adonai Mitchell) have combined to average 16.4 yards a catch with 10 touchdowns, despite the fact that only Burton was a projected starter coming into the season. Against Auburn, Bennett and McConkey — a former walk-on and a mid-range 3-star, respectively — hooked up 5 times for 135 yards at the expense of a perfectly respectable secondary. If JT Daniels and George Pickens had put up those numbers, the hype would be off the charts.
Daniels should be back in the lineup sooner rather than later, possibly as soon as this weekend against Kentucky; Pickens' status as he recovers from a torn ACL in the spring remains TBD, but a couple of other injured wideouts (namely Kearis Jackson and Dominick Blaylock) are reportedly practicing, and enormous tight end Darnell Washington made his first appearance of the season in the passing game on Saturday with a 25-yard reception; with the talent on hand, the prospect of even an approximately full-strength Playoff run is still very intriguing. At the rate the B-team is going, it's just getting harder by the week to see it mattering until the SEC Championship Game at the earliest — and at the rate the defense is going, maybe not even then.
Obscure stat of the week
Bo Nix is a basket case, acknowledged, but Auburn's receivers are doing him no favors: As a team, the Tigers dropped 7 passes in their loss to Georgia, per PFF, including several that would have extended drives. That bumped their drop rate for the season to 11.3%, easily the worst in the conference.
Superlatives
The week's best performances.
1. Texas A&M QB Zach Calzada. His final stat line against Bama (21/31 for 285 yards, 3 TDs/1 INT, 0 sacks, 170.4 efficiency) doesn't convey the grit/clutch aspects of Calzada's performance and doesn't come close to conveying how shocking it was for a guy who'd given no inkling that he was capable of that kind of effort to deliver it against the No. 1 team in the country. Almost anything seems possible from here, in all directions.
2. Ole Miss QB Matt Corral and Arkansas QB KJ Jefferson. To be fair here, every offensive player in Ole Miss' wild, 52-51 win over Arkansas probably deserves some recognition for one of the most entertaining games of this season or any other. Even if you didn't catch one second of it, the box score alone was a trip:
1,287 yards of total offense, the majority of it (674 yards) coming on the ground
61 first downs
14 touchdowns, all of them on drives of 65+ yards with 5 coming on drives of 4 plays or less
6 players with 85+ rushing yards, including both quarterbacks
100-yard receivers on both teams
6 successful 4th-down conversions on 7 attempts
5 lead changes, 4 coming after halftime
3 touchdowns in the final 90 seconds, the last coming as time expired
A winner-take-all 2-point conversion in a 1-point game with no time on the clock
But of course the box score doesn't quite capture the true spirit of the thing. You don't get Treylon Burks making the exact same absurd, sprawling catch — the kind of catch most receivers will never make once in their life — on back-to-back snaps …
TWO PLAYS

TWO INSANE TREYLON BURKS CATCHES

— PFF College (@PFF_College) October 9, 2021
… or Matt Corral getting straight-up kicked in the face as he successfully converts a 2-point conversion … or 245-pound KJ Jefferson diving head-first into the end zone from a full 4 yards out …
KJ JEFFERSON WENT FULL SUPERMAN TIE GAME pic.twitter.com/RXznF1Fx0f

— Alex Kielar (@AlexTBPK) October 9, 2021
… or Corral launching a rocket to the moon that returned from orbit to find Braylon Sanders' waiting hands 60 yards later:
Matt Corral with the 59-yard strike to Sanders pic.twitter.com/BMu8tBzHiE

— T.J. (@TJOxley1) October 9, 2021
You don't get Lane Kiffin, the winning coach, immediately after the game looking and sounding like a man who just walked away from a 20-car pileup without a scratch.
"Well, you can make it positive… we didn't really stop 'em. They just happened to go for two. We'll take it."- Lane Kiffin on the Ole Miss defense ? pic.twitter.com/tVQHNgC2XT

— The Comeback (@thecomeback) October 9, 2021
After halftime Corral and Jefferson were like 3-point shooters who couldn't miss in a game of H-O-R-S-E, leading 9 touchdown drives between them in the second half alone. Altogether, they combined to throw for 613 yards and 5 touchdowns while adding another 179 yards and 5 more TDs on the ground in a game everyone involved will remember for years, maybe decades. In 20 years they ought to come back to attend a reunion for this game.
3. Georgia DT Jalen Carter and DE Travon Walker. As always, Georgia's depth and division of labor on defense makes singling out 1 or 2 individuals from a dominant effort an exercise in futility. This week, the token reps for the Bulldogs' suffocating win over Auburn are their most productive pass rushers, Carter and Walker, who together generated 13 QB pressures, 2 sacks and a general sense of foreboding every time Bo Nix attempted to set up in the pocket. Nix was pressured on 17 of his 46 dropbacks, per PFF, and of the 14 attempts he managed to get off on those snaps he completed just 5.
4. Kentucky RBs Christopher Rodriguez Jr. and Kavosiey Smoke. The Wildcats' 1-2 backfield combo shredded an indifferent-looking LSU defense for 251 rushing yards on demoralizing 9.0 per carry, reinforcing in the process that Kentucky belongs among the league's upper class while the Tigers very much do not. With another 75 yards on the ground via QB Will Levis, the Wildcats became the 3rd team to run for 300+ against LSU in the past 3 years — a benchmark that, prior to 2019, the Tigers had allowed just 4 times in the previous 20 years.
5. Alabama RB Brian Robinson Jr. and WR Jameson Williams. The final score overshadowed their efforts, but Robinson (207 scrimmage yards on 28 touches) and Williams (146 yards, 2 TDs on 10 catches) were the catalysts of Bama's second-half comeback, leaving no doubt about their status as the go-to skill players when the chips are down. Robinson, a 5th-year senior in his first and only season as a starter, has emerged as a true workhorse the past 2 weeks, returning from a minor injury to log a combined 64 touches against A&M and Ole Miss; meanwhile, Williams, an Ohio State transfer who felt buried amid the Buckeyes' glut of blue-chip wideouts, has quickly distinguished himself as the Tide's best receiver. (OSU really is that incredibly deep at the position.) Assuming Alabama still has a Playoff run in it over the second half of the season, they're both going to play leading roles.
Honorable Mention: Texas A&M DEs Tyree Johnson and Micheal Clemons, who led the Aggies' assault on Bryce Young with a combined 8 QB pressures and 3 sacks. … Young himself, who finished 28/48 for 369 yards, 3 TDs and 1 INT and put Bama in a position to win late. … Tennessee QB Hendon Hooker, who went off for the second week in a row in the Vols' 45–20 win over South Carolina, accounting for 286 total yards and 4 TDs (3 passing, 1 rushing). … Tennessee RB Tiyon Evans, who went over 100 for the second straight week with 119 yards and 1 TD on 7.4 per carry. … Missouri RB Tyler Badie, who went off for 218 yards and 2 TDs on 12.8 per carry and added a receiving TD in the Tigers' 48-35 win over North Texas. … Florida DB Trey Dean III, who finished with 7 tackles, 2 passes broken up and an interception in the Gators' shutout win over Vanderbilt. … Kentucky DB Quandre Mosley, who recorded 3 PBUs on 6 targets while allowing just 1 reception (for 2 yards) in the Wildcats' win over LSU. … Kentucky LB DeAndre Square, who had 8 tackles against the Tigers and set the tone for the rest of the night with a strip sack on the game's opening series. … LSU RB Tyrion Davis-Price, who ran for 147 yards and 2 TDs on 6.7 per carry against the Wildcats, good for the LSU's best individual rushing performance since November 2019. … Georgia QB Stetson Bennett IV, and Georgia WR Ladd McConkey for reasons outlined above. … And Arkansas WR Treylon Burks, whose exclusion from the top 5 despite a brilliant performance against Ole Miss drives home just what a weird, wild Saturday it was across the conference.
– – –
The scoring system for players honored in Superlatives awards 8 points for the week's top player, 6 for second, 5 for third, 4 for fourth, 3 for fifth, and 1 for honorable mention, because how honorable is it really if it doesn't come with any points? The standings are updated weekly with the top 10 players for the season to date.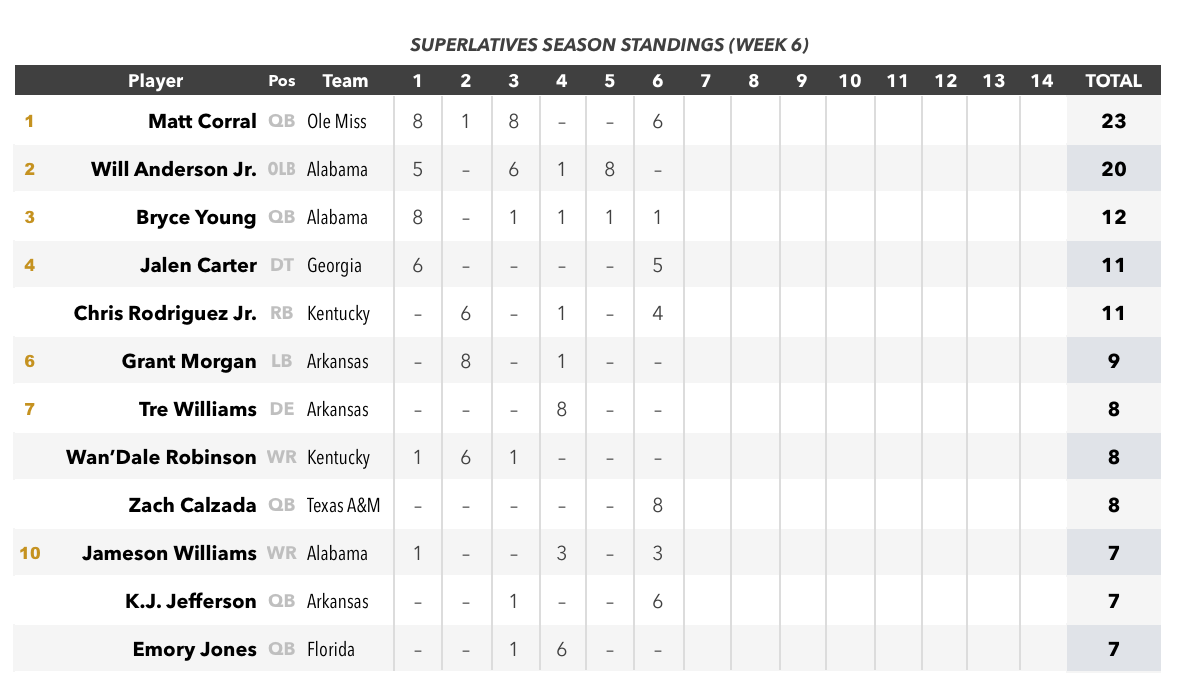 SEC Power Rankings
Updating the food chain.
1. Georgia (6-0). Bulldogs are officially the closest thing in this chaotic college football season to a sure thing, which is frankly not a reassuring title. (Last week: 2 ⬆)
2. Alabama (5-1). Bama has recovered from a regular-season loss to win the national championship 4 times in Saban's tenure (in 2011, '12, '15 and '17) and was also the No. 1 seed in the Playoff with a loss in 2014, so for anyone who needs a reminder not to count the Tide out of the national race, there it is. Obviously the path just got much, much narrower. (LW: 1 ⬇)
3. Kentucky (6-0). Next up for the Wildcats: A trip to Georgia, which good luck with that. (Although in this season … ) Beyond the Dawgs, though, an 11-win regular season and UK's first major bowl game since 1950 is a real possibility. (LW: 5 ⬆)
4. Ole Miss (4-1). With this defense, the Rebels may be more entertaining than actually good. Still, with this offense and arguably their 2 toughest games behind them, the path to a New Year's 6 bowl remains wide open. (LW: 4 ⬌)
5. Arkansas (4-2). After wins over the Longhorns and Aggies the rest of the season is mostly gravy, anyway, but that doesn't mean losses like the one in Oxford hurt any less. (LW: 3 ⬇)
6. Texas A&M (4-2). Long-term, beating Bama may or may not tell us anything about the rest of either team's season. In the meantime, Jimbo Fisher might wake up tomorrow morning with a controlling stake in Chevron. (LW: 10 ⬆)
7. Florida (4-2). Gators shut out Vanderbilt, 42-0, and somehow looked listless enough in the process that the usually loquacious Dan Mullen was left with no words that he could say out loud on national TV. Fun times for everyone. (LW: 6 ⬇)
8. Auburn (4-2). Nobody's happy with a loss to Georgia, I get it, but after enduring 3 straight nail-biters the previous 3 weeks, on some level, it must have been a relief to begin emotionally divesting at halftime. (LW: 7 ⬇)
9. Tennessee (4-2). We're still a couple of weeks away from knowing just how seriously to take Tennessee's burgeoning offense, but then again I just typed the words "Tennessee's burgeoning offense," so the arrow is clearly pointing up. (LW: 11 ⬆)
10. Mississippi State (3-2). Bulldogs took the week off ahead of this weekend's visit from Alabama, which 48 hours ago might have looked like an opportunity for an ambush. Now it looks more like an opportune time to seek shelter. (LW: 9 ⬇)
11. LSU (3-3). Here's to Cade York, the best kicker in college football and, with Derek Stingley Jr. and Kayshon Boutte both on the shelf, the one undeniable positive LSU has left. (LW: 8 ⬇)
12. South Carolina (3-3). Few players in the SEC or anywhere else are putting in better work below the national radar than Carolina DE Kingsley Enagbare, who is living up to his all-conference reputation by terrorizing opposing QBs on a weekly basis. It doesn't always show up in the conventional stats, but per PFF Enagbare is tied for the SEC lead with 27 QB pressures on the season and owns the nation's best overall pass-rushing grade (93.4) through the first six weeks. (LW: 12 ⬌)
13. Missouri (3-3). Mizzou was never in danger of losing to North Texas, but ultimately gave up as many points (35) as the Mean Green scored in their previous 3 games vs. FBS opponents combined. (LW: 13 ⬌)
14. Vanderbilt (2-4). Commodores were 38.5-point underdogs at Florida, where at various points Saturday they missed 3 field goals, threw an INT in Gators territory, and got stuffed on 4 straight plays inside the UF 2-yard line. Final score: 42-0. Lesson: Don't gamble on college football. (LW: 14 ⬇)
Moment of Zen of the week
Seth Small's family watching him nail the game winning field goal vs Alabama. One of my favorite shots of the night. @12thManP pic.twitter.com/88cUgkcnyi

— Cameron Croom (@cam_croom) October 11, 2021
As, uh, "called' on Alabama radio: pic.twitter.com/zZP4Unlfsn

— Timothy Burke (@bubbaprog) October 10, 2021