SEC
Monday Down South: Final takes on LSU's hangover, Alabama's QB race and the SEC's most pressing 2020 storylines
At long last: SEC football kicks off this weekend, just 3 weeks later than originally scheduled and not a moment too soon. As a final walk-through, Monday Down South takes one last tour of 8 recurring offseason narratives that will shape the 2020 campaign.
1. LSU hits reset
LSU was indisputably the best team in college football in 2019, especially at the end. But limiting the title to a single season doesn't quite do its out-of-the-blue title run justice. With their championship romp over Clemson, LSU rested its case as arguably the best team ever.
The résumé speaks for itself. Not only were the 2019 Tigers the first SEC outfit to finish 15-0; in the process, they humbled 5 top-10 opponents by an average margin of 20 points per game, including a season-defining win at Alabama and postseason blowouts of Georgia, Oklahoma and Clemson to seal the deal. Not only did they lead the nation in scoring, they racked up more points (726) than any team in D-I history. Not only did face-of-the-program quarterback Joe Burrow win the Heisman, he claimed it by the largest margin of victory ever, while also setting the single-season FBS marks for touchdown passes (60) and pass efficiency and cementing his status as the no-brainer No. 1 pick in the NFL Draft. They trailed after halftime just twice and never in the fourth quarter. They became the first No. 1 seed of the Playoff era to win it all. They maxed out the potential that had been too often wasted over the years on stale offensive game plans and redefined what LSU football looks like in the process.
The 2020 Tigers? To be determined, to put it mildly: Between graduation, early departures for the draft, and key holdovers opting out due to the coronavirus, the lineup is as blank a slate as any in America. The "defending national champions" will be essentially an entirely different team.
In addition to Burrow — probably the most valuable player in LSU history — the mass offseason exodus from Baton Rouge included 9 early entrants for the draft, among them last year's leading rusher (Clyde Edwards-Helaire), receiver (Justin Jefferson), tackler (Jacob Phillips), and pass rusher (K'Lavon Chaisson), as well as a pair of second-rounders in the secondary (Kristian Fulton, Grant Delpit) and 4 of the 5 starters along the offensive line. Fourteen players were drafted overall, tying the record for a single school in the 7-round era. Crucially, the list of departures also included two prominent assistants, co-offensive coordinator Joe Brady (the new OC for the Carolina Panthers) and defense coordinator Dave Aranda (the new head coach at Baylor), who oversaw their respective units. Virtually everyone who had the opportunity to leave for greener pastures last winter took it.
The uncertainty surrounding the run-up to the season sparked a second round of attrition. So far, the Tigers have lost 4 more starters to Covid concerns, the most of any SEC contender, including the nation's best wideout (Ja'Marr Chase), an aspiring first-rounder on the defensive line (Tyler Shelvin), and a proven, versatile veteran in the secondary (Kary Vincent). Put it all together, and the depth chart from January's national championship win over Clemson starts to look like a crime scene.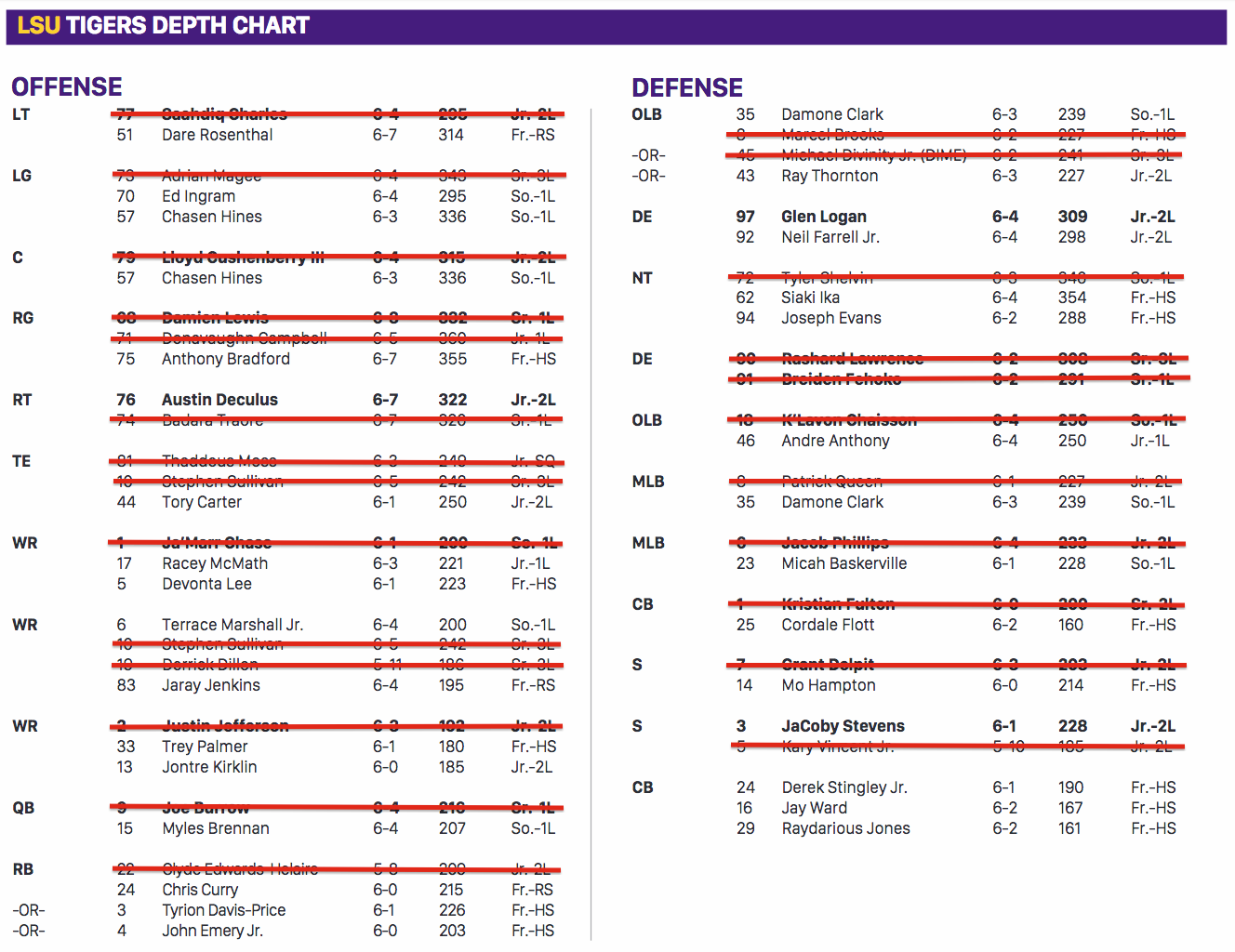 The silver lining, of course, is that — this being LSU — an unusually green lineup does not necessarily mean a less talented one. Of the 5 returning starters, 3 of them (Derek Stingley Jr., Terrace Marshall Jr., and JaCoby Stevens) are potential All-Americans, a distinction Stingley has already earned as a true freshman. Virtually all of the new faces are, naturally, former blue-chip recruits with instant breakout potential. The heir apparent behind center, redshirt junior Myles Brennan, spent the past 2 years as Burrow's understudy and should benefit from the continuity of having the less celebrated but far more experienced half of last year's co-coordinator setup, Steve Ensminger, in his ear. New defensive coordinator Bo Pelini has a national championship ring from his first go-round as LSU's DC under Les Miles and an intact reputation as one of the best defensive minds in the college game. The floor for Ed Orgeron's program in an obvious rebuilding year is still higher than most programs' ceiling.
In the end, though, this is the rare post-championship season that's less about defending the crown than setting the stage for the next one. By 2021 the current wave of freshmen and sophomores should have rounded the corner on the way to becoming the next wave of ascending, draft-eligible talent. In the meantime, the usual pressure to win 'em all should yield to just having fun out there. As long as the championship buzz lingers, whatever comes next is gravy.
2. The next great SEC QB: TBD
Joe Burrow? Gone. Tua? Gone. Jake Fromm? Gone. Lynn Bowden Jr.? Gone. So, uh… who's left?
It's safe to assume someone is going to emerge from the pack to add his name to the list of the league's revered signal-callers. But just who that someone is going to turn out to be is anyone's guess. None of the most obvious candidates is quite obvious enough to qualify as a sure thing. The most experienced, Texas A&M's Kellen Mond, has 34 career starts but has yet to offer more than brief glimpses of his all-conference potential. The most touted as a recruit, Auburn's Bo Nix, wasted no time entrenching himself as the starter last fall but rarely allowed Tigers fans to forget he was still just a freshman. The most imposing figure in the pocket, Arkansas' 6-6, 235-pound Feleipe Franks, remains a wild card after a severe knee injury ended his up-and-down tenure as the starter at Florida. The most consistent, Florida's Kyle Trask, made the most of his opportunity following Franks' injury last September, but as a 5th-year senior is likely maxed out athletically. The most explosive athlete, Ole Miss' John Rhys Plumlee, was too one-dimensional as a true freshman and faces an uphill battle to convince a new coaching staff to build the offense around his legs rather than fellow sophomore Matt Corral's arm.
Barring a dramatic leap forward by one of the incumbents, the odds are good that the next big thing behind center will turn out to be someone with whom SEC fans are only just getting acquainted. The new starter at Alabama will be blessed by an elite surrounding cast and (presumably) the same high-octane, passer-friendly mindset forged by Tagovailoa's success over the past 2 years. (See below.) Ditto Myles Brennan at LSU. Georgia, despite the late-breaking departure of prized grad transfer Jamie Newman, still has its pick between another prized transfer, ex-USC starter JT Daniels, and homegrown sophomore D'Wan Mathis. The new starter at Mississippi State, Stanford transfer KJ Costello, is destined to put up gaudy numbers in Mike Leach's high-volume passing scheme. (Although divining quality from quantity in the box scores is a different question; again, see below.) Kentucky will decide between senior Terry Wilson, who went 10-3 as a starter in 2018 before missing nearly all of '19 to injury, and Auburn transfer Joey Gatewood, a former top-100 recruit who is somehow still waiting on official clearance from the NCAA. The heir apparent at Missouri, Shawn Robinson, is another former blue-chipper who sat out 2019 following a transfer from TCU.
So many candidates to break through, such little evidence to go on. We'll start to have a clearer picture of who's separating from the pack soon enough, at which point we can all pretend in retrospect that we saw it coming all along. For a few more weeks, anyway, the hierarchy is anyone's guess.
3. Bama breaks in a new QB
There was a time not that long ago when it was possible to safely handicap a preseason quarterback race at Alabama with one question: Who has put in the time? Open competitions in 2009 (Greg McElroy), 2011 (AJ McCarron), 2014 (Blake Sims) and 2015 (Jacob Coker) were all decided in favor of the veteran over younger, more highly-touted challengers, with good reason: The Tide claimed national championships in 3 of those 4 seasons on the strength of an elite defense and a Heisman-caliber workhorse in the backfield, limiting the QB's role to one that prioritized curbing mistakes over making plays.
Clearly, those days are long gone: Nick Saban's decision to promote Jalen Hurts to the starting role as a true freshman, and later to replace him with Tua Tagovailoa, signaled his willingness to adapt to the spread era and yielded some of the most prolific offenses in SEC history. But the looming decision between redshirt junior Mac Jones and 5-star freshman Bryce Young does stand to tell us a lot about Bama's post-Tua priorities.
In fairness to Jones, his mediocre recruiting grades and relatively unimposing frame do not automatically relegate him to "game manager" status. As Tagovailoa's understudy last year, he averaged a robust 10.7 yards per attempt with 14 TDs, 3 INTs, and 25 plays of 20+ yards. He looked like a natural successor with the reins off against Auburn (335 yards, 4 TDs, 162.4 efficiency) and Michigan (327 yards, 3 TDs, 213.5 efficiency) to close the season.
JEUDY. JUST. LIKE. THAT. ⚡️ pic.twitter.com/gcRxIqLIzn

— ESPN (@espn) January 1, 2020
Still, athletically he appears to fall on the McElroy/Coker end of the spectrum – reliable, possibly even draftable, but with a firm ceiling against the likes of Georgia, LSU and Clemson. If he's the guy, other circumstances also point toward a reversion to the mean. Najee Harris, a first-year starter in 2019, is now a proven bell cow on the order of a Trent Richardson or Derrick Henry; his production ramped up significantly over the second half of last season in response to Tagovailoa's multiple injuries. An older, healthier defense should be much closer to the typical Saban standard than it was in 2019. And no opposing offense on the schedule is a likely threat to push the Tide into a shootout.
Of course, all of that holds true if Saban opts to roll with a true freshman behind center, as well. Depending on how far along Young is along the learning curve, maybe even more so. If he is who the hype suggests he is, though – specifically, the heir to Russell Wilson and Kyler Murray in the lineage of great sub-6-foot quarterbacks – the upside could be too exciting to ignore. Put that potential on the field with DeVonta Smith and Jaylen Waddle and you have the basis for an attack that's every bit as explosive as Tide fans have come to expect.
The upshot is that, with the surrounding talent on both sides of the ball, there is plenty of time to settle the question: As usual, Bama figures to be in a position to win a championship with either QB, or both, even if it feels compelled to play it closer to the vest. Figuring out which one of them offers the best opportunity to make good on that opportunity, on the other hand, could be an ongoing issue.
4. Georgia's offensive overhaul
On its own, the Bulldogs' 37-10 flop against LSU in last December's SEC Championship Game was a painful afternoon against a plainly superior opponent. In the context of their season-long struggles on offense, it was more like an existential crisis.
Although the debacle in Atlanta was a low point, by then the offense's descent into mediocrity had been plain enough for months. The offense was a no-show in the only previous loss, a 20-17 stunner at the hands of South Carolina, and continued to struggle throughout a string of low-scoring, defensively-driven wins over the second half of the season. In 5 regular-season games vs. ranked opponents, Georgia averaged just 19.4 points, topping out with 24 in what seemed at the time like a turning-point victory over Florida in early November. Instead, the subsequent month played out as a weekly reminder of just how far behind the curve the offense really was compared to the high-flying, fully realized spread passing attacks in Baton Rouge and Tuscaloosa. The blowout loss vs. LSU marked the 5th consecutive game that hyper-efficient QB Jake Fromm connected on fewer than half of his passes, an unthinkable stretch for a veteran with a career completion percentage well north of 60 percent. Unlike in the other 4, against an elite offense, the defense was in no position to bail him out.
It didn't help, of course, that at the same time Fromm's stock was deflating his former understudy, Justin Fields, was putting the finishing touches on a near-flawless debut at Ohio State — another frustrating reminder of what could have been. Fields finished 3rd in Heisman voting en route to a date in the College Football Playoff, while Fromm came in 30 points below his 2018 mark in pass efficiency.
Fromm's decision to pass on his senior season in favor of the draft effectively guaranteed the 2020 attack would be unrecognizable, more or less by design. The exodus began at the top, with much-maligned offensive coordinator James Coley, and covered virtually the entire starting lineup: Only one returning player, junior OL Trey Hill, started a majority of the team's 14 games. The new play-caller, former Southern Miss head coach Todd Monken, returned to the college ranks after several years in the NFL with a mission to revive the wildly successful spread passing attacks he oversaw at USM and as offensive coordinator at Oklahoma State in the Cowboys' heyday.
Top to bottom, the talent level he inherited at Georgia might be closer to an NFL depth chart than it is to Monken's previous college stops. Green as they may be, there's ascending 5-star talent at every position, including quarterback (JT Daniels); between Daniels, RB Zamir White, WRs George Pickens and Demetris Robertson, TE Darnell Washington, and OL Jamaree Salyer and Broderick Jones, the blue-chip ratio is off the charts. D'Wan Mathis' emergence as a viable option behind center has significantly softened the blow of Jamie Newman's decision to opt out of the season and the uncertainty over Daniels' surgically repaired knee heading into the season opener at Arkansas.
The faces and philosophies may have changed; the expectations – Playoff or bust — certainly have not. But there's every reason to believe that this group will prove to be a quick upgrade over the one that languished last year after midseason. Opposite an absurdly loaded defense, that might be enough to finally douse the long-simmering losing streak vs. Alabama and with it the notion that Kirby Smart's teams are prone to freezing on the biggest stage. If that rep persists, it's not going to be due to any kind of gap in personnel.
5. Mississippi State embraces the Air Raid
Even for Mississippi State fans – or perhaps especially for Mississippi State fans – it's hard to square the notion of the Bulldogs as an unabashed spread passing team with any previous version of a program that has always sold itself as the scrappy neighbor spoiling for a fight. But then, that's kind of the point: After 2 stagnant, vertically challenged seasons under Joe Moorhead, not only has MSU failed to capitalize on the progress of Moorhead's predecessor, Dan Mullen, it's been boring, to boot. And whatever else there is to say about Mike Leach, neither he nor his teams will ever be accused of being boring.
Once the Bulldogs committed to putting the ball in the air 50 times per game they immediately set out to assemble the pieces to make it work ASAP. Stanford transfer KJ Costello, a former top-50 recruit, is the most touted quarterback Leach has worked with as a head coach and a bona fide NFL prospect; assuming he remains upright, go ahead and mark him down as the SEC leader in passing yards and touchdowns. The receiving corps, largely devoid of playmakers the past 2 years, added a grad-transfer from Alabama (Tyrell Shavers) and a pair of JUCO options (Caleb Ducking and Malik Heath) who should factor prominently in a rotation that typically goes about 8-deep in Leach's exhausting system. And RB Kylin Hill, despite his reputation as an old-school north-south runner, is easily the most dynamic weapon Leach has ever had coming out of the backfield. In lieu of a conventional ground game, Leach's primary back(s) at Washington State typically accounted for about 80 receptions per year; don't be surprised if Hill cracks triple digits even in a shortened season.
A radical shift in style doesn't guarantee anything in terms of substance, especially for an outfit with a steep climb to finishing .500. If nothing else, though, at least it points the way toward an identity the Bulldogs have lacked. As long as it's interesting, it counts as a step in the right direction.
6. A&M aims higher
From a certain angle, Texas A&M's 8-5 finish in 2019 wasn't quite the letdown the record suggests. Consider the context: All 5 losses came at the hands of opponents ranked in the top 10 at kickoff, 3 of which (Clemson, Alabama and LSU) came in ranked No. 1 – the first time in the history of the AP poll a team has faced 3 top-ranked opponents in the same season. Meanwhile, the Aggies beat every non-heavy hitter on the schedule handily, capped by a win over Oklahoma State in the bowl game. After a hard-fought, late-season loss at Georgia, Jimbo Fisher suggested his team only lacked "that last 2 percent" to get over the hump against the SEC elite, which seemed in the moment like a plausible estimate.
But A&M hasn't poured hundreds of millions of dollars into facilities, salaries and recruiting just to come close, and in the end, it was debatable whether his team was ever that close in the first place: A week after his "last 2 percent" remark, an all-out, 50-3 collapse at LSU in the regular-season finale made abundantly clear just how large a gap that number represents. (Whatever value the 4-quarter loss at Georgia had also took a severe the following week when UGA was summarily trashed in the SEC title game.) In that context, they never seemed any nearer to a breakthrough in Fisher's 2nd season than they did in the string of 7- and 8-win campaigns under Kevin Sumllin.
There's no room for rationalization in Year 3. Kellen Mond is an entrenched senior in his 3rd year in Fisher's system. He'll be surrounded by familiar weapons (RBs Isaiah Spiller and TE Jalen Wydermyer both established themselves as rising stars as true freshmen) and 4 of 5 starters on last year's o-line. The defense returns virtually intact, and both sides of the ball are stocked with the fruits of consecutive top-10 recruiting classes on Fisher's watch. The vast majority of the 2-deep should consist of former 4-star signees.
The post-Covid reset didn't do the Aggies any favors, adding Florida and Tennessee to what had been arguably the league's most favorable schedule. (Originally, they were set to play just 1 opponent coming off a winning record in 2019 — Auburn — in the first 10 games before closing with Alabama and LSU.) At this point, though, as much as the program has invested in building a serious contender, another low-stakes November will go down as another very expensive disappointment.
7. Muschamp's last stand?
It seemed 2019 set up as a make-or-break kind of season for Will Muschamp's tenure at South Carolina, and if you'd asked them last August, many Gamecocks fans would have bet the house on a losing record sealing his fate. But 4 wins and 8 losses later, here we are: Another year, another offseason of speculation as Muschamp gears up for yet another round on the hot seat.
Dismal as it was, the record didn't tell the whole story. The schedule lived up to its billing as one of the most brutal in the nation. The offense was snake-bitten from the start, losing veteran QB Jake Bentley to a season-ending injury in the season opener, a loss to North Carolina; his understudy, true freshman Ryan Hilinski, never found his comfort zone, averaging an SEC-worst 5.8 yards per attempt for the season. And still, in the midst of the slide the Gamecocks pulled off the upset of the year at Georgia, buying Muschamp a much-needed supply of goodwill as they went on to lose 5 of their last 6. Factor in a prohibitive buyout clause in his contract, and it came to just enough to justify a reprieve.
Amid the turmoil of the pandemic, it's difficult to gauge what it will take to earn another. Muschamp, who has more or less lived on the hot seat for the better part of the past decade, agreed in December to reduce his buyout to free up more money for his assistants – most notably incoming offensive coordinator Mike Bobo, fresh from a short-lived stint as Colorado State's head coach. Another CSU expat, grad-transfer QB Colin Hill, supplanted Hilinski in the preseason and will start the season-opener vs. Tennessee — 1 of only 3 games the Gamecocks are favored to win according to FPI against another heavy-handed slate.
Under the circumstances, this may be another case where the wins and losses matter less in the final accounting than the overall competitiveness and sense of progress as the season wears on. Dates with Ole Miss, Missouri and Kentucky in the final month will give the Gamecocks a chance to salvage some sense of optimism as the decision on Muschamp's future comes due again. If not, diminishing returns after 5 years may prove too difficult to spin.
8. The COVID season
Before the first game has even kicked off, 2020 already qualifies as the strangest football season in living memory, and only promises to get stranger by the week. In this surreal year, which has often felt like many different years unfolding on top of one another all at once even as our collective sense of time slows to a crawl, the fact the season is moving forward at all is an unprecedented experiment in logistics, medical science and hope. Seeing it all the way through to the end without significant disruption would be a borderline miracle.
The long-term effects of the pandemic on roster management are impossible to predict. Across the country, more than a dozen games have already been canceled or postponed due to outbreaks or exposures that restrict players to quarantine. Teams that have managed to take the field to date have inevitably done so shorthanded. Practice routines have been upended. The lines separating football from the rest of campus and athletes from other students are more explicit than ever, with potentially far-reaching consequences.
In the name of imposing some semblance of consistency, the SEC approved a roster minimum of 53 available scholarship players per team in order to stage a game, with more specific requirements for each position group. How often those limits are invoked could emerge as the season's central subplot.
The simple fact is that no one knows what's going to happen – not Greg Sankey, not Nick Saban, not Paul Finebaum, not anyone at ESPN or CBS, not Dr. Anthony Fauci himself. Budgets are severely strained. Local businesses that rely on big football weekends are on the brink. The major in-state rivalries in Florida, Georgia, South Carolina and Kentucky have already been sacrificed to the virus. At this point, the best coaches and players can do is mask up, follow protocols and cross their fingers that their next opponents are doing the same. Maybe, hopefully, that gets us through December to the SEC Championship Game as scheduled – or rescheduled, as it were. But no matter what, every Saturday in the meantime is going to be another step into the unknown.