SEC
Monday Down South: Jake Fromm proves again that he has nothing to prove
The haters. The doubters. The skeptics. All the Sunday morning quarterbacks and keyboard critics out there, somewhere, united in their certainty that Jake Fromm doesn't have what it takes to take Georgia all the way, or something like that. All of them humbled by Fromm's steely triumph over the Bulldogs' biggest rival.
Does that sound about right? There was no shortage of crow to go around after Georgia's reaffirming, 24-17 win over Florida, a victory that kept the Dogs securely on track for a potential playoff bid and silenced the alleged doubters. Consider the critics quelled, whoever they are. Kirby Smart, jubilant in the wake of his team's biggest win of the season, commended Georgia fans for their support before adding, less appreciatively, "Even if they didn't think that Jake could throw the ball."
Jake Fromm and Kirby Smart have a special relationship. pic.twitter.com/HeMeXzH7eO

— SEConCBS (@SEConCBS) November 2, 2019
A bit of a heavy-handed sentiment when the truth is closer to the opposite: If anything, the overwhelming consensus among Georgia fans before Saturday was that coaches didn't trust their veteran, NFL-bound quarterback enough. They weren't the only ones. The low-level buzz that plagued the offense over the past few weeks — murmurs which briefly escalated into outright boos in the Bulldogs' waterlogged, Week 8 win over Kentucky — had almost nothing to do with doubts about Fromm's ability and everything to do with Smart's and offensive coordinator James Coley's reluctance to exploit it to its full potential. The "doubters" weren't watching Fromm and wondering about his arm. They were wondering why he wasn't letting it rip.
Within the confines of Georgia's offense, Saturday's win might be as close as they're going to come to getting their wish. Fromm attempted 30 passes, a career high in a winning effort, connecting on 20 of them for 279 yards with 2 touchdowns, zero sacks, and zero turnovers. Just like last year, Fromm saved his best for third down (aka Third-and-Grantham), finishing 10-of-13 for 120 yards with nine successful conversions, seven of them extending eventual scoring drives. His 52-yard touchdown pass to WR Lawrence Cager to put Georgia up 2 scores in the 4th quarter was his longest of the season vs. an SEC defense; his flat-footed, game-clinching dagger to TE Eli Wolf with just under 3 minutes to play deserves to go down as one of his best throws in a UGA uniform. With a defender at his feet, Fromm still mustered the raw arm talent to deliver an on-target strike that, if underthrown even a little, could have spelled disaster:
Georgia needed a big play. Jake Fromm delivered it. pic.twitter.com/x6Am1o8OZ3

— CBS Sports (@CBSSports) November 2, 2019
It was that kind of day. Coming off 2 of his worst games, Fromm responded in the Bulldogs' most crucial regular-season test with undeniably one of his best, turning in the weekend's highest-graded performance vs. a Power 5 opponent, according to ESPN's QBR metric. All 8 Georgia possessions ended in Florida territory, chewing up nearly 5 minutes off the clock on average — an ideal afternoon, within the confines of Georgia's offense.
It remains all too easy, of course, to look at the mind-bending offensive evolutions at Alabama and LSU (not to mention Ohio State, where Fromm's former understudy has accounted for 3 times as many touchdowns as Fromm through 8 games) and ask just how much the Bulldogs' methodical, pro-style approach is leaving on the table. Talent is certainly no issue, behind center or anywhere else.
The contrast was the elephant in the stadium in the win over Notre Dame, where Fromm's only downfield attempts of the game yielded a crucial touchdown in the 4th quarter, and the loss to South Carolina, where only 1 of his astounding 51 attempts yielded a gain of 20 yards or more. Of the 9 SEC quarterbacks who have started at least 6 games this season, he ranks 7th in 20-yard completions. And so forth. Another hyper-efficient, zero-turnover outing yielded just 24 points and a tight game in the 4th quarter despite a largely dominant effort by the defense.
For a team that has blown late leads the past 2 years in each of its championship losses to Alabama, that scene feels a little too familiar. The big question looming over Georgia's offense has never really been about Fromm, a 1st-round talent who has repeatedly proven himself over the past 3 years on exactly the type of stage he owned again on Saturday.
It's about whether the playbook and play-calling are putting him in the best position to get the most out of the blue-chip cast that surrounds him. As steady as Fromm was in the Cocktail Party, was it necessary for it to come down to a high-pressure, high-degree-of-difficulty throw to put the game away? And where should the fingers point if it doesn't go the Dogs' way when the stakes get even higher?
Playoff Realpolitik
The first Playoff Committee rankings of the season will be released Tuesday night, and as I wrote last week the SEC is in prime position to land 2 teams in the Final Four when all is said and done. The only question is which 2.
That depends on the scenario. The most direct route — the winner of Alabama-LSU running the table to finish 13-0 — is obvious enough.
Other outcomes are harder to predict.
Assuming the Bama-LSU loser goes on to finish 11-1, how will it stack up in the committee's mind against a 12-1 champion from the Big 12 or Pac-12? What if Georgia wins the SEC championship, thereby punching its ticket but leaving the committee to mull the fate of the Bama-LSU winner as a 12-1 runner-up? What if (bear with me here) Georgia loses at Auburn on Nov. 16, then goes on to win the SEC crown anyway? In that case, the league would be stuck with an 11-2 champ, a 12-1 runner-up, and no 100-percent guaranteed slot for either.
Because you're reading this on an SEC-focused site, it's probably hard to fathom the idea of the SEC champion somehow not making the cut, and even harder to grok the conference being left out in the cold altogether. It is for me, too.
By my estimation, Florida's elimination means there are only 11 plausible Playoff contenders remaining with 5 weeks to go (including championship week) in the regular season; those 11 are Alabama (8-0), Baylor (8-0), Clemson (9-0), Georgia (7-1), LSU (8-0), Minnesota (8-0), Ohio State (8-0), Oklahoma (7-1), Oregon (8-1), Penn State (8-0), and Utah (8-1). There will be at least 5 head-to-head matches between those teams over the next few weeks, with a good chance of more on Dec. 7. Only Clemson can still run the table without running into another contender along the way.
Taking every plausible result into account, here's my best guess (emphasis on guess) at what the pecking order looks like, with the teams in Tiers 1 and 2 controlling their destiny and everyone below needing help: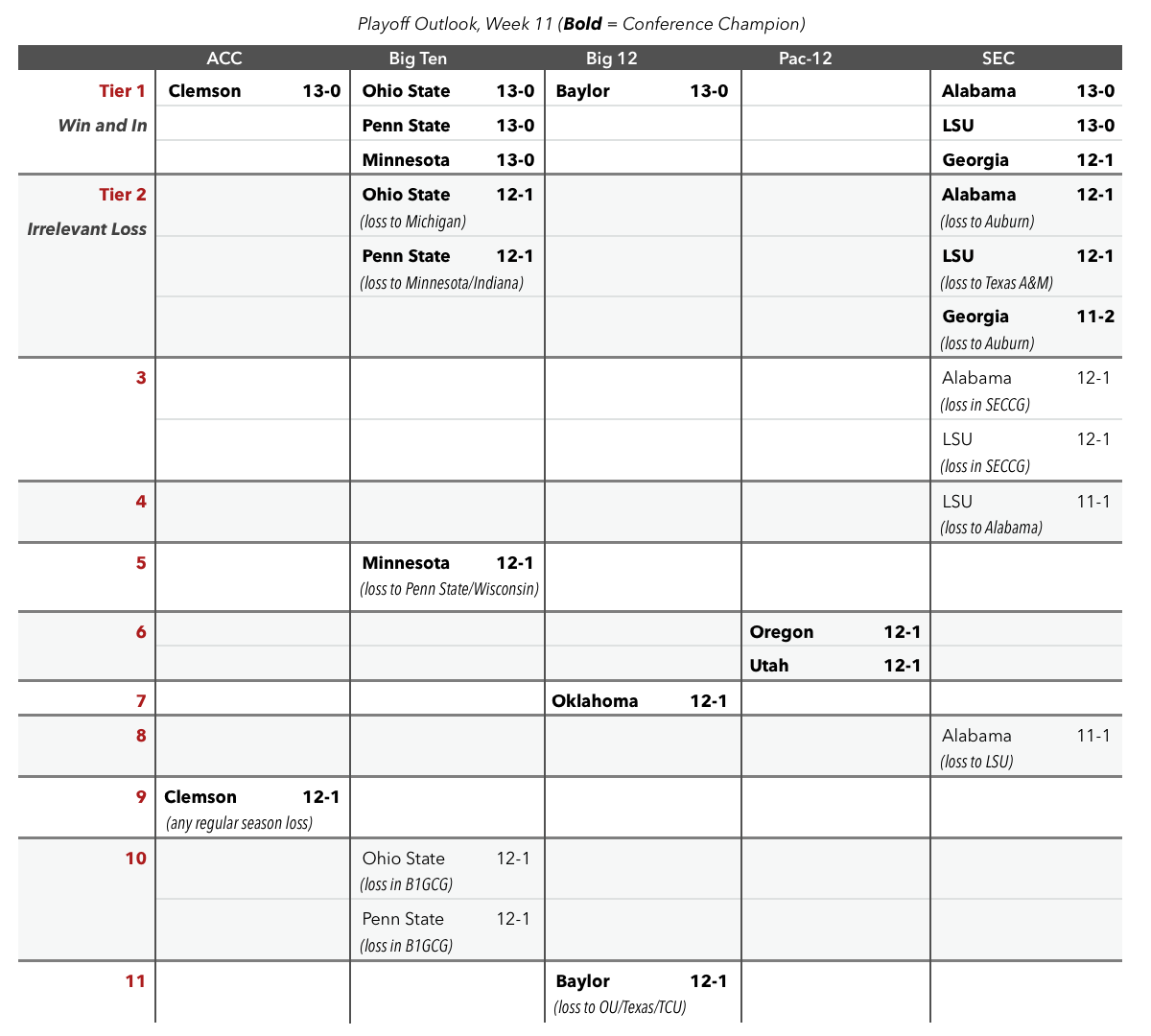 There are some debatable assumptions there, obviously:
1) The committee will take a 2-loss SEC champion (Georgia) over a 1-loss champion from the Big 12 or Pac-12. If it comes down to it, I'd bet the committee looks at a schedule featuring wins over Notre Dame, Florida and the SEC West champ as more worthy than surviving the mediocrity of the Big 12 or Pac-12, despite the 2nd loss. None of the contenders in those leagues (Baylor/Oklahoma, Oregon/Utah) can boast anything remotely resembling a quality nonconference win.
I could be wrong about that, though. The committee has never given the nod to a 2-loss team (Auburn in 2017 would have been the 1st had it won the SEC title), and Georgia's overtime flop against South Carolina is worse than any of the losses by the teams they'd be pitted against in the selection room. Either way, this is the Maximum Rage Scenario.
Read More
Online sports betting has come or is coming to a number of SEC states down south. Residents of states where legalized sports betting exists can bet on things like the Heisman race, SEC football games each week and more... all right from their mobile device.
2) The committee will take a 12-1 SEC runner-up (Alabama/LSU) over a 1-loss champion from the Big 12 or Pac-12. Again, in this scenario the Bama/LSU winner will boast an A-plus win, arguably the best of any team in the running, and a not-at-all-damning loss at the hands of another Playoff-caliber opponent (Georgia). Neither the Big 12 nor Pac-12 champ will be able to match either of those claims.
And again, it's very possible the committee will see it differently. Playoff guidelines specifically mention conference championships as a factor for differentiating between similar teams, and the recency of a loss in a championship game could always play a factor, as well — especially if it's a lopsided one.
3) LSU is in better position to survive a loss to Alabama this weekend than vice versa. Unfair? Maybe. But looking at their respective schedules, undeniably true.
The Tigers already boast a couple of quality wins over Florida and Auburn and a solid nonconference win at Texas. (Granted, at 5-3 the Longhorns are nowhere their No. 9 ranking on Sept. 7 — they're not even ranked in the latest AP or Coaches' polls — although they are still technically alive to play in the Big 12 title game. Frankly, at the end of the day a road win at Texas is a road win at Texas.) A competitive loss at Bama isn't going to make or break that résumé.
Alabama, on the other hand, hasn't played a currently ranked team and will only have one more chance beyond LSU, in the Iron Bowl; that's going to make arguing their case against a 12-1 Oklahoma, Oregon, Utah, or even Minnesota — which will have to beat some combination of Penn State, Wisconsin, and/or Ohio State to win the Big Ten — much less convincing. LSU needs to play well enough this weekend that it can still claim to be one of the 4 best teams even if the final score doesn't go the Tigers' way. Alabama needs to win.
One assumption that isn't reflected on the chart, but which is still worth noting in any discussion about the SEC's chances of getting a second team in:
4) Baylor is going to lose. I mean, probably. At 8-0, the Bears have just a 2 percent chance of winning out, according to FPI, with imminently losable games on deck against TCU, Oklahoma, and Texas, plus a potential rematch with OU in the Big 12 Championship Game regardless of how the first meeting goes. They haven't faced a ranked opponent; 3 of their 5 conference wins have come by 3 points or less; they fall well outside the Top 10 per FPI (21st), SP+ (15th), and Jeff Sagarin (16th). Nothing about this team says "13-0 conference champion" in a Power 5 conference.
Then again, here they are. As long as Baylor remains unbeaten (and barring an unfathomable collapse by Clemson), the SEC's path to getting a second team in the field is essentially blocked. That zero in the L column is the last domino that needs to fall.
Notebook
Around the conference.
Georgia 24, Florida 17
The counterpoint to Fromm's excellence was a dominant effort by Georgia's front 7 on defense, one reminiscent of the 2017 team that made stopping the run and owning the line of scrimmage in general a core part of its identity. Florida's ground game was virtually nonexistent, managing just 51 yards on 3.2 per carry (not including sacks) with a long gain of 9. The Gators repeatedly found themselves stuffed in short-yardage situations — a major factor in their failure to convert a single 3rd down until well into the 4th quarter.
Tyler Clark @TylerClark50 !!!
GREAT JOB!!! pic.twitter.com/Lzl6zWqDb8

— Hiro Katsuki (@KatsukiFB) November 2, 2019
Even more encouraging: The pass rush, which had been largely dormant since mid-September but looked very much alive once it became clear that Florida (a) could not run between the tackles with any kind of consistency, and (b) had little interest in trying. The Bulldogs got to Kyle Trask with just 4 rushers …
Great Pressure by Malik Herring @HerringMalik pic.twitter.com/xRIu1MN2wK

— Hiro Katsuki (@KatsukiFB) November 2, 2019
… and with 5 …
Azeez Ojulari @_Azeez_8 with a SACK!!!!! pic.twitter.com/uIqAsGymYl

— Hiro Katsuki (@KatsukiFB) November 2, 2019
… and with 6 …
SACK!!!!

Jordan Davis @jordanxdavis99
& Malik Herring @HerringMalik pic.twitter.com/9SPVHjw7b3

— Hiro Katsuki (@KatsukiFB) November 2, 2019
… setting a relentless tone that Florida didn't come close to solving until its final 2 possessions when Georgia turned down the heat in exchange for preventing a quick strike. The majority of the Gators' offensive output came on two late, epic touchdown marches that kept them in the game, but which also burned nearly 11 minutes off the clock.
Including sack yardage, Georgia leads the SEC against the run and ranks 4th nationally, a testament to both its line-of-scrimmage mentality and its depth. Although there's no single star, the combination of Azeez Ojulari, Malik Herring, Tyler Clark, Jermaine Johnson and Nolan Smith — all blue-chip recruits with an NFL future — among others, gives the Bulldogs the capacity to harass quarterbacks on just about any given play.
Mississippi State 54, Arkansas 24
Is 2 years too soon to pull the plug on a struggling head coach? I posed the question earlier this season, and Florida State answered it on Sunday with a resounding NO, officially firing coach Willie Taggart with a month to go in his sophomore campaign. FSU will pay Taggart a little over $18 million to buy out the remainder of his contract and begin the search for a proven winner willing to take over a square-one rebuilding job. Good luck.
The precedent is a bad omen for Chad Morris, whose tenure at Arkansas has foundered from the get-go. Saturday wasn't exactly a new low for an outfit that's lost nonconference dates to Colorado State, North Texas and San Jose State over the past 2 seasons, but a home date against reeling Mississippi State was clearly the best opportunity the Razorbacks will have this season to snap a 17-game SEC losing streak — an opportunity Morris emphasized when he all but guaranteed a victory earlier in the week.
Instead, the Bulldogs ran the Hogs right out of their own stadium, racking up 640 total yards (a school record vs. an SEC opponent) and hanging half-a-hundred on them for the 2nd year in a row in front of a half-full stadium on Homecoming.
Tommy Stevens with the explosive pass to go up two scores on @RazorbackFB in Fayetteville. Western Kentucky may be favored here next week@HailStateFB | #HailState pic.twitter.com/yyayngog8c

— Collin Wilson (@_Collin1) November 2, 2019
For the record, the Razorbacks opened as 2.5-point favorites over Western Kentucky on Saturday, realistically their last chance to ward off the stench of back-to-back 2-10 seasons with LSU and Missouri waiting to close out the year. Arkansas has seen its share of depressing football, but in 114 years it has never finished with as many as 10 losses, or as few as 2 wins, in consecutive seasons.
According to Sports Reference's Simple Rating System, a useful metric for comparing teams across different eras, the past 2 years aren't only the worst in Fayetteville since Arkansas joined the SEC; they're the worst in Fayetteville since the end of World War II:

Again, not the worst 2-year stretch — the worst 2 years, period. With no end in sight.
There's no recent precedent for an SEC head coach getting canned after just 2 seasons, for obvious reasons: Rebuilding jobs require, you know, rebuilding. The program Morris inherited from Bret Bielema certainly qualified for that distinction. But 21 games into Morris' tenure there has yet to be a single whisper of a hint of a step in the right direction. By the end of Bielema's 2nd season, the Razorbacks remained in last place in the SEC West but were surging toward the first of 3 consecutive bowl games. At the same stage under Morris they're somehow getting worse.
There's a lot to be said for patience. There's also a lot to be said for realizing the marriage isn't working and moving on before you've wasted another year stagnating in a doomed project.
Bringing Morris back to aim for a 4- or 5-win season in 2020 and calling that progress in Year 3 isn't going to satisfy anyone, probably including Morris himself. The number of people who still think that sounds like the most responsible course of action is getting smaller by the week.
Superlatives
The best of the week
1. Derrick Brown, DL, Auburn
As usual, Brown was the anchor of a stout effort against the run in a 20-14 win over Ole Miss, finishing with a team-high 7 tackles — 5 solo, 1 for loss — as the Tigers held Ole Miss to its worst output on the ground in terms of both yards (167) and yards per carry (4.0) since the season opener. He also made the play of the game in the 2nd quarter, when he ran onto the field late in place of the exiting "Big Kat" Bryant … and straight into the path of a suddenly doomed screen pass:
Derrick Brown…that's just insane. pic.twitter.com/VI5cE24zT8

— Jared Feinberg (@JrodDraftScout) November 3, 2019
That's a good idea that became a bad one real fast — 320-pound defensive tackles aren't supposed to move like that in the open field, or even be in the open field.
For the season, Auburn is 1 of 3 SEC defenses (along with Georgia and LSU) that have yet to allow 200 yards rushing in any game and leads the league in yards per carry allowed vs. Power 5 opponents.
2. Jake Fromm, QB, Georgia
It wasn't the game of his life, but for the 2nd year in a row Fromm's hyper-efficient afternoon against Florida kept the Bulldogs nationally relevant and reminded everyone why he's 30-6 as a starter. The AJ McCarron vibe is stronger than ever.
3. D'Andre Swift, RB, Georgia
Swift has yet to deliver the kind of big, breakout game that could put him on All-American teams, much less in the Heisman conversation, but week-in, week-out he's been the most reliable back in the SEC. Against Florida, he accounted for 110 scrimmage yards (86 rushing, 24 receiving) on a career-high 26 touches, none of them more impressive than the screen pass he broke for big yards in the 3rd quarter despite leaving his would-be blockers — and subsequently a would-be tackler — in the dust:
Excellent Play Call
D'Andre Swift @DAndreSwift for 25yds pic.twitter.com/DImP1ZZmga

— Hiro Katsuki (@KatsukiFB) November 2, 2019
Through 8 games Swift has hit the 100-yard mark in all but 1, a light outing against Murray State, and the 1,000-yard mark for the year. At that rate, he's on pace for the 5th-best yards-from-scrimmage season in UGA history, which would put him among some pretty decorated company.
4. Kylin Hill, RB, Mississippi State
Hill's emergence as an All-SEC-level workhorse has been one of the few bright spots of Mississippi State's downward-spiral of a season — arguably the only bright spot, in fact — so it was fitting that he was the star of their most lopsided win, racking up a career-high 234 yards on 11.1 per carry against a thoroughly outmanned Arkansas defense. He set the tone right out of the gate, breaking off the longest gain of his career on his first carry of the game …
Kylin Hill 62 yard run!! #Bulldogs pic.twitter.com/pGxqXXyl6q

— I'M SEEING GHOSTS (@FTBeard11) November 2, 2019
… to set up the first of his 3 short touchdowns runs. That effort was enough to keep Hill at the top of the SEC rushing charts by a healthy margin and move him within range of the MSU single-season rushing record. But the Bulldogs will likely have to play in a bowl game for him to have a chance.
5. Bryce Thompson, DB, Tennessee
Thompson tied a school record with 3 interceptions against UAB, all of them coming in the first half and all of them setting up short-field scoring opportunities for the Tennessee offense. In all, the picks turned into 13 points via 2 field goals and a touchdown, more than enough to put the Blazers to bed in an eventual 30-7 win in which UAB's offense didn't cross the UT 40-yard line until well into garbage time.
Honorable Mention: South Carolina WR Bryan Edwards, who had a school-record 14 catches for 139 yards and 1 TD in the Gamecocks' 24-7 win over Vanderbilt. … South Carolina LB T.J. Brunson, who had 6 tackles (1 for loss) and an interception to lead the Carolina defense. … Georgia WR Lawrence Cager, who hauled in 7 receptions for 132 yards and the game-clinching TD against Florida. … Georgia LB Azeez Ojulari, who had a pair of TFLs against the Gators, including a sack. … Georgia kicker Rodrigo Blankenship, who was a combined 6-for-6 on field goals and PATs and sent 5 of his 6 kickoffs for touchbacks. … Texas A&M RB Isaiah Spiller, who racked 217 yards and 3 TDs rushing in the Aggies' blowout win over UT-San Antonio. … Auburn QB Bo Nix, who had a solid bounce-back effort against Ole Miss despite the Tigers' struggles in the red zone. … And Mississippi State DB Marcus Murphy, who made the most of his first career start with a team-high 8 tackles against Arkansas — 8 more than he had in MSU's first 8 games — as well as a pick-6 to effectively ice the win just before halftime.