SEC
Monday Down South: Playoff chaos arrives on schedule, and the SEC is poised to exploit it
Every year, there's a point around the middle of the regular season when a hazy Playoff picture begins to emerge from the ether and the eventual field seems like a foregone conclusion. And every year, as sure as the weather turns and the days get shorter, there's a pivotal weekend that blows a new path through the chalk.
Saturday was one of those days.
By itself, Kansas State's 48-41 stunner over Oklahoma (a more decisive win than the score indicates) was the season's first real game-changer: The Sooners aren't the first Playoff front-runner to lose, or even to be ambushed by an unranked team, but they are the first to be demoted from the list of teams that clearly control their fate.
Meanwhile, point-of-no-return losses by Wisconsin, Auburn and Notre Dame also thinned the herd, leaving only a dozen plausible contenders as the season hits the stretch run – almost all of whom, with the lone exception of Clemson, still have at least 1 game on deck against one of the others.
The most obvious beneficiary of Oklahoma's faceplant is the SEC.
As long as Oklahoma, Clemson and Ohio State remained undefeated, the league stood no chance of getting 2 teams in the field. With the Sooners' loss, though, that door is now wide open. In fact, considering the outlook for the handful of outfits that still control their own fate, a 2nd SEC team in the Final Four might be more likely than not:
IN CONTROL OF DESTINY (WIN AND IN)
ACC: Clemson (8-0)
Big Ten: Ohio State (8-0) … Penn State (8-0) … Minnesota (8-0)
Big 12: Baylor (7-0)
SEC: Alabama (8-0) … LSU (8-0) … Florida (7-1) … Georgia (6-1)
STILL ALIVE (NEED HELP)
Big 12: Oklahoma (7-1)
Pac-12: Oregon (7-1) … Utah (7-1)
SEC: Alabama/LSU loser
How many of those teams can realistically afford a loss over the next month? Not Clemson, which needs to run the table against a very meh schedule. (It doesn't reflect on the defending champs that the rest of the ACC is down as long as the Tigers are taking care of business, but if résumés come into play, their best win is either Texas A&M, which is now unranked, or Wake Forest.) Not Minnesota or Baylor, both of which will almost certainly be taking at least one L in the coming weeks and lack the national rep to overcome it.
Not Florida or Georgia, one of which will be eliminated this weekend in the Cocktail Party while the winner must run the table through the SEC title game. And not Ohio State or Penn State, barring a very specific set of dominoes falling exactly the right way. For now, the assumption is that the winner of Buckeyes-Nittany Lions on Nov. 23 is the Big Ten's standard-bearer and the loser will need a lot of help.
That leaves 2: Alabama and LSU, the top 2 teams in the AP poll and the only ones in position to absorb a loss at this point in the season.
One of them, of course, will be inflicting that loss on the other on Nov. 9, in one of the biggest games of the decade for reasons that go far beyond the SEC West standings and the immediate Playoff pecking order. But assuming that Baylor is not really a threat to actually go 13-0 – a safe assumption, given that the Bears still have to play Oklahoma (possibly twice) and have just a 2.1 percent chance of running the table, according to ESPN's Football Power Index – the loser of that game will still be in prime position to make the cut at 11-1, even at the expense of 1-loss champions from the Big 12 and Pac-12.
There's just 1 obvious rub in that scenario, which also stands to benefit the SEC: A potential upset by the East Division champ (Georgia/Florida) over the West (Bama/LSU) in the conference title game. If both teams in Atlanta go before the Playoff committee with 12-1 records, odds are both will be rewarded with a bid – likely at the direct expense of the Bama/LSU loser.
Either way, from the current vantage point at the end of October, the opportunity is ripe for the SEC to send 2 teams to the dance. Baylor could conceivably spoil that by defying the odds and running the table; Auburn or someone else (Texas A&M?) could throw a wrench into the timeline by pulling a November upset over one of the teams bound for Atlanta, unleashing true chaos.
As it stands, though, the rough-draft pecking order over the next 6 weeks looks something like this:
1. SEC champ (Bama/LSU/Georgia/Florida)
2. Undefeated Big Ten champ (Ohio State/Penn State/Minnesota)
3. Clemson (13-0)
4. Baylor (13-0)
5. Bama/LSU winner (12-1, loss in SECCG)
6. Bama/LSU loser (11-1)
7. Oklahoma (12-1, Big 12 champ)
8. 1-loss Big Ten champ (Ohio State/Penn State)
9. 1-loss Pac-12 champ (Oregon/Utah)
10. Clemson (12-1, ACC champ)
11. 2-loss SEC champ (Georgia/Florida)
Can it get weirder than any of the contingencies imagined so far? It's college football, so yes. It would almost be disappointing if it didn't. Weird enough to limit the SEC's Playoff presence to the conference champ? That looks like it's going to take some doing.
Notebook
Around the conference.
LSU 23, Auburn 20
LSU's offense got the job done, eventually. But on a sloppy, overcast day that had the feel of a typical LSU-Auburn slugfest the defense was the difference in its best game of the season: 10 of Auburn's 15 possessions ended in punts, including 5 3-and-outs, and both of the Tigers' touchdown drives began in LSU territory.
Auburn opened the second half by breaking its biggest gain of the season, a 70-yard run by freshman RB D.J. Williams, on its first play, called timeout before its next play and disappeared into a shell for the next hour as LSU turned a 13-10 deficit into a 23-13 edge.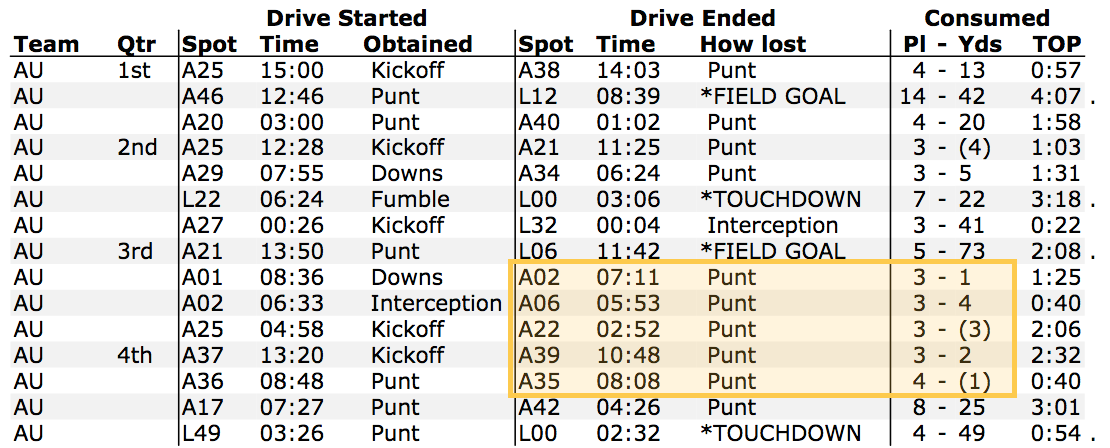 That's a team effort, beginning with a front line that clamped down against the run after halftime and kept Bo Nix permanently on edge in the pocket. As usual, though, it was impossible not to be drawn to LSU's freaky freshman cornerback, Derek Stingley Jr., who (like Nix) made his share of rookie mistakes, but (unlike Nix) continued to justify his 5-star recruiting hype with room to spare.
Not that the mistakes weren't costly: Stingley's fumble on a punt return set up Auburn's first short-field touchdown in the first half, and he was flagged twice for pass interference against Nix's go-to target, Seth Williams, in the second.
But again, as usual, Stingley won a lot more in coverage than he lost, allowing just 2 receptions on 10 targets, according to the film eaters at Pro Football Focus, 1 was an absurd sideline catch by Williams on a ball that Nix was apparently trying to throw away under heavy pressure late in the game. And he stole the show for the umpteenth time this season on an acrobatic, jump-ball interception that (a) ended an Auburn scoring threat just before the half, preserving a 10-10 tie at the break, and (b) highlighted his instincts, length, and uncanny ball skills against one of the premiere jump-ball receivers in the country:
This one belonged to Derek Stingley. pic.twitter.com/fD0yOtfIho

— CBS Sports (@CBSSports) October 26, 2019
That is ridiculous — yet somehow, for this kid, also kind of routine. (It's easy to see why Ed Orgeron promised Stingley's family he'll get a chance to play wide receiver before he leaves campus, an intriguing/frightening proposition.)
LSU has had more than its share of elite, NFL-ready corners over the years, one of whom, Kristian Fulton, is holding his own opposite Stingley right now. None of them, though, have leapt off the screen in quite the same way or established their rep as a lockdown cover man against top competition quite as early in their careers; barely 2 months into his, Stingley leads the SEC in passes defended, boasts the game-clinching INT against Florida, was a ubiquitous pick on mid-season All-America teams, and only keeps giving the folks who vote for that sort of thing more reasons to cast those votes for him. Once he actually figures out what he's doing on an every-down basis it's going to be something to behold.
Alabama 48, Arkansas 7
If you didn't bother tuning in for an inevitable beatdown, well, you missed an inevitable beatdown and not much else. Garbage time did give us the gift of former Tide QB turned ESPN broadcaster Greg McElroy recounting the time he played so badly Nick Saban insisted he get checked for a concussion even though he didn't have one …
Greg McElroy said Nick Saban had him checked for a concussion because of how poorly he was playing LMAOOOOOOO!pic.twitter.com/JgtNkrwsQx

— I'M SEEING GHOSTS (@FTBeard11) October 27, 2019
… so there's always that. Arkansas is a very bad team.
On the field, the only intrigue involved the performance of Alabama's backup quarterback, Mac Jones, in his first career start in place of Tua Tagovailoa, and early returns were encouraging: Jones finished 18-of-22 for 235 yards with 3 TDs, including a 40-yard, Tua-esque rainbow to Jerry Jeudy to close out the scoring early in the 3rd quarter, and generally gave off the kind of competent, composed vibes you'd expect from Bama's likely 2020 starter against the worst defense in the conference. If it was a glimpse of the future, fine — just as long as it's a little further into the future than 2 weeks from now against LSU.
Kentucky 29, Missouri 7
Is he completing passes with any kind of consistency? No. Are opposing secondaries concerned about his downfield arm strength? Not really. Does he have a future at the position? Not even close. Still, 3 weeks after Lynn Bowden Jr. was conscripted into the role it's time to retire the "all-purpose" label, declare the experiment a success, and start referring to him by what he is: Kentucky's full-time starting quarterback.
Hot damn, Lynn Bowden!!! pic.twitter.com/TVTMQsGL12

— Scott Charlton (@Scott_Charlton) October 27, 2019
If he's not officially QB1 yet after accounting for 258 yards and 2 TDs on Saturday night, it's only a matter of time. Bowden's emergence behind center — in tandem with a rapidly improving defense — has saved what was shaping up to be a lost season. The opening-day starter, 2018 incumbent Terry Wilson, went down with a season-ending injury in Week 2. The top backup, grad transfer Sawyer Smith, went 0-3 as a starter to close September, including a pair of dismal outings at Mississippi State and South Carolina in which Smith was visibly limited by a sore shoulder. Enter Bowden: With their most dynamic athlete at the controls, the Wildcats have won 2 of their past 3 and found an identity in the process that could carry them to a winning record.
To describe that identity as "1-dimensional" would be putting it mildly. Bowden turned in a respectable, 7-of-11 effort through the air in his first start, a 24-20 win over Arkansas, but is just 5-of-22 over the past 2 weeks for 71 yards, the majority of that output coming on one play, a 43-yard bomb on Saturday night that set up Kentucky's first touchdown. (In his defense, both games were played in atrocious weather that strongly discouraged passing in any case.) But in the relevant dimension Bowden has been electric: In his 3 starts alone, he has run for 509 yards on 8.5 per carry (not including sacks), all of it out coming from what amounts to an on-the-fly Wildcat role.
Against Missouri — an above-average defense with 2 full weeks' worth of film on the all-Bowden playbook — he accounted for 204 of Kentucky's 297 rushing yards with TD runs covering 33 yards and 10 yards, respectively. For the season, he leads the SEC in runs of 20 yards or more, with 9.
Zooming out, Bowden leads the league as well with 1,199 all-purpose yards as a rusher, receiver and return man, making him the only SEC player to crack the 1,000-yard mark in that category.
If Mizzou couldn't figure out how to stop him, it's not a given that any of the remaining defenses on the schedule will, either. Kentucky is the statistical favorite in each of its last 4 games, per FPI, a stretch that includes an FCS team (UT-Martin) bookended by 2 others (Vanderbilt and Louisville) that rank in the bottom 30 nationally in total defense.
At 4-4, the Wildcats only need to win 2 of those to be bowl-eligible for the 4th consecutive season; take care of business against Tennessee, which comes to Lexington in 2 weeks on the other side of an open date, and suddenly another January bowl game is on the table.
Texas A&M 49, Mississippi State 30
Joe Moorhead did not in fact hop a direct flight from College Station to Piscataway, New Jersey, in the immediate aftermath of another lopsided loss, but at the rate things are going, it would have been hard to blame him if he had.
Mississippi State fans might pony up for airfare out of their own pockets. The loss marked the Bulldogs' first 4-game losing streak (conference or otherwise) since 2005, the nadir of the Sylvester Croom era, with all 4 of them coming by big, Croom-era margins that probably could have been worse. If that's where the program is headed after a solid decade of respectability, the notion of Moorhead bowing out for the vacancy at Rutgers is looking less farfetched by the week.
As hopeless as it feels right now, MSU still has a fighting chance of salvaging its 10th consecutive bowl bid, the bare-minimum expectation for the program Moorhead took over from Dan Mullen. To get to 6 wins, assuming a loss to Alabama and a win over Abilene Christian, the Bulldogs will have to beat Arkansas on Saturday and Ole Miss in the Egg Bowl, a turnaround that if nothing else would buy him a little time and goodwill heading into what's going to be a long offseason in Starkville regardless.
It's only Year 2 in a middle-of-the-road job, but the fan base largely felt the 2018 team underachieved by going just 8-5, wasting the No. 1 scoring defense in the country on an offense that scraped the bottom of the barrel vs. decent competition; so far this year, the defense has regressed beyond the worst fears while the offense has not improved.
Moorhead has effectively acknowledged after each of the past 2 losses that he's feeling the heat. A loss in Fayetteville against an outfit riding a 16-game conference losing streak would mark a new low and possibly the beginning of the end.
Catch of the Year of the Week: Bryan Edwards
No player has been featured in COTYOTW more often over the past 4 years than Edwards, and no catch in that span has come anywhere near the one-hander he hauled in Saturday at Tennessee:
https://twitter.com/SECNetwork/status/1188213210882674695?s=20
Mercy. Although ruled a touchdown on the field, the score was actually taken off the board on review because Edwards' hand hit out of bounds before the ball crossed the plane of the goal line. The Gamecocks still scored on the subsequent play, but this seems like an occasion where you just go ahead and give it to him.
Superlatives
The best of the week …
1. Lynn Bowden Jr., QB, Kentucky
Bowden's performance in the win over Missouri sealed his reputation as one of the most unique, versatile players in the college game. Whether he stays behind center over the next 4 games or returns full-time to his usual WR/KR role, he's already a no-brainer All-American come December in the "all-purpose" slot.
2. Jauan Jennings and Marquez Callaway, WRs, Tennessee
Jennings and Callaway lit Neyland Stadium all the way up in a 41-21 win over South Carolina, torching the Gamecocks for a combined 276 yards and 3 touchdowns on 10 receptions, as well as a 65-yard punt return TD by Callaway that lit the fuse in the first half.
WR Marquez Callaway to the House ! 65 yards. 😱
Électrisant. pic.twitter.com/oHhSeKfOmG

— TBP College Football (@thebluepennant) October 26, 2019
Other big plays from the seniors included a 48-yard touchdown pass to Jennings from Jarrett Guarantano in the 2nd quarter; a 57-yard bomb from Guarantano to Callaway to start the 3rd quarter; a 19-yard TD strike from Guarantano to Jennings later in the third; and a 55-yard haymaker to Callaway from backup QB J.T. Shrout just a few minutes later. The cumulative effect was the most fun the home crowd has had in Neyland Stadium in a long, loooong time, a feeling at least a few of them had to be wondering if they were ever going to experience again.
From Week 1 to Week 10, the Vols are the league's most improved team.
3. Terrell Lewis, LB, Alabama
Lewis continued his emergence as a natural-born edge-rushing terror against Arkansas, recording an astounding 6 QB hurries in the Tide's blowout win over Arkansas, including the pressure that led to interceptions by teammates Patrick Surtain II and Trevon Diggs, the latter turning into a pick-6 after Lewis flattened Razorbacks QB Nick Starkel.
Alabama's defense is nothing to play with 😤 pic.twitter.com/QnGPyGCfJr

— ESPN College Football (@ESPNCFB) October 27, 2019
Admittedly, hurries are a vague stat often subject to the whim of the official scorekeeping in a way that other, more clear-cut stats are not, but in many years of poring over box scores, I can confidently say I've never seen a single player credited with 6 in one game. That's a testament to how quickly and thoroughly Lewis has asserted himself in just 3 weeks in the starting lineup, a span in which he's racked up 8 hurries, 4 sacks and appeared in this space all 3 weeks.
4. Clyde Edwards-Helaire, RB, LSU. The Tigers ran 88 plays in the win over Auburn, only 42 of which involved Joe Burrow's arm. That left plenty of opportunities for Edwards-Helaire, who took full advantage, setting career highs for touches (33) and total yards (187 – 136 rushing, 51 receiving) while occasionally turning would-be tacklers into pillars of salt in the open field:
Clyde Edwards-Helaire just did this Auburn defender really dirty #GeauxTigers pic.twitter.com/taNTq72Bdd

— Jimmy Clarke (@JimmyClarke) October 26, 2019
With 683 yards for the season, Edwards-Helaire has already exceeded last year's total on the ground (658 yards) on 30 fewer carries. He's well on his way to cracking 1,000.
5. Kellen Mond, QB, Texas A&M
Mond ripped Mississippi State's fading defense for 310 total yards (234 passing, 76 rushing) and 5 touchdowns with 0 turnovers in A&M's most emphatic win of the season. The Aggies hit paydirt on 7 of 10 non-half-ending possessions, racking up more points (49) than they've scored against an SEC opponent in regulation since the 2014 opener against South Carolina.
Honorable Mention: LSU QB Joe Burrow, who finished 23-of-42 for 321 yards with 1 TD against Auburn, adding another score as a runner. … LSU WR Ja'Marr Chase, who had a team-high 8 catches for 123 yards, his 4th 100-yard game of the season. … LSU CB Derek Stingley Jr., for reasons outlined above. … Auburn RB D.J. Williams, a true freshman, who ripped off 130 yards rushing against LSU on 10.0 per carry. … Auburn DT Derrick Brown, again the most reliably active player on the Tigers defense in Baton Rouge with 7 tackles and 2 TFLs on the afternoon. … Mississippi State RB Kylin Hill, who ran for 150 yards and 1 TD on 7.1 per carry in a losing effort at Texas A&M. … Kentucky DE Calvin Taylor Jr., who had 2 sacks and forced fumble in the Wildcats' old-school win over Mizzou. … Alabama WR Jerry Jeudy, who hauled in 7 receptions for 103 yards against Arkansas, including 2 of Mac Jones' 3 touchdowns. … South Carolina WR Shi Smith, who had 11 catches for 156 yards in the Gamecocks' loss at Tennessee, about half of them coming on a 75-yard TD on the first play of the game. … And Tennessee LB Daniel Bituli, who finished with a team-high 15 tackles against South Carolina and put the game out of reach in the 4th quarter by blocking and recovering a punt for a touchdown.
* * * * *
Reminder, the scoring system for the Superlatives standings has been slightly revised: I'm awarding 8 points for the week's top player, 6 for second, 5 for third, 4 for fourth, 3 for fifth, and 1 for honorable mention because how honorable is it really if it doesn't come with any points? Season totals have been adjusted accordingly.