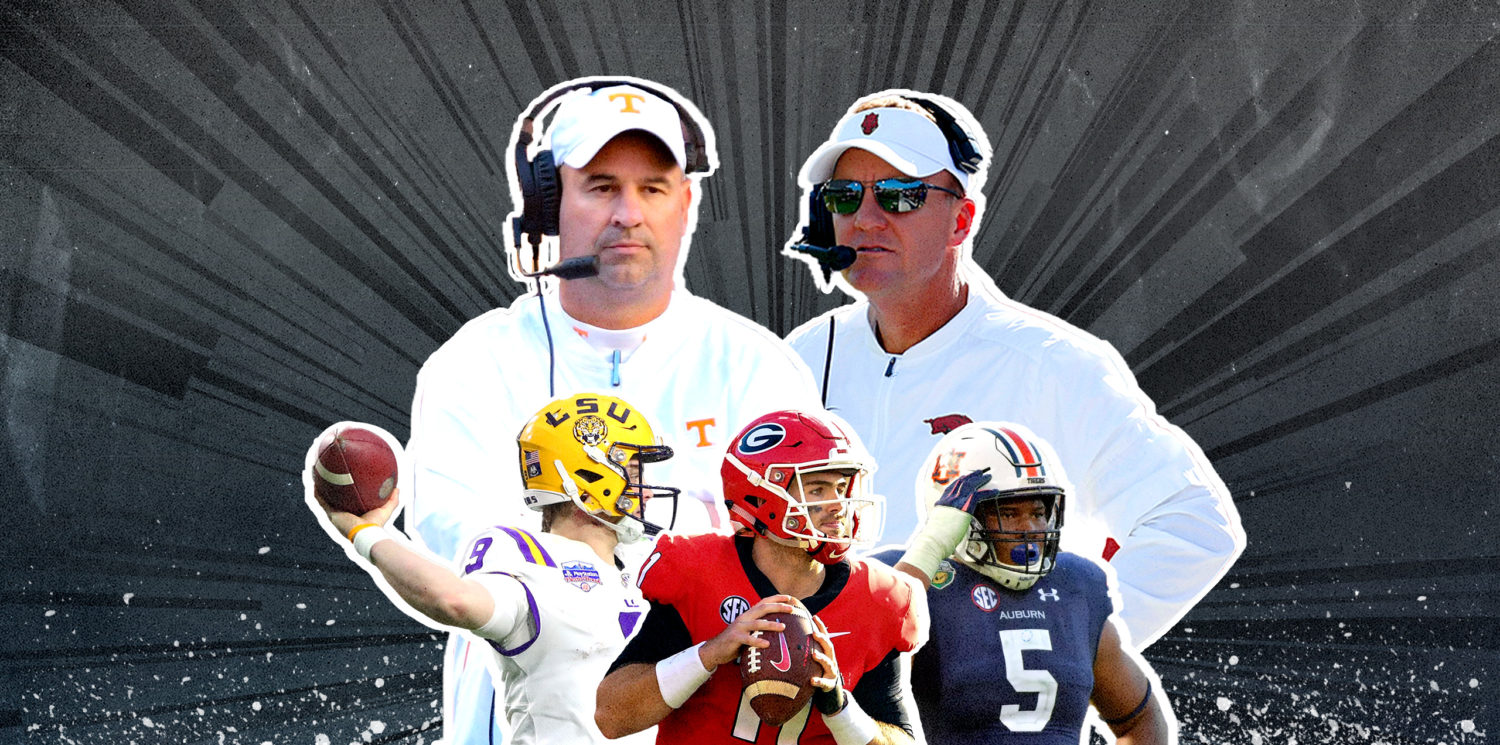 SEC
Monday Down South: Arkansas and Tennessee can't afford to panic. How much longer can they afford to be patient?
How soon is too soon to pull the plug?
When it comes to new head coaches taking over losing teams, the standard timeline is 3 seasons, minimum: The Rebuilding Year (aka Year Zero), when expectations are shelved, "the culture" undergoes a complete overhaul, and wins and losses are grudgingly sacrificed to the laying of a long-term foundation; Year 2, when expectations remain in check, but the team is expected to show progress on the scoreboard, at least, if not necessarily in the standings; and Year 3, when the depth chart consists mostly of the not-so-new-anymore coach's recruits and the team is judged as something resembling a finished product. Year 4, if he makes it that far, is the Payoff Year, when the foundation has been laid, the vision has been implemented, and the verdict is rendered accordingly.
In fact, almost all SEC head coaches make it that far. Of the 42 full-time head coaches hired in the conference since 2000, only 6 have failed to survive past Year 3 for reasons not involving off-the-field scandal or the lure of another job: Ron Zook (2002-04 at Florida), Ed Orgeron (2005-07 at Ole Miss), Derek Dooley (2010-12 at Tennessee), Joker Phillips (2010-12 at Kentucky) and Jim McElwain (2015-17 at Florida) — all of whom departed as punch lines, but all of whom also lasted well into their 3rd season before their fate was sealed.
The last full-time SEC head coach to be shown the door before Year 3 was the long-forgotten Ron Dowhower, who "resigned" after going 4-18 at Vanderbilt in 1995-96. Even in the most high-stakes, dog-eat-dog league in college football, it's almost impossible to get fired that early in the cycle.
So what does it say about the fate of Tennessee's Jeremy Pruitt and Arkansas' Chad Morris that they find themselves surrounded by an undeniable sense of impending doom less than a month into Year 2? Based on precedent, it might say that the sirens going off among fans and media are premature, to put it mildly. If you actually suffered through the Vols and Razorbacks' respective collapses Saturday, on the other hand, it might say that the dysfunction is even worse than it looks.
Because it really does look that bad — hopelessly, historically bad. It's one thing, if you're Tennessee, to lose your season-defining SEC opener against Florida for the 14th time in 15 years; to get blown out by 31 points, an even wider margin of defeat than last year's 47-21 debacle in Knoxville, by an outfit whose quarterback was making his first start at any level since his freshman year of high school, is an entirely different level of futility. (Consider that the Vols' widest widest margin of defeat against the Gators under Dooley was 17 points; under Butch Jones, 14 points.)
To fall to 1-3 in the process, hot on the heels of the worst loss in school history, is to sink to an even deeper level still. And to face the inevitability of another futile campaign unfolding over the next 2 months, after back-to-back last-place finishes the past 2 years, is to descend to depths unprecedented in the living memory of Tennessee football.
That's not an exaggeration. According to Sports-Reference's Simple Rating System, a useful apples-to-apples metric for comparing teams from different eras, the past 3 years under Jones and Pruitt are the worst 3 years on Rocky Top since 1954. Not the worst 3-year span — the worst 3 years.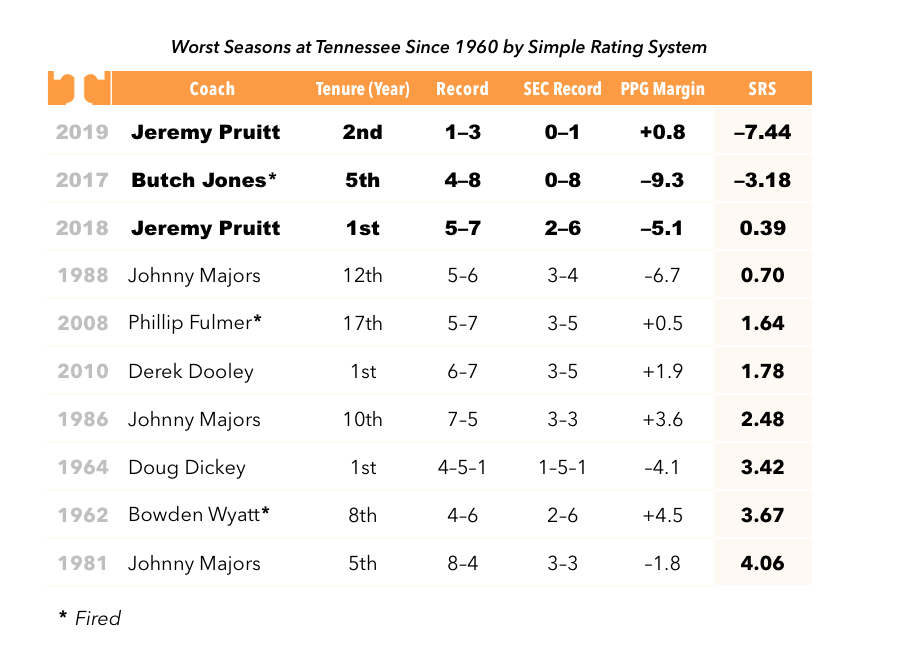 Pruitt inherited a shipwreck. But the message on Saturday, to a fan base desperate for the most threadbare sliver of progress, was clear enough: It's getting worse, not better, and there's no reason to believe it's on the verge of gurgling bad to life any time soon.
If you're Arkansas, the outlook is arguably even grimmer, if only because the bar was set significantly lower for Chad Morris in the first place and his team is still falling well short of clearing it. On its own, Saturday's 31-24 loss to San Jose State was an embarrassment on the order of Tennessee opening-day flop against Georgia State: The Spartans are perennial doormats in the Mountain West, having managed just 3 wins in coach Brent Brennan's first 2 years, and came in riding a 25-game losing streak against major-conference opponents dating to 2006. They arrived in Fayetteville as 21-point underdogs. They left as winners after racking up 503 yards of total offense and picking off QB Nick Starkel 5 times.
In context, it was only the latest warning that the Morris era is en route to crashing on the runway. Last year, the Razorbacks took it on the chin in September losses to Colorado State and North Texas, the prelude to an 0-8 slog through the conference slate that no one ever imagined going any other way.
This year, not only are they resigned to going winless again in the SEC. (ESPN's Football Power Index rates Arkansas' remaining schedule as the toughest in the nation.) They're still getting owned by the teams they pay 7 figures to serve as easy wins in advance of the league grind. Morris' hand-picked candidate to fill the void at quarterback, SMU transfer Ben Hicks, flamed out in short order, and Starkel's outing against SJSU was the opposite of reassuring.
When the trajectory for Year 2 begins to feel like an unexpected extension of Year Zero — defer expectations to next year, cast your lot with underclassmen, live with the growing pains, worry less about wins and losses than the flashes of potential — less than a month into the season, it's hard to blame fans for wondering exactly what it is they're investing in. How long are they supposed to wait before the outline of something that could conceivably be interpreted as progress begins to come into view? And how long before it's time to admit that it's not going to happen?
To be clear, the answer is not 4 games into Year 2. But by the end of Year 2, if current trends hold? The question is one athletic directors Phillip Fulmer and Hunter Yurachek have to be considering.
Of course, they'd rather not. Fulmer and Yurachek hired Pruitt and Morris, respectively, as their first and most prominent acts on the job; they have every incentive to back their coaches as long as it's tenable because their fate is tied to the success or failure of the men they put in charge, too. Both coaches took over bad teams at rock bottom. Both are still working largely with the previous administration's recruits. Both would be expensive to fire. Arkansas would owe Morris $12.3 million if it fired him before Dec. 31, or $9.8 million if it waited until Jan. 1, 2020; Tennessee would be on the hook for more than $9 million if it parts ways with Pruitt.
More to the point, both programs have already endured an alarming rate of churn and attrition over the past decade, which has heavily contributed to the malaise: Pruitt is Tennessee's 4th head coach since 2009; Morris is the 4th at Arkansas since 2008, not including interim boss John L. Smith in 2012. No one wants to start from scratch, again, only to find themselves languishing in the same position in another 2 years, and then again in another 2 years after that, etc. "Rebuilding" implies that, you know, something eventually gets built.
If the prospect of cleaning house at year's end seems like an overreaction now, though, the prospect of sinking another year into a project that has yielded no hope and negative momentum isn't much better. A 2-10 or 3-9 season at Tennessee would be the worst in more than a century (Tennessee has never lost more than 8 games in a season, a benchmark that is very much in doubt) and a nonstarter in terms of recruiting or any other signifier of better things to come. Ditto Arkansas, which has been through its share of lean years but hasn't endured consecutive seasons with 3 or fewer wins since the early 1950s. At a certain point, a program with any kind of ambition can't afford not to move on.
Something has to give, either on the field or in terms of how patient each school is willing to be. However unlikely it sounds at the moment, a turnaround on the field is always possible. Neither roster is or ever will be as devoid of talent as they've usually looked over the past 3 seasons. But the point of no return is coming fast. In the meantime, Pruitt and Morris badly need to deliver a glimpse of a finished product that feels like a step forward from the one they were hired to fix in the first place.
Notebook
Around the conference.
Georgia 23, Notre Dame 17
The most notable difference between the Georgia team that won the SEC and played for the national championship in 2017 and the team that narrowly missed the Playoff cut last year was the drop-off among the front 7 on defense: The Bulldogs' production declined significantly against the run (from 11th nationally in S&P+ to 53rd) with diminishing returns for the pass rush, as well. This year's front is considerably greener than last year's — the only full-time 2018 starter in the starting lineup against Notre Dame, DL Tyler Clark, was also the only senior — but based on its first real test it has the potential to be a force.
Not that Notre Dame has ever had much of a reputation under Brian Kelly for establishing the run against top-shelf defenses, or that it seemed all that interested on Saturday night. The Irish finished with just 46 yards rushing on 14 carries, barely 3 yards a pop, with a long gain of just 9 via scramble by QB Ian Book. Still, their reluctance was mostly a matter of necessity. Situationally, they struggled throughout to stay ahead of schedule re: down-and-distance, keeping Book in obvious passing downs. Through the first 3 quarters, ND ran just 1 play on 2nd-and-short (less than 5 yards to go) and 0 on 3rd-and-short, a situation it didn't face until well into the final quarter.
By then, there was no choice but to let Book keep throwing. And although UGA didn't record a sack, its speed off the edge — too often a missing link last year — stood out in key moments.
Great Pressure by Nolan Smith @SmithNoland2 & Jermaine Johnson @ii_jermaine

#GoDawgs pic.twitter.com/zCu9TLgjgt

— OO (@_OOLLIE_) September 22, 2019
Given the lopsided run-pass ratio, it was telling that Georgia's most active tacklers overall were the inside linebackers, juniors Tae Crowder and Monty Rice, who were credited with a combined 16 stops (5 solo, 11 assists), half of them coming on gains of 6 yards or fewer. Crowder, especially, showed off impressive recognition and sideline-to-sideline range against the Irish's doomed array of screens and speed sweeps, which stood no chance of turning the corner. I'm not going to compare him to former All-American/MDS legend Roquan Smith based on a handful of plays, but invoking the name at all is a sign of respect for just how far that position has come.
There were quite a few issues in coverage to iron out, most of them involving Notre Dame TE Cole Kmet and injuries to both of Georgia's starting corners. Up front, though, in a physical game that mattered it was exactly what the Dogs were hoping to see.
Auburn 28, Texas A&M 20
The game belonged to the Auburn defense, which dominated to an extent that the final numbers don't really reflect: A significant majority of A&M's offensive output came on its final 3 possessions, as part of a futile rally beginning late in the 3rd quarter. Before that, the Aggies trailed 21-3 and had spent most of their afternoon being swallowed up by Auburn's hyped defensive line. The late surge only served to make it look better on paper than it actually felt.
Auburn's offense didn't exactly light up the box score either, punting 9 times with 5 3-and-outs as freshman QB Bo Nix struggled to connect downfield in his first career road start. (Nix averaged a paltry 5.0 yards on 20 attempts, with a long of 19 yards.) But it felt like much less of a slog for the Tigers, primarily because their first 2 touchdowns, both coming in the 1st quarter, set the tone for the rest of the day. They also served as a reminder of how much fun Gus Malzahn's offense can be when it clicks, as long as your team isn't the one defending it.
The first strike was a Malzahn staple, an end around in the hands of his fastest player, built into an even more fundamental Malzahn staple: The buck sweep. The first key to the buck is the pulling guards, whose job is ostensibly to pave the way for the running back, Boobie Whitlow, off-tackle; in this case, they served as oversized decoys for A&M's linebackers, who took the bait and bit as hard as they could.
SCHWARTZ SPEED!!

He takes it 57 yards to the house for an @AuburnFootball touchdown. pic.twitter.com/F9rU5nxgL2

— CBS Sports (@CBSSports) September 21, 2019
The second key, in this case, is the backside DE to the bottom of the formation, No. 91 Micheal Clemons, who is responsible for counters, the quarterback on zone reads, and generally anyone working against the initial flow of the play to the opposite side; Clemons surveyed the situation just long enough to be satisfied that Nix had in fact given up the ball to Whitlow before giving chase and running himself out of the play. That also freed Nix up to throw a token block on an out-of-position 'backer that, while not strictly necessary here, will win him some coveted Grit Points.
The final key: Anthony Schwartz is blisteringly fast in the open field. The Aggie who halfheartedly tagged him as he crossed the goal line is the only player who managed to lay a hand on Schwartz on the play, which honestly seems like an achievement.
Auburn's second score was somehow even trickier than the first while also being devastatingly simple. For starters, the Tigers brought in backup QB Joey Gatewood, a big, athletic red-zone specialist whose entrance inside the 10-yard line signals to the defense a Wildcat situation is afoot. Malzahn also paired Gatewood with a conspicuous motion man, RB Kam Martin, to occupy the Aggies' attention on a potential speed sweep. Less conspicuously, the play flipped the end men on the line of scrimmage, LT Prince Tega Wanogho (No. 76) and TE John Samuel Shenker (47), making Shenker essentially a tackle eligible on the short side of the line. The Aggies covered him accordingly, which is to say they didn't bother:
*looks up definition of wide open* pic.twitter.com/FfFvWTQ5qb

— CBS Sports (@CBSSports) September 21, 2019
A&M's safeties were so preoccupied with the running threats posed by Martin and Gatewood that they actually left a second receiver, No. 80 Sal Cannella, all alone in the end zone as well. As pedestrian as the offense looked over the most of the final 3 quarters, moments like these are a big part of the reason there was so much buzz about Malzahn resuming play-calling duties this season after delegating the job over the past few seasons with mixed results. At this point, glimpses of vintage Malzahn en route a comfortable road win over a Top 20 SEC West opponent is all Auburn fans can ask for.
Alabama 49, Southen Miss 7
LSU 66, Vanderbilt 38
If it wasn't clear enough already, breaking news: LSU's spread-offense renaissance is real and it's spectacular. After bombarding Nashville, the Tigers lead the nation in scoring (!), and Joe Burrow has thrown more touchdown passes in 4 games this season (17) than he did in all of last season (16), on roughly 1/3 of the attempts.
Taken with Alabama's ongoing assault on scoreboards, it's time to begin bracing for the very real possibility that the annual Bama-LSU collision on Nov. 9 is going to be a bona fide shootout.
That might qualify as blasphemy — in the entire history of the series the combined point total has only topped 60 points once, in 2007, which was also one of just 2 occasions since World War II in which either team has scored 40 — but at the pace these 2 offenses are on it's difficult to see how it can be avoided short of a full-fledged retreat into the trench warfare mindset that's defined this rivalry for the past decade.
That's not going to happen: The Tigers and Tide are averaging more than 50 points on upwards of 550 yards per game and 8.0 yards per play. They're running less than ever, throwing more, and doing it with eye-opening efficiency. It's debatable whether there will actually be more explosive skill talent on the field than in the past; there is no doubt that the quarterbacks and the systems that support them are vastly better equipped to exploit it.
Is there any doubt that they'll both make it to that point unscathed? For LSU, yes: Florida and Auburn are on deck in October, although both have to come to Baton Rouge. For Alabama, not really: The only plausible test is an Oct. 12 trip to Texas A&M, which looks even less daunting than it did 48 hours ago.
But when the time comes, a game that matches the 2011 classic for hype but with two offenses people actually want to see is an event to aspire to.
Cal 28, Ole Miss 20
What on Earth happened in the closing seconds of the Rebels' comeback bid Responsible authorities are still vowing to get to the bottom of it — even though the Pac-12 said its officials made the right call.
The ending to what was otherwise a predictable slog of a game had no business being as dramatic as it turned out to be. Cal took the lead early in the 2nd quarter and never relinquished it, extending the advantage to 28-13 roughly midway through the 3rd. That's where it stood with 5 minutes left, at which point Ole Miss QB Matt Corral was knocked out of the game with a shot to the ribs; his backup, true freshman John Rhys Plumlee, came on and promptly broke a 47-yard run on his first career snap — a 3rd-and-10 conversion, no less — setting up a TD run by fellow freshman Jerrion Ealy that cut the Bears' lead to 28-20.
After the defense forced a punt, the Rebels took over at their 10-yard line with 2:45 remaining, no timeouts (that's important) and a chance to tie. Plumlee, looking nothing at all like a wet-behind-the-ears rookie thrown into a potentially game-winning situation in his first career action, proceeded to move the offense 80 yards on 6 consecutive completions, including a 41-yard heave to Demarcus Gregory that set up a 1st-and-goal at the Cal 10-yard line with 1:06 to go — plenty of time, one would think.
One would be wrong. Two plays and 49 seconds later, clock still ticking on 3rd-and-goal after back-to-back runs, he did this:
I dunno #OleMiss fans – was Elijah Moore in? Here's our angle from the field… pic.twitter.com/ADxBUMz5gL

— Noah Newman (@NoahNewmanTV) September 21, 2019
That's … what is that? A touchdown? No, according to the side judge, who was looking straight down the goal line and immediately moved to spot the ball at the 2-inch line as some Ole Miss players (including Plumlee) celebrated and the clock continued to run.
With no timeouts, the Rebels were forced to regroup on the fly, rush to the line and attempt a half-baked quarterback sneak on 4th down, which was easily stuffed as time expired.
Game over, Golden Bears remain undefeated, Rebels drop to 2-2, don't drink and drive.
The question that inspired the most bile is why didn't they stop to review it?! which is a good question, although it might actually be more relevant for the stopping than the reviewing.
If you can say indisputably that the ball crossed the plane of the goal line on Elijah Moore's possession on the 3rd-down pass your depth perception is superior to mine; based on the field-level angle shown above and the broadcast angle, I tend to agree with the call on the field that Moore came up just short — he lands short, at least, with the ball coming down just on the wrong side of the line despite the lower half of his body landing in the end zone — and certainly don't see anything that would justify overturning that call. (The Pac-12 said in a statement that there "was no irrefutable video evidence to to reverse those calls by replay.")
But it was close enough to justify a few additional looks, which would at the very least have given the Rebels time to come up with an actual play on 4th down.
But then they'd actually have to execute that play, and then there's the 2-point conversion to tie, which is hardly automatic, and then there's overtime …
At any rate, that's an extremely Ole Miss way to lose a football game that Ole Miss fans were already resigned to losing the boring way. The silver lining is Plumlee, who came in cold, woke up the home crowd with his legs, went 7-for-7 for 82 yards on the final drive, and likely played his way to a legitimate competition with Corral going forward even if Corral is cleared to return. Next up: A confidence-building outing for the young guns at, uh, Alabama.
Superlatives
The best of the week.
1. Auburn DT Derrick Brown
Derrick Brown is too big, long, and powerful. Has been giving the Texas A&M O-line plenty of issues. pic.twitter.com/VpNbc6qMt5

— Bobby Football (@Rob__Paul) September 21, 2019
Brown played with a vengeance at Texas A&M, leading the charge in the trenches with 3 tackles for loss, two sacks, 2 passes broken up and a forced fumble while forcing the Aggies to all but abandon the run. (As a team A&M managed just 72 yards rushing on 4.0 per carry, not including sacks.) That performance will go a long way toward cementing his status on postseason All-American teams, and if it's a sign of things to come, toward cementing Auburn's status as a serious contender in the West.
2. Georgia DB J.R. Reed
JR Reed wasn't fooled by anything. pic.twitter.com/xtD3pcowFq

— CBS Sports (@CBSSports) September 22, 2019
Georgia's secondary was playing shorthanded against Notre Dame, but Reed was at the top of his game, finishing with 7 tackles, 3 PBUs, and a key interception in the 4th quarter that set up a field goal. Has anyone figured out yet why the veteran leader of one of the most monolithically talented defenses in the country had to begin his college career with a grayshirt offer from SMU?
3. Florida DE Jonathan Greenard
When the Volunteers relive the nightmare of their 34-3 loss at Florida, Greenard will be the vision they see. The former Louisville transfer wreaked havoc to the tune of 2 TFLs, 1 sack, a forced fumble, and 3 PBUs, including a goal line swat that saved a certain touchdown. The next play was an interception in the end zone, ending UT's first and only serious threat and beginning the rout.
4. LSU WR Ja'Marr Chase
Chase, a true sophomore, graduated from potential to full-blown star at Vanderbilt, shredding the Commodores for 229 yards and 4 touchdowns on 10 receptions — all career highs, by far. In addition to the scoring plays, which covered 65 yards, 51 yards, 25 yards, and 16 yards, respectively, he also did this …
The top highlight of many for Ja'Marr Chase today.

The LSU offense under Joe Burrow continues to be a special passing attack.

(? @SECNetwork) pic.twitter.com/ODgV8vUuCc

— OddsChecker (@OddsCheckerUS) September 21, 2019
… which is hardly fair. Vandy blasted QB Joe Burrow as he let the ball go, interfered with the receiver, and still couldn't stop it.
5. Alabama WRs Henry Ruggs III and Jerry Jeudy
Not to be outdone, Bama's electric duo combined for 244 yards with 4 TDs on 10 catches themselves against Southern Miss, on an afternoon when they could have gone on putting up any kind of numbers they liked. Ruggs scored on the first 2 series of the game on bombs covering 45 and 75 yards; Jeudy followed that with a pair of shorter scores that looked so easy he almost seemed embarrassed.
Honorable Mention:Mississippi State RB Kylin Hill, who remains on pace to break the school's single-season rushing record after racking up 120 yards on 26 carries and scoring 3 of the Bulldogs' 4 TDs in a 28-13 win over Kentucky. … Mississippi State DE Chauncey Rivers, who made his presence felt in the UK backfield with a sack, a PBU, and 2 QB hurries. … Kentucky WR/KR Lynn Bowden Jr., who accounted for 210 all-purpose yards against the Bulldogs as a receiver, rusher and return man. … Alabama's true freshman linebackers, Christian Harris and Shane Lee, who combined for 11 tackles and 3 TFLs in the win over Southern Miss… Georgia LB Tae Crowder, who finished with a team-high 9 tackles (one for loss) in a stellar effort against Notre Dame's ground game. … Vanderbilt RB Ke'Shawn Vaughn, who went for 130 yards and 2 TDs against LSU in a losing effort. … Florida LB Amari Burney, who had a team-high 5 tackles (all solo), 1 interception and 1 fumble recovery in the win over Tennessee. … Missouri K/P Tucker McCann, who connected on 2-of-3 field goal attempts, dropped 4 of his 5 punts inside the 20-yard line, and drove all 7 of his kickoffs for touchbacks in a 34-14 win over South Carolina. … Missouri QB Kelly Bryant, who accounted for 304 total yards and 2 TDs in the win. … And, as always, Joe Burrow and Tua Tagovailoa, who padded their Heisman credentials by passing for a combined 692 yards and 11 touchdowns in blowout wins, and whose weekly excellence is making it increasingly difficult to give them their due for any given performance.
Catch of the Year of the Week: Jhamon Ausbon
I've watched this a couple dozen times and I'm not sure how it's possible:
Anyone figure out how Jhamon Ausbon caught this? pic.twitter.com/jSdy3Cf4J1

— CBS Sports (@CBSSports) September 21, 2019
Temporary suspension of gravity on the 30-yard line? I don't know.
Fat Guy of the Week: Adrian Magee
RIP to 2 Vanderbilt blitzers:
Adrian Magee, that's just rude. pic.twitter.com/z5re6OZ7Ov

— Cody Worsham (@CodyWorsham) September 21, 2019
Condolences to their families.