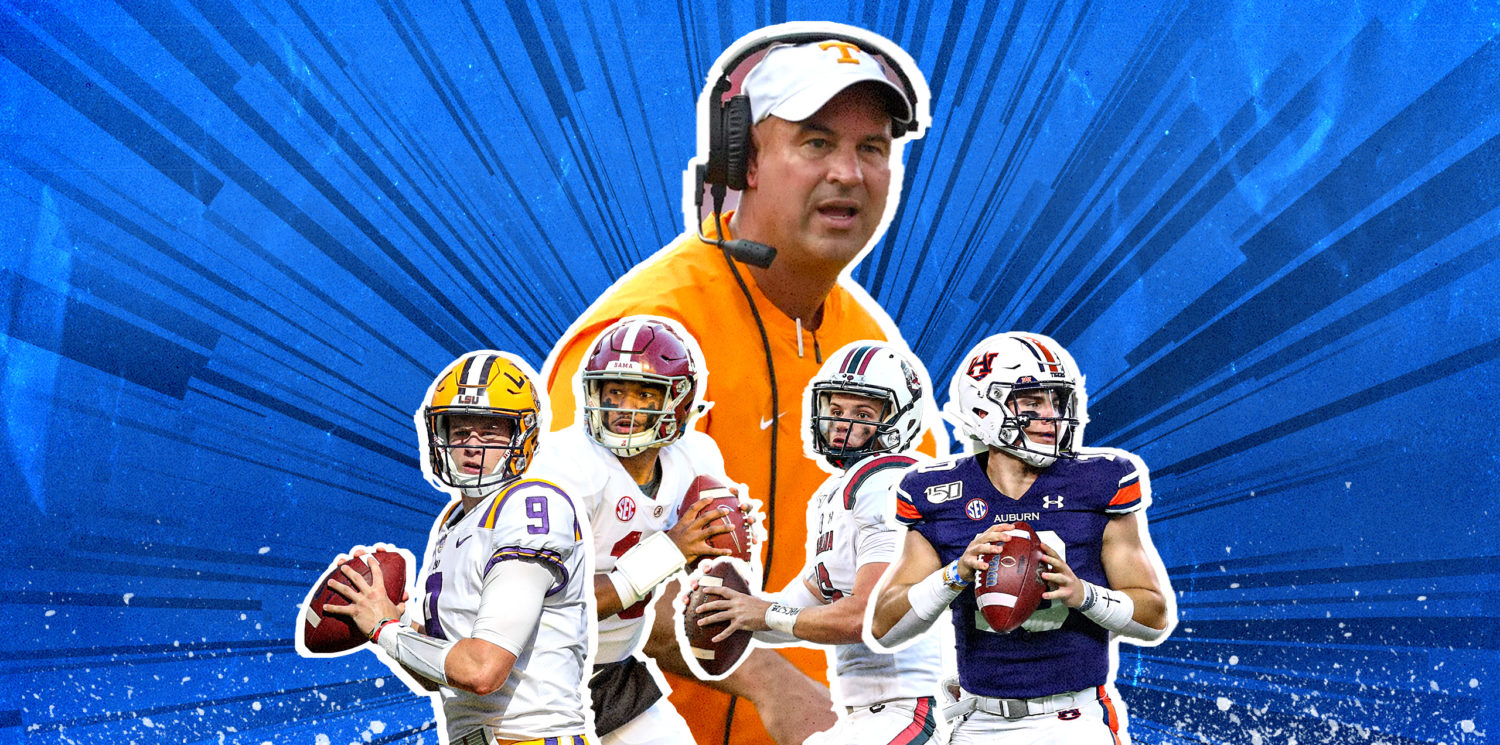 SEC
Monday Down South: Tennessee has seen rock-bottom. Its Week 1 flop was something worse
I haven't been around the block nearly long enough to ordain Tennessee's 38-30 loss against Georgia State as The Worst Loss Ever by an SEC team, or even by Tennessee. This column is supposed to be about sober analysis, not knee-jerk overreactions. And anyway, there have been some truly horrific losses over the years. We don't even have to go that far back.
But yes, by any standard — historical, emotional, possibly financial, if you bet the Vols to cover the 26-point spread — it was bad. Like seriously real bad. Certainly among the worst in recent memory. Georgia State's football program is barely a decade old; in 7 years at the FBS level the Panthers have managed just one winning season, a 7-5 mark in 2017, and followed it up last year with a last-place finish in the Sun Belt's East division. They ended 2018 on a 7-game losing streak, all against SBC opponents, with all but one of those Ls coming by at least two touchdowns. Conference media types picked the 2019 edition to finish in the basement again. There's losing to a Sun Belt team (it happens), and then there's losing to an objectively awful Sun Belt team.
Outside of the Sun Belt, Georgia State can now count exactly 4 all-time wins vs. FBS opponents, at the expense of Ball State (2015), Charlotte (2017), Western Kentucky (2017), and … Tennessee (2019). Becoming the most prominent head on that kind of wall is every SEC fan's worst nightmare.
So while it might not be beyond any shadow of a doubt The Worst Loss Ever, full stop, it is fair to say I can't recall another nonconference loss by an SEC team that I would describe as worse. Going back to 1992, the year the conference expanded and split into two divisions, I can only come up with a handful of other contenders to the They S'posed to Be SEC throne, ranked here in descending order:
1. The Citadel 10, Arkansas 3 (1992). Arkansas' first game as an SEC program, and the only loss in our time frame so bad the man responsible for it literally could not show his face on campus again: Coach Jack Crowe submitted his resignation the following day.
2. SMU 17, Arkansas 14 (1995). Another opening-day pantsing for the Razorbacks, this time at the hands of an outfit still mired in the depths of the "Death Penalty" — SMU was coming off a 1-9-1 season in 1994 and failed to win another game in '95. Arkansas, on the other hand, somehow recovered to play in its first SEC Championship Game. There's hope yet!
3. UL-Monroe 21, Alabama 14 (2007). The low point of Nick Saban's tenure. The humiliation vs. Monroe (which limped into Tuscaloosa at 4-6) was sandwiched in between two other memorable flops, a 17-12 loss at Mississippi State and a 17-10 loss to Auburn, that combined to make the Tide a laughingstock at the end of Saban's first season despite a promising 6-2 start. The immortal "Tide Rolled" billboard might be the last good laugh the rest of the league ever gets at his expense.
(Editor's note: An earlier version incorrectly listed the year of the "Honk if you sacked Brodie" game. That game was played in 2005.)
4. Memphis 21, Tennessee 17 (1996). A top 10 team quarterbacked by Peyton Manning lost to a 26-point underdog that went on to finish 4-7. Enough said. Twenty-one points was the most Memphis scored in any game in the '96 season.
5. Jacksonville State 49, Ole Miss 48 (2010). The canary in the coal mine for Houston Nutt, whose first 2 years in Oxford had yielded back-to-back Cotton Bowl wins and top 20 finishes. A double-OT loss to an FCS school marked the beginning of Nutt's descent, and of a saga whose ripple effects are still being felt at Ole Miss nearly a decade later.
Honorable Mention: UAB 13, LSU 10 (2000) … Maine 9, Mississippi State 7 (2004) … Georgia Southern 26, Florida 20 (2013) … The Citadel 23, South Carolina 22 (2015) … Colorado State 34, Arkansas 27 (2018).
* * * * *
Maybe you have some quibbles with the order, or you still have the scars from some other inexplicable upset that cut even deeper. But is there any entry on your list that's worse than getting run out of your own stadium by a fledgling doormat from the Sun Belt? I think not.
Up close, the specific circumstances in this case only add to the Volunteers' misery going forward. The final score was not a fluke: If anything, it wasn't as close as the 8-point margin suggested, thanks to a late, meaningless Tennessee touchdown drive in the final minute. Prior to that, Georgia State had outgained the Vols overall and flat-out dominated along the line of scrimmage, where the Panthers racked up 215 rushing yards to UT's 93. GSU took advantage of Tennessee miscues, converting 3 turnovers in UT territory into 17 points, but also put together 3 sustained touchdown marches of 75 yards or more. After kicking a field goal to go ahead, 23-21, early in the 4th quarter, Tennessee's next 3 possessions resulted in a fumble, and interception and a turnover on downs; Georgia State's resulted in 2 touchdowns and a field goal, matching last year's scoring average in nonconference games in less than half a quarter.
Zooming out, whatever sense of momentum the Vols might have carried into Jeremy Pruitt's second season is clearly kaput. Ideally, Year 2 under a new head coach is supposed to be the year ascendant programs with resources begin to make good on their potential and round into something at least roughly resembling a finished product, especially when they boast as much veteran talent as Tennessee's. (Phil Steele's annual Experience Chart projected UT as the second most experienced lineup in the SEC, behind only LSU's, although injuries have already taken their toll on that front.)
It's supposed to be the year that players like redshirt junior QB Jarrett Guarantano, a former blue-chip recruit making his 19th career start, pay off that investment by emerging as plus starters. It's supposed to point toward much bigger goals on the horizon, however distant.
Instead, the direction of the program 1 game into Pruitt's sophomore campaign is pointing toward the graveyard, which suddenly doesn't seem nearly as distant as it did on Saturday morning. Overnight, the Vols went from solid candidates to improve to 8 or 9 wins to likely underdogs, again, in every conference game through the season finale against Vanderbilt. (And no one in Knoxville needs reminding they've lost 3 straight to Vandy.) In other words, the immediate future looks alarmingly like the immediate past, and like much of the preceding decade that Pruitt was hired to consign to ancient history.
It doesn't have to be that way; 0-1 is just 0-1, and the good thing about hitting rock bottom is that there's nowhere to go but up. But after back-to-back last-place finishes in 2017-18 the Vols had every reason to assume that the worst was behind them. The sinking feeling as the crowd streaming out of Neyland Stadium on Saturday realized that they're still in it, with no end in sight, really is as bad as it gets.
Notebook
Around the conference.
Georgia State 38, Tennessee 30
In a failure this comprehensive there's more than enough blame to go around, so scapegoating any specific player or position group for the loss would be unfair. But no aspect of Tennessee's lineup was a more glaring concern coming into the season than the front 7 on defense, and the d-line, in particular, and the initial returns set off sirens. The significant majority of GSU's production came on the ground, and the fact that QB Dan Ellington posed very little threat to beat the Volunteers with his arm — he hit just 11-of-24 passes for 139 yards — didn't slow down the Panthers. Georgia State deserves some credit for that, especially Ellington and running back Tra Barnett, who combined for 156 yards and 2 TDs on 35 carries. Tennessee's breakdowns deserve more.
As young as the front line was (very), the issues went beyond "getting blocked." Take a play like this one, in the second quarter, on which the Vols lined up in a … let's say, unusual alignment on 3rd-and-10, on the heels of 2 incomplete passes by Ellison. (The generous interpretation is that the chaotic look from the defense here was designed to confuse GSU's protection on a presumed passing down; just as likely the Vols were freelancing.) The play is a designed QB draw for Ellison, a conservative call that Tennessee actually finds itself in good position to hem in for a short gain — until an unblocked rusher off the left side, 5th-year senior Darrell Taylor, found himself grasping at air as Ellison effortlessly broke contain:
If you thought that alignment was silly, just watch what happened next. pic.twitter.com/DeLeosanMZ

— David Ubben (@davidubben) September 1, 2019
Rather than settling for a punt, Ellison's scramble set up a 4th-and-1; the Panthers converted and subsequently scored to even the score at 14.
In the 4th quarter the situation began to really unravel. Fully half the yards on GSU's go-ahead, 75-yard touchdown drive came on just tree carries by Barnett, the last 19 of them on a simple zone run that, again, Tennessee appeared to be in fine position to defend but then… didn't.
8/31/19–Georgia State's Tra Barnett 19-yard TD run vs. Tennessee pic.twitter.com/qTOb5txxFE

— College Football Clips (@CFB_Clips) September 2, 2019
The inside linebacker, No. 21 Shanon Reid, was able to fill an inside lane before getting sealed off by a down block, spilling Barnett directly into the path of sophomore safety Trevon Flowers, No. 25, who was left entirely unblocked in run support. He also appeared to be the most surprised person in the stadium to see Barnett sprint past him with the ball:
Not that it was a given that the Vols would make the play when everything initially seemed to go according to plan. On Ellington's game-clinching TD run, senior safety Nigel Warrior, the veteran leader of the defense, read the QB keep off of a zone-read action, sprinted into position to drop Ellington for no gain, and wound up instead on the wrong end of the most slapstick highlight of the day:
Alignment, recognition, containment, pursuit, tackling: Tennessee filled its "Mental Mistakes Against the Run" Bingo card, and it wasn't only the underclassmen and first-time starters who were responsible. Presumably it will get better, if only in a regression-to-the-mean sort of way. But the mean in 2018 was below average by SEC standards, and as the strength of schedule steepens just getting back there looks like an uphill climb.
Auburn 27, Oregon 21
Anybody remember anything Bo Nix did in the first 59 minutes and 30 seconds? Anybody care?
For the record, Nix finished 13-of-31 for 177 yards with 2 touchdowns and 2 interceptions, chipping in another 42 yards on the ground — pedestrian or respectable, depending on the eye of the beholder, and undeniably reckless on the picks. But let's be real, only 2 of those throws actually registered: The first, a 13-yard strike to sophomore WR Seth Williams to move the sticks on 3rd-and-10 with the clock ticking under 20 seconds to go; the second, the game-winning lob to Williams in the front corner of the end zone on the subsequent play. Thus from the mists of a wildly uneven performance the first chapter in the Legend of Bo was born.
That was swift. The hallway in Auburn's athletics complex *already* has some new art on the walls. Seth Williams' catch last year against Texas A&M has been replaced by last night's game-winning touchdown. Plus, Justin Herbert getting sacked. pic.twitter.com/7XdNSpB87z

— Tom Green (@Tomas_Verde) September 1, 2019
Time will tell how long Nix's honeymoon lasts. The defense, though, has all the makings of a sustainable, first-rate unit capable of absorbing and erasing a lot of mistakes by its volatile young QB and keeping the Tigers competitive in every game. That's not a surprise, but it is a relief after the way the evening began: Oregon scored touchdowns on 2 of its first 3 possessions and came as close as possible on the 3rd, stalling out at the goal line before missing a chip-shot field goal. From that point on the Ducks went on lockdown; their last 10 possessions yielded 7 punts (5 of them following 3-and-outs), 2 turnovers (1 via fumble, 1 via downs), and a single score. In the much celebrated shoving match between the Oregon o-line and the Auburn d-line the Tigers clearly asserted their will over the final 3 quarters.
Oregon fans, who have lived through this exact story before, are understandably a bit miffed about the Ducks' clock management in the 4th quarter. But if they could go back in time and erase any single play prior to the final drive it wouldn't be anything that happened down the stretch: It would be the botched handoff in the 2nd quarter between Oregon QB Justin Herbert and RB C.J. Verdell, which Auburn's Big Kat Bryant nearly housed after an 85-yard sprint toward the opposite end zone.
Big Kat was THIS close to a big man scoop-and-score!

(Via @SportsCenter)pic.twitter.com/sGB7LERmO7

— PFF College (@PFF_College) September 1, 2019
At the time, Oregon was seriously threatening to extend its 14-3 lead following a long punt return; instead, the Ducks came away empty in the red zone for the second time and their imminent scoring opportunity abruptly became Auburn's. The Tigers only managed a field goal from the exchange, but in a game ultimately decided by 6 the 10-point swing was the crucial twist. If the Ducks execute that handoff this section is probably another extended examination of Gus Malzahn's buyout.
North Carolina 24, South Carolina 20
The contrast between Jake Bentley and his true freshman counterpart, Sam Howell, with the game on the line was illuminating.
Through 3 quarters, the Gamecocks led comfortably, 20-9, and appeared to be in command of a slugfest. Bentley's output to that point (14/21 for 127 yards, 1 TD, 0 INTs) was modest but more than enough; Howell had looked every inch the rookie playing in his first college game. In the 4th quarter, the freshman found his touch: With his back against the wall, Howell led a pair of rapid-fire, out-of-nowhere scoring drives that covered 98 and 96 yards, respectively, connecting on 5 consecutive passes that averaged 22.2 yards a pop. His overall efficiency rating in the final frame (348.7) was the best of any FBS passer in Week 1 for a single quarter.
Bentley? Not so much!
South Carolina QB Jake Bentley is well….. not very good. Misses a guy wide open and then throws the INT to lose the game.. pic.twitter.com/s7ye1bsqDr

— Bobby Skinner (@BobbySkinnerNFL) August 31, 2019
Charged with rallying his team from behind rather than protecting a lead, Bentley missed on 7 of his last 8 attempts, often disastrously: After South Carolina fell behind, its subsequent 4 possessions ended with a sack, an interception, an even worse interception (see above), and another sack on the final play of the game. His efficiency rating in the fourth (-8.2) was the worst of any FBS passer in Week 1 for a single quarter.
If you didn't know better, you'd naturally assume the true freshman in that scenario was the senior making his 33rd career start and vice versa. Bentley's inconsistency and apparent lack of growth has been an ongoing issue now for the better part of 2 years; since the start of the 2017 season he's thrown more picks (28) than all but one other active FBS passer in the same span, an issue that is not even close to being resolved. The big plays that have occasionally offset his mistakes were in short supply Saturday. At this stage in his career, the enormous potential he flashed as an underclassman matters a lot less than his inability to fulfill it.
Alabama 42, Duke 3
The Crimson Tide's biggest concern coming into this game was the middle of the defense, which was manned entirely by true freshmen. So far, so good: NT D.J. Dale and ILBs Shane Lee and Christian Harris combined for 15 tackles in a reassuringly by-the-book rout. Duke managed just 204 total yards, failed to take advantage of an early turnover in Bama territory, and settled for a field goal on its only notable drive of the game. That kind of boring Nick Saban can live with.
The kicking game — also the province of a true freshman, Will Reichard — was more of an adventure, as it usually is. Reichard assumed all kicking duties in his debut, going 6-of-6 on PATs, driving all 7 of his kickoffs for touchbacks, averaging 40.0 yards on 2 punts, and, inevitably, clanging both of his field-goal attempts off the uprights. In his defense, the kicks were long ones, from 48 and 49 yards out, respectively, and he had more than enough leg on both. Let's give him a few weeks to recalibrate his radar before consigning him to the accursed.
Memphis 15, Ole Miss 10
The Rebels were +5.5 coming into this one, so the 5-point margin against a Memphis outfit that has a realistic chance to win 10 or 11 games is par for the course. The final score, on the other hand, is a real concern.
Consider that, along with last year's Egg Bowl collapse at Mississippi State, Saturday's loss was the second in a row for Ole Miss in which it gained fewer than 200 yards of total offense. Prior to that, the Rebels had been held below 200 yards just once in their previous 87 games, a streak dating to 2011. (The sole outlier in that span was the 2014 Peach Bowl debacle vs. TCU.) Unless Memphis turns out to be vastly better on defense than anyone realizes, the offense bore no resemblance to the kind of shootout-friendly attack Ole Miss fans have come to expect.
It's difficult after just one game to make much of redshirt freshman QB Matt Corral, who spent much of his first career start under extreme duress; Memphis sacked him 3 times amid a steady diet of pressure. But it was hard not to feel the absence of the dynamic, NFL-ready receivers that have defined the offense for most of the past decade, either. Corral connected on 1 downfield completion, a heavily contested catch by sophomore Elijah Moore that went for 36 yards in the 3rd quarter; otherwise, his longest completion covered just 15 yards, to tight end Jason Pellerin. Aside from Moore, who had 4 grabs for 60 yards, Ole Miss' other receivers collectively hauled in 1 pass for 6 yards.
The Rebels can't win that way, against Memphis or anyone else. And if they don't come up with a new way asap it's going to be very long year.
Superlatives
The best of the week.
1. Alabama QB Tua Tagovailoa
Compared to his usual outing in 2018, Tua played it close to the vest against Duke — Bama went 3-and-out on its first series and didn't score at all in the 1st quarter, a big departure from last year's fire-breathing starts — and didn't really bother to test the Blue Devils deep; his longest completion covered 39 yards, to Jaylen Waddle, most of it coming after the catch. In the end, though, it was another hyper-efficient day at the office: Once he settled in, Tagoviloa led TD drives on 5 of his last 6 possessions before taking his customary bow at the end of the 3rd quarter. He finished 26-of-31 for 336 yards, 4 TDs, and 0 INTs, good for the nation's best passer rating (217.5) vs. a Power 5 opponent.
2. LSU QB Joe Burrow
Burrow flirted with a perfect night in the Tigers' 55-3 throttling of Georgia Southern, setting career highs for completion percentage (85.2), touchdowns (school-record 5) and efficiency (232.8) in the romp. He also spread the wealth: 14 LSU receivers caught at least 1 pass against GSU, equalling the number who caught a pass in all of 2018.
3. Alabama WR Jerry Jeudy
REMINDER: Jerry Jeudy is still REALLY good at football. #RollTide pic.twitter.com/GK6BNqlZLN

— Stadium (@Stadium) September 1, 2019
Jeudy led the league in catches (10) and yards (137) in Week 1, but his stat line was a footnote next to the sheer electricity that coursed through the stadium every time he touched the ball. How do we go about quantifying his status as one of the slipperiest players who's ever played the game?
4. Georgia's offensive line
Six Bulldogs combined to rack up 324 rushing yards against Vanderbilt on a whopping 8.3 per carry, a testament to the efforts of the most massive front line in the nation. Vandy managed just 2 TFLs and 0 sacks in a 30-6 thumping that wasn't nearly as close as the score.
5. Kentucky LB DeAndre Square
DeAndre Square puts a cap on a HUGE game by tipping the pass to himself for the interception. pic.twitter.com/opNjJizQ8v

— Scott Charlton (@Scott_Charlton) August 31, 2019
A true sophomore making just his 2nd career start, Square made the most of it, finishing with a team-high 11 tackles, 2 TFLs (including a sack), and the game-clinching interception in the Wildcats' 38-24 win over Toledo. He might not be a Josh Allen-type presence in opposing backfields, but at that rate he is a reminder that Kentucky's defense isn't necessarily destined to fall off a cliff.
Honorable Mention: Auburn LB K.J. Britt, who looked like a star in the making with 7 total tackles, 2 TFLs and a QB hurry in his first career start. … Mississippi State RB Kylin Hill, who took advantage of his expanded role by churning out 197 yards on 8.6 per carry in the Bulldogs' 38-28 win over UL-Lafayette. … Georgia RB D'Andre Swift, the main beneficiary of his line's pile-driving efforts against Vandy with 149 yards on 9.3 per carry. … Georgia K Rodrigo Blankenship, who connected on all 3 field goal attempts and drove 5 of his 7 kickoffs for touchbacks. … LSU DL Neil Farrell, who finished with 8 tackles, a sack, and a PBU against Georgia Southern in a thoroughly dominant effort by the Tigers' defense. … LSU WR Terrace Marshall Jr., who hauled in 3 of Joe Burrow's 5 TD passes. … And Kentucky WR Ahmad Wagner, who accounted for a 40-yard reception against Toledo and 30 more yards on a pair of pass-interference penalties — both of which led directly to touchdowns by setting up the Wildcats in first-and-goal.