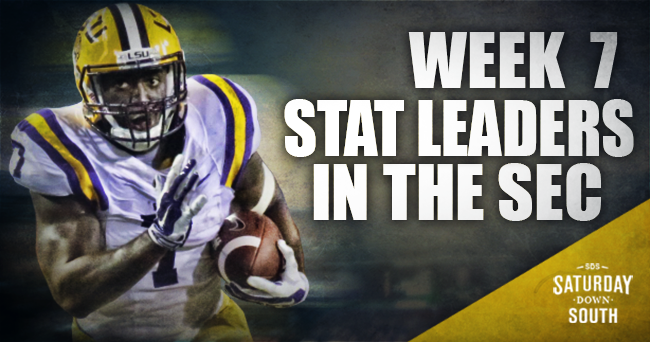 SEC
SEC stat leaders: Week 7
Last week in the SEC, surprise came in many forms. Be it the Commodores' upset of the Bulldogs, the depth of domination by the Tide, or the primetime Hogs, each game had its own wrinkle of intrigue. Regardless of what the game day storylines are, sometimes the stats tell their own story. Here are the statistical leaders from Week 7.
Most passing yards (individual)
Jacob Eason had a bit of a hollow 346 in Georgia's loss to Vanderbilt. He was the only part of the offense that could get traction, as it took him 40 pass attempts to get there. Danny Etling and the LSU offense as a whole has been given new life under new head coach Ed Orgeron, leading to the team's two best offensive showings of the year. Chad Kelly remains elite, but all the big moments seem to be breaking against the Rebels.
Jacob Eason, Georgia – 346 yards, 1 TD
Danny Etling, LSU — 276 yards, 3 TDs
Chad Kelly, Ole Miss — 253 yards, 1 TD
Most rushing yards (individual)
Rawleigh Williams III paced a balanced Arkansas in a statment win over Ole Miss. The Hogs may have fallen to Alabama and Texas A&M early, but they could still be a force in the West. Derrius Guice proved he can get the job done in place of Leonard Fournette, especially against Southern Miss. Damarea Crockett was a lone bright spot in Florida's thrashing of Mizzou.
Rawleigh Williams III, Arkansas — 180 yards
Derrius Guice, LSU — 162 yards, 2 TDs
Damarea Crockett, Missouri — 145 yards
Most receiving yards (individual)
Evan Engram is not only the most explosive tight end in the SEC, but one of the best receivers period. It's so strange to see LSU passing stats on the leaderboard, but their receiving corps would truly be special if their quarterback play saw this kind of consistency on a weekly basis. Again, Southern Miss probably played a part in their success.
Evan Engram, Ole Miss — 111 yards, 1 TD
Malachi Dupre, LSU — 100 yards, 2 TDs
D.J. Chark, LSU — 91 yards, 1 TD
Most total yards (team)
Alabama is a terrifying, multi-faceted team, and as much as other SEC fan bases want to root against them, they're just not a fun matchup for anyone so far. Florida's offense was far from pretty with a rusty Luke Del Rio throwing three picks early, but Mizzou has really struggled on both sides of the ball lately. Ed Orgeron's LSU has been an offensive machine through two weeks of bad competition. We'll see what they're made of next week against Ole Miss.
Alabama (vs. Tennessee) — 594 yards
Florida (vs. Missouri) — 523 yards
LSU (vs. Southern Miss) — 459 yards
Most rushing yards (team)
Despite the lack of a clearly elite back, Alabama has been dominant on the ground thanks to the crafty Jalen Hurts at quarterback. Florida benefitted from a suspect Missouri defense, though Jordan Scarlett had a nice game. Mizzou put up a ton of its yards in garbage time, though seeing an offensive dimension beyond Drew Lock is encouraging.
Alabama (vs. Tennessee) — 438 yards
Florida (vs. Mizzou) — 287 yards
Mizzou (vs. Florida) — 265 yards
Most rushing yards allowed
Plenty of these numbers are the reverse of the last list of stats thanks to conference matchups. Tennessee has simply ran out of bodies, especially on the defensive end. At the start of the year, they were a talented defense with room to grow, but since then they have been giving up chunk yardage as backups of backups have been relied upon. Mizzou at Florida was a turnover-heavy affair where only the Gators were able to capitalize.
Tennessee (vs. Alabama) — 438 yards
Missouri (vs. Florida) — 287 yards
Florida (vs. Missouri) — 265 yards
Fewest rushing yards allowed
Plenty of double digits here, speaking to the talent across the SEC on the defensive front, and perhaps the lack of talent on the offensive line. Alabama's front seven is as menacing as ever, and Tennessee felt it after an all-time performance by Alvin Kamara the week prior. Georgia's run game, as well as the lack of production from Nick Chubb, have been among the most puzzling things about the SEC this season. Vanderbilt can certainly play defense. If it could simply figure out that pesky thing where teams have to score points, it would be dangerous.
Alabama (vs. Tennessee) — 32 yards
Georgia (vs. Vanderbilt) — 62 yards
Vanderbilt (vs. Georgia) — 75 yards
Most passing yards allowed
Just after complimenting the Vandy defense, here we are. Derek Mason's bunch was happy enough to let freshman quarterback Jacob Eason beat them, especially with the Georgia receivers dropping the ball consistently. The same is more or less true for Chad Kelly. He has a history of getting his numbers, even when he played the Alabama secondary. By shutting down other phases of the game, Arkansas was able to deliver the win. The pick-sixes hurt Mizzou, but letting Luke Del Rio get comfortable after his interceptions was what put the final nail in the coffin.
Vanderbilt (vs. Georgia) — 346 yards
Arkansas (vs. Ole Miss) — 253 yards
Missouri (vs. Florida) — 236 yards
Fewest passing yards allowed
Drew Lock has been shredded by SEC corners of late, and Florida's defensive backs scored more than Missouri's offense on Saturday. Stopping Vanderbilt's passing game may be the easiest goal in all the SEC. Josh Dobbs is both erratic and turnover-prone (3 INTs more than any other SEC QB), and those are probably the worst two traits to have, especially against the Tide.
Florida (vs. Missouri) — 98 yards
Georgia (vs. Vanderbilt) — 109 yards
Alabama (vs. Tennessee) — 131 yards