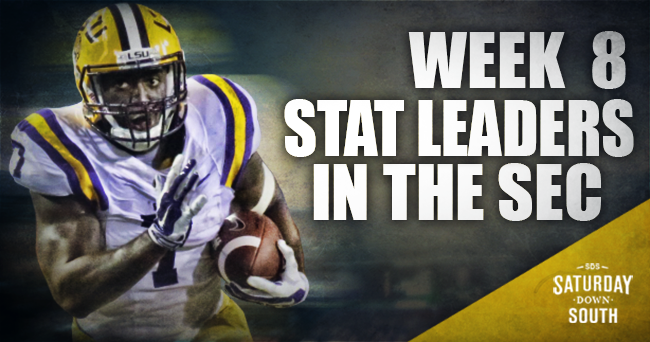 SEC
SEC stat leaders: Week 8
Most passing yards (individual)
This is about as upside down as these stats have been this season. Stephen Johnson benefitted from chunk yardage, but he did enough to give his team a gritty, last second win against Mississippi State at home.
Drew Lock was pretty bad. The yards were there, but his completion percentage was an even 20-of-40, and it's generally frowned upon when an SEC quarterback loses on homecoming to MTSU.
Chad Kelly had a similar situation, as LSU's stifling pass defense limited one of the SEC's most prolific passers to his season-low in yardage. The two interceptions didn't help either, as Ole Miss fell to 3-4.
Stephen Johnson, Kentucky – 292 yards, 2 TDs
Drew Lock, Mizzou — 281 yards, 2 TDs
Chad Kelly, Ole Miss — 209 yards, 1 TD
Most rushing yards (individual)
Leonard Fournette is back, and it's bad news for the rest of the SEC. One of the best players in college football imposed his will with 284 yards, the most by an LSU back in history. His three 50-plus yard touchdown runs alone would've been enough to tie the often-explosive Ole Miss offense.
Auburn had a day against Arkansas, and it's surprising just how varied their rushing attack was. Kamryn Pettway was the lead back in Rhett Lashlee's dominant run game, but it could've been anyone.
Damarea Crockett had an amazing four touchdowns, and was certainly a bright spot for Mizzou.
Leonard Fournette, LSU — 284 yards, 3 TDs
Kamryn Pettway, Auburn — 192 yards, 2 TDs
Damarea Crockett, Missouri — 156 yards, 4 TDs
Most receiving yards (individual)
Badet had a career game against Mississippi State and provided enough spark for the Wildcats to get their first win against Dan Mullen.
Deebo Samuel must be ecstatic on Sunday, because it looks like South Carolina has found a consistent quarterback. Hopefully with Jake Bentley under center, there will be more big days on the horizon for Samuel.
Damore'ea Stringfellow paced the Rebels in their loss in Death Valley.
Jeff Badet, Kentucky — 139 yards, 2 TDs
Deebo Samuel, S. Carolina — 106 yards, 0 TDs
Damore'ea Stringfellow, Ole Miss — 92 yards, 0 TDs
Most total yards (team)
Auburn murdered Arkansas on the ground, and the Sean White experiment has been going well.
Mizzou's offense was great, but they played Middle Tennessee State – and lost.
Kentucky has come a long way – from losing their starting quarterback, to a string of embarrassing defeats, to now second in the SEC East.
Auburn (vs. Arkansas) — 632 yards
Mizzou (vs. MTSU) — 629 yards
Kentucky (vs. Miss. State) — 459 yards
Most rushing yards (team)
Auburn pillaged Arkansas on the ground, and it's amazing that their leading rusher only finished with 192.
Vanderbilt played Tennessee State, but they did take care of business.
Fans at Mizzou's homecoming were treated to a track meet.
Auburn (vs. Arkansas) — 543 yards
Vanderbilt (vs. Tenn. State) — 358 yards
Mizzou (vs. MTSU) — 348 yards
Most rushing yards allowed
A lot of these are repeats, as we are in the thick of conference play. Auburn's impressive total will never get tiring to look at, however, as Arkansas' defensive coordinator Robb Smith now has plenty of examples of how not to defend Auburn.
Ole Miss played well when Fournette wasn't in the game, but they just couldn't stop him when he was.
Mizzou went all the way back to their Big 12 days with this lack of physicality against a Conference USA foe.
Arkansas (vs. Auburn) — 543 yards
Ole Miss (vs. LSU) — 311 yards
Mizzou (vs. MTSU) — 300 yards
Fewest rushing yards allowed
Arkansas ran for 25 yards and Austin Allen was beaten like a piñata. The most surprising stat of the year may be that a Bret Bielema team has the worst offensive line in the league.
Alabama has had reservations on this list since conference play started.
LSU ate up Ole Miss' run game, and made the Rebels' offense one dimensional.
Auburn (vs. Arkansas) — 25 yards
Alabama (vs. TAMU) — 114 yards
LSU (vs. Ole Miss) — 116 yards
Most passing yards allowed
It doesn't say much for the vaunted defenses of the SEC when two of the top three highest passing yardage totals came from Conference USA and the Ohio Valley conference. Still, this speaks more to the quality of the defensive team instead of the opponent, because LSU, Ole Miss, Alabama, and Texas A&M were kept off this board.
Miss State (vs. Kentucky) — 292 yards
Vanderbilt (vs. Tenn State) — 285 yards
Missouri (vs. MTSU) — 284 yards
Fewest passing yards allowed
Nick Fitzgerald is as erratic as any starter in the SEC, and this was one of the down weeks.
A Kentucky defense that gave up 41 points at home to Southern Miss earlier this year was able to contain him to the fewest yards of anyone in the league.
Arkansas can claim a small moral victory here, but this was more a case of "if it ain't broke, don't fix it" with regards to Auburn's explosive run game.
Kentucky (vs. Miss State) — 81 yards
Arkansas (vs. Auburn) — 89 yards
Alabama (vs. TAMU) — 164 yards