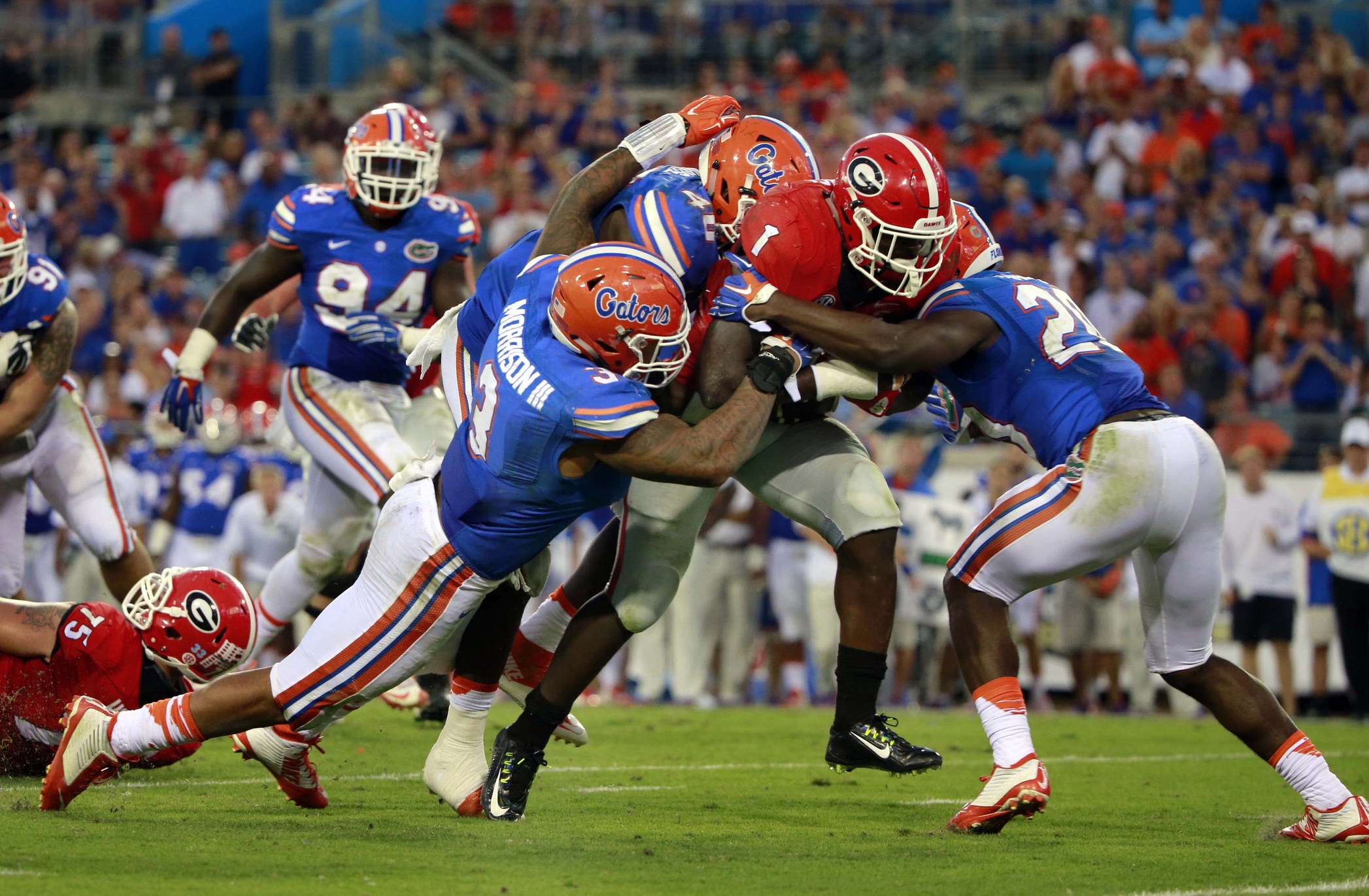 SEC
SEC teams that could take a step back in 2016
It's difficult to maintain consistency in the SEC. In this decade alone, Auburn has twice gone from playing in the national championship game to dropping to single-digit wins the following season. For most teams (i.e. not Alabama), success is cyclical.
At some point, every team will be faced with losing a lot of talent all at once. The double whammy of early departures to the NFL and graduating seniors can be too much for teams that fail to build quality depth year after year.
The departure of certain athletes will hit some teams harder than others this season. Mississippi State is highly unlikely to go 9-4 or better in 2016 without Dak Prescott. While Arkansas was one of the more dominant teams of the second half of 2015, there's no easy way for the Razorbacks to replace Brandon Allen, Alex Collins and Hunter Henry.
Perhaps most interesting to watch will be how some of the conference's top teams from 2015 handle major changes. Four SEC teams won 10 or more games last season — led by Alabama with 14 — and three could take a step back this fall:
Ole Miss Rebels
The 2016 season will be a telling point as to just how well coach Hugh Freeze has recruited. While many are high on the Rebels because of quarterback Chad Kelly's return, it won't be easy for Ole Miss to replace three elite talents: Laremy Tunsil, Laquon Treadwell and Robert Nkemdiche.
Freeze has had no problem signing blue-chip recruits, but bringing in a four-star receiver and signing another Treadwell are far from the same thing. Maybe Damore'ea Stringfellow will prove to be that Treadwell-like playmaker for Freeze's squad in 2016.
If Ole Miss doesn't make a New Year's Six bowl this year, it will technically be a step back, but there's no reason fans should turn on Freeze considering the big shoes to fill on both sides of the ball.
Georgia Bulldogs
Can a team that fired its coach really take a step back? From a win-loss perspective, it's certainly possible that Georgia and new coach Kirby Smart won't reach 10 wins again in 2016.
We've all heard the hype on QB Jacob Eason, especially after his impressive spring game performance (19-of-29, 244 yards, TD). Eason clearly has the arm and the tools to be a great college quarterback, but he's still just a true freshman. There are bound to be some growing pains. Being able to handoff to (hopefully healthy) running backs Nick Chubb and Sony Michel (above, with Smart) will help, but UGA can't go completely one-dimensional.
If the Bulldogs do take a step back in 2016, they're likely to take two steps forward in 2017.
Florida Gators
The defending SEC East champion is not getting any love this preseason, and it's not because of any anti-Florida bias. There are plenty of reasons to see the Gators taking a step back in Year 2 of the Jim McElwain era.
The offense was hit particularly hard by departures at the skill positions (quarterback, running back and wide receiver). While journeyman QB Luke Del Rio appears to be an upgrade over Treon Harris, replacing the primary ball-carrier (Kelvin Taylor) and top possession receiver (Demarcus Robinson) are still tall tasks for the unproven backups and newcomers. There's also the uncertainty surrounding leading receiver Antonio Callaway's status.
On defense, the Gators at least return key contributors at all position groups, but there are big shoes to fill. Four departures especially loom large: DT Jonathan Bullard, DE Alex McCalister, LB Antonio Morrison and CB Vernon Hargreaves III.
The Florida offense should look better than the Harris-led squad that finished the season 4-4, but it's hard to see this team performing at the level of the Will Grier-led group that opened the season 6-0 and thumped Ole Miss 38-10. It would take some excellent coaching by Jim McElwain and staff, and a little overachieving, for the Gators to return to Atlanta.