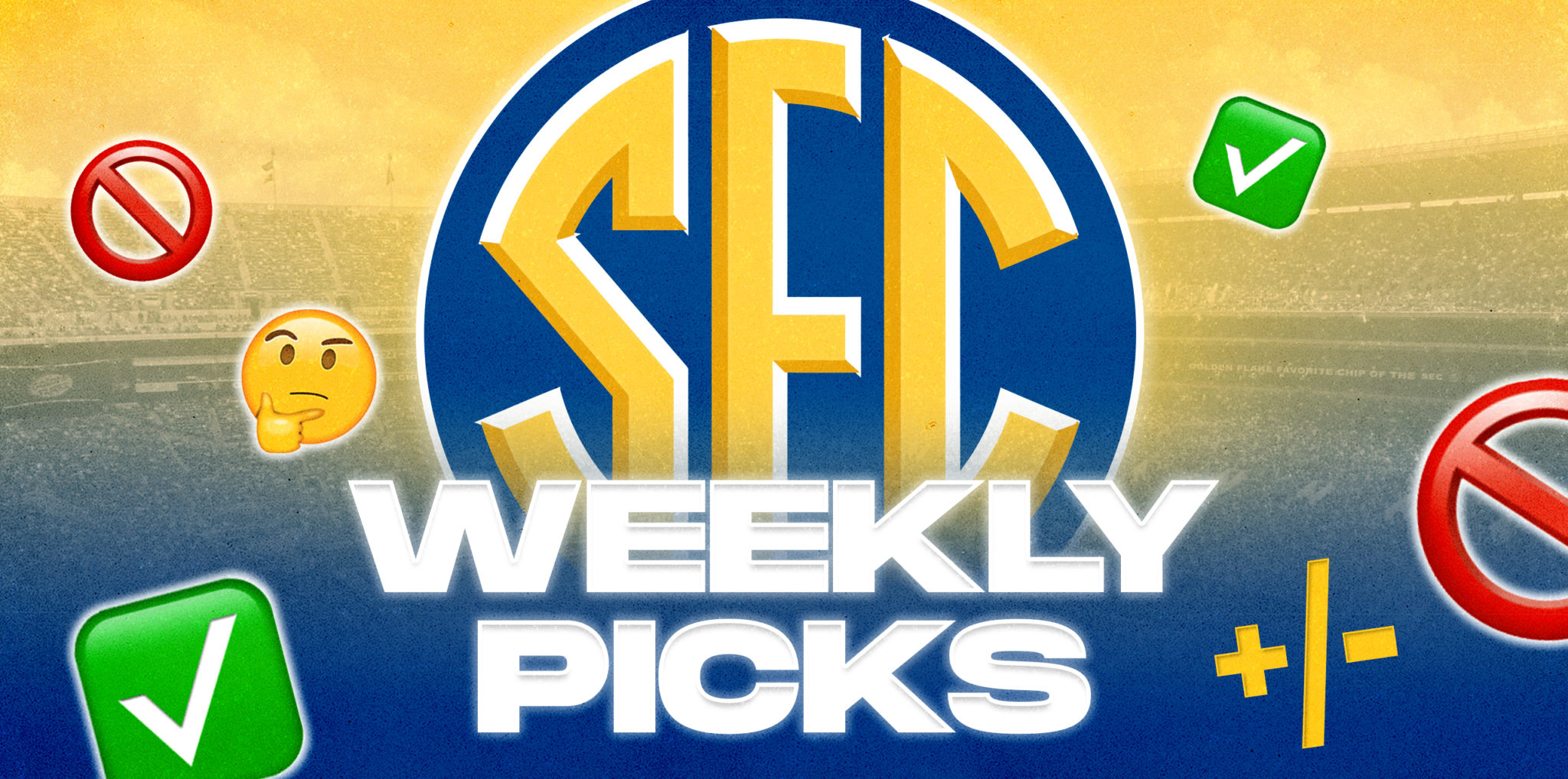 SEC
SEC Week 12 predictions (and bets)
If you live in Tennessee, sports betting is now legal. You can join today and bet on these SEC games now. Check out the best Tennessee sportsbook apps.
We're back with another round of predictions heading into Week 12 in the SEC.
If you missed it earlier this week, the Ole Miss-Texas A&M game has been taken off the schedule as the SEC was forced to postpone that matchup.
SDS news desk editor Michael Bratton (@MichaelWBratton) and SDS Podcast co-host Chris Marler (@VerneFUNquist) are back again to share their predictions picking SEC games and making picks against the spread.
Chris is 31-28-1 against the spread for the season, while Michael is 22-38.
Alabama (-32.5) at Arkansas
Michael: The weekly debate of deciding how many points is too many to take when it comes to an Alabama game continues as the Crimson Tide are huge favorites once again. Bama is 5-0 against the spread in recent weeks but none of those lines were as high as the line against Arkansas. At this point, we don't even know if Feleipe Franks will play in this game but if KJ Jefferson plays as well as he did last week for the Razorbacks, there won't be a significant drop off for Arkansas. I also wonder how long Nick Saban will keep his starters in the game considering the Tide have already clinched the SEC West title. If Sam Pittman's team was at full strength, this would be my lock of the week, but I'm but quite ready to go there with all the injuries that have been piling up in recent weeks in Fayetteville. I'll take Arkansas and the points here.
Alabama 48 Arkansas 20
Chris: Y'all remember way back when we thought Barry Odom was going to win the Broyles Award for coordinator of the year? Fast forward to the end of the season and the Hogs are allowing over 450 yds and 33 ppg. Usually that would scream take Bama, the over, and everything in between. Bama has won and covered the spread in 6 straight games, and somehow the offense has been even better without Jaylen Waddle as we might see three (THREE!) Heisman finalists from one unit.
But as Corson would slur, not so fast my friend. I still love this Arkansas team and think their offense will score against this Bama D. And, sandwiching this game between a blowout revenge victory over LSU and the SEC Championship is seems like a backdoor cover or call the dogs off at halftime kinda game all day long.
Alabama 44 Arkansas 17
Georgia (-13) at Missouri
Michael: With the Ole Miss-Texas A&M postponed, this matchup now looks to be the best game on the SEC slate this weekend as a red-hot Missouri team is set to welcome a rested Georgia team in Columbia. Believe it or not, Missouri could finish No. 2 in the SEC East this season with a win on Saturday and a win against Mississippi State the following week. I doubt even Eli Drinkwitz would have seen that coming this preseason. Unfortunately for the Tigers, JT Daniels is now the quarterback for Georgia and he's brought balance back to the offense in Athens. In their last game against South Carolina, Georgia looked like the SEC contender we all thought they could be this season and if they play like that after getting a week of rest, this game shouldn't be very close. Mizzou appears to be on the right track but the Bulldogs still have a major talent advantage in this game.
Georgia 35 Missouri 20
Chris: Y'all remember like 10 years ago when every girl in America started getting bangs as a part of some "new me, who dis" empowerment phase? That is both of these teams right now. Both of these teams went to get their hair did in early November and got bangs to show off their new self. Ask Kirby Smart, there's something about a fresh bowl cut and new sweater once the leaves start changing. Anyways…
Both of these teams have had a "pick your poison" approach to their offenses and for winning football games as of late. We've seen Mizzou put up 400+ yards passing in wins as well the ability to pound an opposing defense with their run game. We've also seen UGA's offense come to life with the emergence of JT Daniels putting up 400 yards passing in his first start, and offense putting up 350 yards on the ground the week after.
I love the run Mizzou is on right now and the confidence UGA is playing with since they made a change. I'm taking UGA to win, but I think Mizzou keeps it close late into the 2nd half. They've been great at home this year. Plus, trying to get pumped for an 11 AM kickoff in CoMo is like trying to get excited for Midnight Mass with your inlaws. You're gonna need some booze.
Georgia 31 Missouri 27
Tennessee (-15) at Vanderbilt
Michael: It's hard to pick Tennessee to win anything these days, even a matchup against a Vanderbilt team that may be down to about 45 players on Saturday. While you could argue this game is the last game on the schedule Tennessee could possibly win, the same exact thing could be said for Vanderbilt and this game usually means more to the Commodores than it does the Volunteers. That sounds good and all but where Vanderbilt is hurting the most is in its defensive front and the running game is about the only thing Jeremy Pruitt's program is doing right these days. While I don't feel very confident in this pick, if Eric Grey and Ty Chandler have big games on Saturday, the Vols should roll in this game.
Tennessee 30 Vanderbilt 14
Chris: A few years ago I got stuck in an elevator in downtown Atlanta for an hour and a half with a vegan crossfitter. That's what I feel like this season has been for both fanbases. Especially Tennessee. One minute you're headed nowhere but up, and next thing you know you're trapped in a 3 hour hellscape with no one to blame but yourself because you could've taken the stairs. Or in this case you could've not spent the entire offseason talking about being back because you finished last season on a 6 game winning streak against basketball schools.
I don't ever want to hear another Tennessee fan say we should kick Vandy out of the SEC, because they're the only reason Vols fans will have something to celebrate since Columbus Day.
Tennessee 34 Vanderbilt 0
LSU at Florida (-23)
Michael: Will LSU even have enough players to play in this game or have they all opted out? The nightmare of a season isn't even over yet for the Tigers and they may be facing the best offense they will have seen this entire season on Saturday. That's saying something considering opponents have been shattering records all season long against Bo Pelini's defense this fall. Look for Dan Mullen to continue to pad Kyle Trasks' stats as the Gators may not even attempt to run the ball for the second week in a row. This is going to be ugly unless Florida shows some mercy. Considering the fact they hate LSU, that seems unlikely.
Florida 45 LSU 20
Chris: Y'all remember that final scene in Road House where Dalton is fighting Brad Wesley and that bowling ball with arms he had as security? Then the whole town basically took part in killing him off like it was a group project? That's what this game reminds me of. The entire conference has taken turns publicly humiliating the defending national champs, and this week the season-long throat-rip finally ends in Gainesville.
Kyle Trask will once again try to one-up Mac Jones after his performance last week. Florida controls their own destiny to the playoff, but I think they try to make a statement this week to the committee and Heisman voters everywhere. Bo Pelini may be fired by halftime.
Florida 63 LSU 14
Auburn (-6.5) at Mississippi State
Michael: This could be a sneaky good game as Mississippi State has been playing much better as the season comes to a close while Auburn has been playing worse. While few outside of Starkville have been paying attention, the Bulldogs have one of the better defenses not only in the SEC but in the nation this season. MSU's defense is particularly stout against the run, which should be a major concern for the Tigers heading into this matchup. One factor that could favor Auburn here, however, is the fact that Mississippi State often refuses to run the ball even when numbers or the opponents dictate that doing so would be an advantage. It's been a few weeks since we've had an outright upset in the SEC but I'll go with the Bulldogs to pull it off here and sit back and enjoy the outrage that Gus Malzahn is certain to catch if indeed that happens.
Mississippi State 28 Auburn 27
Chris: Auburn heads to Starkville for a war for their final game this season, and holy COW is it fun when these two COLLEGES get together. Despite their struggles on defense and having Bo Nix as their starting QB I half expected that Auburn would be an obvious blowout win.
I haven't been this confused and surprised since that Bruce Willis movie about seeing dead people or when they started putting letters in the math problems back in high school. I'm assuming Vegas knows something because they always do. I'm still taking the bait and taking Auburn. Gus always finds a way to cool off the hot seat a little when the fans start getting restless. Plus, Mississippi State is 0-3 ATS at home this season.
Auburn 30 Mississippi State 17