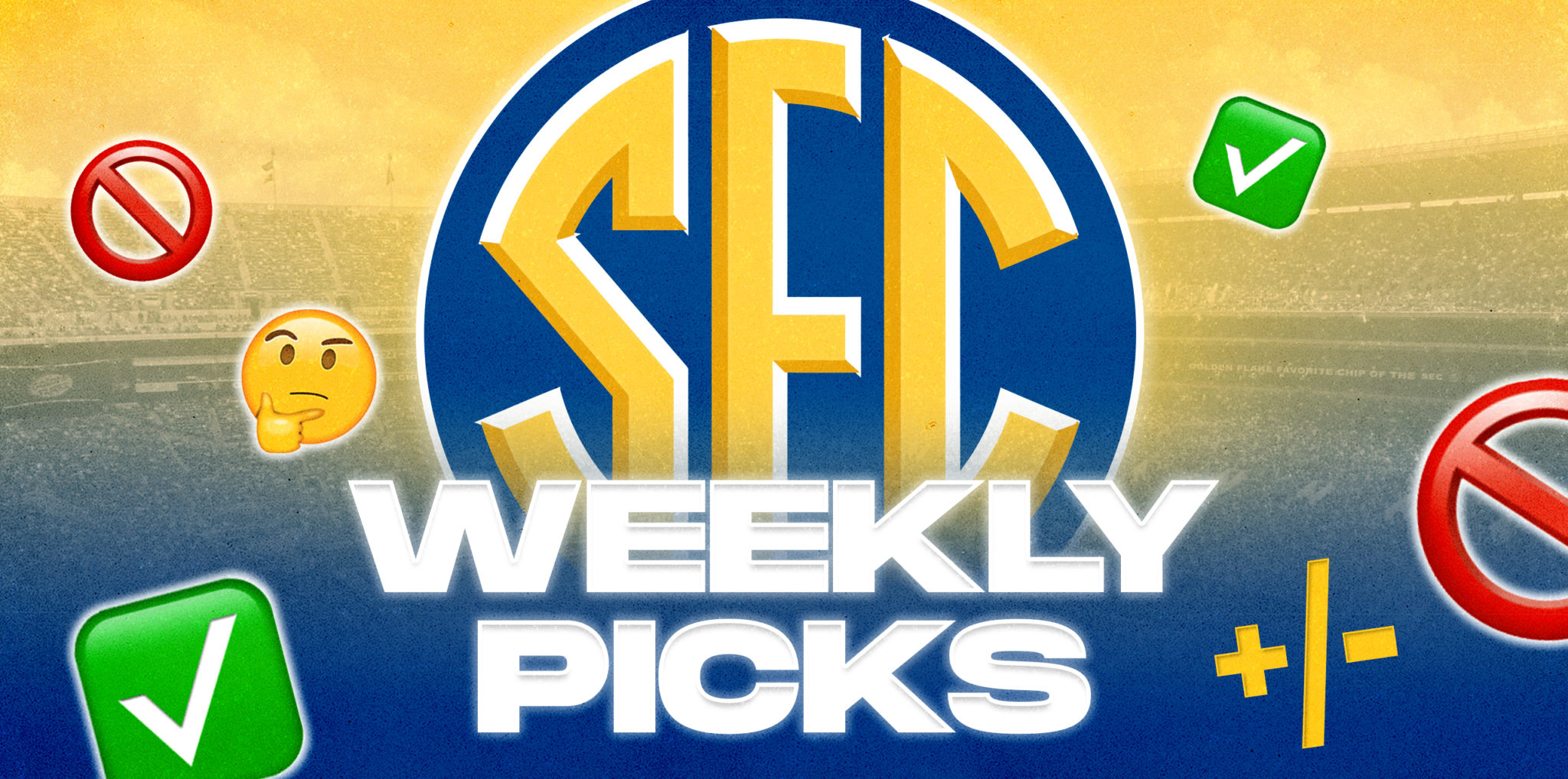 SEC
SEC Week 2 predictions (and bets)
Weekly SEC picks are brought to you by MyBookie. If you're looking for a place to make a deposit and start getting in on the action, look no further than MyBookie. Like one of these games? You can bet it with a free $20 by signing up today. Sign up and use code SDS20 to get a free $20 bet on one of this week's college football games. You keep the winnings!
We're back with another round of predictions in anticipation for Week 2 of the SEC season.
Things are starting to heat up in the SEC after Mississippi State pulled off a stunning outright upset last weekend at LSU, while Georgia survived a terrible performance from the team's offense and are now set to face an Auburn team that looked good beating preseason darling Kentucky in the opener. Outside of the Deep South's Oldest Rivalry, Alabama and Texas A&M is the only other matchup this weekend featuring two undefeated SEC teams.
SDS news desk editor Michael Bratton (@MichaelWBratton) and SDS Podcast co-host Chris Marler (@VerneFUNquist) are back again to share their (sometimes terrible) predictions picking SEC games and making picks against the spread.
Last week, Michael (2-5) barely edged out Chris (1-5-1) with their against the spread picks. Woof.
Here is how the guys predict the Week 2 action to play out:
South Carolina at Florida (-18)
Michael: After watching the first weekend of SEC action, it was pretty comical that some argued Kellen Mond was going to be the league's best quarterback this season. Kyle Trask's only competition for that honor appears to be K.J. Costello but my money is still on Florida's signal-caller. Had Jarrett Guarantano managed to hit more open targets last weekend, Tennessee may have blown the Gamecocks out. That should be a concern for South Carolina entering this game, although cornerback Israel Mukuamu is expected back for the Florida game. For as good as Trask was last week, Florida's defense — outside of some outstanding individual plays from some linemen — struggled against Ole Miss. Collin Hill impressed me enough in the opener to make me believe he'll have some success on Saturday. I'll take SC and the points.
Florida 38 South Carolina 23
Chris: Kyle Trask and Kyle Pitts are basically the 2020 SEC version of NBA Jams. An unstoppable duo that was on fire from downtown early and often in Oxford last weekend. The offense looked great, but the defense gave up 613 yards and 29 First Downs. Luckily they return to the Swamp this weekend where they have been absolutely dominant under Dan Mullen.
USC has lost 10 of their last 12 in Gainesville. They're also 1-5-1 (just like me!) ATS in their last 7 overall. Florida is trending in the opposite direction and has won 7 straight at by an average of 29 ppg. USC has lost their last 4 road games by an average of 17 ppg. The line is 18. Take Trask & TDs all day.
Florida 41 South Carolina 17
Missouri at Tennessee (-11.5)
Michael: Tennessee should get a nice bump from finally having the option of inserting Cade Mays into the lineup this weekend but the Vols were so inconsistent in the opener, I'm having a hard time seeing them easily cover in this matchup. One aspect that is being overlooked heading into this matchup is the fact Missouri is facing the same defensive system the first two weeks of the season. While Eli Drinkwitz certainly wouldn't have picked Alabama and Tennessee as the two teams he'd want to face to open the season, this aspect of the Tennessee favors Mizzou's offense. The Tigers gained some momentum last weekend in the second half, and if they can carry that over to this weekend, they should make this game interesting. I'll take Tennessee to win, Mizzou to cover.
Tennessee 27 Missouri 20
Chris: Mizzou was never going to beat Bama last week. However, there were a lot of positives in the Eli Drinkwitz debut. QB Shawn Robinson was 19-25 on the day, and the D was in the backfield a lot with 9 TFLs. Tennessee survived a scare in Cola last week, but this program just continues to roll under Jeremy Pruitt. The Vols have won 7 straight, 6 in a row in the SEC, and 4 straight on the road. They're also 5-1-1 ATS in their last 7 SEC games.
Mizzou is 1-7 ATS in their last 8. I'm taking Tennessee to win and cover. But, the real play is the under at 48.5. The under is 6-1 in Mizzou's last 7 games and 5-1 in Tennessee's last 6.
Tennessee 28 Mizzou 13
Texas A&M at Alabama (-17.5)
Michael: Jimbo Fisher owes Ed Orgeron a nice bottle of some expensive because had LSU not lost to Mississippi State last weekend, the biggest story in the SEC would have been Texas A&M's struggles against Vanderbilt in the opener. Things haven't been going right in College Station for several weeks as key players have been lost due to injuries and opt-outs since camp began. Those losses really showed in the opener but the outcome of that game would have been much different if not for a few key mistakes made by the Aggies. On the other side of this matchup, Alabama looked as good as advertised against Missouri but Mac Jones wasn't so much as breathed on in the opener. Getting pressure on the Tide QB will be key for Texas A&M's defense. The Aggies will put everything into this matchup and test Alabama but they'll eventually fade late in the game.
Alabama 35 Texas A&M 21
Chris: Question: What is the definition of insanity?
Answer: Believing in Texas A&M and Kellen Mond at the start of every year and expecting different results. I'm not going to overreact to the Aggies 5 point home win against Vandy. There's still plenty of time to get things fixed this season, but what will it take to win this weekend at Bama? Kellen Mond doing something he's never done in his career – beating a ranked team on the road.
Here's a deep dive on Kellen Mond's numbers against ranked teams vs unranked teams as well as his numbers at home vs away are literally night and day.
vs Ranked and Unranked teams in 2019….
Vs Ranked teams – 55.6% 6 TD 4 INT 5.9 YPA 1 Rush TD
Vs Unranked teams – 67.3% 14 TD 5 INT 7.9 YPA 7 Rush TD
And, here are his career numbers at home vs on the road
Home – 62.6% 32 TD 4 INT 8.2 YPA 12 Rush TDs
Away – 56.1% 14 TD 16 INT 6.3 YPA 3 Rush TDs
In 4 total games, Kellen Mond's career numbers vs ranked teams on the road – 51% completion percentage, 3 TD 6 INT and just 5.4 YPA.
The Aggies are 0-4 and lost by an average of 22.2 ppg.
Alabama 38 Texas A&M 17
Ole Miss at Kentucky (-6)
Michael: Kentucky was my upset pick last week and made me look like a damn fool as Auburn dominated in the second half of that matchup on their way to an easy cover. I'm still not ready to give up on the Wildcats but Terry Wilson looked as rusty as any quarterback I've seen in the league last weekend and if Ole Miss can force him to throw the ball, the Rebels are going to pull the upset here. That's obviously easier said than done and while Ole Miss may have looked great on offense last weekend against Florida, the Gators were borderline terrible in that game. The mismatch on the lines of scrimmage will be too much to overcome in this matchup. As long as Kentucky doesn't beat itself again, the Cats will cruise in thie game.
Kentucky 33 Ole Miss 23
Chris: Both these teams are coming off double digit Week 1 losses, but it does feel like there's way more optimism from Ole Miss compared to Kentucky. Kentucky outgained Auburn in several statistical categories, and was victim to a horribly bad call on the goal line at the end of the 1st Half. However, any rational fan would admit that they lost that game because Auburn was the better team. Great teams make halftime adjustments and don't turn the ball over. Kentucky did neither of those things.
Ole Miss' offense was just as fun and exciting as we expected it to be under Lane Kiffin. However, that defense was softer than Dan Wolken's COVID tweets. They allowed 50+ points, 600 total yards, and almost 7 ypc on the ground. I think that last stat is the key to Kentucky winning Saturday. The Wildcat offense should get back on track against the worst defense in the league, and don't forget that UK was 6-2 ATS at home last year.
Kentucky 31 Ole Miss 23
Arkansas at Mississippi State (-18)
Michael: Is Mississippi State's offense that good or was LSU's defense that bad? Is Arkansas' defense that improved or is Georgia's offense really that bad? We'll have a better idea on both of those questions come this weekend but I'm willing to bet the Razorbacks are much-improved this season thanks to some major coaching upgrades made this offseason on The Hill. How will the Bulldogs respond a week after shocking the college football world and becoming the biggest story of the week in the SEC? Something tells me Mississippi State comes back down to earth and Feleipe Franks has a big game this weekend after having an inconsistent showing against Georgia's outstanding defense.
Mississippi State 38 Arkansas 35
Chris: It took all of one week for Mike Leach to turn the SEC West on its head with an incredibly impressive win at LSU. The Bulldogs went into Death Valley and hung 40+ points and 600 yards passing on the defending national champs. And, they did so with ease. Lost in all the record breaking offensive numbers though was a really impressive defensive performance that included 7 sacks on LSU QB Myles Brennan.
Before the season I talked myself into thinking that this game was a good spot for a potential upset. But, much like those Big Ten theories and "test results" on myocarditis, I was wrong. Way wrong. There were a lot of positives from Arkansas in Game 1 of the Sam Pittman era. This line seems pretty high, but State has put up 40 points or more vs Arkansas in 4 of their last 5 meetings. Imagine what they may do with Mike Leach calling plays.
Mississippi State 41 Arkansas 20
Auburn at Georgia (-6.5)
Michael: JT Daniels may be cleared but he won't be starting in this game — if he even plays at all. The latest out of Athens suggests D'Wan Mathis is being given a shot to earn back his starting role despite the strong showing from Stetson Bennett in the opener. Mathis' poor debut may have been the biggest revelation against Arkansas but I'm just as concerned with what I saw from Georgia's offensive line and running backs in that game. Auburn has a much better and deeper front seven than the one the Bulldogs saw last weekend. Bo Nix struggled out of the gate against Kentucky but really found his groove in the second half in his first game in Chad Morris' system. The line of scrimmage favors Georgia in this game, which concerns me, but I have a feeling Todd Monken's seat is about to get very hot in Athens. Auburn pulls the outright upset on Saturday.
Auburn 24 Georgia 17
Chris: Besides that 4th Baldwin brother there are few things that lived up to expectations less than this new Todd Monken offense. Everyone seems ready to hit the panic button, but I'm gonna double down here.
Auburn is a much better football team than I thought they'd be going into the season. And, Bo Nix looked great in the 2nd Half vs Kentucky. However, that 16 point win is pretty deceptive considering they only managed 324 yards of offense, 16 first downs, and less than 100 yards rushing on 30 attempts. I said all offseason that UGA will be playing for a national title this January because of that defense. Dating back to last season only 1 team has put up over 21 points against UGA in the last 15 games (LSU). And they've held 6 of their last 7 opponents under 14. UGA's defense will carry this team until Kirby inevitably picks the best game manager he can find at QB.
Georgia 24 Auburn 13
LSU (-20.5) at Vanderbilt
Michael: Mike Leach and Mississippi State has been the talk of the college football world this week thanks to LSU and now we find out if that was just a one-off or if the weight of repeating after losing so many key pieces from last season's team will crush Ed Orgeron's program. Honestly, it could go either way at this point and this week's comments from Coach O regarding Bo Pelini's lack of adjustments in the opener don't inspire much confidence. Vanderbilt had an opportunity to steal a game on the road in College Station last weekend thanks to the Commdore defense, which is led by the team's defensive front. LSU's rebuilt offensive line played poorly last weekend and if they don't correct their issues immediately, this weekend will be more of the same. Ken Seals looks like the real deal, if he has another big game, Vanderbilt should cover in this one.
LSU 38 Vanderbilt 20
Chris: Welcome to 2020 where the "new norm" means pandemics, murder hornets, and Vandy having a better defense than LSU? I kid I kid. This trip to Nashville for LSU will be just like any of the 1000s of 24 year old bachelorette parties that will inevitably also be in town. There will be lots of drinking, lots of fun, and lots of trying to convince yourself that your best, and most fun, years aren't behind you.
LSU 41 Vanderbilt 10