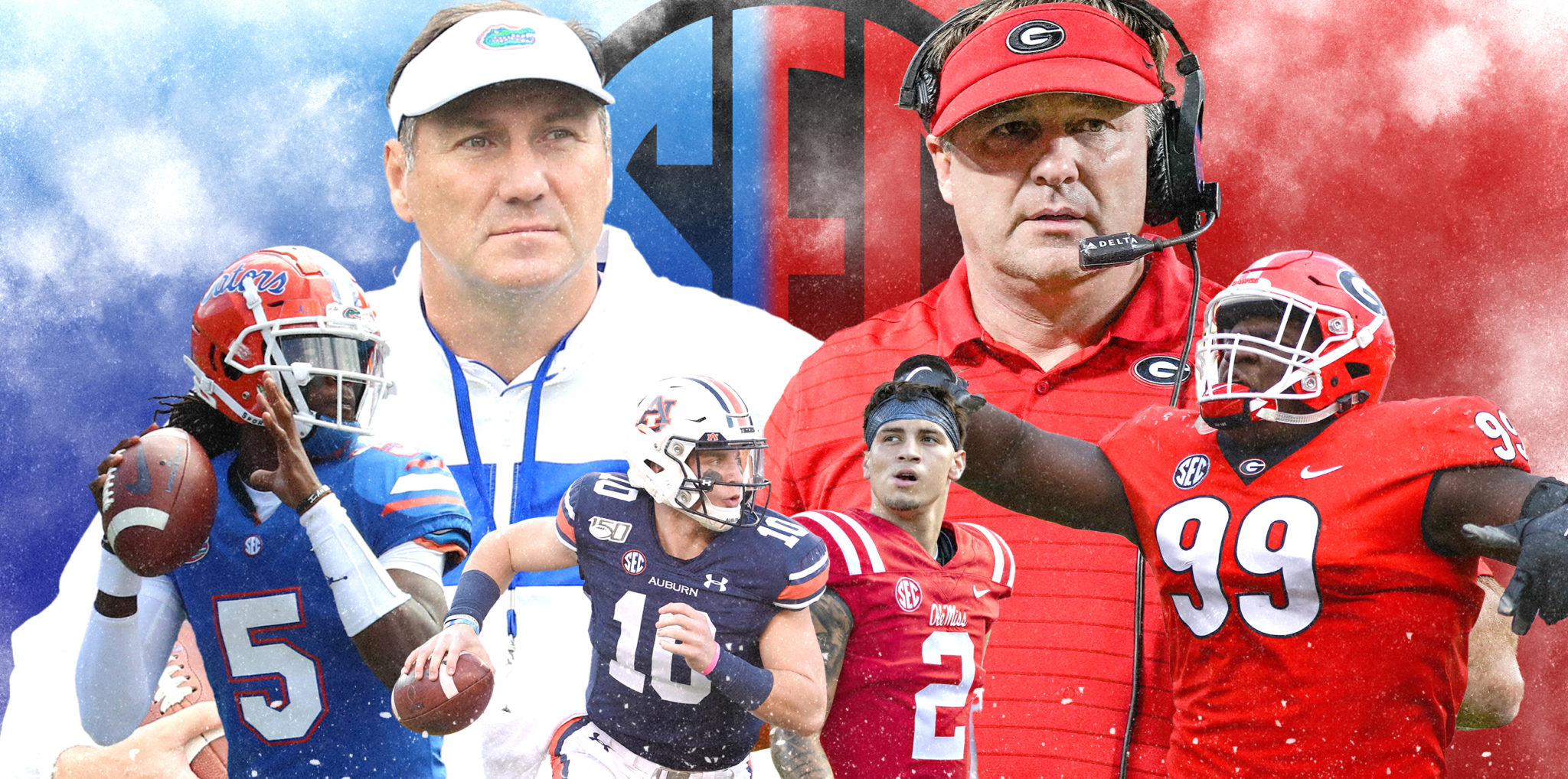 SEC
SEC Week 9 Primer: Florida faces an uphill battle vs. Georgia and a steep drop below
Everything you need to know about this weekend's SEC slate.
The stakes
All major rivalries in college football are hyped to some extent as a season-defining game for both sides. Very few of them live up to the cliché as consistently as Florida-Georgia.
I'm not talking about throwing out the records here. The opposite: The winner of the Cocktail Party has gone on to rep the East in the SEC Championship Game in 6 consecutive seasons, with the record in that span split at 3 wins apiece. The loser, on the other hand, has tended to find itself flat on the mat. Six of the past 7 in the series have been decided by at least 14 points, the kind of deflating beatdowns that, given where the game falls on the schedule, can render the final month of the regular season irrelevant.
Two winning coaches, Georgia's Mark Richt and Florida's Jim McElwain, were shown the door following lopsided losses in 2015 and '17, respectively, and the 2 lowest points of Kirby Smart's tenure to date have come in the immediate aftermath of double-digit, division-deciding defeats to the Gators in 2016 and '20. It's not always all or nothing; it does usually feel that way.
In that context, this year's dynamic is straightforward enough: Georgia, undefeated and unchallenged at the top of the polls, is playing for it all. Florida, 3 games back in the division race already, is on the verge of a season that started in the top 15 and amounts to nothing. The Gators' last time out, a 49-42 flop at LSU, felt like the moment the rock Dan Mullen has been slowly pushing up the hill the past 4 years started to roll back down. UF is 2-6 in its past 8 games vs. Power 5 opponents dating to the end of last season, with 4 of the 6 losses coming as the Vegas favorite.
A loss to the No. 1 team in the country isn't going to make Mullen's seat any hotter than it already is, especially if it's a reasonably competitive one. But it would emphasize the red flags: An emphasis on development while recruiting remains a rung below the likes of Alabama, Georgia and LSU; his decision last winter to bring back embattled defensive coordinator Todd Grantham after Grantham's unit undermined the success of a record-breaking offense in 2020; a ceiling that, so far, tops out in the Peach Bowl.
The contrast with Georgia and its bottomless supply of next-level talent is wider in Year 4 than it was in any of Mullen's first 3 years, despite his efforts to upgrade the lineup with transfers. (Mullen inherited a roster with zero 5-star recruits; of the 6 5-star players on this roster, 4 arrived via portal, including ex-Bulldog Brenton Cox Jr. on the d-line.) The Gators have suffered from a distinct deficit of dudes, especially on offense, where Mullen's reputation as an elite play-caller hasn't quite bridged the gap in the absence of a Kyle Pitts or Kadarius Toney among the skill players. If he manages to X-and-O his way to a winning number against UGA's juggernaut defense, it will be the biggest upset of his head-coaching career. If not, the coming months will be some of the longest.
That's how many points Georgia's defense has allowed this season every time it takes the field in a non-garbage-time situation, per efficiency guru Brian Fremeau, good for the best per-possession average by any FBS defense since at least 2007.
In fact, it's the best by a mile: Only 1 other defense nationally is holding opponents to less than 1.0 points per drive in 2021 (San Diego State, at 0.86), a benchmark only a handful of teams in the past decade have managed to hit over the course of a full season. (The most recent to pull it off: Clemson in 2018, when the Tigers allowed just 0.99 ppd en route to a national title.) Excluding garbage time, Georgia hasn't allowed 1.0 points per drive in a single game.
Only one other defense in Fremeau's database is even within the orbit of UGA's average yields this season: Alabama in 2011, a vaunted unit that swallowed up all comers to the tune of 0.51 points per drive under defensive coordinator — oh, hey: Kirby Smart. What an amazing coincidence. If the triumph of the spread revolution was supposed to have driven those kinds of numbers to extinction, Kirby's defense is the dinosaur that managed to evolve into something even more ferocious.
The big question: Has Anthony Richardson's time arrived?
Both teams are dealing with some uncertainty at quarterback, but in Georgia's case the distinction between the overachieving Stetson Bennett IV and the maybe-healthy-maybe-not JT Daniels seems mostly academic until the degree of difficulty ramps up in the postseason. In Florida's case, the ongoing stalemate between starter Emory Jones and his gifted backup, Richardson, will have significant ramifications for the foreseeable future.
Mullen has vowed that both quarterbacks will play Saturday, his standard line for most of the season. But the man is not blind: He watched Richardson breathe life into the offense in the Gators' shootout loss at LSU just like the rest of us, leading 4 consecutive touchdown drives in the second half on the same afternoon that Jones' stock hit a new low. With 2 INTs in Baton Rouge, including the pick-6 that got him benched just after halftime, Jones currently owns the worst interception rate among SEC starters – a harsh rebuttal to the notion that his experience makes him the steadier hand.
https://twitter.com/FTBVids_YT/status/1449438371156094976?s=20
Mullen's deference to the veteran is understandable, up to a point. Jones was the first major recruit to commit to Florida after Mullen's arrival, flipping on a pledge to Ohio State, and he didn't hit eject when he was passed on the depth chart by the barely recruited Kyle Trask. He has paid his dues and done what has been asked of him. He offered a couple of sustained glimpses earlier in the season vs. Alabama and Tennessee of what his brand of dual-threat efficiency looks like at its best. Still, a 4-3 team with nothing in particular to play for over the second half of the season is well past that point. Eventually, the results have to speak for themselves.
There's a lot more at stake here than ambushing a rival. The season is a disappointment, the fan base is on edge, and patience is running thin. The program is grasping for an identity. The timing is right to reset behind the younger, more talented player – not only because Richardson's enormous upside gives them the best chance of pulling off an enormous upset on Saturday (although it does), but also because it represents a fresh start going forward. Right now Jones represents neither. Of course, there's always the distant chance he goes out and flips the script by playing the game of his life. But if Mullen is still unwilling to commit to a move that seems glaringly obvious to the rest of the world en route to another humbling loss, he's going to have a hard time justifying it.
The key matchup: Georgia TE Brock Bowers vs. Florida DB Trey Dean III
As a group, Georgia's receivers have been ravaged by injuries and will remain shorthanded Saturday. Meanwhile, though, Bowers has lived up to his 5-star billing and then some, quickly emerging as the Bulldogs' leader in receptions (25), yards (416) and touchdowns (6) as a true freshman. At 6-4/230, he's not out of place on conventional tight end duty as a blocker; more often, though, he's been conscripted as a de facto wideout, lining up wide or in the slot on roughly 60% of his total snaps and routinely challenging secondaries downfield with his imposing combination of size, speed and body control on contested catches.
The Mailman delivers one through the air to Brock Bowers for six. pic.twitter.com/SmE8aFUJG1

— CBS Sports (@CBSSports) October 16, 2021
Dean, a senior with 22 starts and 1,770 career snaps under his belt, remains a wild card. He's certainly been active, ranking 2nd on the team in tackles (46) and 1st in passes defended (7) from his safety role, and he's been solid in coverage, allowing just 6 receptions on 18 targets according to Pro Football Focus. At the same time, he's been inconsistent as a tackler — PFF has dinged him for 8 whiffs on the year, including 3 vs. LSU in a dismal effort against the run — and he's been on the wrong end in coverage, as well, most notably while manned up against Alabama TE Jahleel Bilingsley in Week 3.
BRYCE YOUNG ➡️ JAHLEEL BILLINGSLEY FOR THE 26 YARD TD!

He was in Nick Sabans dog house, now in the pent house. #Florida #Alabama

— Sideline CFB (@SidelineCFB) September 18, 2021
As far as manning up against Bowers is concerned, Dean checks a couple of promising boxes with his size (6-3/206) and experience as an outside corner and a nickel type before shifting to safety full-time. Taking away Georgia's most reliable receiving threat would go a long way toward making the Dogs one-dimensional and keeping the score close enough to turn on a couple of big plays.
The verdict
Georgia is a moving train, the one team in this chaotic season that has looked more or less like the same entity from one week to the next. The Bulldogs don't put up eye-opening numbers on offense, but they've been efficient, balanced and consistent, and the defense is clearly the dominant unit in college football this season. The Bulldogs have trailed for a grand total of 5 minutes and 24 seconds (a 3-0 deficit at Auburn, erased by the end of the first quarter) and have put away their past 6 games by halftime.
Florida might have a little more fight in it than that, especially a defense out to prove its collapse at LSU was an outlier and not the start of a trend. The Gators can hold their own in a rock fight, if it comes to that, and you know Georgia will be just fine with it if it does. Putting points on the board against a historically stingy defense is another story. Unless Richardson is a full-on, Cam Newton-reincarnated revelation, they have barely enough rocks to make a dent.
– – –
Georgia 29 | • Florida 17
The Cocktail Party has more psychological weight behind it, but at the end of the day, Rebels-Tigers will arguably have more lasting impact on the conference standings. With 1 SEC loss apiece, the winner on The Plains is still very much alive in the West, which is just an Alabama loss away from descending into chaos. Auburn, which still controls its fate in the division, has a direct path to Atlanta that runs through the Iron Bowl. (This year's edition will be at Auburn, for the record.) Ole Miss, with its freshly minted top-10 ranking in the polls, only needs a few dominoes to fall the right way to emerge as a plausible dark horse in the Playoff race — an incredible but true sentence to write barely halfway through Lane Kiffin's second season. Either way, Saturday night is a major checkpoint for November relevance.
As always when Ole Miss is involved, the outlook hinges largely on which version of the defense shows up. Overall, the Rebels have been much improved on that side of the ball, giving up 10 fewer points and nearly 100 yards per game less than they allowed in 2020, and they're coming off the best defensive outing of Kiffin's tenure in a 31-17 win over LSU. (Ole Miss led 31-7 in the fourth quarter of that game before yielding a couple of late, futile scoring drives in garbage time.) They're also less than a month removed from giving up 676 yards and 51 points to Arkansas in a full-blown shootout. Matt Corral has proven repeatedly he's capable of giving his team a chance to win those types of games, but between Corral's gimpy ankle and a depleted receiving corps this weekend is not the ideal time to put him to the test.
– – –
• Ole Miss 34 | Auburn 31
The prospect of a sketchy Kentucky offense amid a sea of clanging cowbells is enough to put this one firmly in the "toss-up" column, but Mike Leach's offense isn't exactly setting the league on fire itself: Mississippi State ranks 12th in the SEC in scoring offense and yards per play, coming in behind the Wildcats on both counts. Last year's meeting in Lexington was a comedy of errors for the Bulldogs, a 24-2 blowout in which QBs KJ Costello and Will Rogers combined to throw 6 interceptions.
Rogers, who was thrown into the fire for the first time that night as a true freshman, has improved dramatically, but still poses little threat to secondaries downfield. More than 75% of his FBS-high 396 attempts have come within 10 yards of the line of scrimmage (average depth of target: 5.6 yards), and he ranks next-to-last among SEC starters in yards per attempt (6.4) despite leading the conference in completion percentage (73.6) — numbers that usually correlate but in his case have no relationship due to the rinky-dink nature of the vast majority of his completions. For now, this version of the Air Raid is still a lot more bark than bite.
– – –
• Kentucky 27 | Mississippi State 23
One of these teams is going to get its first, and very possibly last, SEC win of the season, and for Eli Drinkwitz's sake, it had better be Mizzou. Nobody wants to start talking about the hot seat for a guy in Year 2 in a situation where the deck has been mostly stacked against him, but at this poin,t losing to an overmatched Vandy outfit on a 15-game conference losing streak would be the kind of shipwreck that leaves Tigers fans no choice. If nothing else, a big day from QB Connor Bazelak and/or RB Tyler Badie should be reassurance that the vessel is still afloat.
– – –
Missouri 38 | • Vanderbilt 26
SCOREBOARD
Week 8 record: n/a
Season record: 50-16 straight-up / 25-38 vs. spread