SEC
One reason every SEC West team will suck in 2015
Some SEC straight talk intended to keep fans' expectations in check. Just remember, somebody's gotta lose. It may as well be you.
WHY ALABAMA WILL SUCK: Jimbo Fisher has successfully trolled Alabama over Jake Coker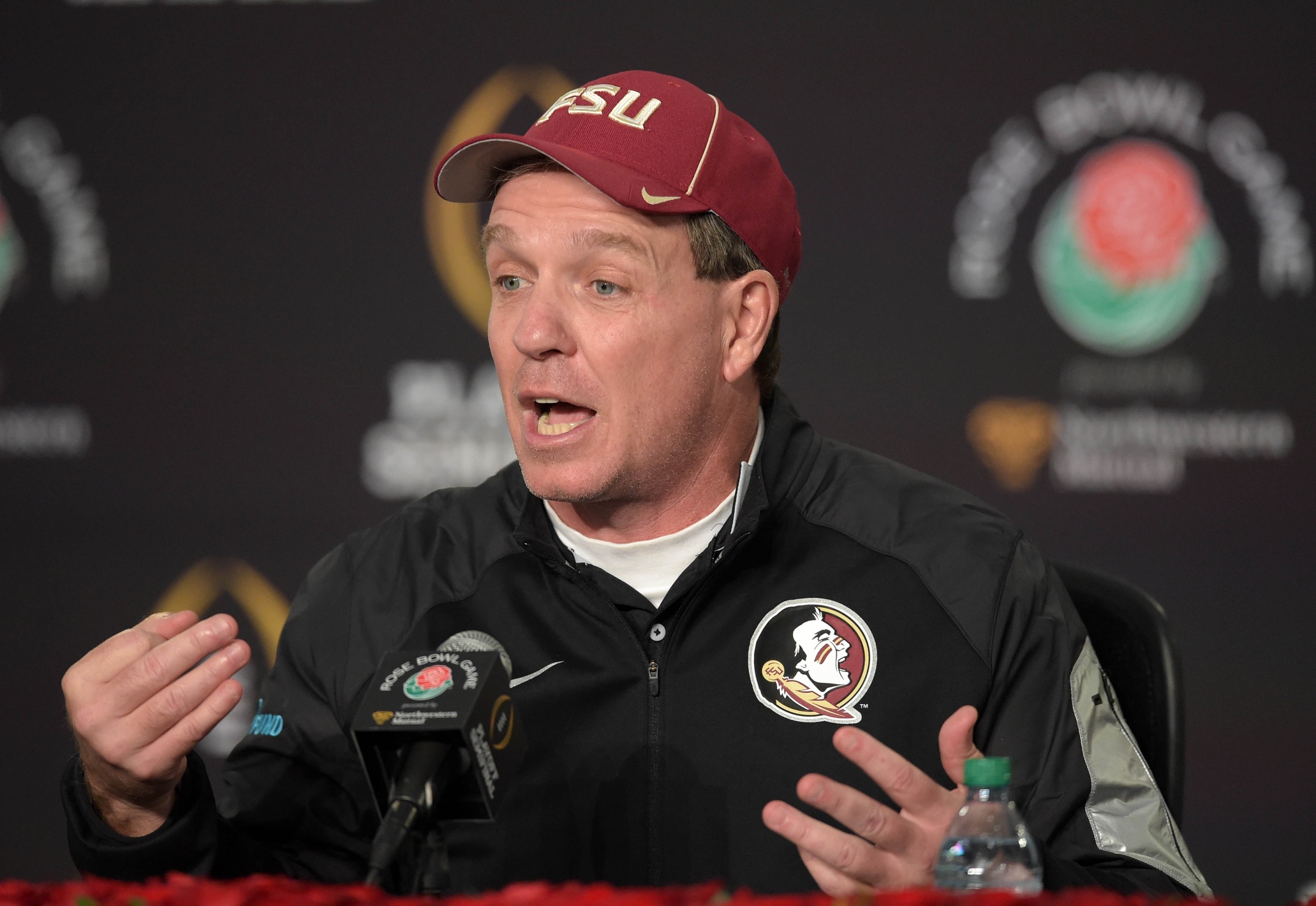 That Jimbo Fisher is pretty clever.
You may think that Fisher taking one team photo with Dalvin Cook and one without is a sneaky move, but it fails in comparison to the trick he pulled on Nick Saban and the University of Alabama. That trick of course was convincing the Crimson Tide coaches and fans that Jake Coker was an elite quarterback.
Fisher has had plenty to say about Coker at Alabama [Bleacher Report]:
Including what they've had, he's much more talented than anything they've had. I don't mean to discredit the previous guys, they were all great. But this guy is extremely talented. Arm and mind. He's a backup because he's behind the best quarterback in America. (Coker) may have been one of the top three or four quarterbacks in America physically.

We could have been right there in the same position last year with him, I really believe that. You just had to make a choice. If he had played, got his reps and got in that role, we would have done extremely well. I'm a Jacob Coker fan.
But, the scheme actually started earlier when Coker was still a 'Nole [Jacksonville.com]:
"It was one of the toughest decisions I've had to go through," Fisher said. "This is not coach-talk, it's not anything else. We truly have two very good quarterbacks. And guys I feel very comfortable with. And I think it's going to take both guys for us to have the season we (want to) have."
Fisher even convinced his Heisman winning quarterback, Jameis Winston, to get in on the ruse [al.com]:
"Jacob is the only person I know that can throw off one leg better than anyone else." Winston said. "When you see him at practice, he loves to throw and he just had surgery on his knee, Jacob is a great athlete, 6-4, 6-5 and 230, me personally I think Jacob can go anywhere and start in any program."
Yeah, yeah, yeah … we get it. Coker is awesome. Except he's not.
He couldn't beat out Blake Sims in 2014, and he's yet to beat out a youngster named Cornwell this season.
Think that Kiffin can light it up with just anyone? Think again. Sims had a great year, but let's remember who he was throwing to. This guy.
---
WHY AUBURN WILL SUCK: Too much turnover on offense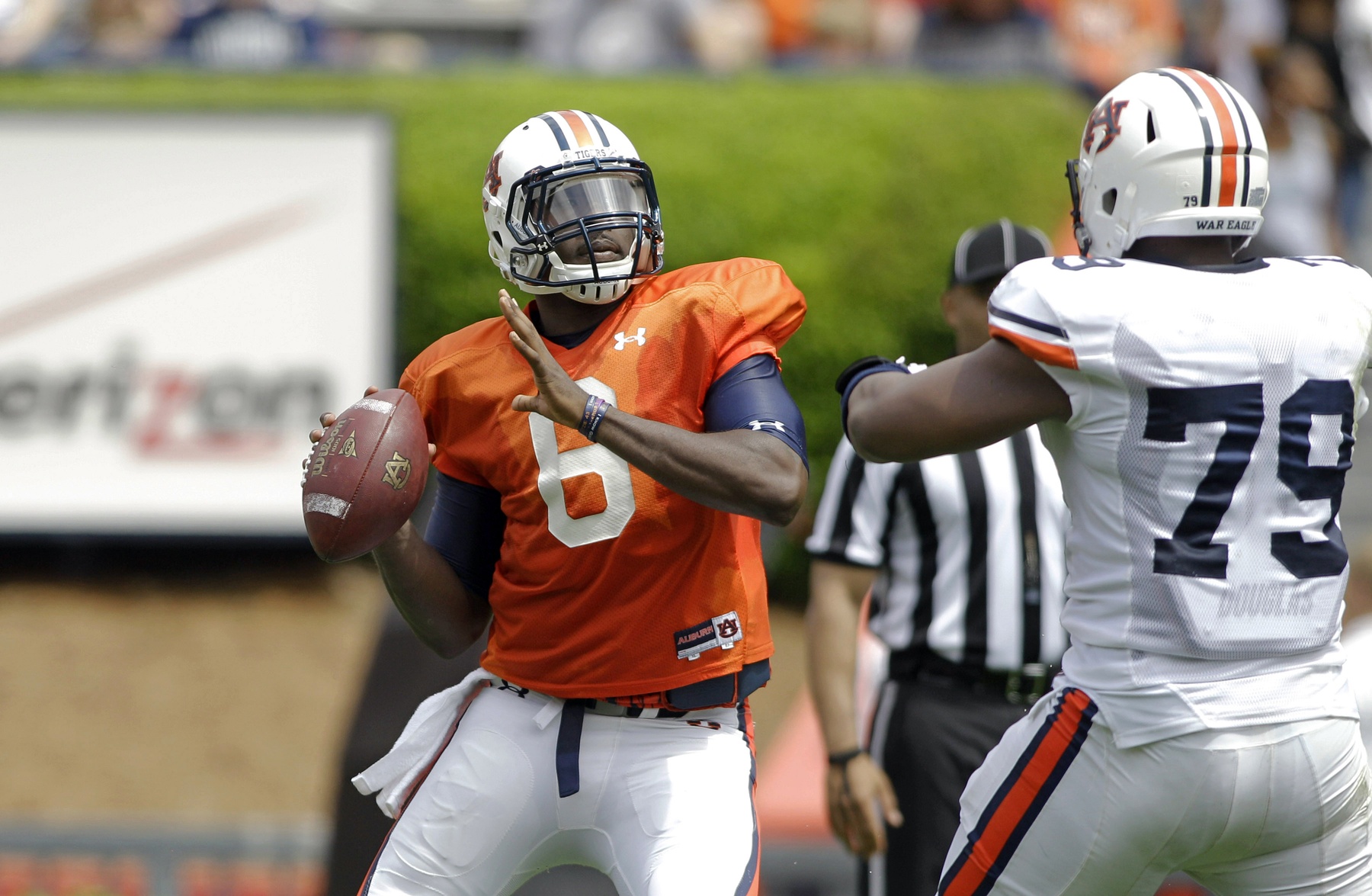 There's a reason Nick Marshall was the guy last year … he was better than Jeremy Johnson. Will Johnson be good? All indicators would point to answering that question with a resounding yes. But, to pencil in Auburn as a playoff contender seems to be quite a leap.
It's not just a new starter at quarterback. Auburn is replacing its starting quarterback, its top two running backs, its Rimington Trophy Award winning center (Reese Dismukes) and its top receiver (Sammie Coates).
Preseason expectations were high for WR Duke Williams, but thus far, Williams hasn't even practiced yet due to disciplinary issues.
If Auburn's offense can keep moving forward while replacing so many key players, then Malzahn is indeed a genius. But, regardless, it's likely still too much to overcome to win the ultra-competitive West Division.
Also, let's remember that Auburn was 4-4 in conference last year. The same as Florida.
---
WHY ARKANSAS WILL SUCK: They can't play from behind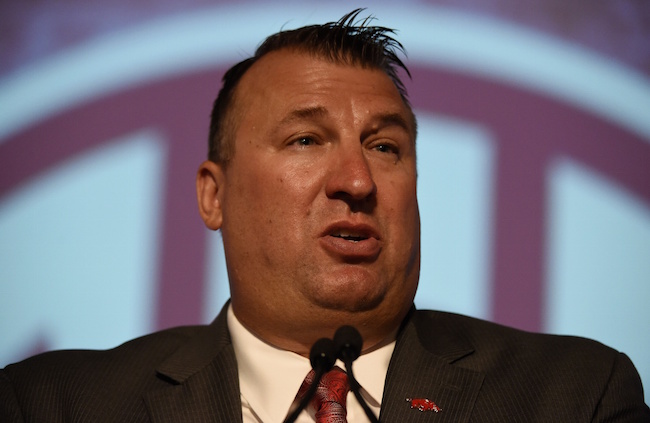 Arkansas is really good … if they have a lead.
Unless, Bielema can plan on a fat guy touchdown each game (he might), Arkansas is going to be in trouble against any team that can score.
Remember the run Arkansas went on at the end of last year's campaign? Winning three of four with wins over LSU, Ole Miss and Texas. What do those teams have in common? Oh yeah, they can't score. Ole Miss' offense was in shambles after Treadwell went down (finished 11th in the SEC in scoring offense), LSU plays without a quarterback (finished 13th in scoring offense) and Charlie Strong's Longhorns were more likely to score on defense than offense (finished 109th nationally in scoring offense).
We know Arkansas can run the ball, but it's not enough. You can't win the West with such a one-dimensional offense. The margin for error is too thin. Without a passing game, Arkansas has to play a perfect game AND have a few things go right in order to beat the top teams in the west.
---
WHY MISSISSIPPI STATE WILL SUCK: A new defense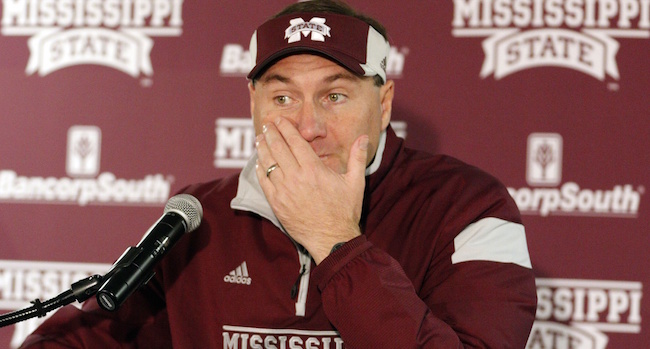 Coming off a special season, Mullen's Bulldogs will take a step back in 2015 simply because of the attrition on defense.
Mississippi State returns the fewest number of starters in the SEC on defense with just a single starter at each of the three levels.
Further weakening State's case for 2015 is the fact that steady placekicker Evan Sobiesk left the team this year to focus on dentistry. You know the team is going to take a step back when one of your key players says: "I'm good guys. I'm going to go do the dentist thing."
Fans will likely spend a majority of the season discussing Dak Prescott's NFL potential and reminiscing about the great days of 2014 when Mississippi State had an unprecedented run as the No. 1 ranked team in the land. Just remember … a rough 2015 doesn't take anything away from the magical 2014 season.
---
WHY OLE MISS WILL SUCK: You've pinned your hopes on an aspiring rapper at QB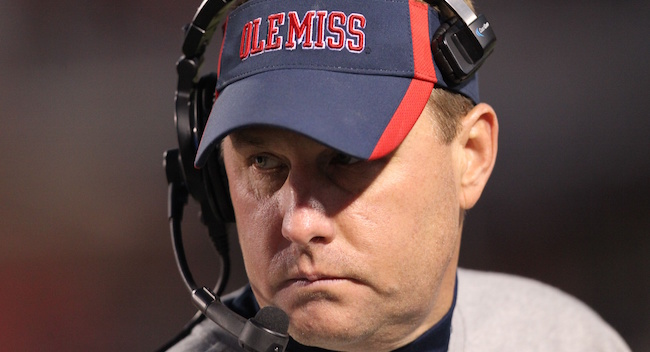 YOU CAN HATE HIM, YOU CAN DOUBT HIM, YOU AIN'T STOPPIN' HIS DREAM… MY MOMMA BIRTHED OUT A WINNA. I'M JUST LOOKIN' FOR DINNER. I THINK I EAT ME SOME HATAHS… [The Chad Kelly rap]
Yes, Ole Miss will hitch its wagon to quarterback Chad Kelly… that is if he can find time out of his clubbing schedule and threatening to spray down a place with his AK-47 (Deadspin).
The good news is that Ole Miss fans will have plenty of ways to distract themselves from on-field debacles by discussing which Ole Miss blue chipper will be drafted first in the 2016 NFL Draft.
Question: Will Ole Miss fans long for the days of Bo Wallace in a couple months?
---
WHY TEXAS A&M WILL SUCK: You're one year away, every year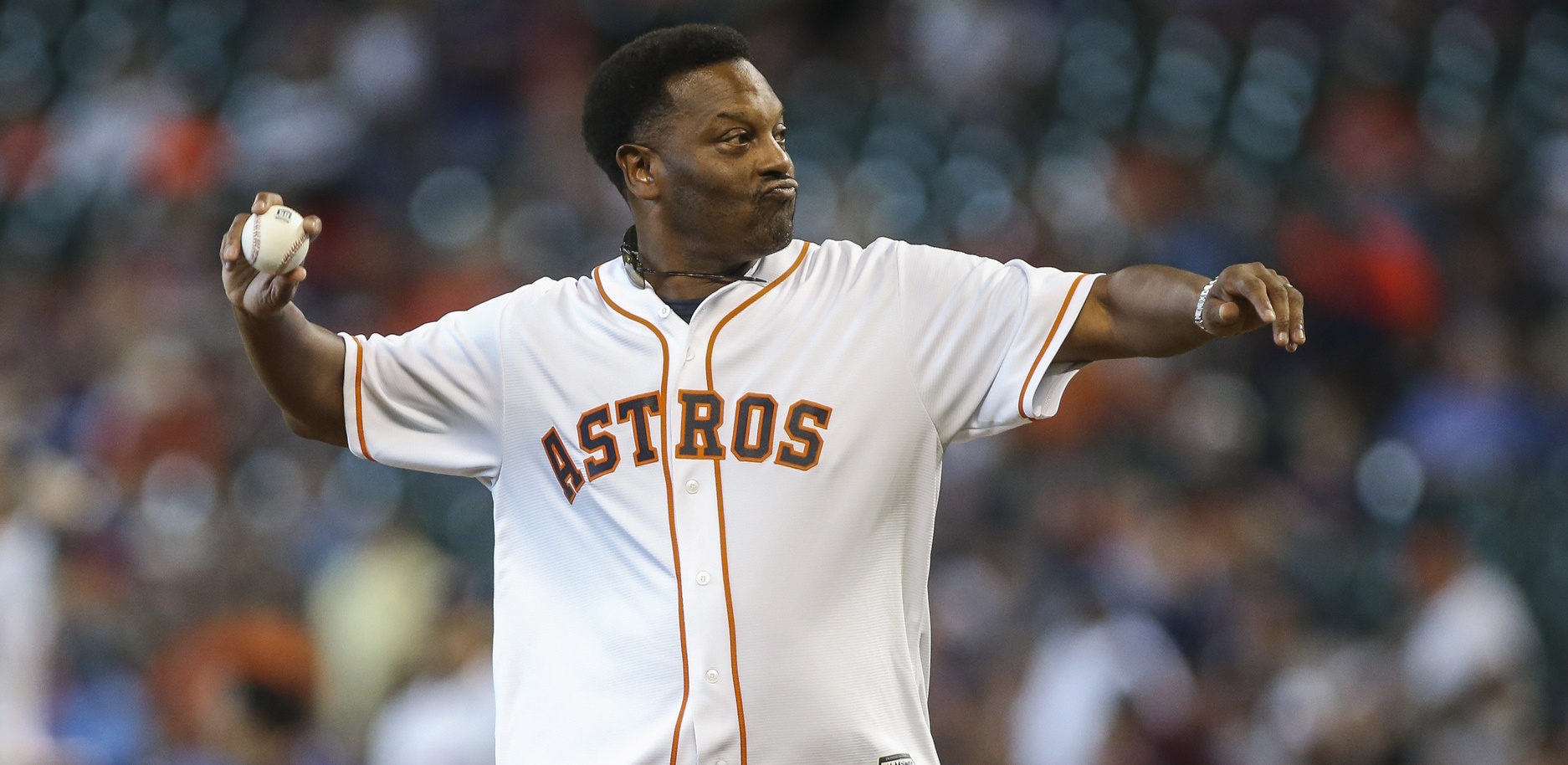 "We've got a lot of young talent. Just wait until next year."
"The defense probably won't be very good in 2015, but just wait and see what Chavis can do after a year with our boys."
"A 7-5 regular season is no biggie, we're really building for next year."
Yep, it's a regular refrain for Aggieland, and Sumlin's sure getting paid an awful lot of money to consistently be building for the next season.
Oh, he won't get fired. Things are going well enough overall in College Station for Sumlin to keep cashin' them checks. A Heisman Trohpy. A stadium renovation. A new defensive coordinator. Some nice recruits.
Though, as time passes, Sumlin may have to get creative to continue distracting fans with off-field reasons why the program is heading in the right direction.
---
WHY LSU WILL SUCK: Cam Cameron can't develop a quarterback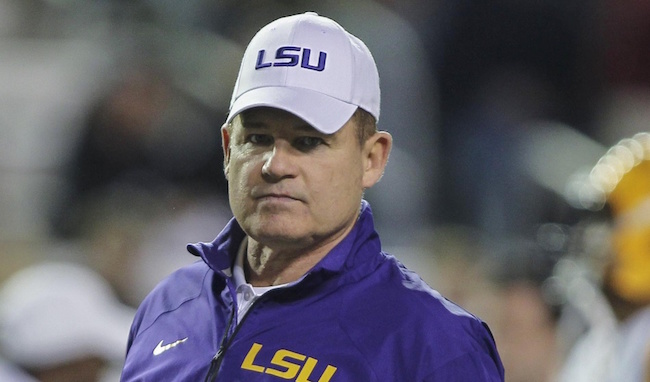 LSU offensive coordinator Cam Cameron has the experience coaching some elite quarterbacks at the NFL level (Joe Flacco, Drew Brees, Philip Rivers), but he's struggled to take a raw high school quarterback and make him productive.
Zach Mettenberger enjoyed a breakout season in 2013, but Mett already had the tools to be a productive passer. It also didn't hurt that he had a couple NFL wide receivers to throw to downfield.
LSU was last in passing offense last season in the SEC; the 162.9 passing yards per game was even worse than Vanderbilt's offense!
While fans hope the QB situation will improve heading into 2015, a quote from head coach Les Miles today isn't exactly encouraging:
Miles on #LSU QBs: "It is what it is. Will take some time."

— Ross Dellenger (@DellengerAdv) August 10, 2015
Phil Steele might like LSU as a dark-horse candidate in 2015, but unless Cam Cameron can turn the LSU quarterback into a moderately effective passer, another 8-4 regular season might be in the cards.