SEC
What would a serious 8-team playoff look like this year?
Before the inaugural College Football Playoff even takes place, discussions among college football analysts and fans already have everyone envisioning an eventual eight-team playoff.
Although the CFP this season is four teams, the idea of an eight-team playoff isn't that outrageous nor does it seem very far off. As with all sports, money trumps everything and the expansion of a four-team field to eight teams would generate even more revenue for the CFP teams and conferences.
So we know how this year's four-team playoff looks, but what would it have looked like if eight teams were headed to the playoffs?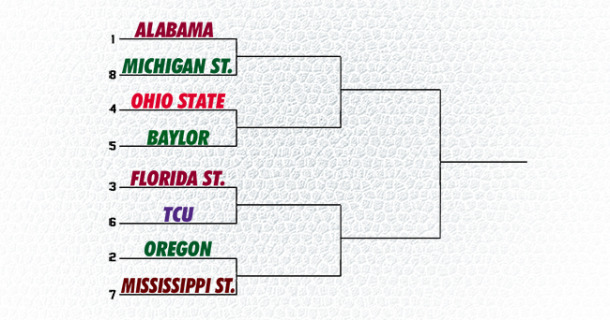 No. 1 Alabama vs. No. 8 Michigan State
Why this would be exciting: Michigan State may not have won the Big 10, but the Spartans are a heck of a football team. They weren't able to beat the two best teams on their schedule, however, they were good enough to be leading Oregon on the road as late as the third quarter.
Both Alabama and Michigan State are physical teams so this one may be a blood bath. The Crimson Tide would be on upset alert against the Spartans. Not only does Michigan State have the nation's seventh-best defense, but the Spartans also boast a premier scoring offense (43.1 ppg) led by quarterback Connor Cook. The Spartans don't make a lot of mistakes, either.
Michigan State can't match Alabama's talent across the board and I'm not sure Amari Cooper could ever be stopped. Plus, with Michigan State's troubles against top teams, I don't see the Spartans besting the No. 1 ranked team in the first round of the playoff.
 No. 4 Ohio State vs. No. 5 Baylor
Why this would be exciting: Could these two teams break the scoreboard? Ohio State and Baylor's offense are among the best in college football and to say this matchup would be an offensive shootout would be a vast understatement.
Ohio State's one of the hottest teams right now even without their quarterback JT Barrett. Third-stringer Cardele Jones filled in just fine during the Big 10 Championship, leading the Buckeyes to a 59-0 stomping of the Wisconsin Badgers. The Buckeyes are winners of 11 straight and haven't scored less than 31 points in any of those wins.
An eight-team playoff would also give Baylor the proper opportunity to prove it was deserving of a playoff berth. Despite the Co-Champions label, Baylor is one of the most talented and explosive teams in college football and would be more than capable of keeping pace with the Buckeyes' offense.
No. 3 Florida State vs. No. 6 TCU
Why this would be exciting: A matchup between the Seminoles and Horned Frogs would give us a great game not only between two top teams, but two of sport's premier quarterbacks — Jameis Winston and Trevone Boykin.
FSU's 29-game winning streak is impressive, but there's no doubt that TCU would be the best team FSU has played all season. Not only does TCU have Boykin running the offense, but the Horned Frogs also boast the Big 12's top scoring defense (20.1).
The Seminoles couldn't afford a slow start against TCU, a team some consider to be the nation's fourth-best team. In my opinion, this would be the matchup with the biggest chance of an upset and would undoubtedly give TCU the early upper hand in its debate with Baylor on who was the better team this season.
No. 2 Oregon vs. No. 7 Mississippi State
Why this would be exciting: Let's be honest, when is Oregon playing the SEC not exciting? Although the Ducks would likely win this battle, seeing Marcus Mariota and the Pac-12 Champions line up against Mississippi State and quarterback Dak Prescott would be one of the better match ups of the season.*
Although MSU tapered off some at the end of the season with a few losses, the Bulldogs still have a great QB-RB duo in Prescott and Josh Robinson, along with a vicious defensive front-seven. MSU would challenge Oregon, but I can't imagine the Ducks losing out to Mississippi State.
As good as the Bulldogs' defense is this season, I don't think anyone can stop Mariota and the Ducks' offense.
***
If the College Football Playoff was expanded to eight teams this season, we likely see the exact same match ups in the semifinals, but the expansion definitely opens up more possibilities.
All in all, a move to eight teams seems very likely for the CFP. And it's a shame it wasn't in effect this year, as you can see, the first round would have been loaded with top-notch match ups.